You can't go wrong with a single vegetable pureed soup. Much like my Butternut Squash Apple Soup, this carrot ginger soup recipe uses spices and aromatics to enhance the subtly sweet flavor of a couple pounds of diced carrots. Then after simmering it is all pureed into a smooth, cozy and healthy bowl of soup that's vegan and dairy-free.
Also try this Roasted Carrot Soup.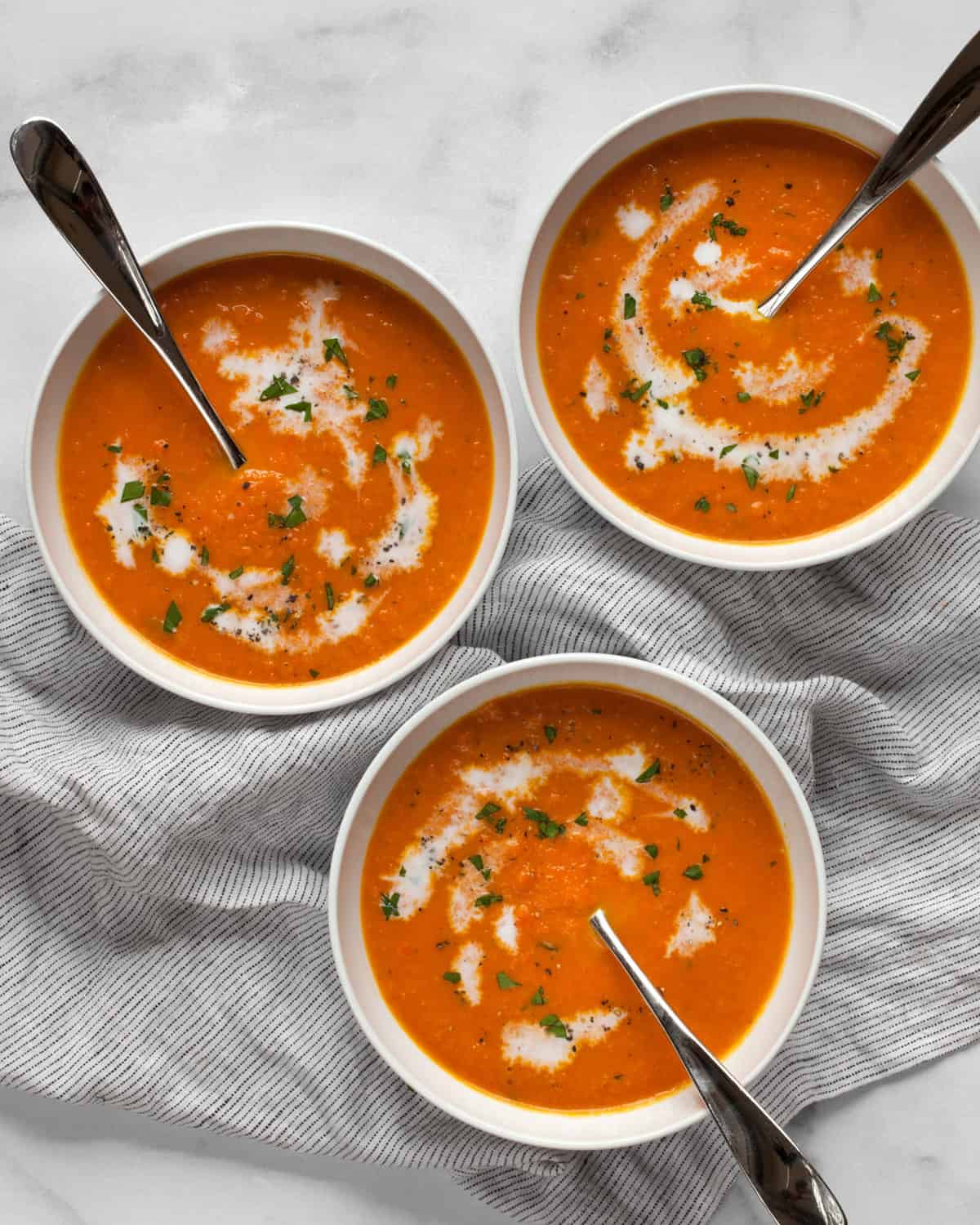 Why You Will Love This Soup
It is an easy vegan recipe. This is a straightforward soup that doesn't have any unnecessary frills. And it doesn't need it. The ginger, garlic and cumin are there to bring out the natural sweetness of the carrots. While coconut milk gives it a little creaminess.
Anything made with ginger feels like an elixir. Ginger has an uplifting, pick-me-up kind of zest. It is a root praised for its health benefits including helping digestion, reducing inflammation and improving brain function. First and foremost, I cook with ginger because I like the taste. Everything else is just a bonus.
The soup is freezer friendly. Sometimes I will make this recipe and freeze all of it. One of the best things about fall and winter eating is the convenience of soup. My freezer is full of a rotation of soups, thawing and reheating is a total breeze.
The Ingredients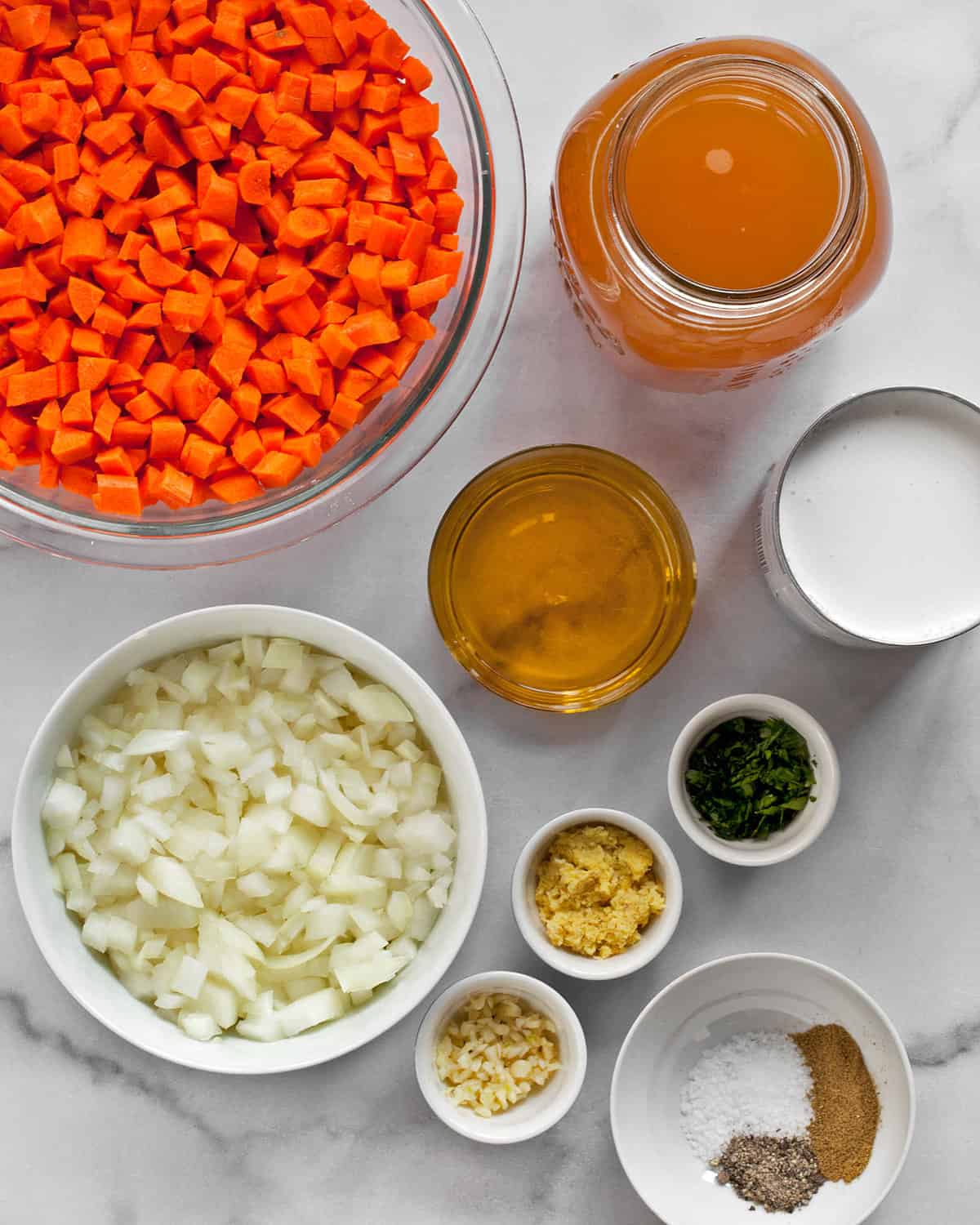 This is what you need:
Carrots: Look for fresh carrots that are firm and not soft. Since they are the base of the soup, you want to use the best carrots you can find. I like to peel them before I dice them. Even though you are simmering and eventually pureeing the carrots into soup, I still go ahead and peel them.
Ginger: You can peel the skin off ginger with a spoon or a vegetable peeler. Then I find that a microplane works best to grate it. If you don't have one, then you can use a sharp knife to finely chop it.
Garlic: Even though it isn't as strong as the ginger in the soup, I include a minced garlic clove to layer in more flavors.
Onions: The first part of the recipe includes sauteing chopped white onions. I do this before adding the garlic and ginger because the onions need more time to cook and soften.
Olive oil: Use high quality extra-virgin olive oil for sauteing.
Cumin, salt and pepper are the dried spices that are in this soup.
Vegetable broth: I always use low-sodium broth, so then I have control over the seasonings. If you do not mind if the soup is not vegan, you can substitute with chicken broth.
Coconut milk: Stir in a cup of full-fat coconut milk after you puree the soup. This adds richness and makes the soup creamy.
Parsley: I garnish the soup with chopped fresh herbs along with drizzling on coconut milk.
How To Make Carrot Ginger Soup
1. Heat olive oil in a large pot or Dutch oven over medium high heat.
2. Sauté the onions. They will become soft and translucent in about 5 minutes.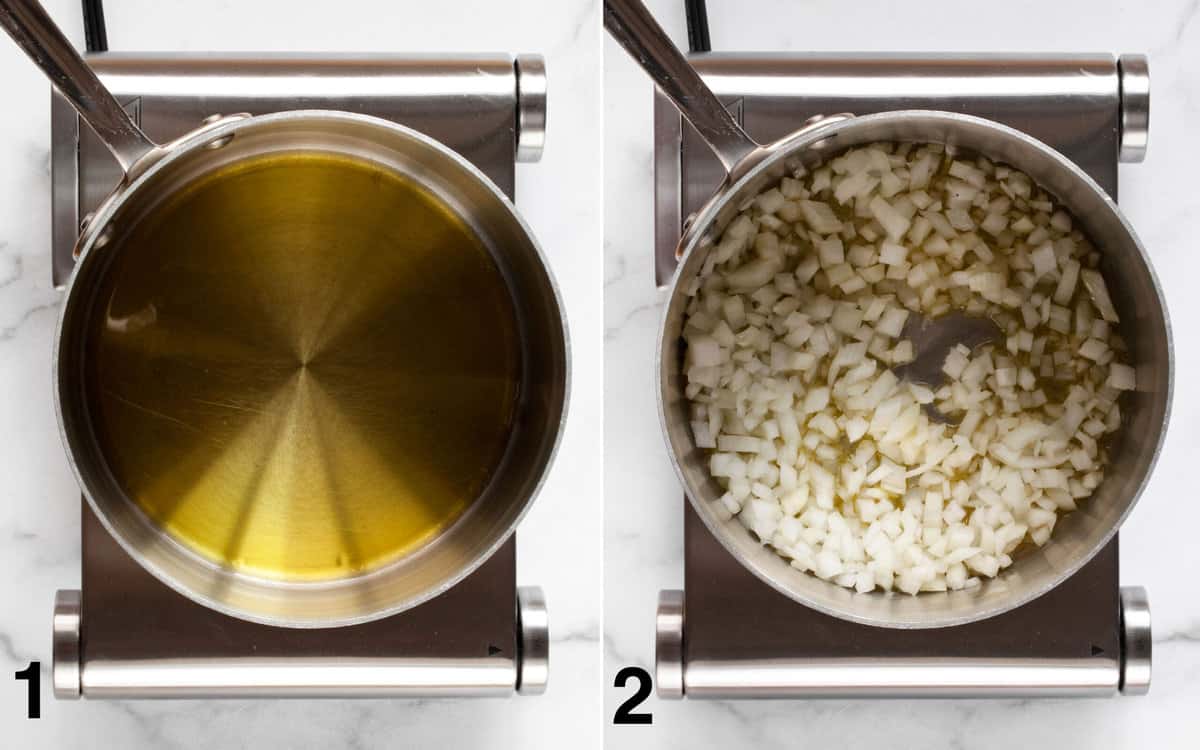 3. Add the ginger, garlic, cumin salt and pepper. Stir everything together. The onions will be very fragrant in less than a minute.
4. Stir in the carrots.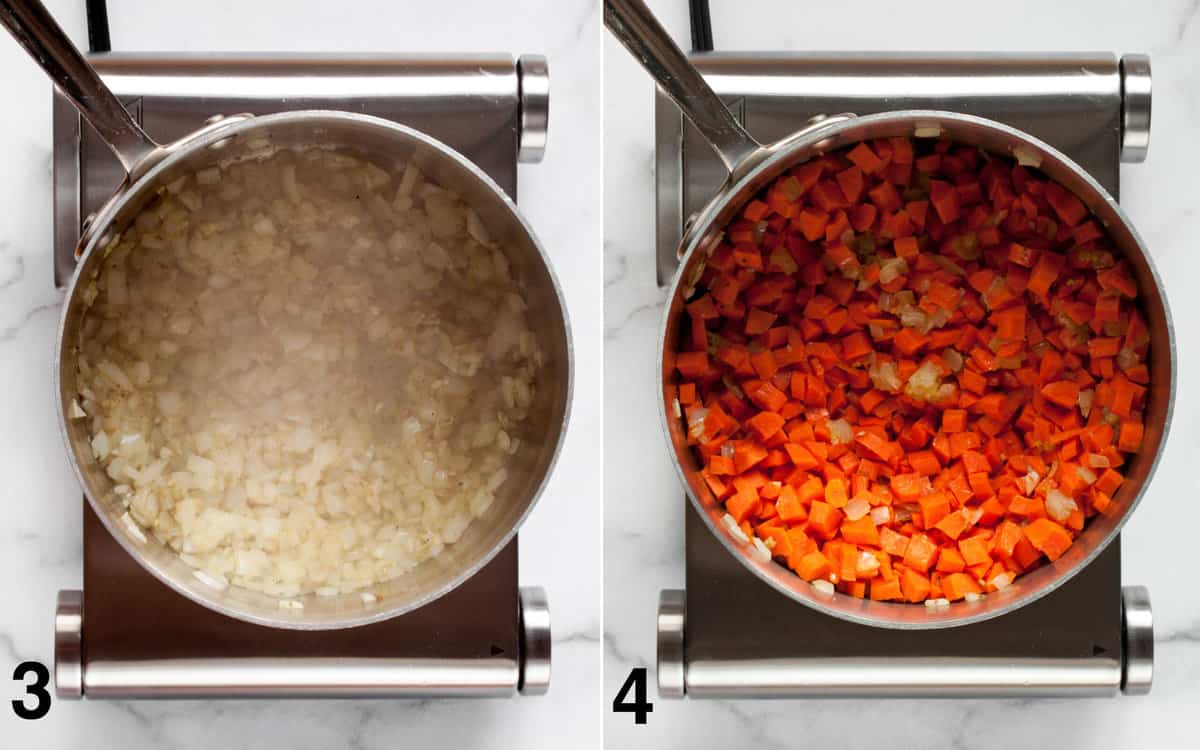 5. Pour in the vegetable stock. Bring the soup to a boil on the stove top. After that, reduce the heat to simmer until the carrots are very tender, about 18-22 minutes.
6. Blend the soup and then stir in the coconut milk. Divide the soup into bowls. Top with additional coconut milk and chopped parsley.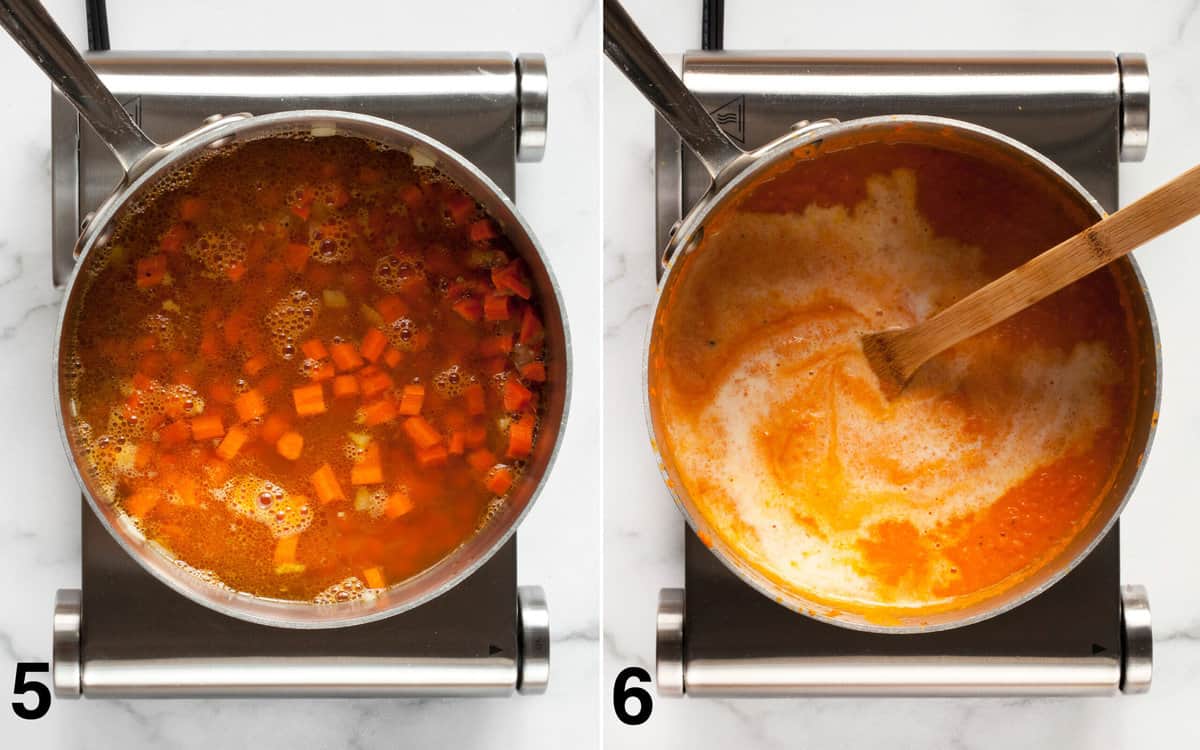 The Best Way to Puree Soup
There are 3 ways to puree soup. It depends how smooth you the consistency of the soup to be:
Using a potato masher gives you the chunkiest and most rustic soup.
With an immersion blender, you can puree the soup right in the pot, so it requires the least amount of clean-up. The photos in this post show soup pureed with an immersion blender.
For the smoothest, most silky soup, carefully transfer it to a high-powered blender. Do this carefully since the soup will be hot. It's best to do this in batches because the heat can cause the lid of the blender to pop off. You can also put a towel on top of the lid and hold it in place while it is running.
Serving
Since you only end up stirring part of the can of coconut milk into the soup, you will have extra that you can drizzle over each bowl. It looks beautiful. To serve with the soup try:
Storage & Leftovers
You can store the soup in an airtight container in the refrigerator up to 4 days. Give it time to cool before you put away leftovers. To keep it up to 1 month, freeze it. I always recommend portioning out the cooled soup into serving sizes before putting it into the freezer. Then it makes it easier to thaw and reheat.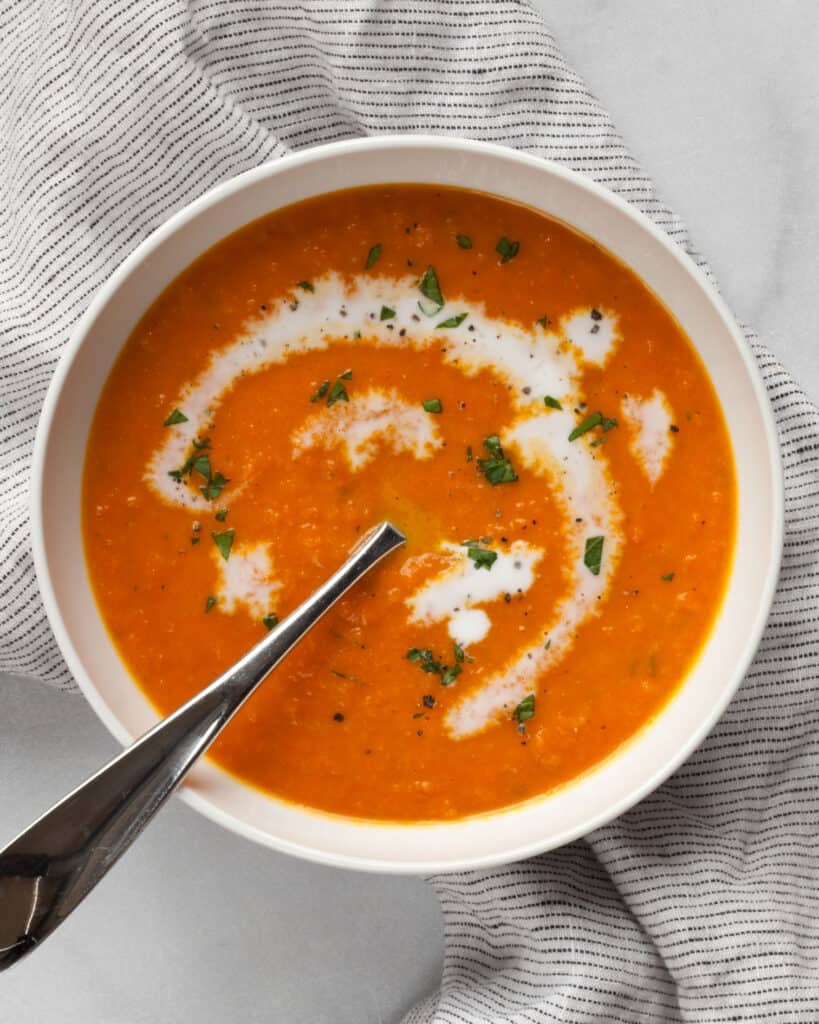 FAQs
Can you overcook carrots in soup?
Yes. The carrots are ready to be pureed when they are soft, but they should not be mushy or breaking apart. You should be able to easily pierce the simmered carrots with a paring knife.
Why does my carrot soup taste bitter?
Sometimes carrots have a strong bitter flavor rather than being sweet. Taste the carrots after you peel them and before you dice and simmer them. Since you can't try every carrot, you will find that coconut milk or heavy cream (not vegan) will reduce bitterness. If necessary, you can stir in a bit more than the recipe calls for to suit your taste.
How do you puree soup without a blender?
You can use a potato masher to puree a vegetable-based soup such as carrot soup or butternut squash soup. It won't turn out as smooth as using a blender, but just be patient and keep mashing it to get it as smooth as you can.
More Soup Recipes
Roasted Tomato Soup
Chickpea Soup
Roasted Poblano Corn Chowder
Roasted Cauliflower Tahini White Bean Soup
Tomato Carrot Lentil Soup
Red Lentil Soup
Vegan Carrot Ginger Soup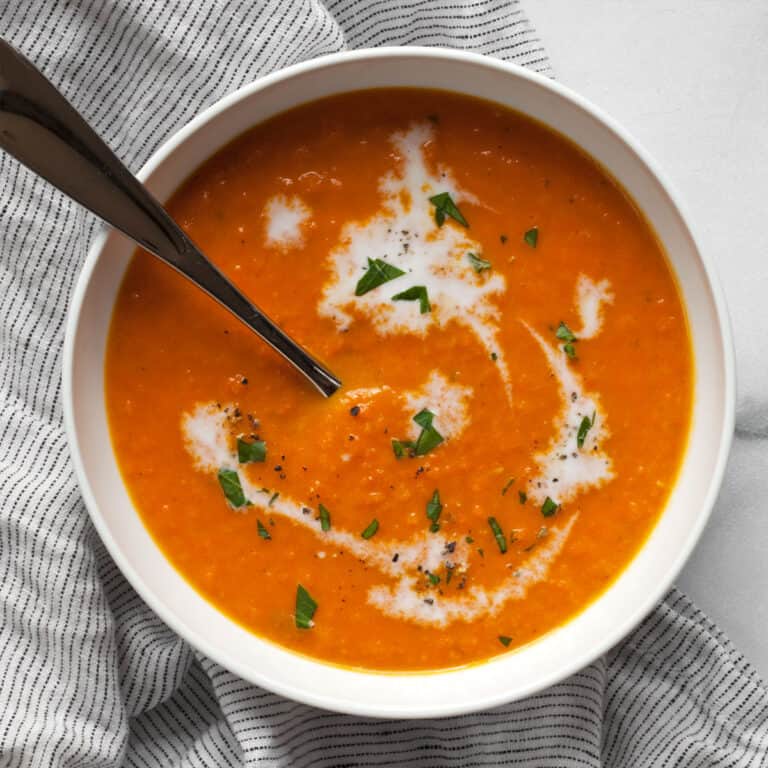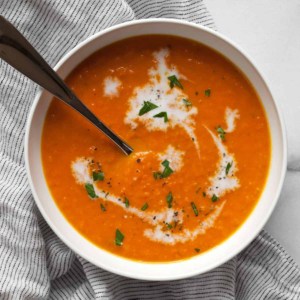 Creamy with coconut milk, this vegan carrot soup has lots of fresh ginger, garlic and spices. It is simple and full of so much flavor.
Ingredients
1

tablespoon

olive oil

1

medium white onion

roughly chopped

1

tablespoon

minced fresh ginger

1

garlic clove

minced

1/2

teaspoon

cumin

1

teaspoon

kosher salt

1/2

teaspoon

black pepper

2

pounds

carrots

peeled and diced

4

cups

low-sodium vegetable broth

1

cup

coconut milk plus more for serving

1

tablespoon

chopped parsley
Instructions
Heat the olive oil in a large saucepan over medium high heat. Add the onions and sauté for 5 minutes until they start to soften.

Stir in the ginger, garlic, cumin, salt and pepper. Continue cooking for 1 minute until everything is fragrant.

Add the carrots and vegetable broth. Bring the soup to a boil, reduce heat and simmer for 18-22 minutes until the carrots are soft.

Use an immersion blender to puree the soup in the pot or carefully transfer it in batches to a blender to puree.

Stir in the coconut milk.

Divide into bowls and top with a drizzle of coconut milk and chopped parsley.
Notes
If you don't have a blender, you can puree the soup by hand using a potato masher.
Let the soup cool before storing it.
Store leftover soup in an airtight container in the refrigerator up to 4 days.
To store longer, keep the soup in the freezer up to 1 month. It is best for thawing and reheating to divide the soup into smaller portion sizes when freezing it.
Nutrition
Calories:
154
kcal
|
Carbohydrates:
28
g
|
Protein:
4
g
|
Fat:
4
g
|
Saturated Fat:
1
g
|
Polyunsaturated Fat:
1
g
|
Monounsaturated Fat:
3
g
|
Sodium:
740
mg
|
Potassium:
790
mg
|
Fiber:
8
g
|
Sugar:
13
g
|
Vitamin A:
37978
IU
|
Vitamin C:
17
mg
|
Calcium:
88
mg
|
Iron:
1
mg
Nutrition information is automatically calculated, so should only be used as an approximation.
Originally published January 20, 2020. Updated: December 12, 2022.