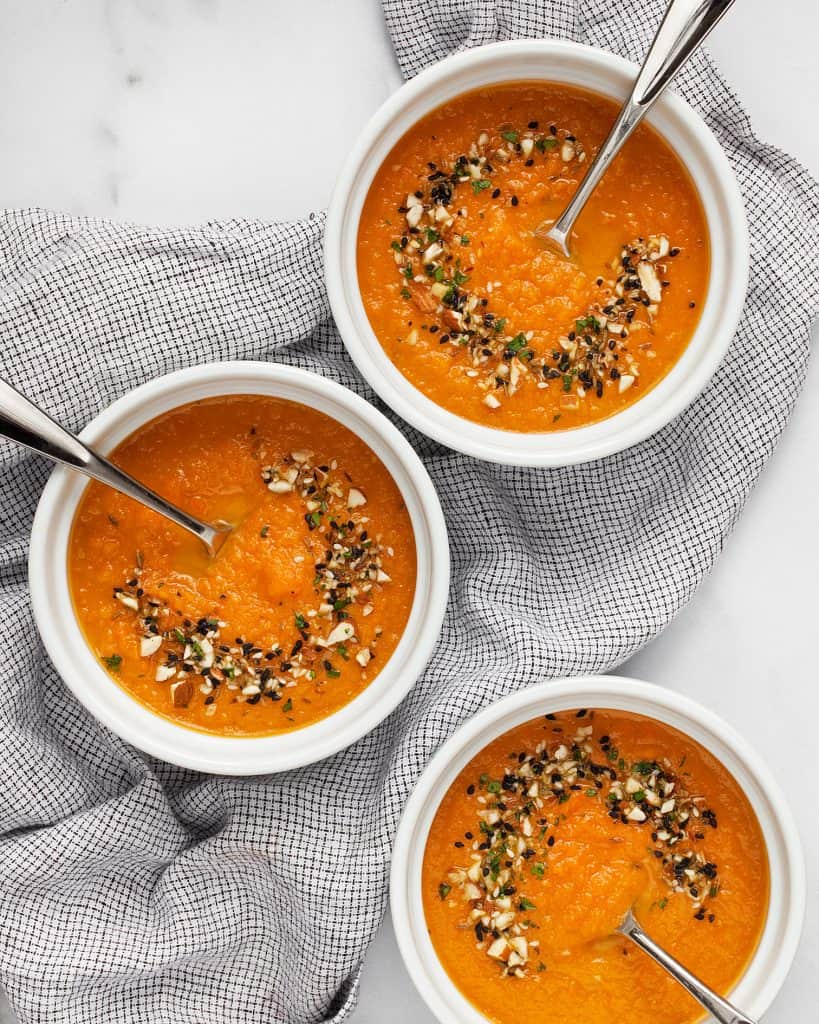 I consider carrots to be my first vegetable.

Of course I can't remember what puree my mom served me when I was a baby, but I do recall lunches and dinners with raw carrot sticks for a side.

My brother and I weren't so interested in veggies.

Now as a parent I am suffering through that kind of picky eating with my six-year-old.

We were at a birthday party the other weekend, and another child went to the food table to help himself to broccoli and cherry tomatoes. He proceeded to devour everything on his plate.

What???
When I asked his mother how she got him to be such an enthusiastic vegetable eater. She shrugged and said it was absolutely nothing she had done.
Is it good genes? Maybe just luck?

I don't know, but I am not spending much time worrying about my son's lack of vegetable consumption.

Despite my limited palette when I was a kid, as an adult I absolutely adore veggies. They are the core of my diet.
I've been snacking a lot on raw carrot sticks for the past month or so.

Yes, I am enjoying them more than when my mom tried to get me to eat carrots back in the day.

I am obsessed with dipping carrots in peanut butter.

Going all in on carrots, I decided to revisit my recipe carrot ginger soup.
How To Make Carrot Ginger Soup
It's a simple vegan soup with very basic, but fragrant ingredients.

To start, I sauté onions in olive oil. When they are soft, it's time for the aromatics: plenty of fresh ginger, garlic and cumin.

Then I add roughly chopped carrots and vegetable stock. The mixture simmers giving the carrots time to turn tender and mashable.
While the soup is bubbling away, I toast chopped almonds, cumin seeds, coriander seeds, sesame seeds, salt and pepper in a skillet.

I chop this dukkah spice mix more finely once it's finished toasting. This is the garnish for the carrot ginger soup.
Chunky or Smooth: How To Puree Soup
1) If you like your soup thicker and chunkier, just use a potato masher to smash up the carrots and everything else.
2) Use an immersion blender right in the pot for soup that's smooth, but still retains some texture.

3) For the smoothest soup, transfer the mixture to a blender.
Once you ladle the soup into the bowls, sprinkle them generously with almond dukkah and fresh chopped parsley.
Print
Carrot Ginger Soup
Prep Time:

10 minutes

Cook Time:

25-30 minutes

Total Time:

35-40 minutes

Yield:

Serves 4
Ingredients
For soup
1 tablespoon olive oil
1 medium white onion, roughly chopped
1 tablespoon minced fresh ginger
1 garlic clove, minced
1/2 teaspoon cumin
1 teaspoon kosher salt
2 pounds carrots, peeled and roughly chopped
4 cups low-sodium vegetable broth
Chopped fresh parsley for serving
For almond dukkah
1/4 cup roughly chopped almonds
1 tablespoon cumin seeds
1 teaspoon sesame seeds
1 teaspoon coriander seeds
1 teaspoon kosher salt
1/2 teaspoon black pepper
Instructions
Heat the olive oil in a large saucepan over medium heat. Add the onions and sauté for 5 minutes until they start to soften.
Stir in the ginger, garlic, cumin and salt and continue cooking for an additional 3 minutes. Add the carrots and vegetable broth. Bring the soup to a boil. Reduce heat and simmer for 15-20 minutes until the carrots are soft.
For a chunkier soup, use a potato masher to mash it. For a smoother soup, puree the mixture with an immersion blender in the saucepan or transfer to a blender.
For the dukkah spice mix, toast the almonds, cumin seeds, sesame seeds, coriander seeds, salt and black pepper in a small skillet over medium heat until fragrant, about 2 minutes. Transfer the mixture to a cutting board and finely chop.
Divide the soup into bowls and garnish with dukkah spice mix and parsley before serving.
Notes
Extra dukkah should be stored in an airtight container. It can be used as a seasoning to finish other dishes like vegetables and salads.
SHARE THIS