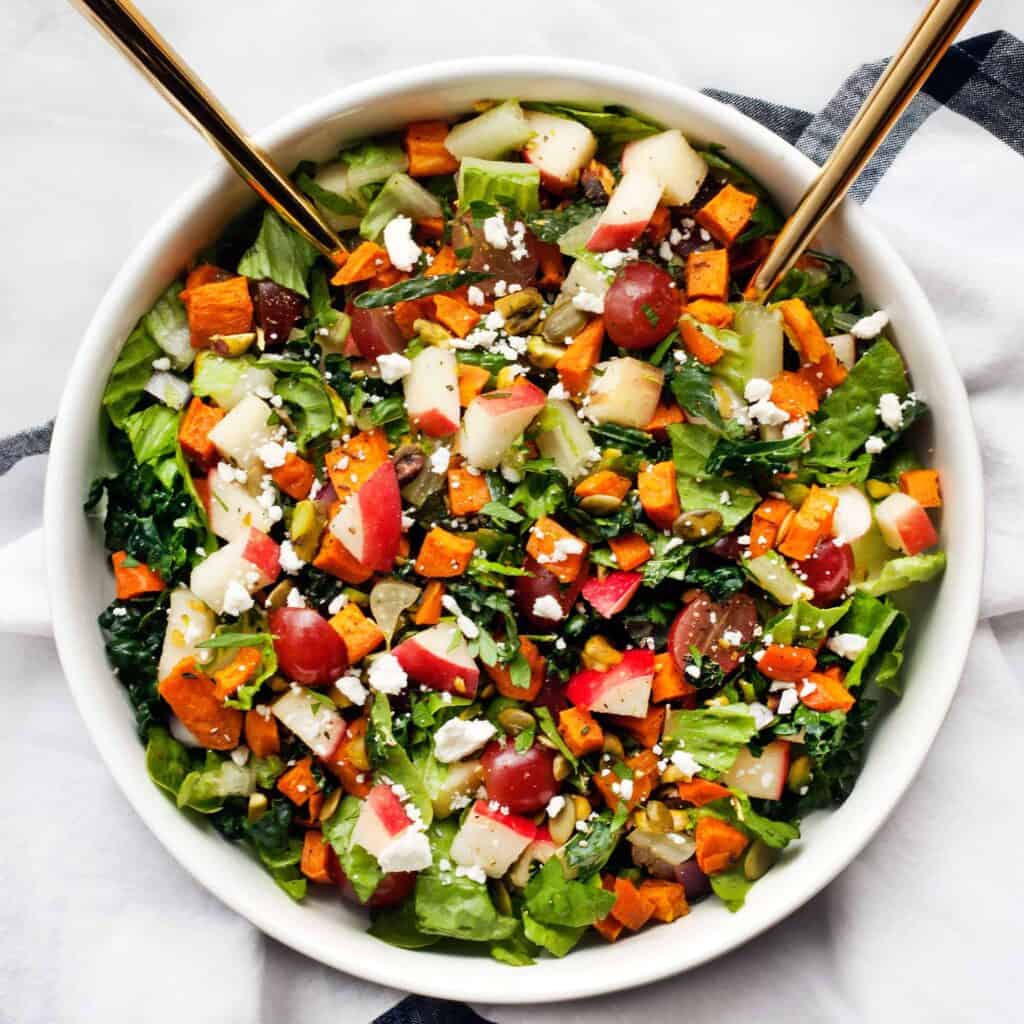 This year's Thanksgiving festivities will be a team effort, and I'm even more excited than usual. That says a lot considering it's my number one holiday.
My brother and I are splitting food duties. He's going to cook the turkey outside on his smoker.

I can't wait for that! He got the smoker a few months ago, so he's had plenty of practice.
I'll take on the majority of the sides and bake a couple pies for dessert. I've started doing some brainstorming.

There are so many good things to eat that it will be tough to edit.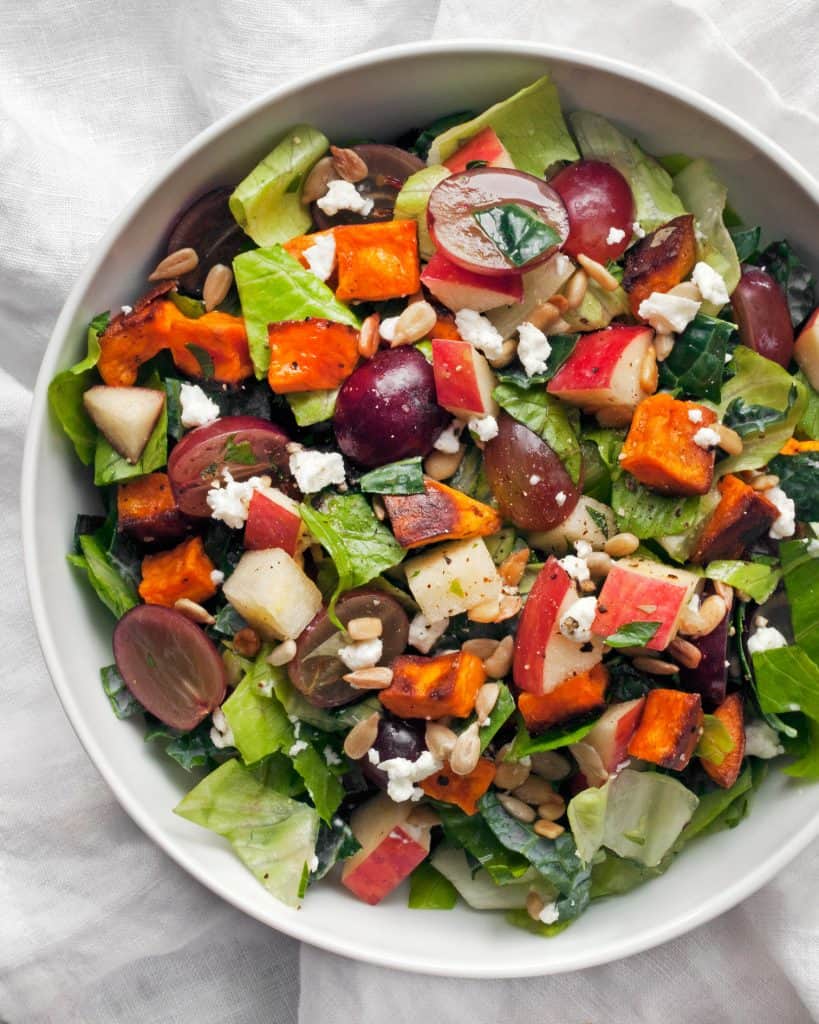 The best part of Thanksgiving is having a little bit of everything. It's truly the greatest buffet.
This weekend we're going to get together to plan the official menu. That sounds very formal. My brother shares my love for food and cooking, so we'll have plenty of fun finalizing everything.
I'm thinking about suggesting an autumn chopped salad. It is a mix of greens that can stand up to all those big sides.
Some people think salad is a waste of space for Thanksgiving, but fresh uncooked greens are a great counterpoint to all the cooked, heavy sides.
Chopped is my preferred way to eat a salad. I like changing up the ingredients depending on my season or mood.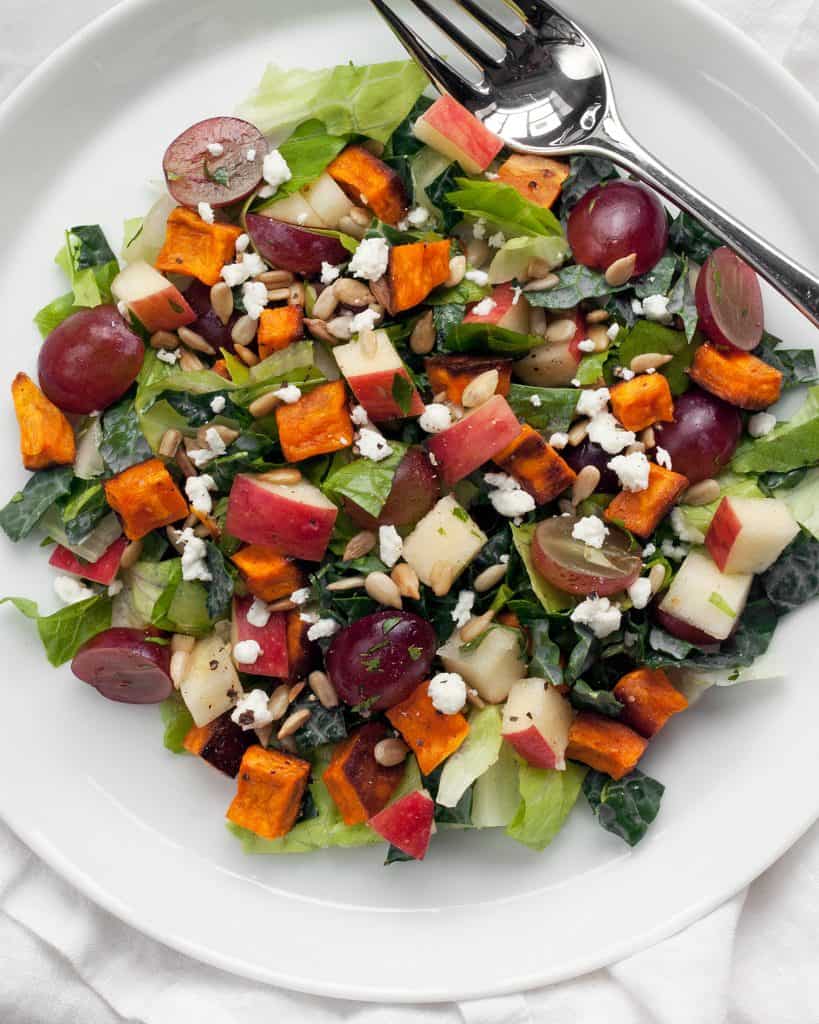 Autumn Chopped Salad: The Ingredients
For this fall version, the chopping happened in stages instead of all at once.

I diced a sweet potato and roasted it before adding to a bowl with kale, romaine, Honeycrisp apples, grapes and sherry vinaigrette.
It took some restraint not to keep adding more and more components to the bowl.
I wanted crunch and a little something salty to offset the sweetness of the apples and grapes, so I finished the salad with pumpkin seeds and crumbled feta.

Instead of pumpkin seeds, you can use sunflower seeds.
This autumn chopped salad won't be limited to just fall and Thanksgiving. I'm planning to eat it through the winter.

You can't beat a seasonal salad!
Print
Autumn Chopped Salad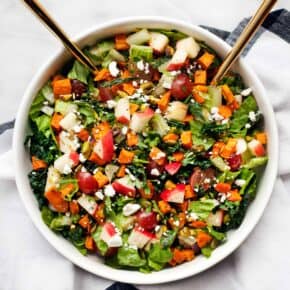 Total Time:

45 minutes

Yield:

Serves 6
Ingredients
For salad
1 medium sweet potato, peeled and diced
1 tablespoon olive oil
1/2 teaspoon kosher salt
1/4 teaspoon black pepper
1 large head romaine (about 1 pound), chopped
1 bunch lacinato kale, ribs removed, leaves finely chopped
1 Honeycrisp apple, cored and diced
1 cup halved red grapes
1/4 cup pumpkin seeds or sunflower seeds
1/4 cup crumbled feta
1 tablespoon chopped fresh parsley
For vinaigrette
1 garlic clove, minced
2 tablespoons sherry vinegar
1/4 teaspoon kosher salt
1/4 teaspoon black pepper
1/4 cup olive oil
Instructions
Preheat the oven to 375 degrees F.
Toss the sweet potatoes with the olive oil, salt and pepper and spread into a single layer on a sheet pan. Roast for 30 minutes until the sweet potatoes are tender and slightly browned at the edges. Set aside and let cool.
In a large bowl, combine the romaine, kale, apples, grapes, pumpkin seeds, feta, parsley and sweet potatoes.
For the vinaigrette, combine the garlic, sherry vinegar, salt and pepper in a small bowl. Whisk in the olive oil until fully combined. Drizzle the vinaigrette in the salad before serving.
SHARE THIS