Easy Eggplant Recipes
on Aug 24, 2021, Updated Jul 21, 2022
Eggplant can be a love it or hate it kind of vegetable. But I think that's just because people don't know what to do with it or how to prepare it. There is so much more to it than eggplant Parmesan—not that there is anything wrong with that classic recipe!
Eggplant plays nicely with lots of other vegetables. It's BFFs include tomatoes, zucchini, peppers and corn. When you combine eggplant with a mix of produce that's in season, it is at its best. Hello, Ratatouille!
How To Prep Eggplant
To salt or not to salt is the question. There are 2 reasons to sprinkle cut eggplant with salt before you cook it:
To take away some of the bitterness
To remove any excess liquid
Is it necessary to salt eggplant? Not always. If I am making a stew, I don't bother with it. On the other hand, if I am browning eggplant in a skillet, I am more like to do it. Short on time? Then it's ok to skip this step.
What To Look For When Buying Eggplant
Overall, eggplant should feel heavy for its size.
Look for smooth skin that's shiny.
There shouldn't be any soft spots. Eggplant is firm, but it should still give slightly when you press it.
The smaller the eggplant, the less likely it is to be bitter. So pick small to medium eggplants.
You want the stem to be green.
Healthy Easy Eggplant Recipes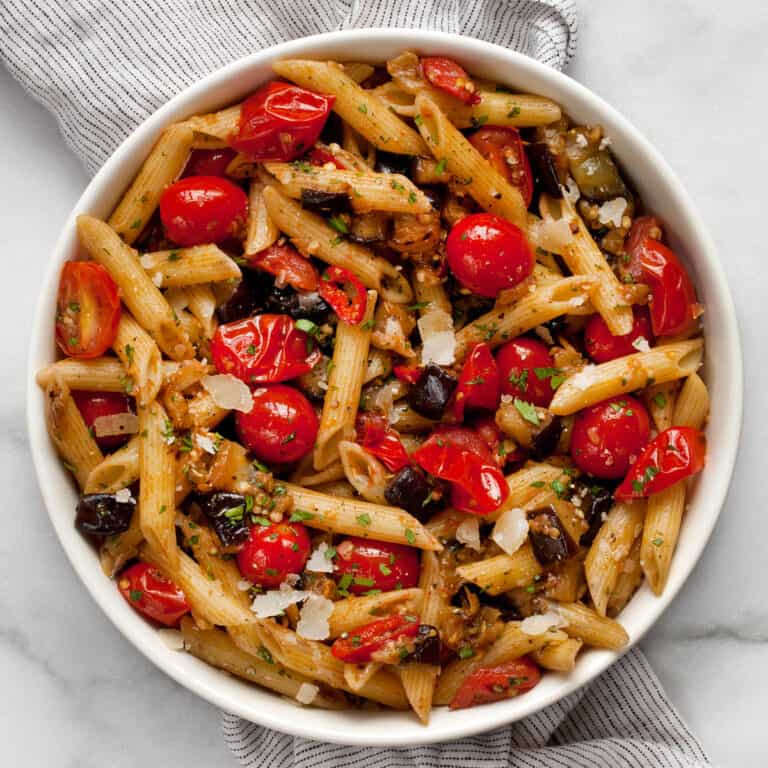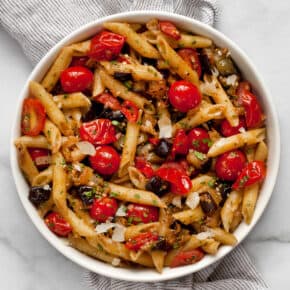 Cherry Tomato Eggplant Pasta
With chilies and garlic, this cherry tomato eggplant pasta is an easy and filling dinner that has lots of flavor with a kick of spice and heat. It's important to sauté the eggplant in 2 batches, so you don't crowd the pan. This helps it brown.
Find recipe
Roasted Eggplant Recipes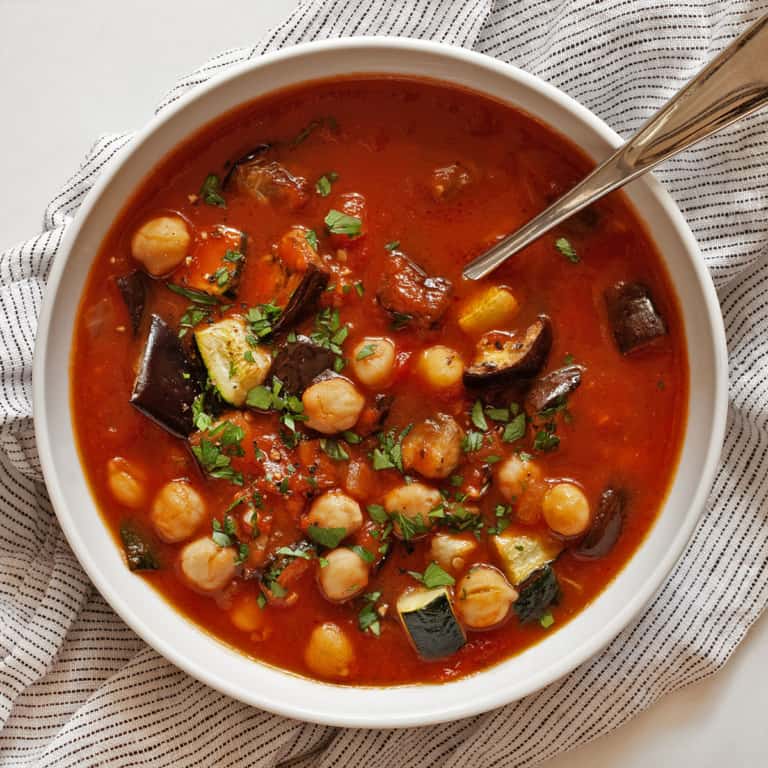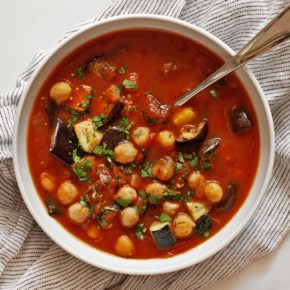 Roasted Eggplant Zucchini Tomato Stew
Warm and hearty with potatoes, this roasted eggplant zucchini tomato stew is seasoned with a mix of oregano, paprika and cumin. It's topped with crumbled feta. It's the perfect late summer – early fall dinner. This vegan stew turns out wonderfully thick. Try serving it with couscous.
Find recipe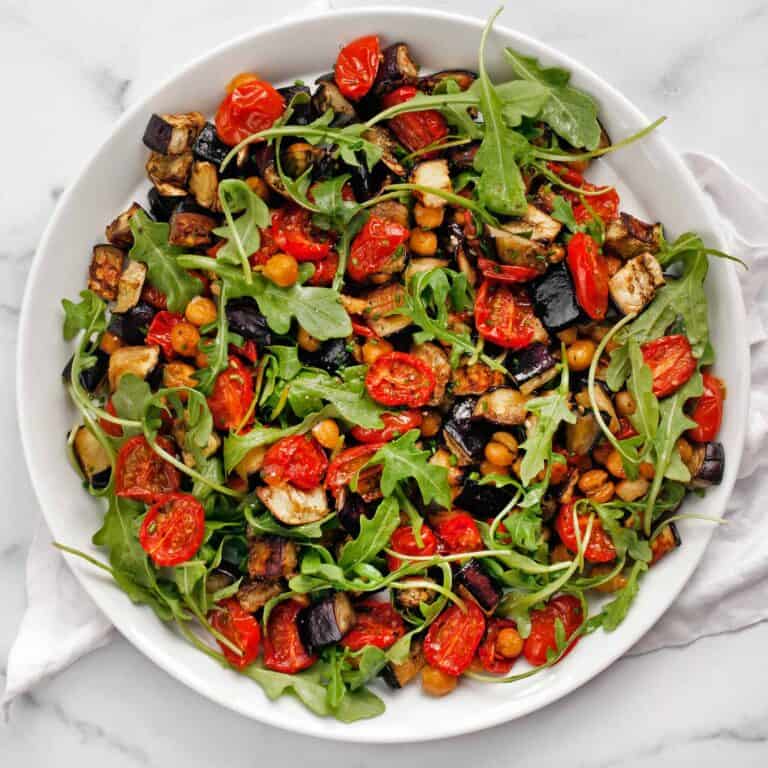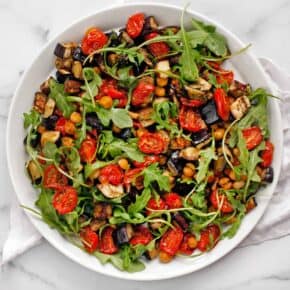 Roasted Eggplant, Tomatoes and Chickpeas
Using two sheet pans for this simple mix of roasted eggplant, tomatoes and chickpeas ensures that the eggplant is perfectly browned, and the chickpeas are crispy. I keep the eggplant on its own pan, so it doesn't absorb the juices from the tomatoes.
Find recipe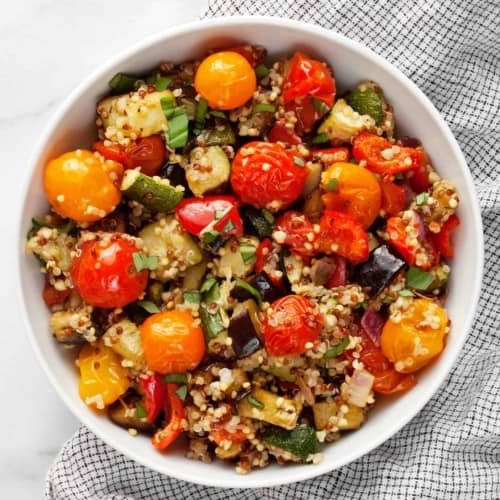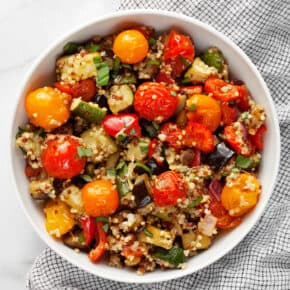 Roasted Ratatouille Quinoa
With zucchini, tomatoes, peppers and eggplant, the vegetables roast on sheet pans in this easy roasted ratatouille quinoa. While that's happening in the oven, the grains simmer on the stove. This recipe is a great way to use up lots of veggies at once.
Find recipe
Grilled Eggplant Recipes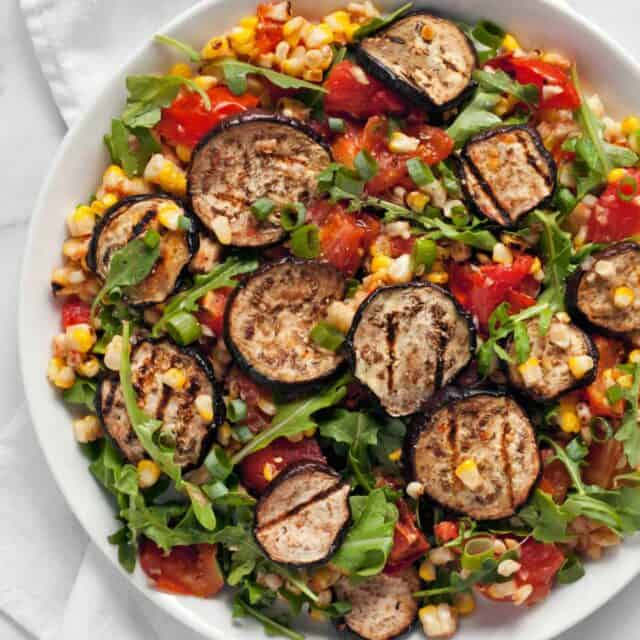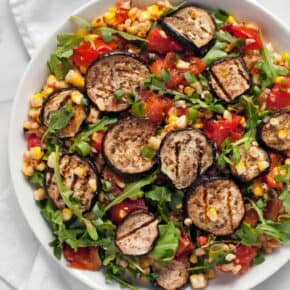 Grilled Eggplant, Corn & Tomatoes
With grilled garlic vinaigrette, arugula and scallions, this combination of grilled eggplant, corn and tomatoes makes a great vegan side dish to go with pretty much any grilled main dish. I grill an entire head of garlic wrapped in foil for the dressing.
Find recipe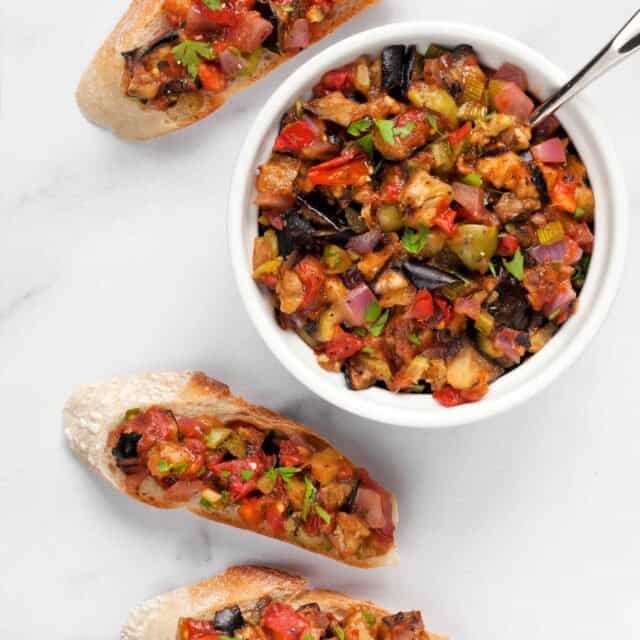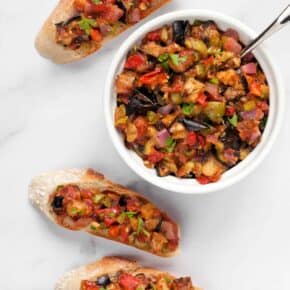 Grilled Caponata
An appetizer and main dish in one, you can transform grilled caponata with just a few additional elements like crusty bread, grains and pasta. Usually, you cook caponata on the stove, but it so wonderful grilled. White wine vinegar adds something a little sharp to it.
Find recipe