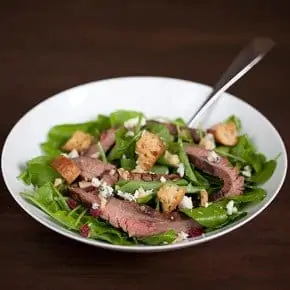 Ingredients
For steak

2

sprigs fresh rosemary

4

sprigs fresh thyme

1/4 cup

olive oil

1/4 cup

low sodium soy sauce

4

garlic cloves, peeled and smashed

1

1-pound flank steak
For shallot vinaigrette

1

shallot, peeled and trimmed

1 teaspoon

Dijon mustard

1 tablespoon

white wine vinegar

1/4 teaspoon

salt

1/4 teaspoon

black pepper

1/4 cup

olive oil
For salad

8 ounces

arugula

2 ounces

, blue cheese, crumbled

1/4 cup

dried cherries, roughly chopped

1/4 cup

toasted walnuts, roughly chopped
Croutons
Instructions
Bruise the rosemary and thyme with the back of a knife or a mortar & pestle to release the aromatics. Combine the herbs with the olive oil, soy sauce and garlic in a glass or ceramic baking dish. Place the flank steak in the dish, cover and marinate in the refrigerator for 3 hours occasionally flipping the steak.
Preheat a charcoal or gas grill on high heat. Brush the garlic, herbs and excess marinade from the flank steak. Thread the shallot onto a skewer. (If the skewer is wood, make sure to soak it for 30 minutes before grilling.)
Grill the steak 4 minutes per side for medium-rare. Grill the shallot along side the steak for the last 4 minutes of cooking. Remove the steak and shallot from the grill. Let the steak rest for 10 minutes before cutting against the grain into thin slices.
While the steak is resting, make the shallot vinaigrette. Mince the grilled shallot and combine with Dijon mustard, white wine vinegar, salt and pepper. Slowly whisk in the olive oil until the dressing has emulsified.
To make the salad, divide the arugula into 4 bowls. Top with blue cheese, dried cherries, walnuts, croutons and steak. Toss with shallot vinaigrette.