Grilled Corn Pepper Chopped Kale Salad

Fresh and crisp is the best way to describe this grilled corn pepper chopped kale salad with chopped almonds and pecorino. It's tossed in a lemon hummus vinaigrette.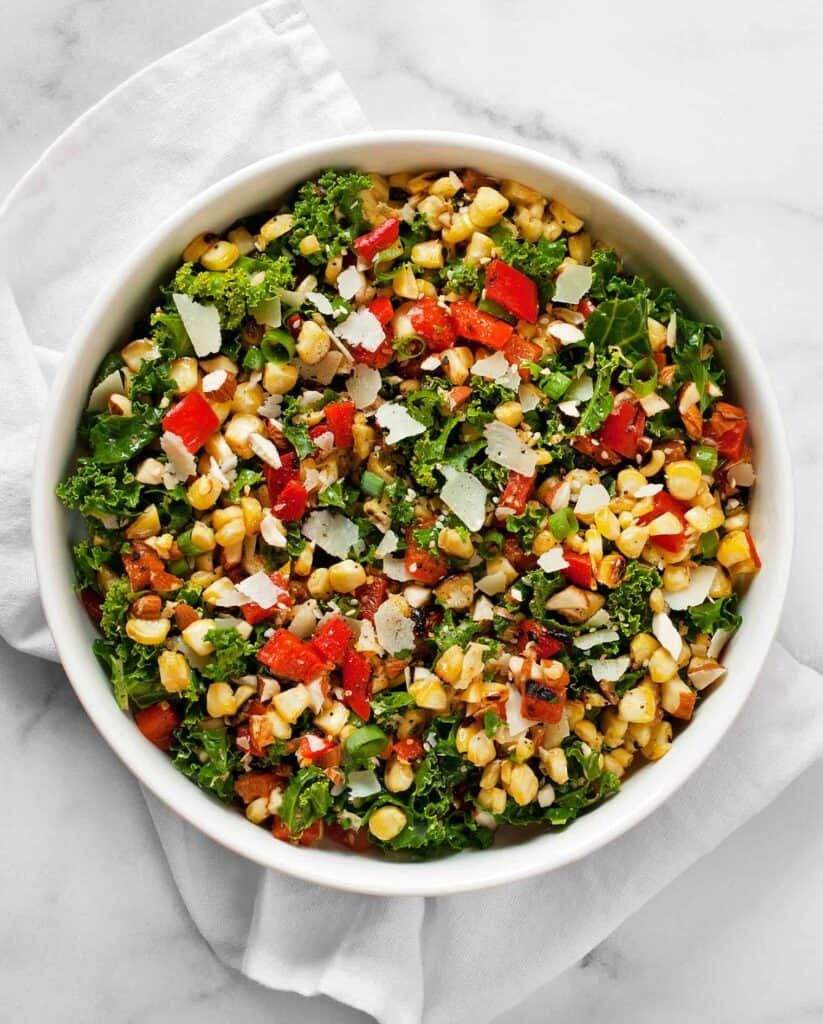 One of the questions I get asked most is what I eat for dinner.

Cooking for a meal is different than cooking for the blog which involves recipe testing, writing and photography.

I love the work that goes into a post, I admit I do look forward to the moments when I get a break and can simply throw a bunch of things together without much thought.

The combinations might be unexpected or borderline weird, but it doesn't matter as long as it tastes good.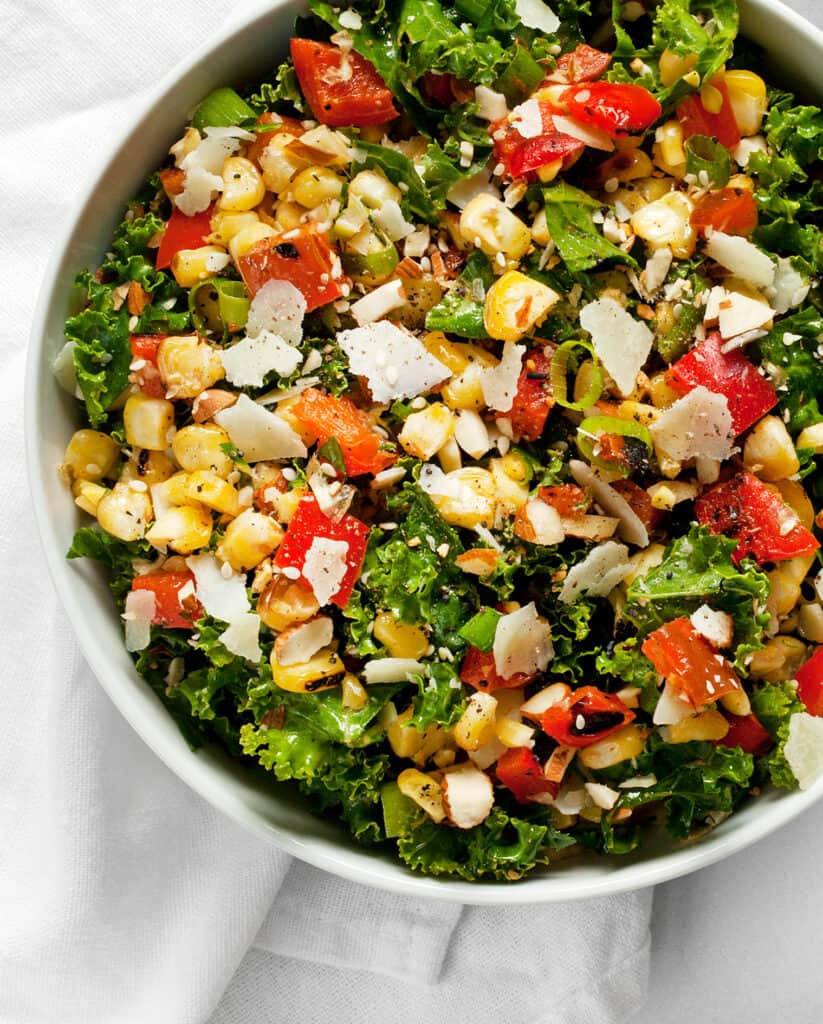 I always start with something as a base, the main ingredient that will hold everything together.

My favorites are greens, grains and pasta.

And within those categories, I like to get specific.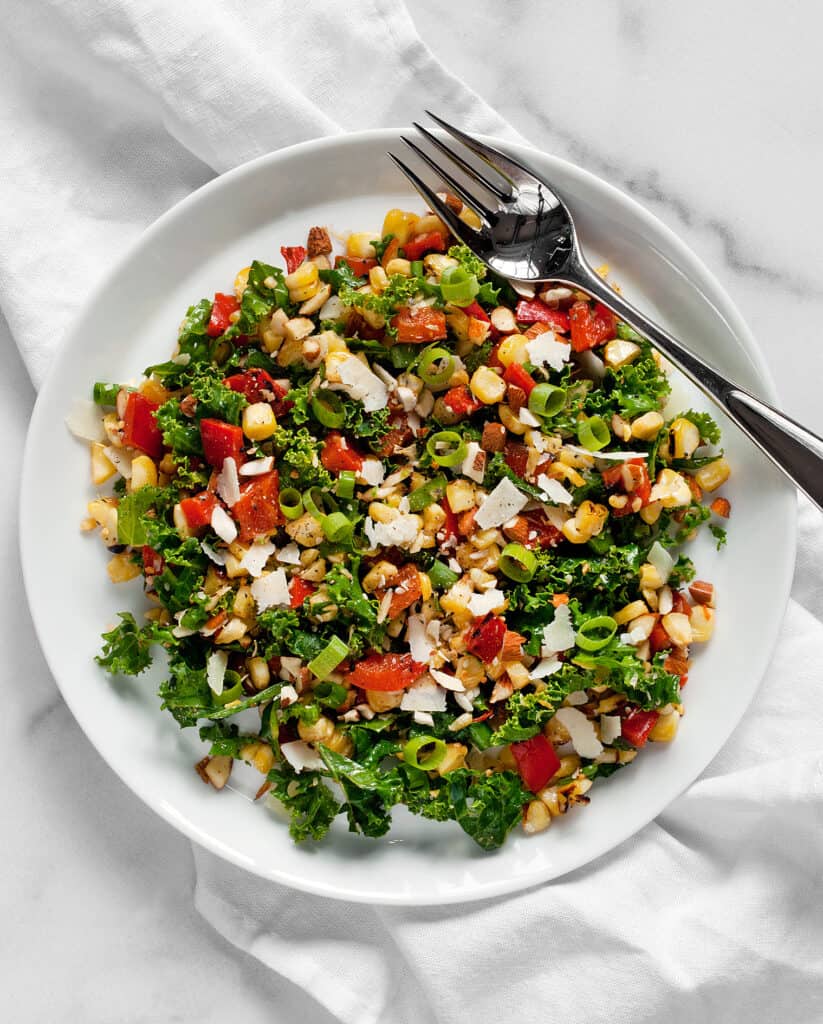 Kale: My Go-To Green
Kale is my go-to salad choice. Flavor is not the top reason why.

Those sturdy kale leaves are tough and reliable because they last much longer in the fridge than more delicate lettuces. That means I have more flexibility on when I can use them.

Also, you can eat kale cooked or raw. I love sautéed kale with lemon juice and red pepper flakes in spaghetti.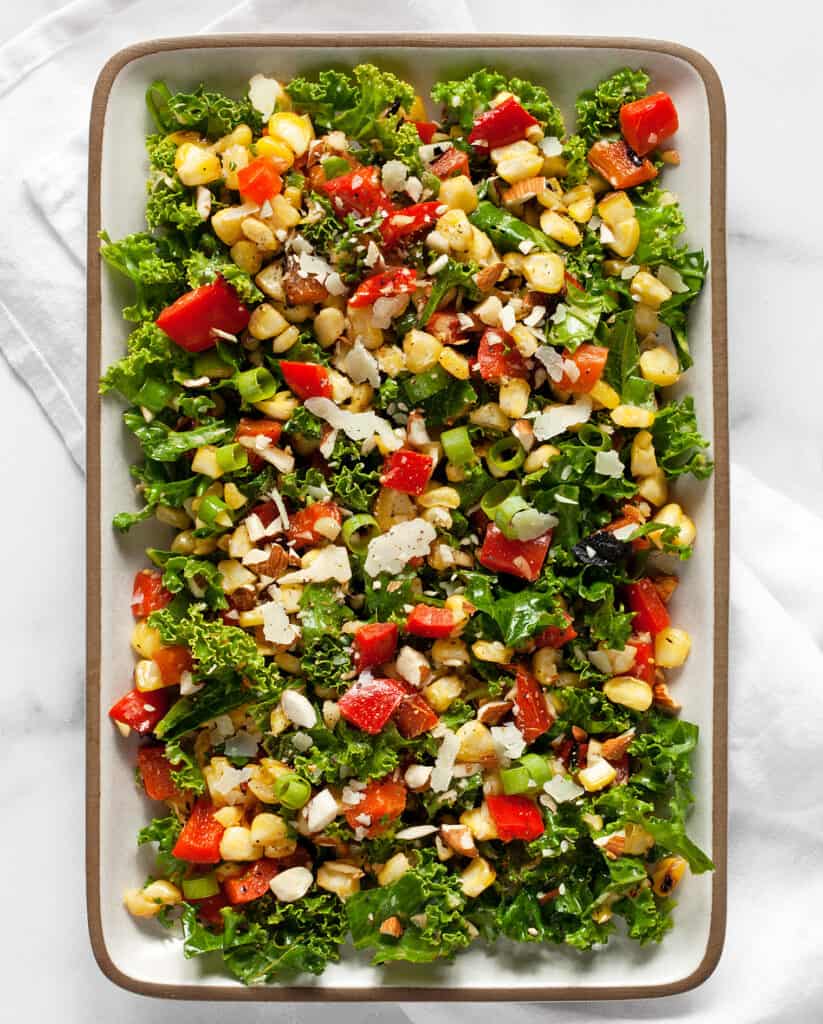 At least a couple times a week I am eating a fill-in-the-blank kale salad.

The elements that I toss with the greens are a seasonal mashup of whatever I have at home.

That can include anything from sweet potatoes to fingerling potatoes to tomatoes to chickpeas.

Obviously, it really doesn't matter.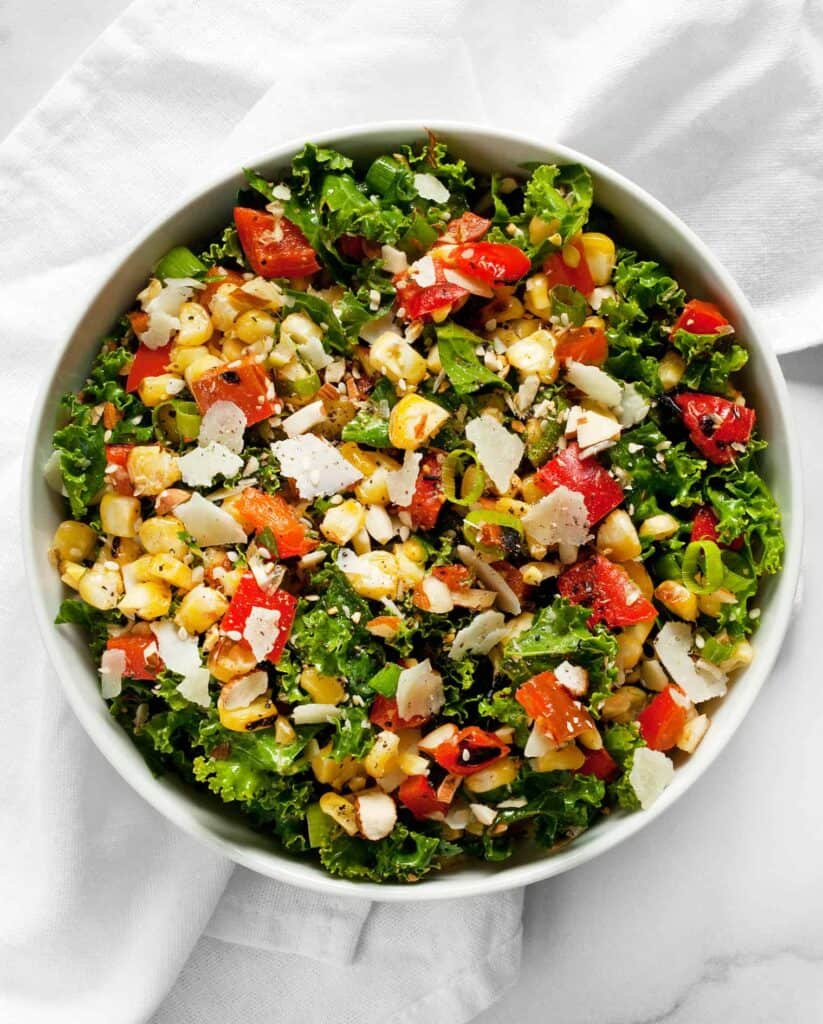 This grilled corn pepper chopped kale salad is my late summer version.

When corn season is over for the year, I will miss fresh and crisp salads like this one.

But I'm trying not to think about that quite yet.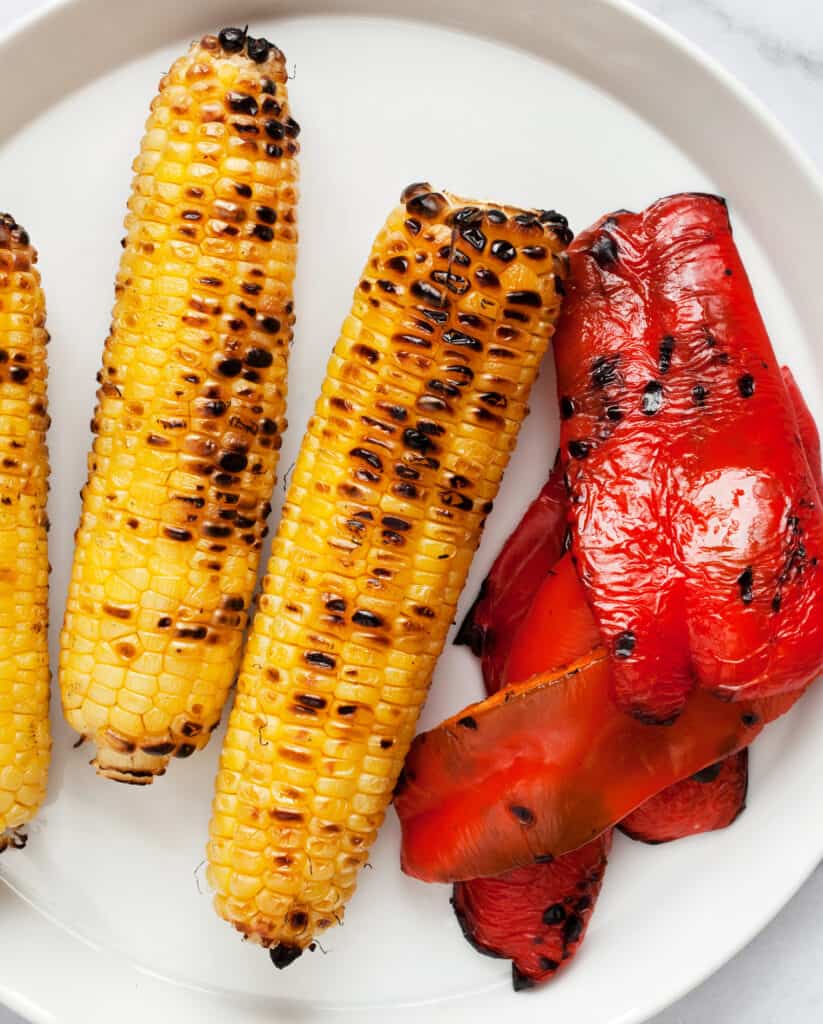 How To Make A Grilled Corn Pepper Chopped Kale Salad
First, I fire up the grill for the corn and red peppers.
That gives me time to chop and prep everything else.

I grill the corn and tomatoes until they have charred a bit.
Then I wait for them to cool before slicing the kernels off the cobs and dicing the peppers.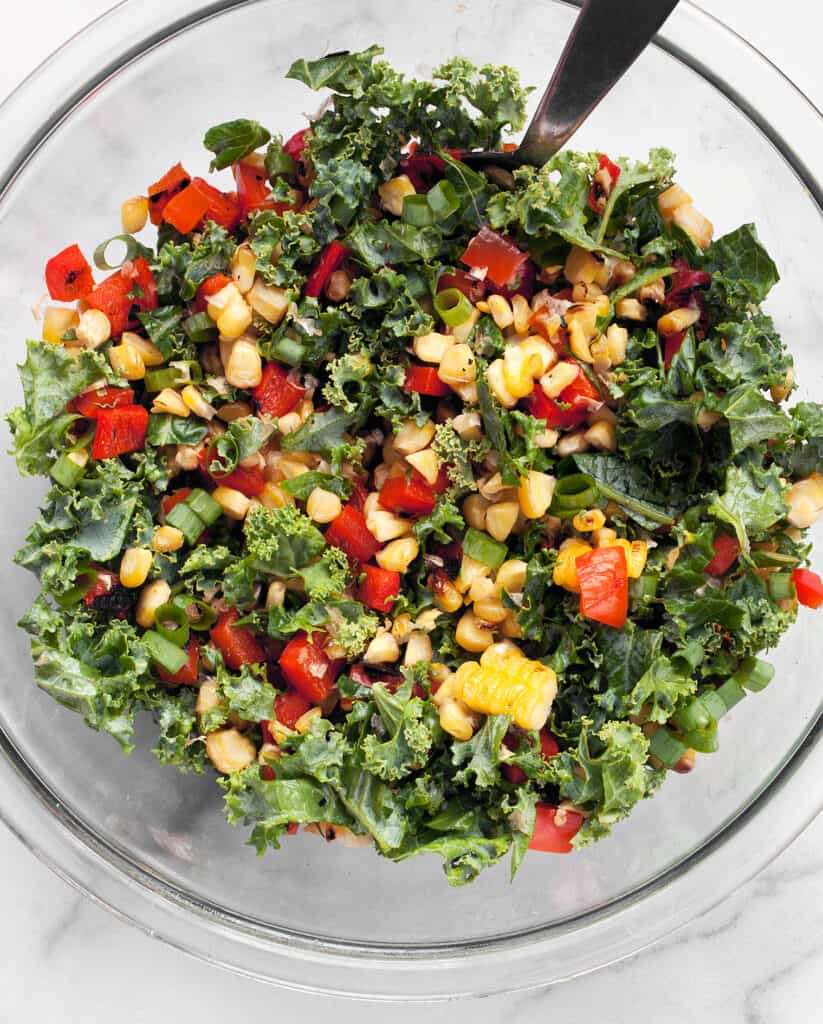 The Other Ingredients
To add a pungent crunch, I toss in scallions, shaved pecorino, chopped almonds and a teaspoon of everything bagel seasoning.

That everything mix is one of the most used jars in my spice drawer.

For the dressing in this grilled corn pepper chopped salad, I reach for the usual ingredients, olive oil, lemon juice and vinegar plus a dollop of hummus, which is an easy, healthy way to make a salad dressing a little creamier.

Even though I'm not ready to say goodbye to summer yet, I'm already thinking about new fall versions of my kale salads.
Print
Grilled Corn Pepper Chopped Kale Salad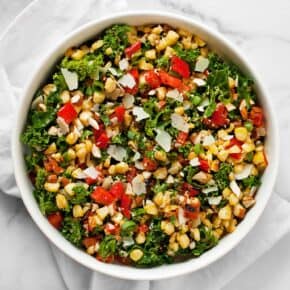 With dried blueberries, walnuts, sourdough croutons and Dijon vinaigrette, this brussels sprout apple salad is a simple mix of fall greens.
Author:
Prep Time:

15 minutes

Cook Time:

5-7 minutes

Total Time:

20-22 minutes

Yield: Serves

4

1

x
Scale
Ingredients
3 ears corn, shucked
1 large red pepper, sliced lengthwise into 3-inch strips1 teaspoon plus
3 tablespoons olive oil
1 bunch curly kale, ribs removed and chopped
1 scallion, thinly sliced
1/2 ounce shaved pecorino cheese
1/4 cup roughly chopped almonds
1 teaspoon everything bagel seasoning
Juice of 1 lemon
1 tablespoon hummus
1 teaspoon white wine vinegar
1/2 teaspoon kosher salt
1/4 teaspoon black pepper
Instructions
Preheat a gas or charcoal grill on high heat.
Toss the corn and peppers with 1 teaspoon olive oil. Grill until the vegetables are lightly charred, 4-6 minutes for the peppers flipping halfway and 5-7 minutes for the corn.
When the corn and peppers are cool enough to handle, slice the kernels off the cobs and dice the peppers.
In a large bowl, combine the corn and peppers with kale, scallions, pecorino, almonds and everything bagel seasoning.
Whisk together 3 tablespoons olive oil, lemon juice, hummus, white wine vinegar, salt and pepper in a small bowl.
Drizzle the vinaigrette into the salad tossing to combine.
SHARE THIS