Kale Fingerling Potato Salad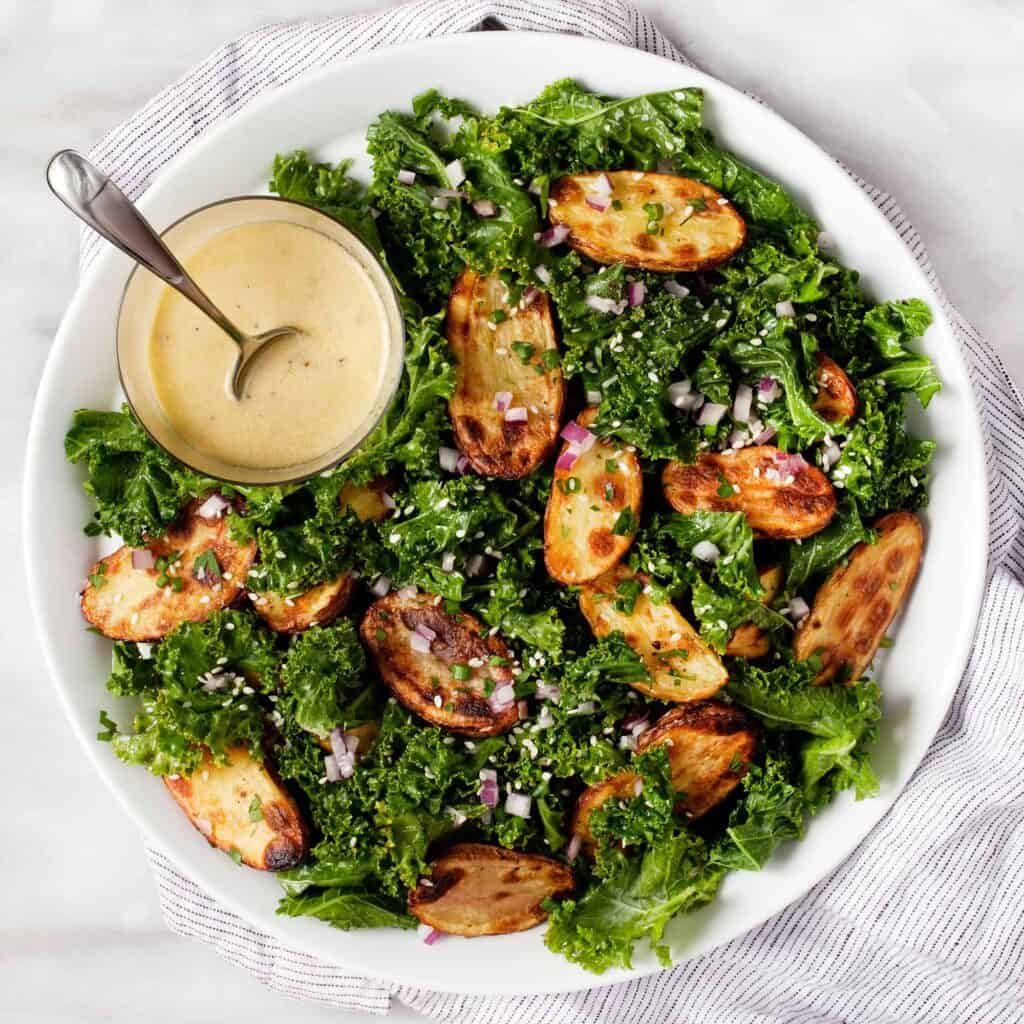 I like potatoes and salad, but I prefer them on separate plates.

When potatoes are transformed into a salad, they are usually drenched in excessive amounts of dressing.

Potatoes lack pizzazz unless you get pretty aggressive with the seasoning. Doing that in liquid form does a great job coating each spud, but you have to be careful not to go overboard. You don't want the whole thing to turn to mush.

When I decided to go against my rules and to make a kale fingerling potato salad, I focused on keeping things crispy.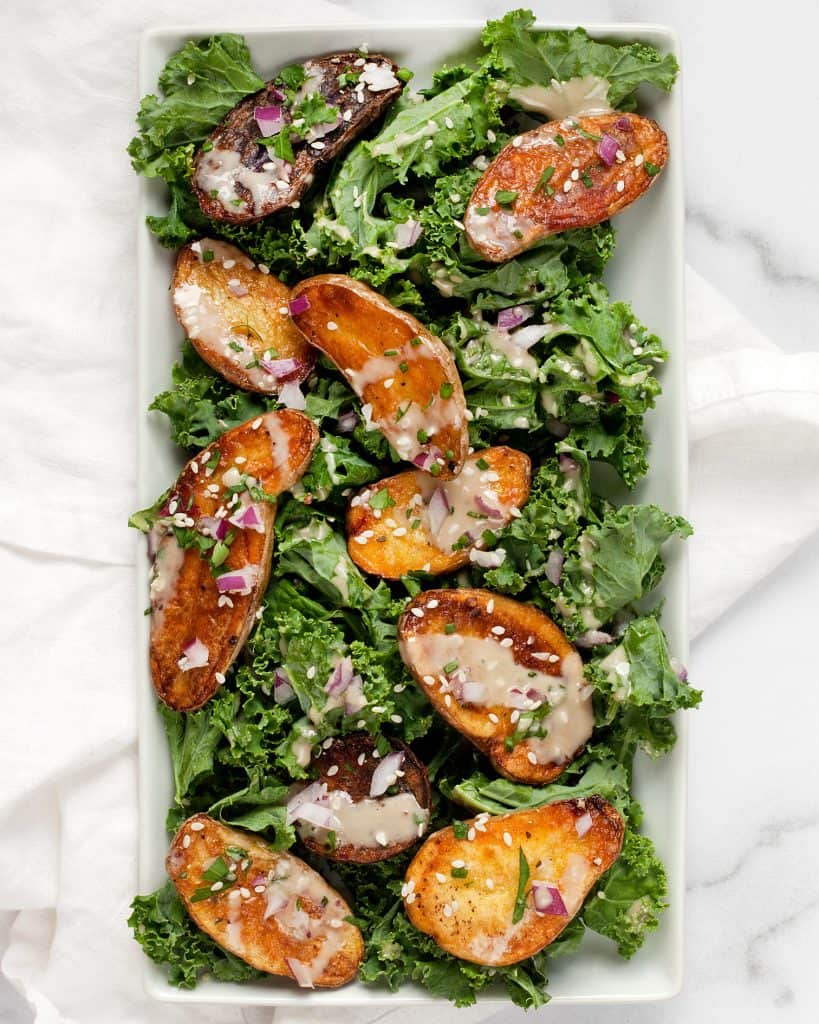 The potatoes had to be roasted. I sliced the fingerling potatoes in half and then soaked them in cold water for a half hour.

That soak helped get rid of some of the starch. I use the same technique for oven fries.
I tossed the potatoes in olive oil, salt and pepper plus lemon juice. Citrus flavor kept things bright and went with the theme of going fresh and zesty.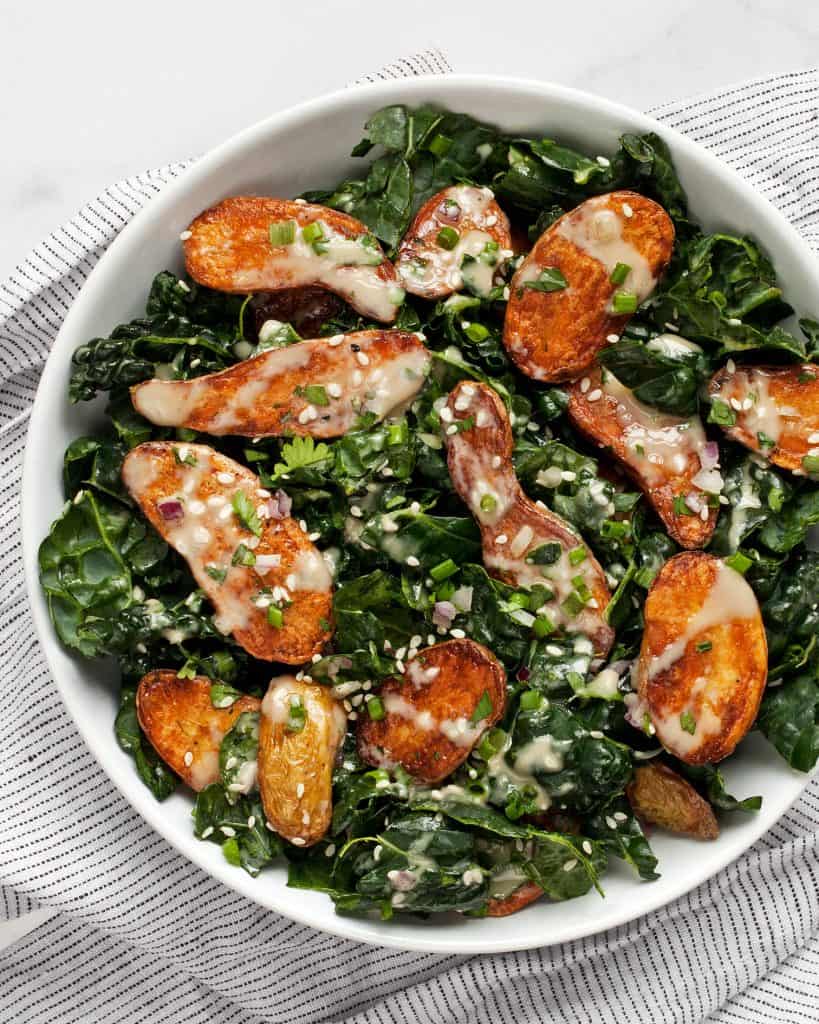 While the potatoes were roasting, I prepped the vinaigrette. It was a spontaneous move. Instead of reaching for vinegar and oil, I pulled tahini out of the fridge.
It was risky because of my general aversion to creamy potato salads, but I knew it would be another vehicle for lemon juice.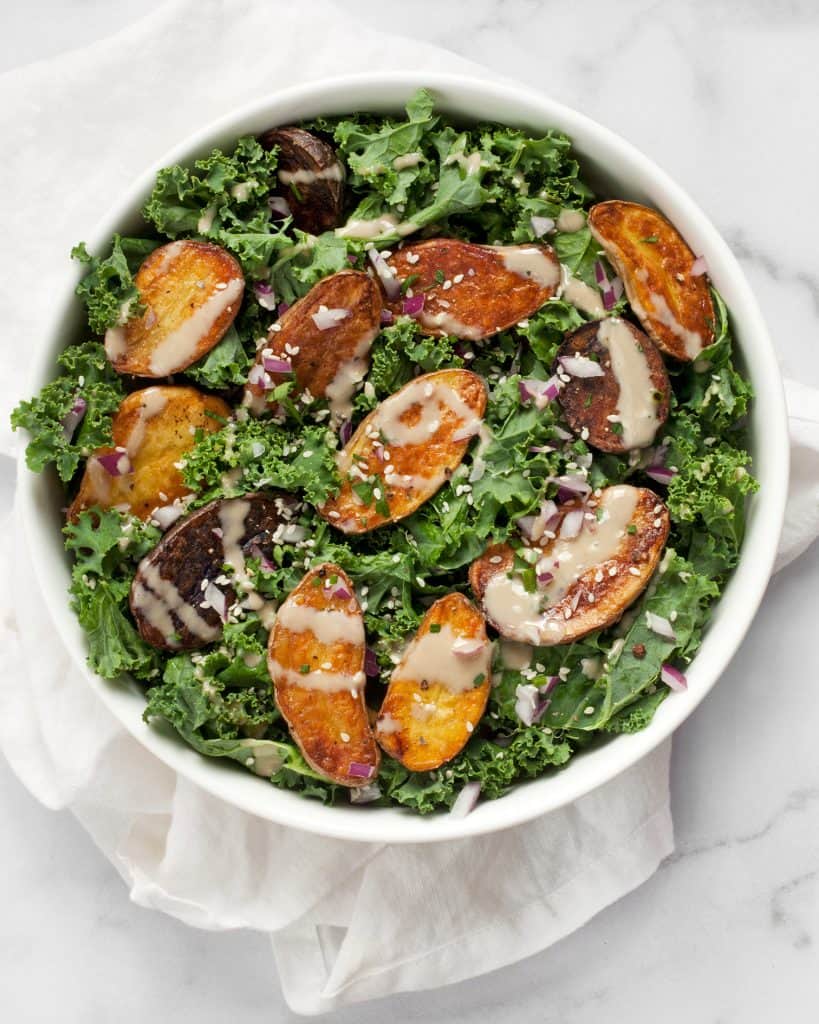 Kale Fingerling Potato Salad: The Ingredients
As I whisked together the vinaigrette, using the leftover potato marinate in the bowl and adding tahini along with more lemon juice and olive oil.

I decided that instead of tossing all the ingredients in it that I would start by tossing the kale in the vinaigrette.

You can use curly kale or lacinato kale.
I carefully folded in the potatoes and diced red onions. Once I transferred all the components to a serving dish, I poured the leftover vinaigrette into a small bowl on the side.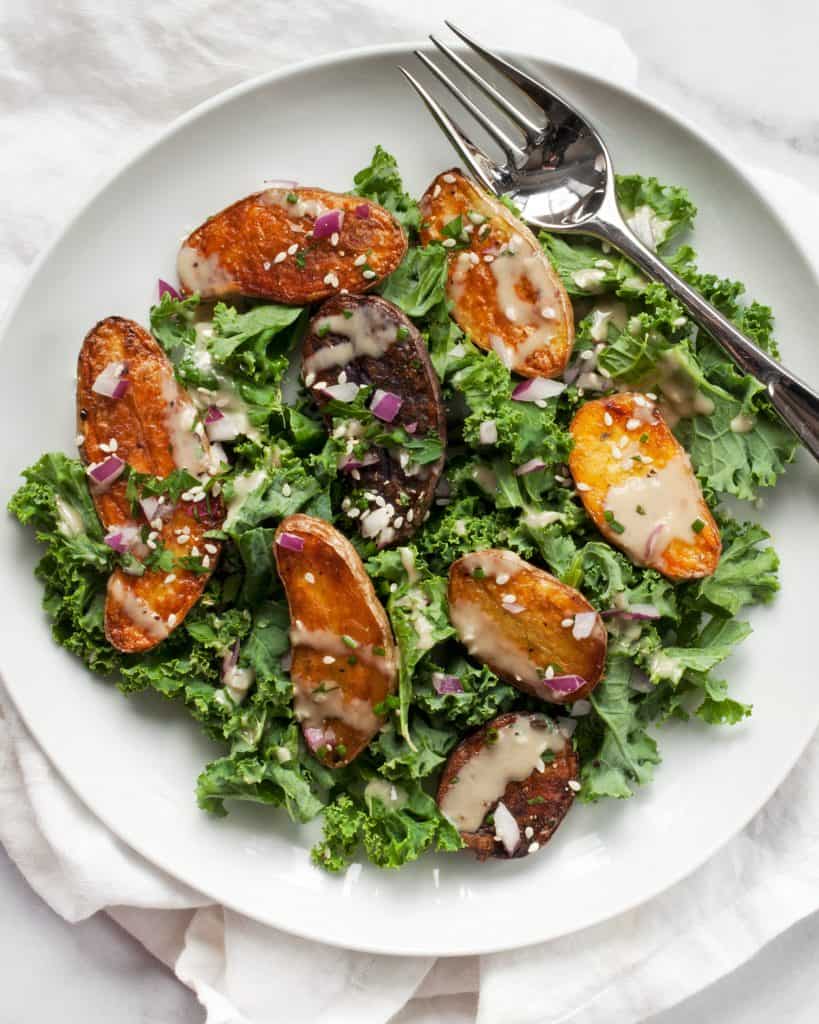 With salads, I like to start out using the least amount of dressing or vinaigrette. Then everyone can spoon on more if they think those greens need it.
To finish off the kale fingerling potato salad, I sprinkled sesame seeds on top along with lots of chopped parsley and chives.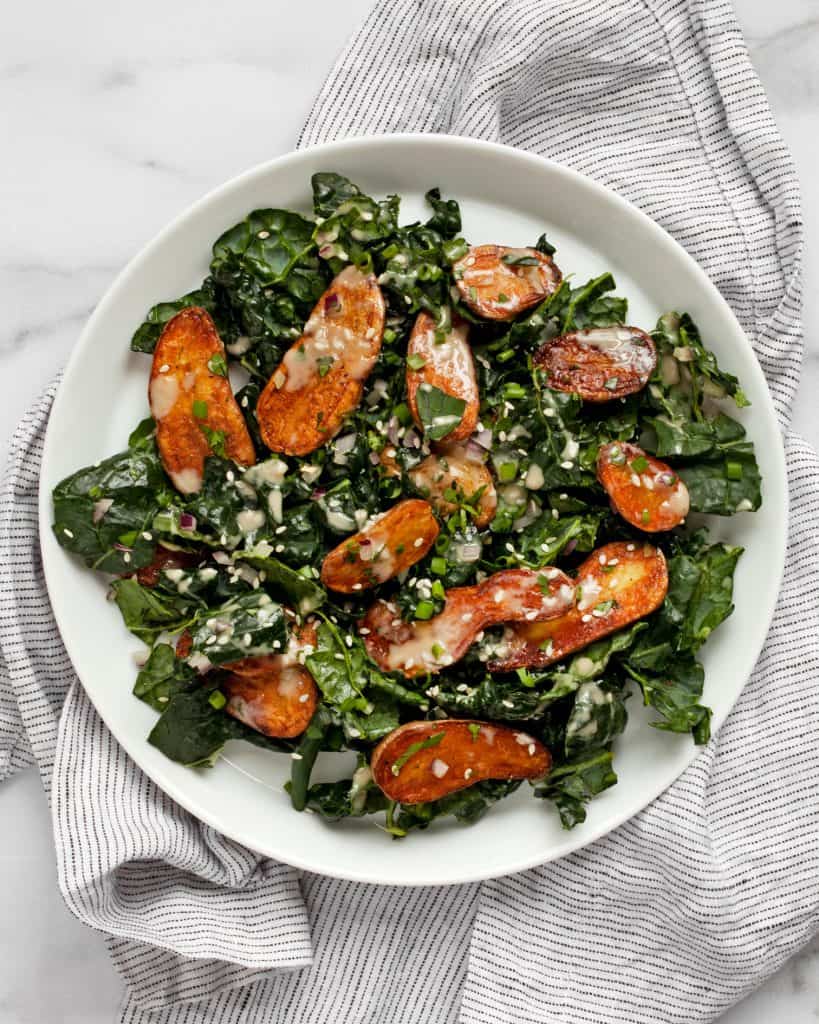 Print
Kale Fingerling Potato Salad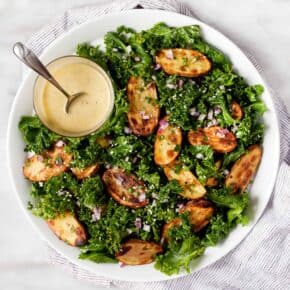 Author:
Prep Time:

15 minutes

Cook Time:

20-30 minutes

Total Time:

35-45 minutes

Yield: Serves

4

1

x
Scale
Ingredients
1 pound assorted fingerling potatoes, halved lengthwise
1 tablespoon plus 1 teaspoon olive oil
Juice of 1 lemon
1 teaspoon kosher salt
1/2 teaspoon black pepper
1 tablespoon tahini
1 bunch curly kale or lacinato kale, leaves torn and stems removed
2 tablespoons diced red onions
1 tablespoon chopped fresh parsley
1 tablespoon minced chives
1 teaspoon sesame seeds
Instructions
Preheat the oven to 425 degrees F. Line a sheet pan with parchment paper.
Soak the potatoes in a large bowl of cold water for 30 minutes. Pour out the water and pat dry the potatoes and the bowl.
Return the potatoes to the bowl and toss with 1 tablespoon olive oil, half the lemon juice, kosher salt and black pepper. Arrange the potatoes cut side down on the sheet pan and roast for 20-30 minutes until tender and golden brown. (If the potatoes are different sizes, some may take longer to cook than others.
Whisk the tahini into the leftover olive oil-lemon juice mixture in the potato bowl. Then stir in the remaining lemon juice and olive oil. Toss in the kale and carefully fold in the potatoes and red onions.
Arrange the kale and potatoes on a serving dish. Sprinkle with parsley, chives and sesame seeds. Serve with the extra tahini vinaigrette on the side.
SHARE THIS