Grilled Corn Tomato Salad
Corn on the cob might be the least graceful thing to consume at a restaurant.

Your hands get a bit messy, maybe even your face. And of course, there is guaranteed to be something in your teeth.

But corn is loved by pretty much everyone, so we should be more forgiving when it comes to manners. Corn is just too good not to eat.

But I wouldn't recommend it for a first date!
Since my husband and I are nearing our 12th anniversary, I didn't shy away from ordering Mexican street corn at a taco place last weekend.

From the first bite, I tried to eat that cob with a degree of neatness, but about a quarter of the way through, I gave up.

When you've been married so long your other half has seen it all, so corn is no big deal.

If you're still feeling self-conscious, no matter your dining companion, try corn off the cob in a grilled corn tomato salad.


While the grill was heating up, I shucked 6 ears of corn.

Then I grilled them right on the grates until they were lightly charred.

Once they were cool enough to handle, I used a knife to slice off all the kernels. This is actually the messiest part.

Some of the corn kernels bounced off my cutting board and wound up on the floor. Whoops!


In a big bowl, I stirred together the corn, halved cherry tomatoes, diced red onions, black beans, jalapeños, scallions and cilantro.
For those who scared of a little heat, skip eating the sliced jalapeños. By just folding them into the rest of the ingredients, they leave some residual spiciness.

The bowl was begging for something bright and citrusy, so I whisked up lime vinaigrette.

What I loved about this grilled corn tomato salad was the freshness and crunch of all the ingredients.
SaveSave
SaveSave
Print
Grilled Corn Tomato Salad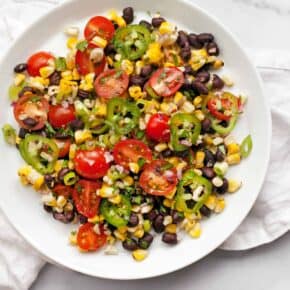 Prep Time:

10 minutes

Cook Time:

5-7 minutes

Total Time:

15-17 minutes

Yield:

Serves 4
Ingredients
For salad
6 ears of corn, shucked
1 tablespoon olive oil
1 teaspoon kosher salt
1/2 teaspoon black pepper
1 cup halved cherry tomatoes
1/2 small red onion, diced
1-15 ounce can black beans, drained and rinsed
1 jalapeno, sliced
2 scallions, thinly sliced
1 handful cilantro, roughly chopped
For vinaigrette
Juice of 1 lime
1 tablespoon finely chopped cilantro
1 garlic clove, minced
1/2 teaspoon kosher salt
1/4 teaspoon black pepper
1/4 cup olive oil
Instructions
Preheat a gas or charcoal grill on high heat.
Rub the corn with olive oil, salt and pepper. Grill until lightly charred, about 5-7 minutes. Let the corn cool slightly before slicing the kernels off the cobs. In a large bowl, combine the corn, tomatoes, red onions, black beans, jalapenos, scallions and cilantro.
For the vinaigrette, whisk together the lime juice, cilantro, garlic, salt, pepper and olive oil until fully combined. Stir into the corn mixture.
SHARE THIS