Balsamic Mushroom Broccoli Rice
on Jan 18, 2021, Updated Jun 28, 2023
Skip the grains in this balsamic mushroom broccoli rice, and go all in on veggies for a vegetarian dinner or side dish in just 20 minutes.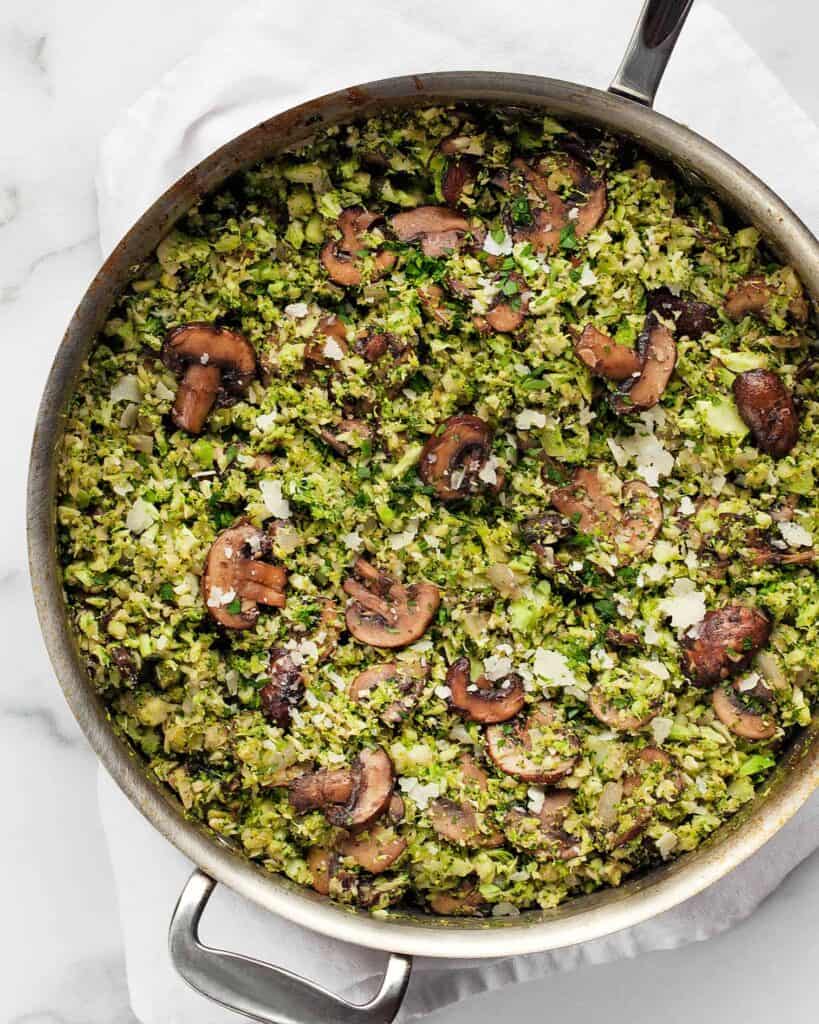 Most of us don't make it through January before we give up on our resolutions.
As I have said many times, I'm not a fan of the pressure to change your life every January 1st.
It's too much at once. There's just something about that date that feels like failure is inevitable.
My exercise epiphany came on April 13th nearly 3 years ago. I still remember it every year and celebrate it with an imaginary pat on the back. It was the beginning of a fitness journey that did not happen overnight.
I would describe it as gradual, but that date was the start.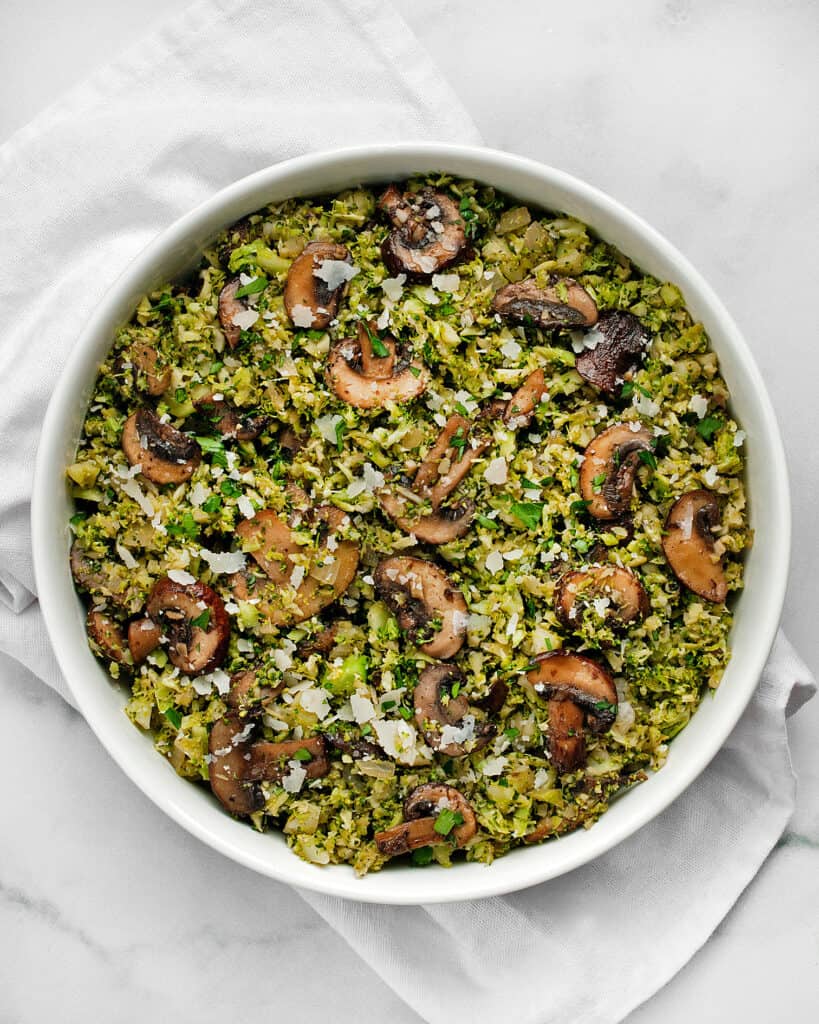 With food, I feel like we all go through waves of "good" eating. However, it's as black and white as good and bad.
I am mostly vegetarian eater with a big sweet tooth who won't say no to a brownie or cookie.
So it only may sense that I have the urge for a January reset after the holidays.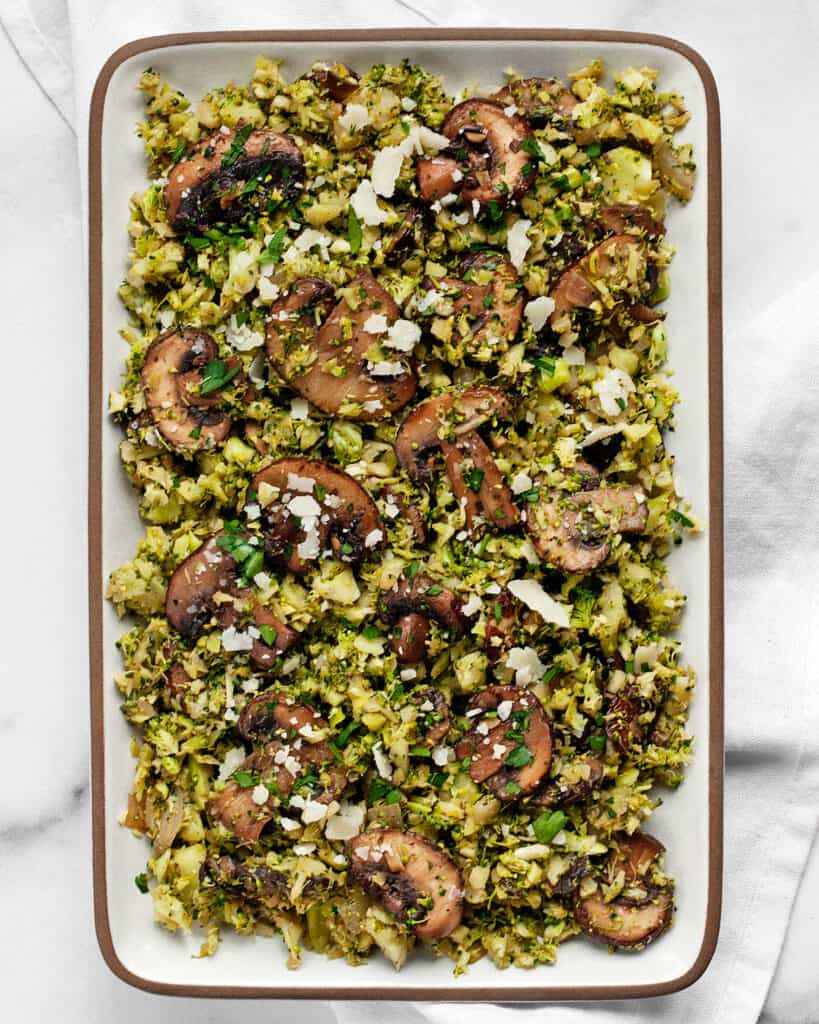 A reset doesn't involve a diet transformation. For me, I just consume even more vegetables than I already do, which is a lot!
Sometimes that means I will skip grains and use riced vegetables instead.
Riced cauliflower has become incredibly popular, and so has broccoli.
And that's why I can't say enough about this easy balsamic mushroom broccoli rice!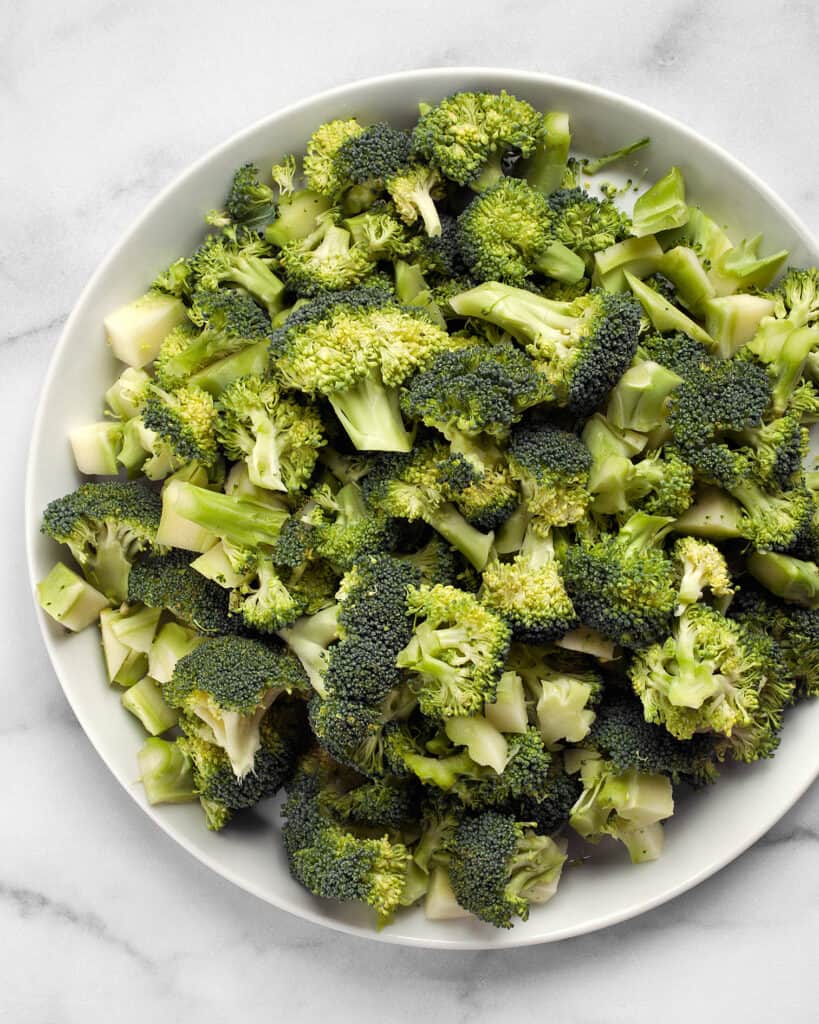 How To Rice Broccoli
It is very easy to chop broccoli into small pieces that resemble rice grains especially with a food processor.
Depending on the size of your food processor bowl, it's best to do it batches. A few pulses and the broccoli will be chopped. It's very quick.
Yes, you can find broccoli that has already been riced in the produce section at the grocery. Of course, this shortcut is absolutely fine.
It is possible to chop the broccoli with the knife, but it will be pretty time-consuming.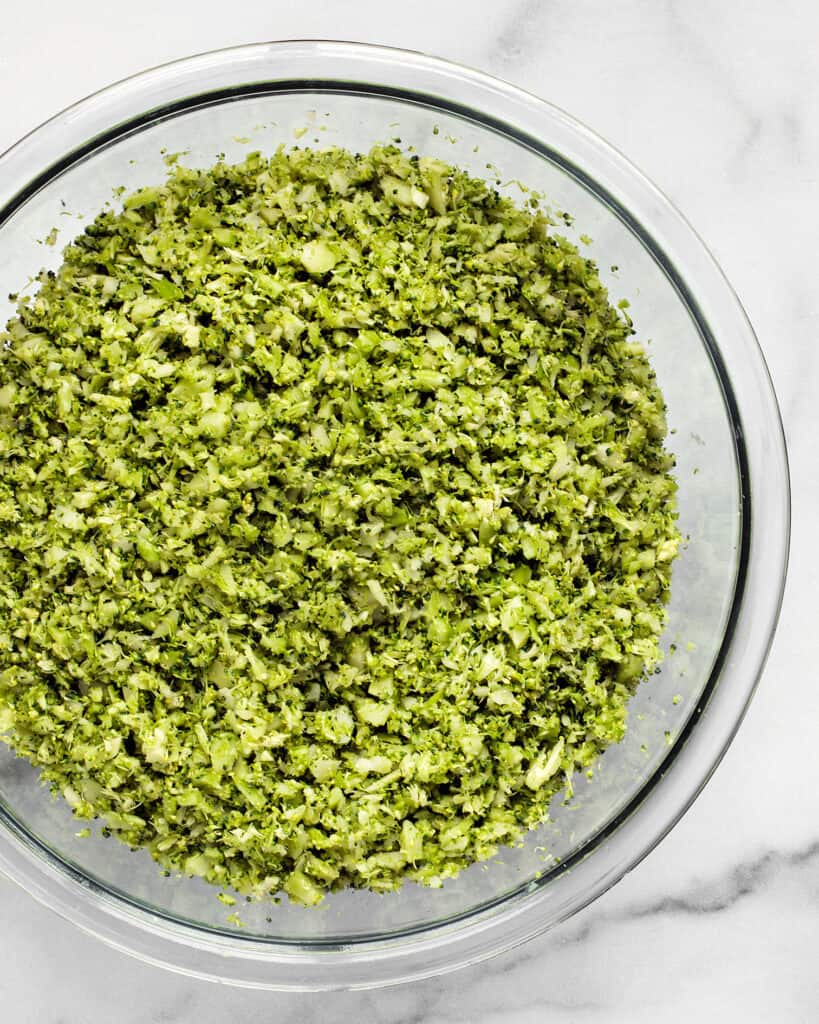 How To Make Balsamic Mushroom Broccoli Rice
This recipe only takes about 20 minutes, so it is important to have all the ingredients ready before you begin.
That's why I get ricing the broccoli and slicing the mushrooms out of the way.
First, I cook the mushrooms in a large sauté pan in olive oil. It always seems like a lot at once, but it doesn't take long for the mushrooms to shrink down.
Once the mushrooms start to brown, I add minced garlic, balsamic vinegar, red pepper flakes, salt and pepper.
I give the mushrooms a little more time to caramelize and for the balsamic to bubble away. Then I spoon them into a bowl to set aside, so I can cook the broccoli.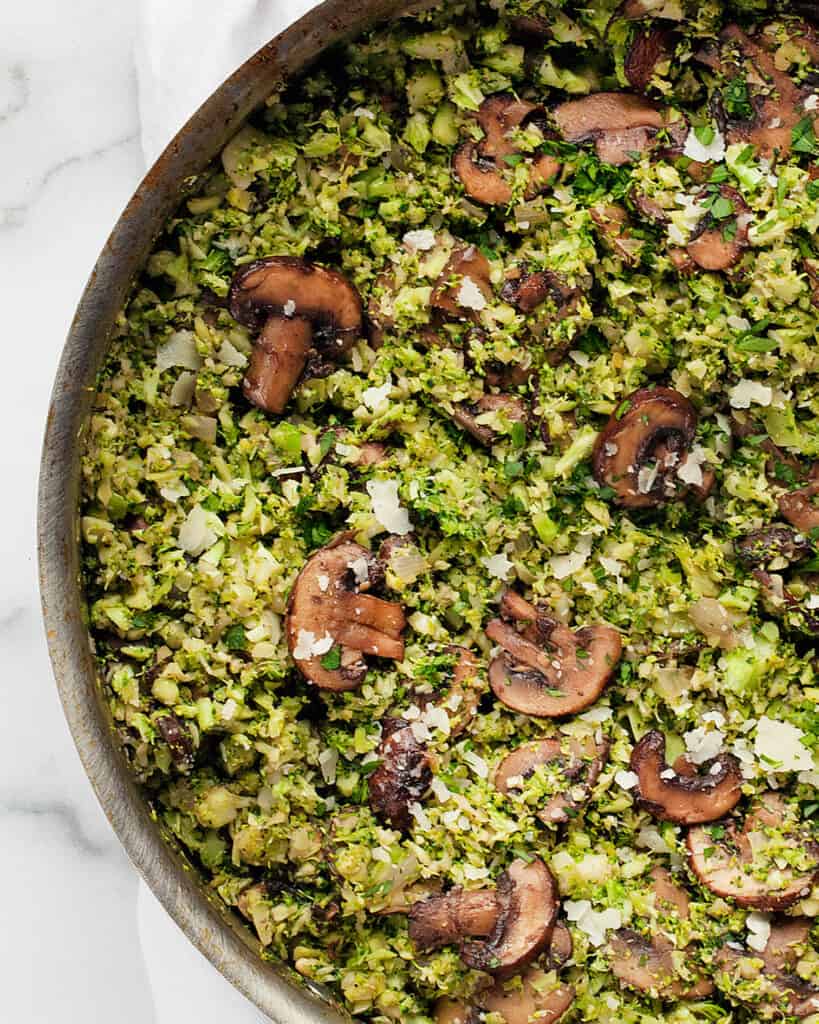 At this point I add a little more olive oil to the pan and sauté finely chopped shallots.
When they are soft, I add the riced broccoli, salt and pepper. In just a couple minutes, the broccoli is warmed. You want to make sure that it's slightly tender, but still noticeably crisp.
Finally, I fold in the mushrooms with grated Parmesan and chopped parsley.
I like to top the balsamic mushroom broccoli rice with shaved Parmesan.
You can serve it as a vegetarian main or as a side dish.
Also, if you're not a fan of broccoli, cauliflower would be a great swap.
Balsamic Mushroom Broccoli Rice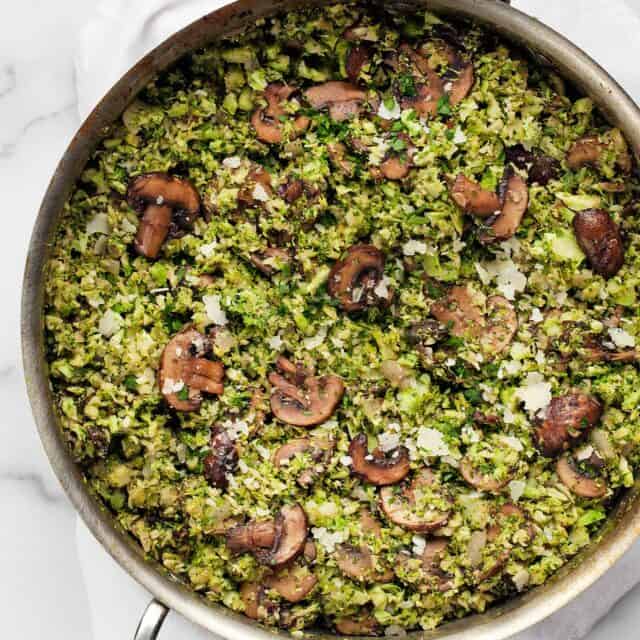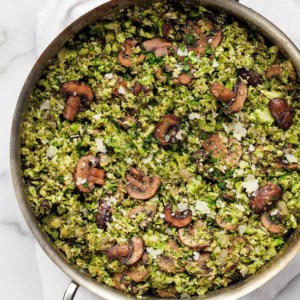 Skip the grains in this balsamic mushroom broccoli rice, and go all in on veggies for a vegetarian dinner or side dish in just 20 minutes.
Ingredients
2

pounds

broccoli florets

2

tablespoons

olive oil

1

pound

cremini mushrooms

sliced

1

tablespoon

balsamic vinegar

2

cloves

garlic

minced

Pinch

red pepper flakes

1-1/2

teaspoons

kosher salt

1

teaspoon

black pepper

1

shallot

finely chopped

1/4

cup

grated Parmesan plus shaved Parmesan for serving

1

tablespoon

chopped parsley
Instructions
Break the broccoli into florets. Trim just the bottom off the stem, and then roughly chop all the stems. Pulse in a food processor until the broccoli is the size of rice. Depending on your food processor, you may need to do this in batches.

In a large skillet or sauté pan, heat 1 tablespoon olive oil over medium high heat. Add the mushrooms and sauté for 5 minutes until they start to brown. Stir in the balsamic vinegar, garlic, red pepper flakes, 1/2 teaspoon salt and 1/2 teaspoon pepper and continue cooking for a few minutes until the mushrooms are caramelized and fragrant. Transfer the mushrooms to a bowl and set aside.

Heat 1 tablespoon olive oil in the same sauté pan over medium high heat. Sauté the shallots, letting them soften, about 3-4 minutes, add the broccoli rice, 1 teaspoon salt and 1/2 teaspoon pepper. Cook the rice, stirring frequently, for 2-3 minutes, until it is warmed but still crisp. Fold in the mushrooms, grated Parmesan and parsley.

Top with shaved Parmesan before serving.
Notes
You can substitute the broccoli and instead use cauliflower.
Nutrition
Calories:
135
kcal
|
Carbohydrates:
16
g
|
Protein:
8
g
|
Fat:
6
g
|
Saturated Fat:
1
g
|
Polyunsaturated Fat:
1
g
|
Monounsaturated Fat:
4
g
|
Cholesterol:
4
mg
|
Sodium:
711
mg
|
Potassium:
853
mg
|
Fiber:
5
g
|
Sugar:
5
g
|
Vitamin A:
1036
IU
|
Vitamin C:
136
mg
|
Calcium:
128
mg
|
Iron:
2
mg
Nutrition information is automatically calculated, so should only be used as an approximation.