Grilled Vegetable Pesto Sandwiches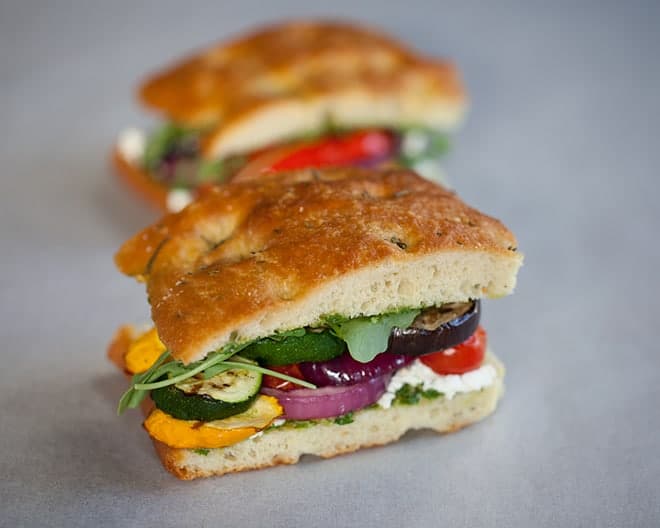 It is not unusual for me to cobble together a meal with random items from the pantry, fridge and freezer that have accumulated over the course of the week. Buying ingredients for a single specific dish can mean being left with odds and ends that require serious creativity to repurpose into something that will taste new and exciting. Why serve a barely altered version of the original meal?
Yesterday when I scoped out the contents of the kitchen I noticed a variety of vegetables. Rather than multiple meals, I used them all at once by making grilled vegetable pesto sandwiches. Simply tossed in olive oil, salt and pepper, the tender veg retained its fresh flavor. Leftover rosemary focaccia stashed in the freezer and basil pesto jarred in the fridge brought everything together into a satisfying lunch.
Grilled Vegetable Pesto Sandwiches
Makes 4 sandwiches
1 eggplant, cut into 1/2-inch thick slices
1 red onion, cut into 3/4-inch thick rounds
1 cup cherry tomatoes
1 red pepper, cut into 1-inch wide strips
1 yellow squash (about 3/4 pound), cut into 1/2-inch thick diagonal slices
1 zucchini (about 3/4 pound), cut into 1/2-inch thick diagonal slices
1 tablespoon olive oil
1 teaspoon kosher salt
1/2 teaspoon black pepper
4 5×4-inch pieces rosemary focaccia, halved horizontally
1/4 cup basil pesto
4 ounces goat cheese, crumbled
1 handful arugula
Preheat a gas or charcoal grill on medium high heat.
Toss all the vegetables with olive oil, salt and pepper. Thread the onions and tomatoes onto separate pre-soaked wood or metal skewers. Arrange the vegetables on the grill grates. Grill, turning occasionally, until the vegetables are tender and lightly browned, 8-12 minutes for onions, 5-7 minutes for peppers, squash, zucchini and eggplant and 2-4 minutes for tomatoes.
To make the sandwiches, spread the cut sides of focaccia with pesto. Arrange the goat cheese on the bottom sides of the focaccia and top with arugula and the remaining focaccia.
SHARE THIS