Maple Glazed Acorn Squash

No peeling is required for maple glazed acorn squash. This easy side has savory, sweet and spicy flavors with cayenne, pomegranate seeds and walnuts.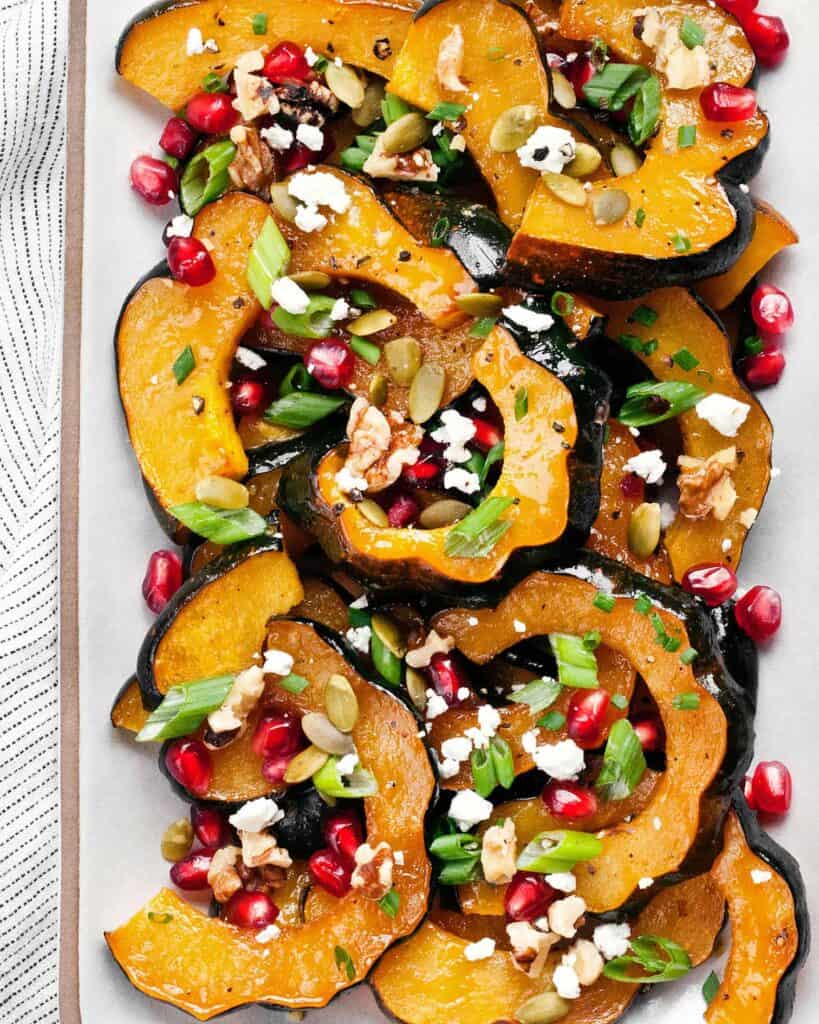 There isn't a variety of squash that I don't like from butternut to kabocha to kuri.
I love them all!

My wish to go back to long summer days filled with a glut of tomatoes and berries fades away with the takeover of root vegetables.
Nothing beats switching on the oven, tossing veggies in olive oil, salt and pepper and roasting them.

Root vegetables are filling and hearty. I like to roast more than I need because I always end up eating them straight off the sheet pan before I use the veggies in an actual recipe.
The one thing I find a pain about squash is peeling it. Depending on the variety of squash, the skin is thick and the overall shape can be bumpy. Neither makes for an easy task for a veggie peeler or your hand.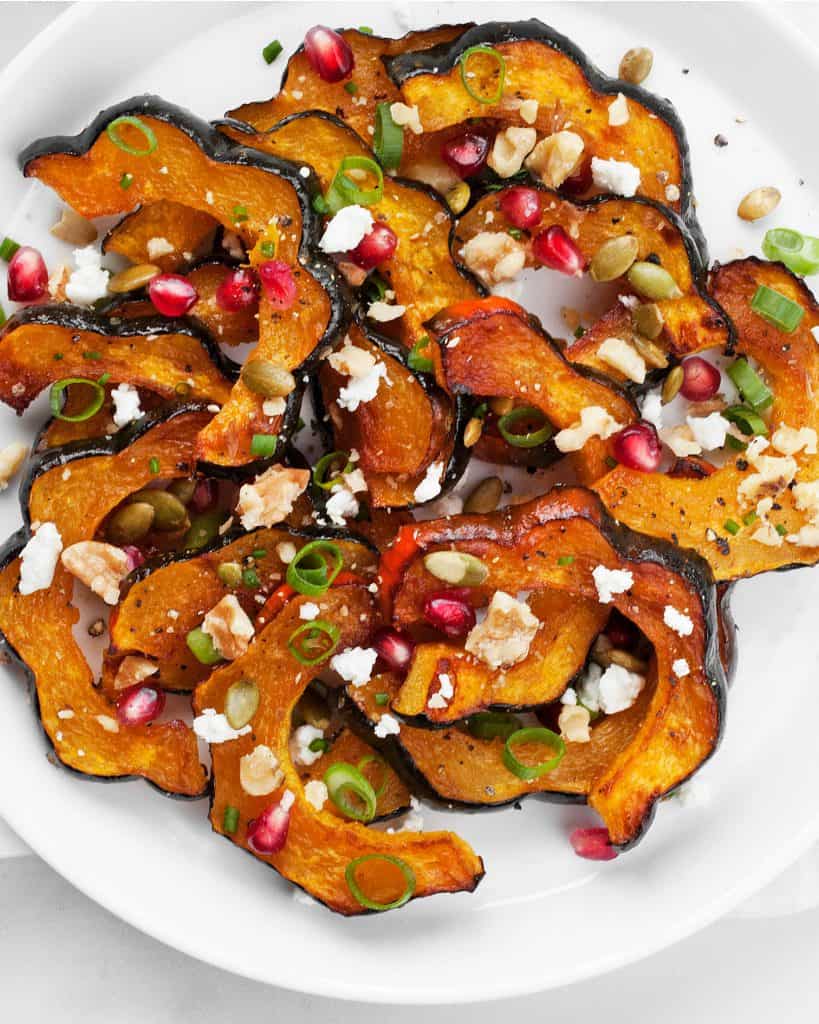 I used to think you were obligated to peel squash. My feelings about peeling changed when I had dinner at a restaurant over 10 years ago.

At the time my husband and I were living in London. We went out of our way to try different places including ones that celebrated classic British cuisine.

We ordered roasted veggies as a side to go with our dinner, and I couldn't believe it.

There was skin on the butternut squash. After all that time in the oven, my dinner knife had no trouble going right through it.

And I enjoyed the bites with skin and flesh.

Now I don't feel like peeling squash is always a must, but with my baked butternut squash risotto, I do peel because it's cooked on the stovetop.

Having the skin take longer for it to get tender and may result in it getting burnt on the edges.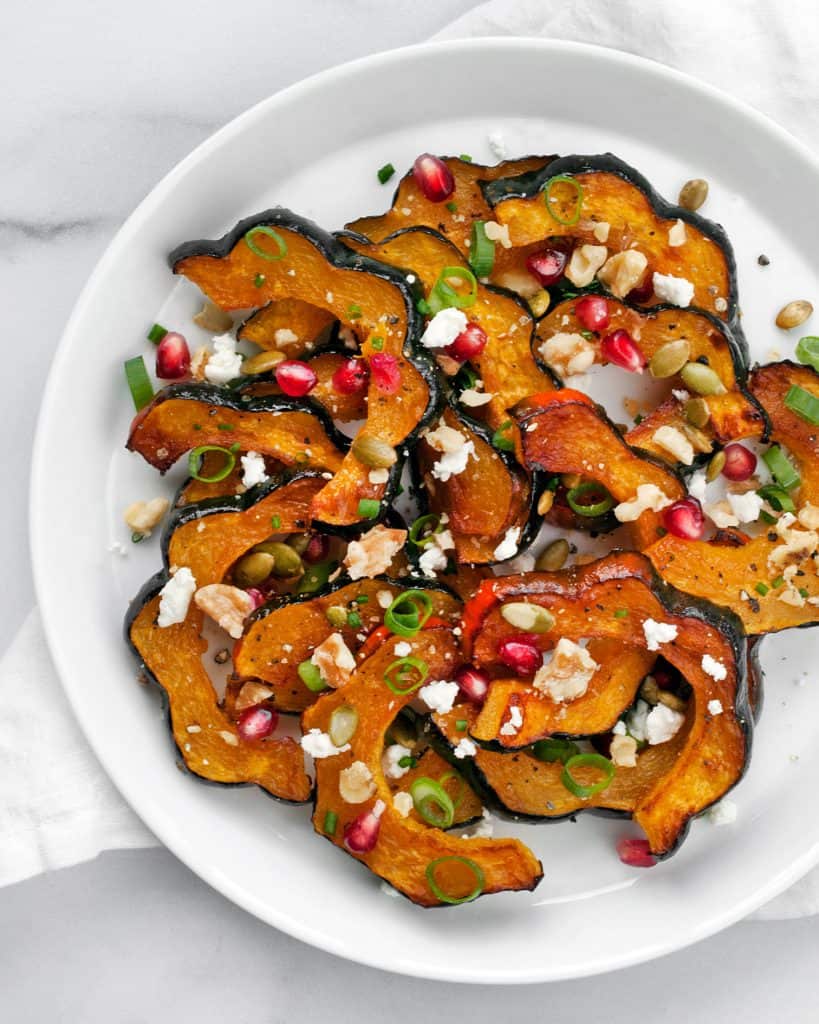 How To Make Maple Glazed Acorn Squash
There are certain kinds of squash where you don't have an option. With its bumpy ridges, acorn squash is always better not peeled.
For this maple-glazed acorn squash, I tossed the sliced squash in olive oil, maple syrup, salt and pepper.
Once the squash is on the sheet pans, I make the most of what's left in the bottom of the bowl with the olive oil-syrup mixture. I whisk in cayenne pepper and fold in the walnuts.
I have such a thing for savory food with hints of sweet and spicy flavors. They mix so well together.

The roasted maple-glazed acorn squash slices look beautiful arranged on a serving plate especially topped with the walnuts, pomegranate seeds, pepitas, crumbled goat cheese, scallions and chives.
Print
Maple Glazed Acorn Squash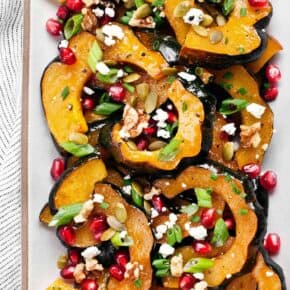 Author:
Prep Time:

10 minutes

Cook Time:

25-30 minutes

Total Time:

35-40 minutes

Yield: Serves

4

1

x
Scale
Ingredients
2 acorn squash
2 tablespoons olive oil
1/4 cup maple syrup
1/2 teaspoon kosher salt
1/4 teaspoon black pepper
1/4 teaspoon cayenne pepper
1/4 cup roughly chopped walnuts
1/4 cup pomegranate seeds
1/4 cup pepitas (raw pumpkin seeds)
2 tablespoons crumbled goat cheese
1 scallion, thinly sliced
1 tablespoon minced chives
Instructions
Preheat the oven to 375 degrees F.
Cut off the top and bottom of the acorn squash and halve lengthwise. Scoop out the seeds and discard. Slice into 1/2-inch-thick wedges.
In a large bowl, whisk together the olive oil, maple syrup, salt and pepper and carefully toss in the squash. Arrange the squash in a single layer on the prepared sheet pan. Roast for 25-30 minutes until tender.
Add the cayenne pepper to the remaining olive oil-maple syrup mixture in the bottom of the bowl. Toss in the walnuts and remove from the bowl with a slotted spoon.
Before serving, top the squash with the walnuts, pomegranate seeds, pepitas, goat cheese, scallions and chives
SHARE THIS