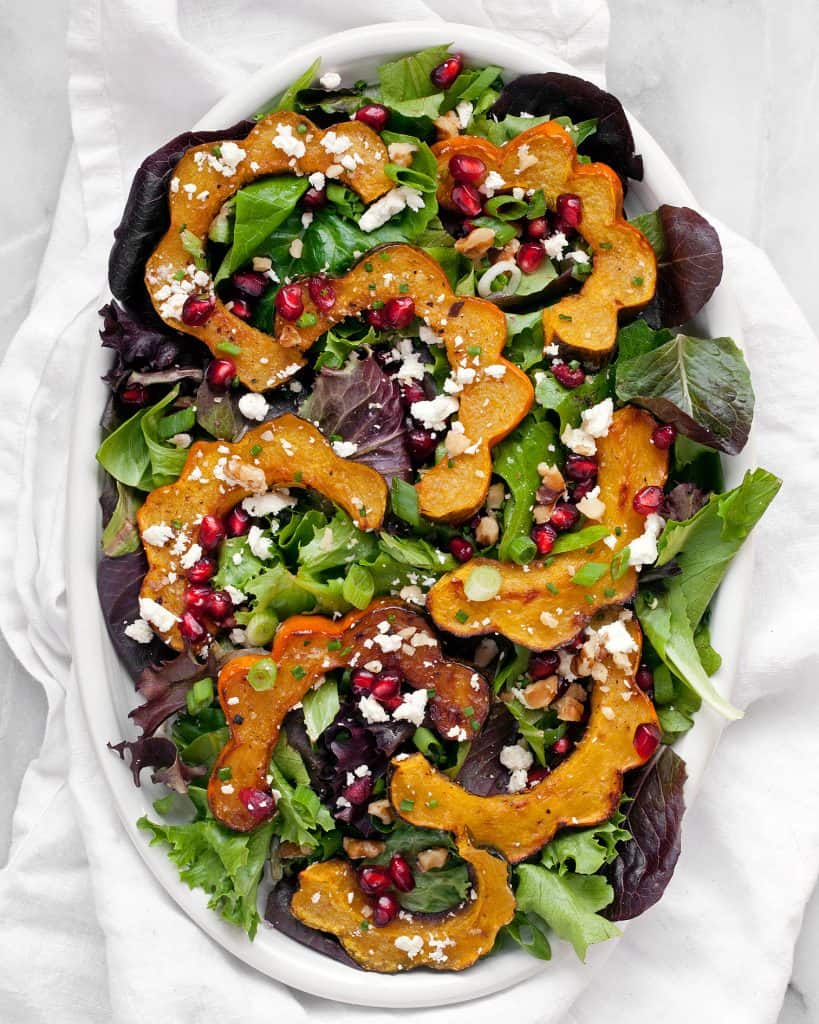 In my world, salads have no season. I eat them year round—even on a daily basis.

They are an obvious choice in the summer because they are crisp, cool and refreshing. With so many vegetable options that can just be left raw, they are just so easy.

During the fall and winter months, it's bit more complicated.

If I am truly chilled to the bone, I will probably skip the greens in favor of a bowl of roasted tomato soup with a grilled cheese sandwich.
However, when I do have that lettuce craving and the temperatures have plummeted below freezing, I will just thrown an extra scarf and go for it.
Incorporating key autumnal ingredients automatically makes salads feel more seasonally appropriate.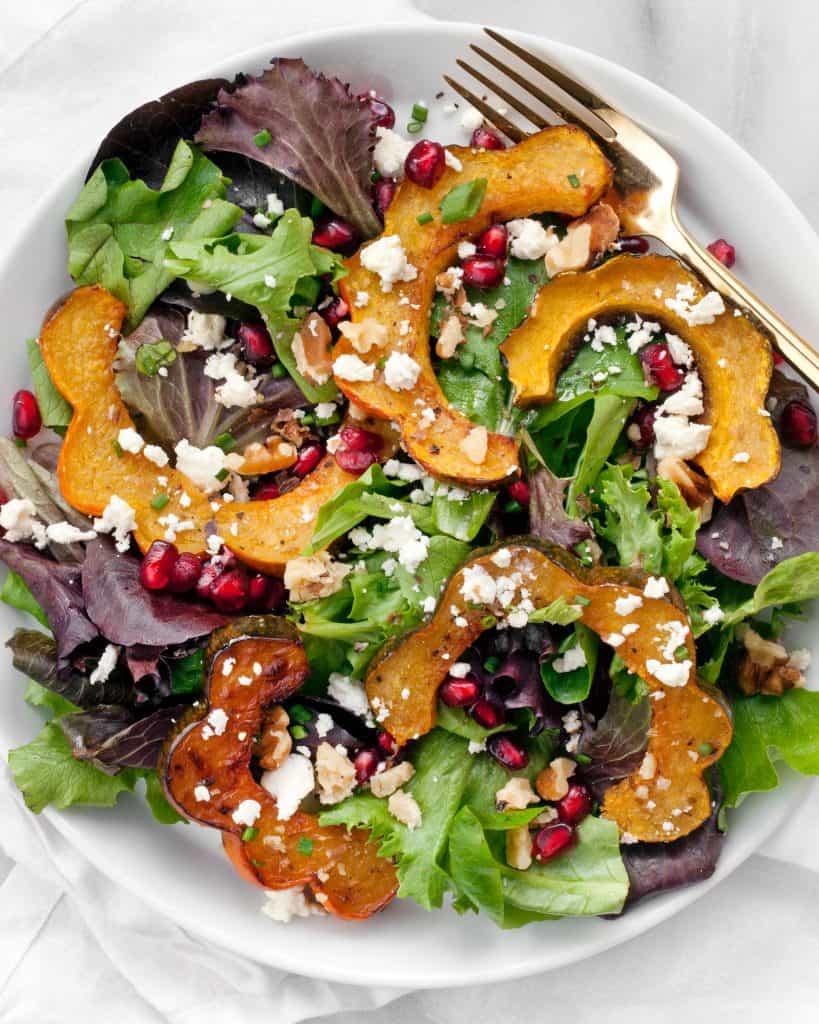 It's really that simple. You figure out a way to winterize your cooking like you would your wardrobe.
Instead of turning to tomatoes, I switch on the oven and reach for my favorite root vegetables.
With their signature bumpy exterior, acorn squash make a beautiful addition to a salad when sliced and roasted. And they don't require peeling!
I realize it might seem odd to preheat the oven when preparing a salad. Trust me, it won't take long for the squash to cool down to room temperature and not wilt the greens in the bowl.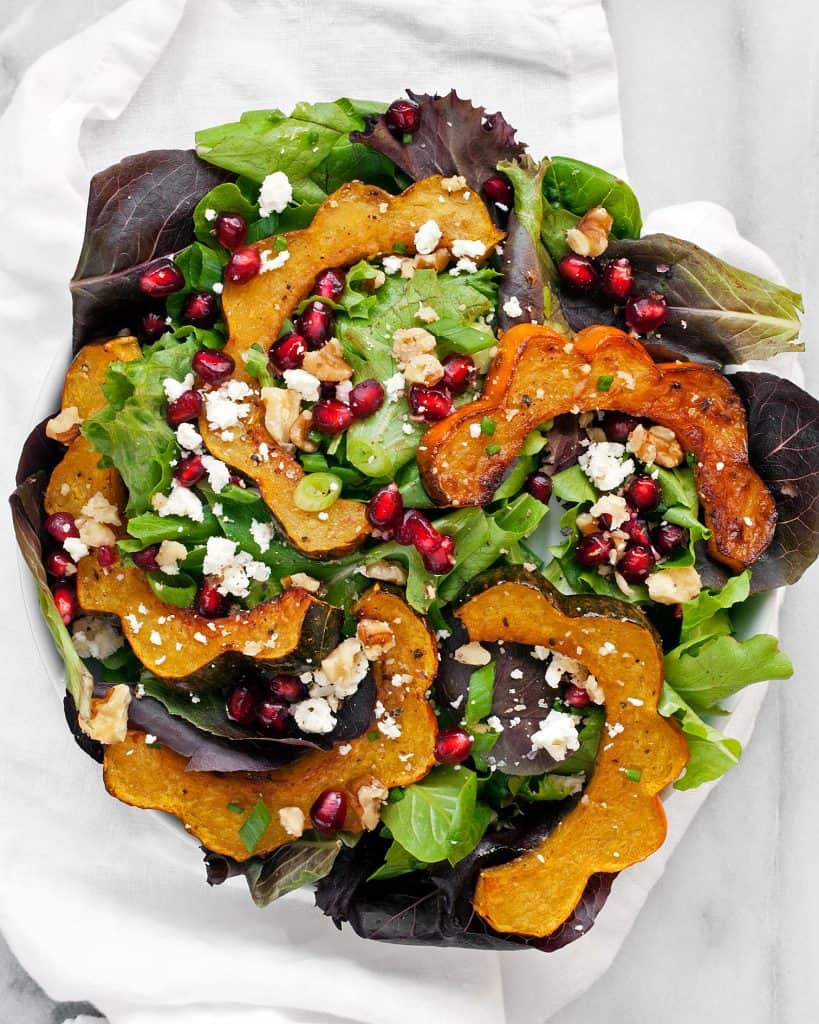 How To Make An Acorn Squash Salad
To make this acorn squash salad, I start by tossing the sliced squash in olive oil, salt and pepper.
After 25-30 minutes in the oven, the squash turns golden brown and tender.

While I give it time to cool, I start working on the rest of the ingredients.

For the vinaigrette, I whisk together a combination of garlic, sherry vinegar and olive oil.

In a big bowl, I toss mixed baby greens with scallions, pomegranate seeds, walnuts, chives and goat cheese.Because those squash slices can be delicate, I find it best to plate the salad and then layer in the star vegetable.
Then I finish the acorn squash salad with a generous drizzle of sherry vinaigrette.
Print
Acorn Squash Salad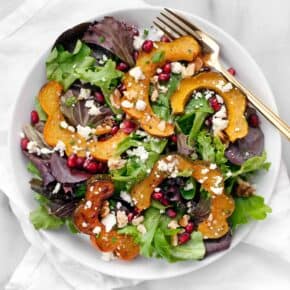 Prep Time:

15 minutes

Cook Time:

25-30 minutes

Total Time:

40-45 minutes

Yield: Serves

4

–

6

1

x
Scale
Ingredients
For squash
2 acorn squash
1 tablespoon olive oil
1 teaspoon kosher salt
1/2 teaspoon black pepper
For vinaigrette
1 garlic clove, minced
2 tablespoons sherry vinegar
1/4 teaspoon kosher salt
1/4 teaspoon black pepper
1/4 cup olive oil
For salad
5 ounces mixed baby greens
1 cup pomegranate seeds
1 scallion, thinly sliced
1/2 cup walnuts, roughly chopped
1 tablespoon minced chives
1/4 cup crumbled goat cheese
Instructions
Preheat the oven to 375 degrees F.
Cut off the top and bottom of the acorn squash and then halve it lengthwise. Scoop out the seeds and discard. Slice the acorn squash 1/4-inch thick and toss with olive oil, salt and pepper. Arrange the squash slices in a single layer on two sheet pans. Roast for 25-30 minutes until lightly browned and tender.
While the squash is roasting, make the vinaigrette. In a small bowl, combine the garlic, sherry vinegar, salt and pepper. Whisk in the olive oil until fully combined.
To assemble the salad, combine the mixed baby greens, pomegranate seeds, scallions, walnuts, chives and goat cheese in a large bowl.
Layer in the roasted acorn squash and drizzle with the vinaigrette.
SHARE THIS