Miso-Glazed Red Kuri Squash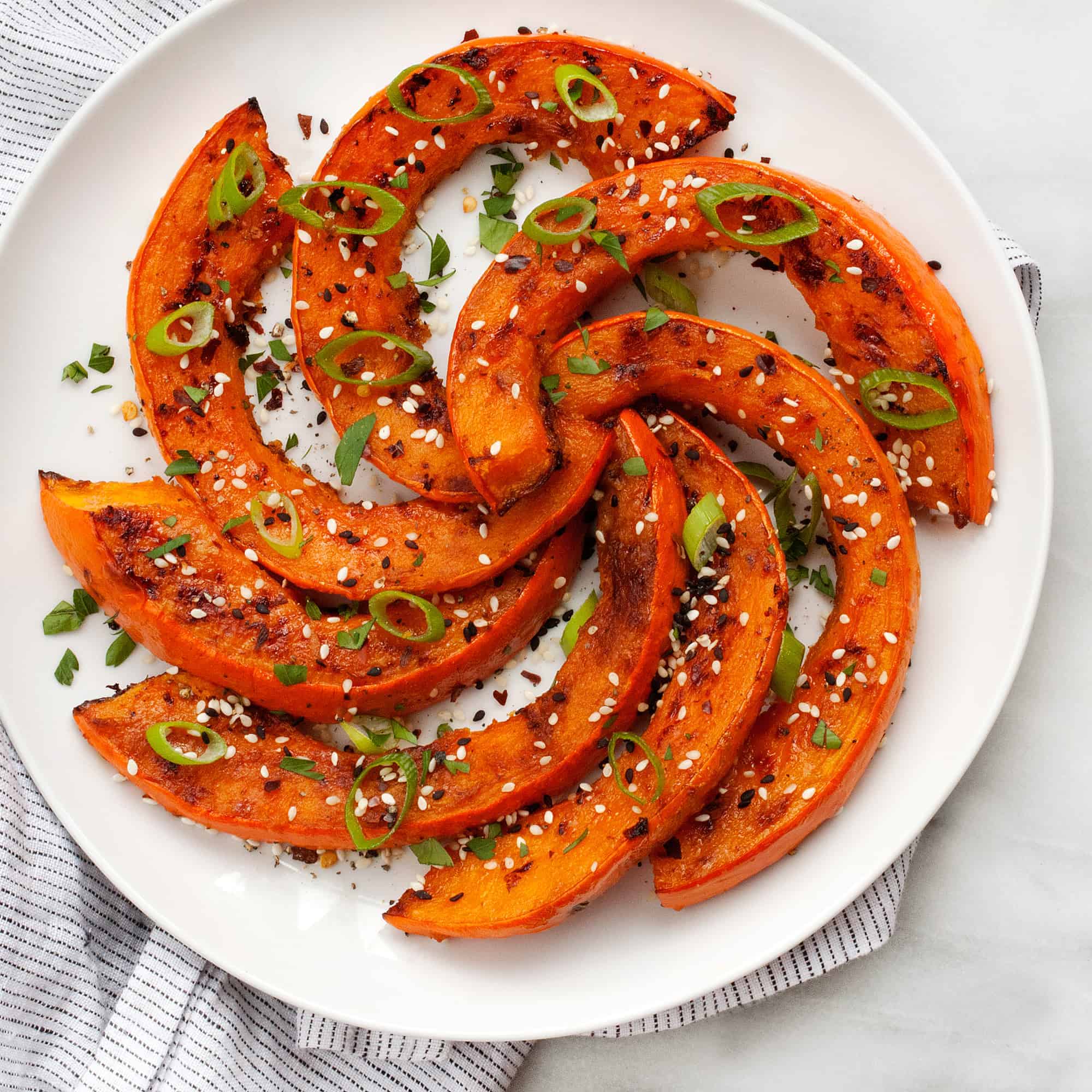 I have a small request for farmers markets, grocery stores and anywhere else selling squash. Could you please post a glossary giving us shoppers a little more information than just a name? Lots of squash varieties are so delightfully odd looking that it's easy to mistake them for being only decorative and not edible. I may be low tech with my handwritten shopping list, but thank goodness for my smart phone and Google to help me figure out what's what.
This miso-glazed red kuri squash came to me in a moment as I was mesmerized by a big display of squash. I knew I wanted to keep it simple just roasting the slices, but the squash needed more than just olive oil, salt and pepper. I decided to brush them with a mix of miso paste, sesame oil, rice vinegar and maple syrup. To give the squash a fresh crunch, I sprinkled on scallions, sesame seeds and red pepper flakes before serving.

Miso-Glazed Red Kuri Squash

Serves 4-6

1/4 cup white miso paste
2 tablespoons sesame oil
2 tablespoons rice vinegar
1 teaspoon maple syrup
1 tablespoon vegetable oil
1 red kuri squash, halved, deseeded and sliced 1/2-inch thick
1 teaspoon kosher salt
1/2 teaspoon black pepper
1 scallion, sliced thinly
1 tablespoon white and black sesame seeds
1/2 teaspoon red pepper flakes
Preheat the oven to 375 degrees F. Line 2 sheet pans with parchment paper.
In a small bowl, whisk together the miso paste, sesame oil, rice vinegar, maple syrup and vegetable oil. Arrange the squash in a single layer on the prepared sheet pans. Brush both sides of the squash with the mixture and sprinkle with salt and pepper.
Roast for 15 minutes, brush with the miso-glaze and flip over to the other side. Brush with the glaze again and roast continue roasting until tender, about 12-15 minutes. Sprinkle with scallions, sesame seeds and red pepper flakes before serving.
SHARE THIS