Seasoned with cumin, paprika and sumac, this Moroccan carrot salad is tossed in an herby lemony dressing with lots of parsley and cilantro that's similar to pesto. It is a hearty salad/side dish that you can make in advance.
If you're in the mood for carrots, you can also try this Carrot Salad with Tahini Vinaigrette.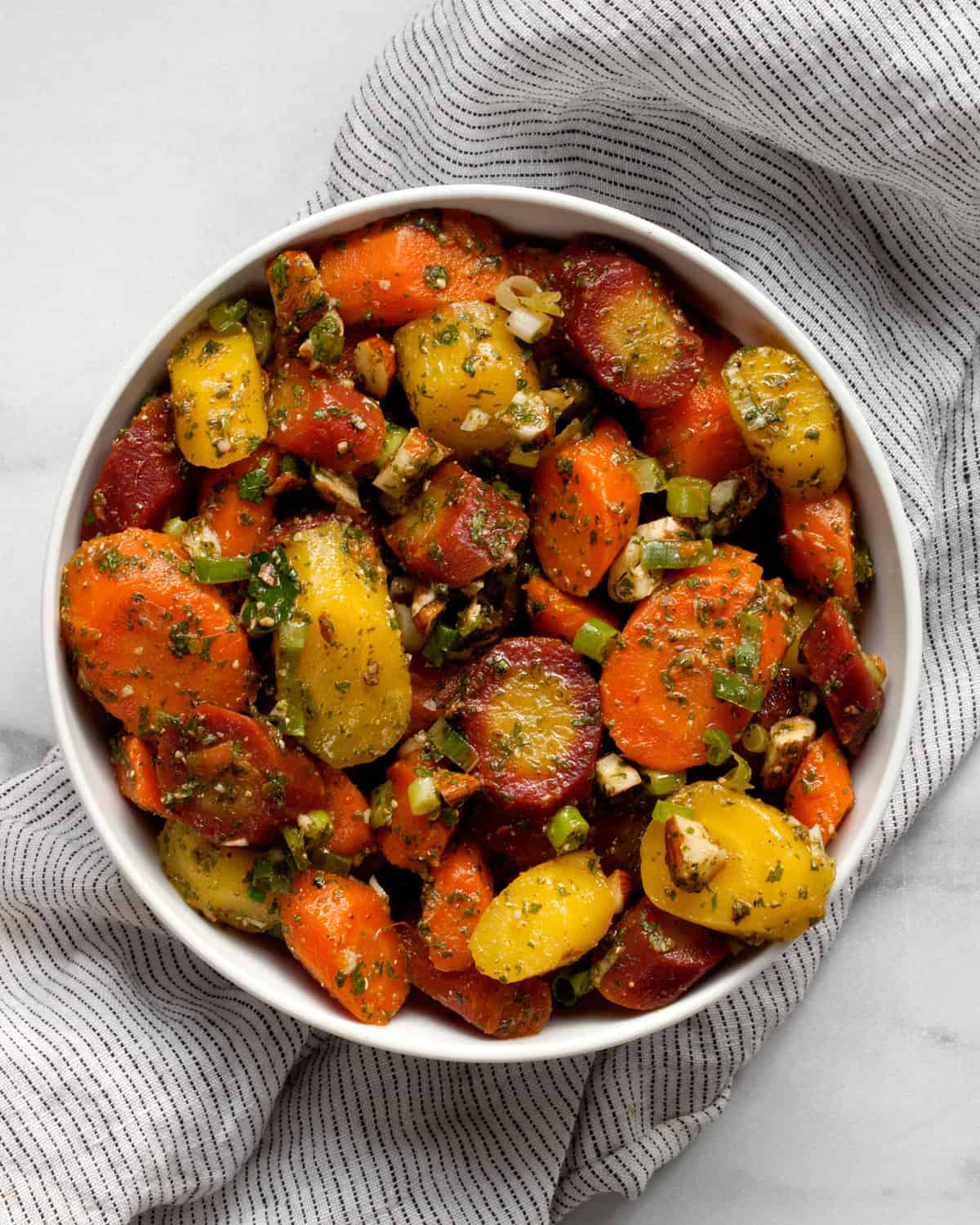 Why You'll Love This Recipe
It's a make-ahead salad that doesn't wilt. As much as I love leafy greens, it is super handy to have salads in your repertoire that go lettuce-free. Then you can make them in advance without worrying that they will end up limp.
Carrots are packed with vitamins, minerals and antioxidants. That includes vitamin A, vitamin K, fiber and more. They are great for your eyes and skin.
This is a vegetable salad and side dish in a single recipe. Also, it's great served cold or at room temperature with all sorts of different main dishes.
How To Cut Carrots
To prep the carrots, you first need to remove their peel. I like using a y-shaped vegetable peeler where the blade is perpendicular to the handle. Then I use a sharp knife to slice the carrots on my cutting board into 1/2-inch long pieces. I do this at a slight angle, so the slices aren't flat. These diagonal ends are a small detail that makes the salad look more finished.
The Ingredients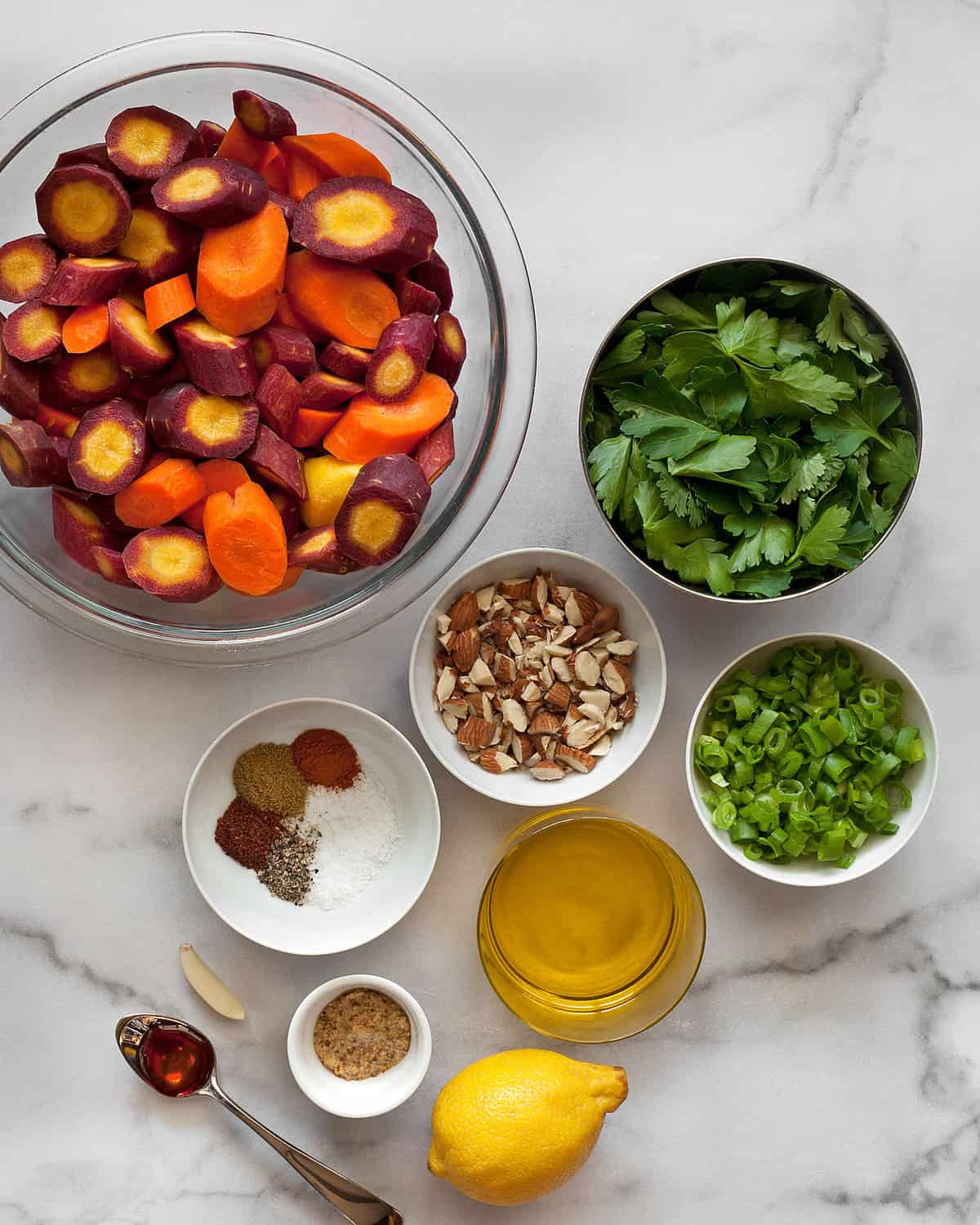 This is what you need:
Carrots: Look for carrots that feel firm and are not limp. I am a big fan of the colors of rainbow carrots, but you can use all orange carrots and the salad will be just as tasty.
Almonds give the carrots more crunch, texture and nutty flavor. You can substitute with other nuts such as pistachios and still say true to this Moroccan-inspired recipe.
Scallions have delicate onion taste in the salad. I like them because they aren't overpowering and almost land somewhere between onions and fresh herbs.
Parsley and cilantro leaves are the base of the herby dressing. Both go really well with carrots. If you are one of those people who don't like fresh cilantro, then just stick to all parsley.
Garlic: There is one clove minced in the dressing, but it is subtle.
Lemon: I include lemon juice in the dressing rather than vinegar for acid because I want something that is fresh with citrus.
Spices: The dressing is seasoned with a mixture of ground cumin, paprika, sumac, salt and black pepper.
Mustard: A teaspoon of whole grain mustard in any dressing helps it to emulsify and combine.
Honey adds a touch of sweetness and is another one of those ingredients that kind of feels like a must with any carrot recipe.
Olive oil: Use extra virgin olive oil for the best flavor.
Optional Additions
This salad recipe is wonderful as is, but you can include golden raisins for something sweet with all those herbs. And diced avocados are good if you want to make the salad more filling and add an ingredient with a creamy consistency for variety with the carrots.
Variations & Shortcut
A classic French carrot salad is made with shredded carrots, and you can make this swap. If you decide to use shredded carrots, you can skip cooking them. You will end up with a raw carrot salad instead.
How To Make This Moroccan Carrot Salad
1. Cook the carrots. Bring a large pot of salted water to a boil. Add the carrots. Reduce the heat and simmer for 5-7 minutes until they are just tender. Think of them like pasta that you want to be al dente.
2. Drain the carrots by dumping them into a colander over the sink. Then rinse them with cold water. This will stop the carrots from continuing to cook, which will prevent them from getting too soft.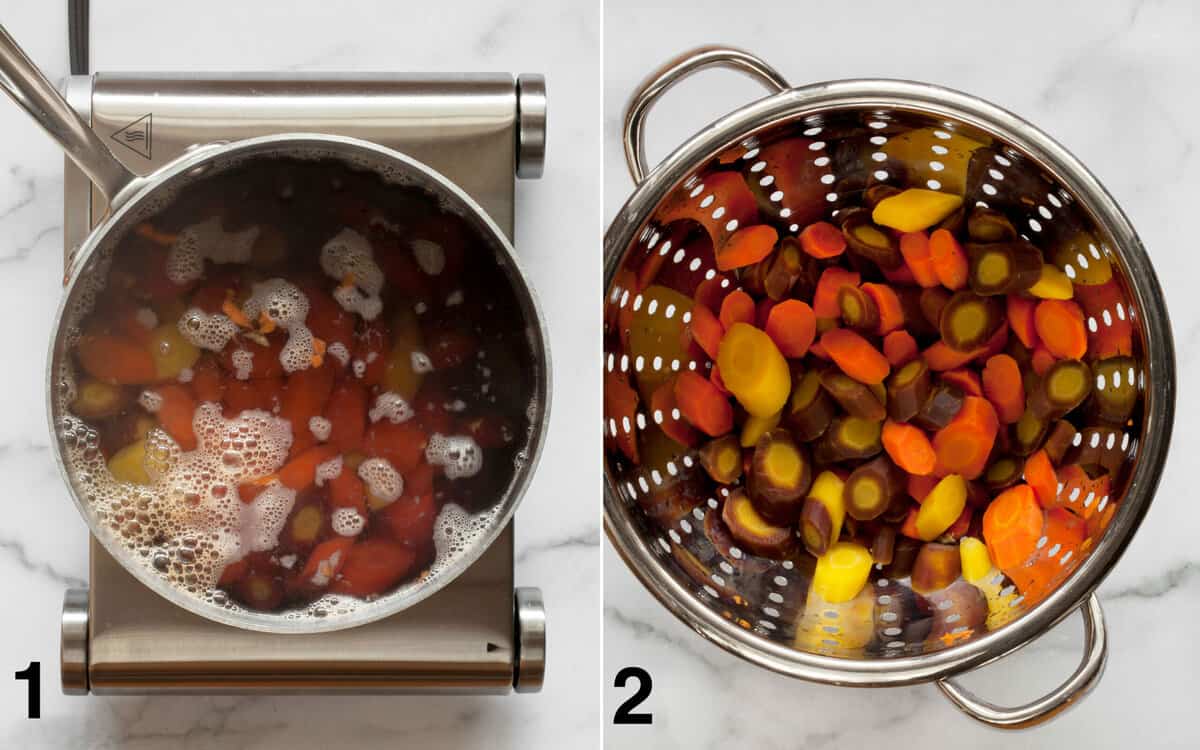 3. Make the dressing. Put the garlic, parsley and cilantro leaves, cumin, paprika, sumac, salt, pepper, honey, mustard, lemon juice and olive oil in a food processor.
4. Puree the dressing ingredients until they are smooth and combined. You can do this while the carrots simmer.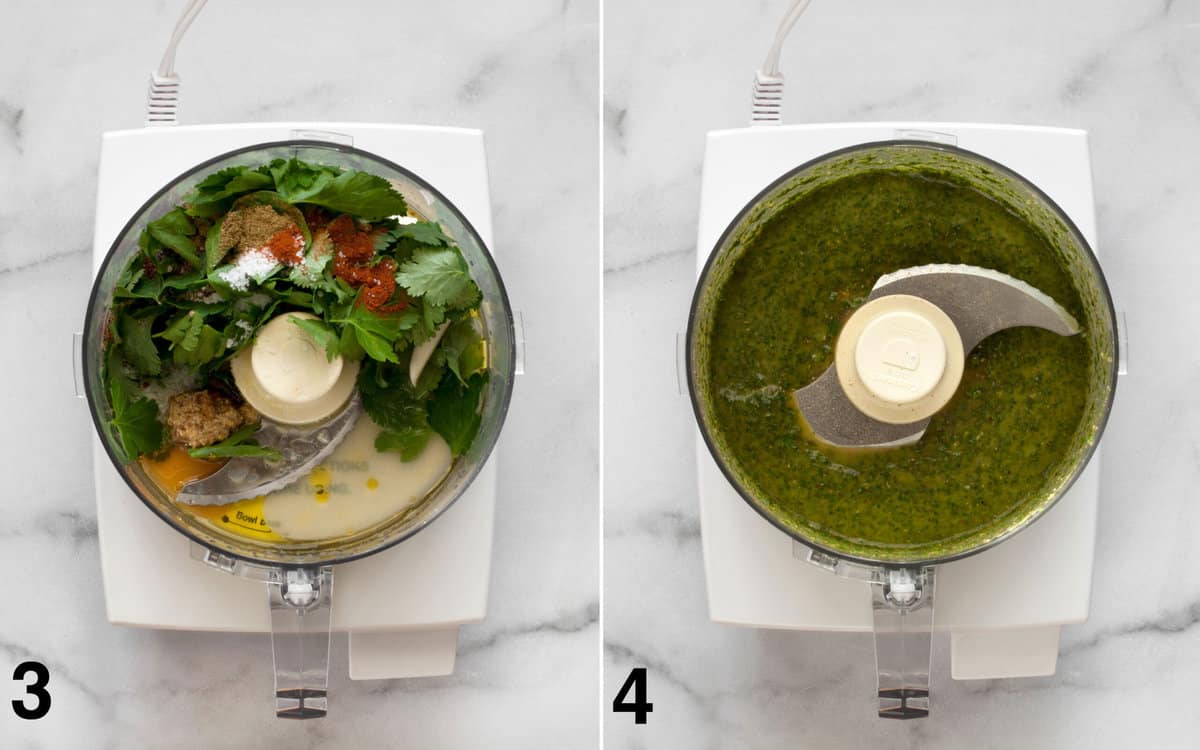 5. Combine the carrots, scallions and almonds in a large bowl.
6. Drizzle the dressing into the salad. Toss to combine.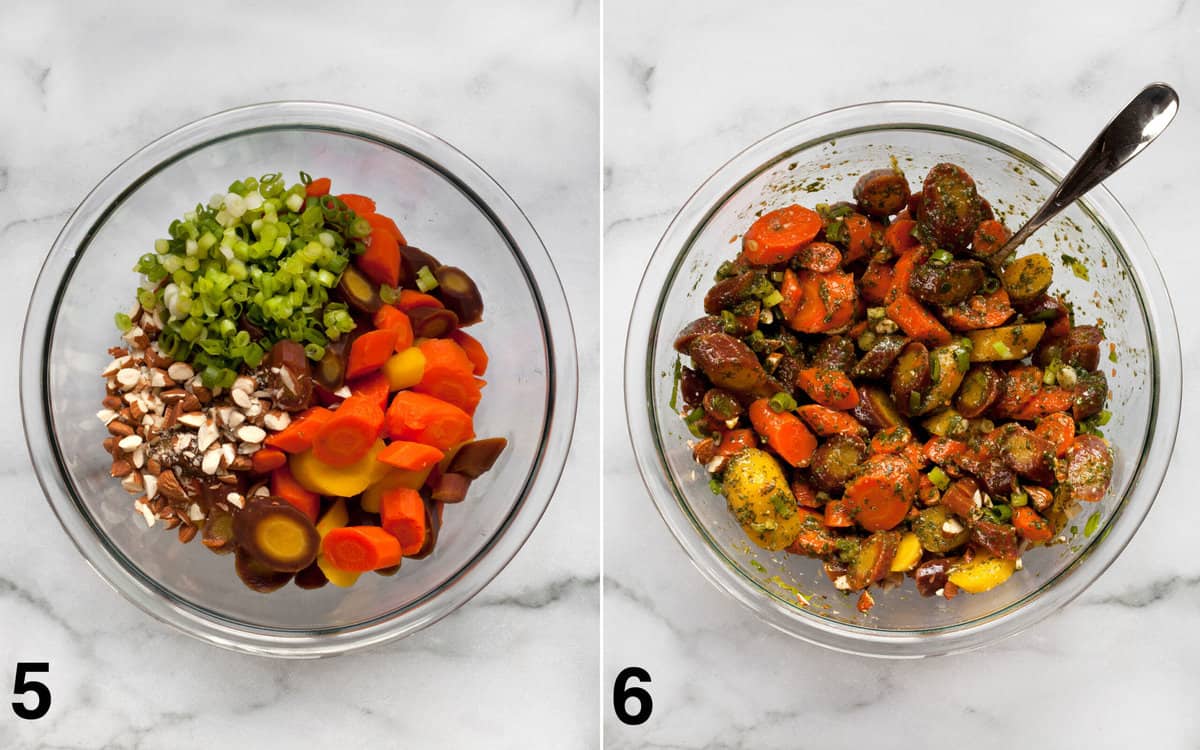 Serving
As mentioned, this is one of those salads that you can also consider a side dish. Since carrot season runs from fall to spring, you can serve it for a casual weeknight dinner or for holidays like Easter and Thanksgiving especially with this Dry-Rubbed Turkey.
If you want to stretch your carrot salad, you can combine it with cooked grains like farro, quinoa, barley or brown rice. Or add greens to it like kale or chopped romaine.
Leftovers
Keep leftovers in an airtight container in the fridge up to 4 days. Let the salad sit at room temperature for 10-15 minutes before serving. This gives the dressing a chance to turn into liquid again if it solidifies in the chill of the refrigerator.
FAQs
Do you need to cook carrots for a carrot salad?
That depends on how you cut them. If you use shredded carrots, then it's best if you keep them raw. If you slice them into 1/2-inch lengths, then you should simmer them for 5-7 minutes. This softens them slightly, so they will still hold their shape and retain some of their bite.
Can you add lettuce to this carrot salad?
Yes, add greens if you want. I recommend waiting to toss in lettuce, such as chopped kale or romaine, until right before you're about to serve it, so it doesn't wilt.
Do you have to include cilantro in the dressing?
Use all fresh parsley leaves if you don't like cilantro.
Moroccan Carrot Salad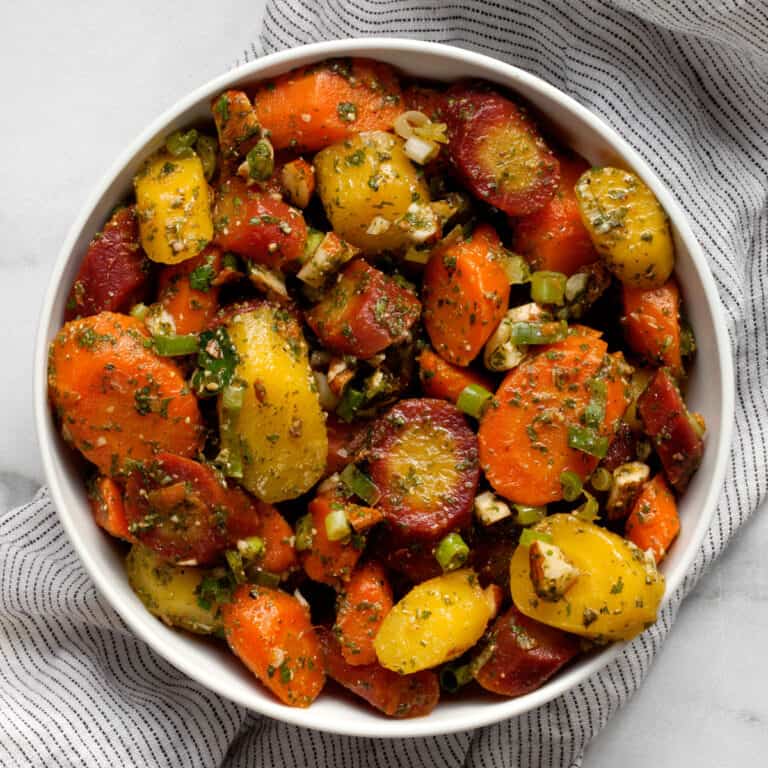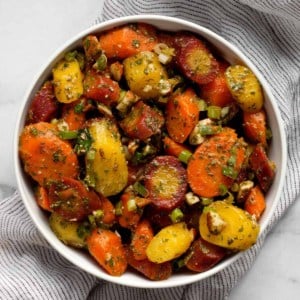 This crunchy carrot salad recipe takes inspiration from Moroccan flavors with cumin, sumac, fresh herbs and chopped almonds.
Ingredients
2

pounds

rainbow carrots

sliced on the diagonal into 1/2-inch long pieces

1

garlic clove

minced

1

cup

parsley and cilantro leaves

1/2

teaspoon

cumin

1/4

teaspoon

paprika

1/4

teaspoon

sumac

1

teaspoon

kosher salt

1/2

teaspoon

black pepper

1

teaspoon

honey

1

teaspoon

whole grain mustard

Juice of 1 lemon

1/3

cup

olive oil

3

scallions

thinly sliced

1/3

cup

roughly chopped almonds
Instructions
Bring a large saucepan of salted water to a boil. Carefully add the carrots, reduce heat slightly and simmer for 5-7 minutes. The carrots should soften slightly, but still have some bite.

Drain the carrots in a colander. Rinse them with cold water.

While the carrots are cooking, put the garlic, parsley and cilantro leaves, cumin, paprika, sumac, salt, pepper, honey, mustard, lemon juice and olive oil in a food processor. Puree until smooth.

Combine the carrots, scallions and almonds in a large bowl.

Stir in the herby dressing.
Notes
If you can't find rainbow carrots, all orange carrots are great for this salad too.
If you don't like cilantro, you can use all parsley leaves for the dressing.
You can make the salad up to 2 days in advance and keep it in the fridge.
Store leftovers in an airtight container in the refrigerator up to 4 days. Let it sit at room temperature for 10-15 minutes.
Nutrition
Calories:
342
kcal
|
Carbohydrates:
29
g
|
Protein:
6
g
|
Fat:
25
g
|
Saturated Fat:
3
g
|
Polyunsaturated Fat:
4
g
|
Monounsaturated Fat:
17
g
|
Trans Fat:
0.003
g
|
Sodium:
763
mg
|
Potassium:
956
mg
|
Fiber:
9
g
|
Sugar:
13
g
|
Vitamin A:
39312
IU
|
Vitamin C:
42
mg
|
Calcium:
144
mg
|
Iron:
3
mg
Nutrition information is automatically calculated, so should only be used as an approximation.
Originally published April 10, 2017. Updated: January 16, 2023.