Chili Lime Roasted Root Vegetables

Chili lime roasted root vegetables go with almost any main dish no matter the feature protein. Heat and citrus are good flavors to pair with a big meal.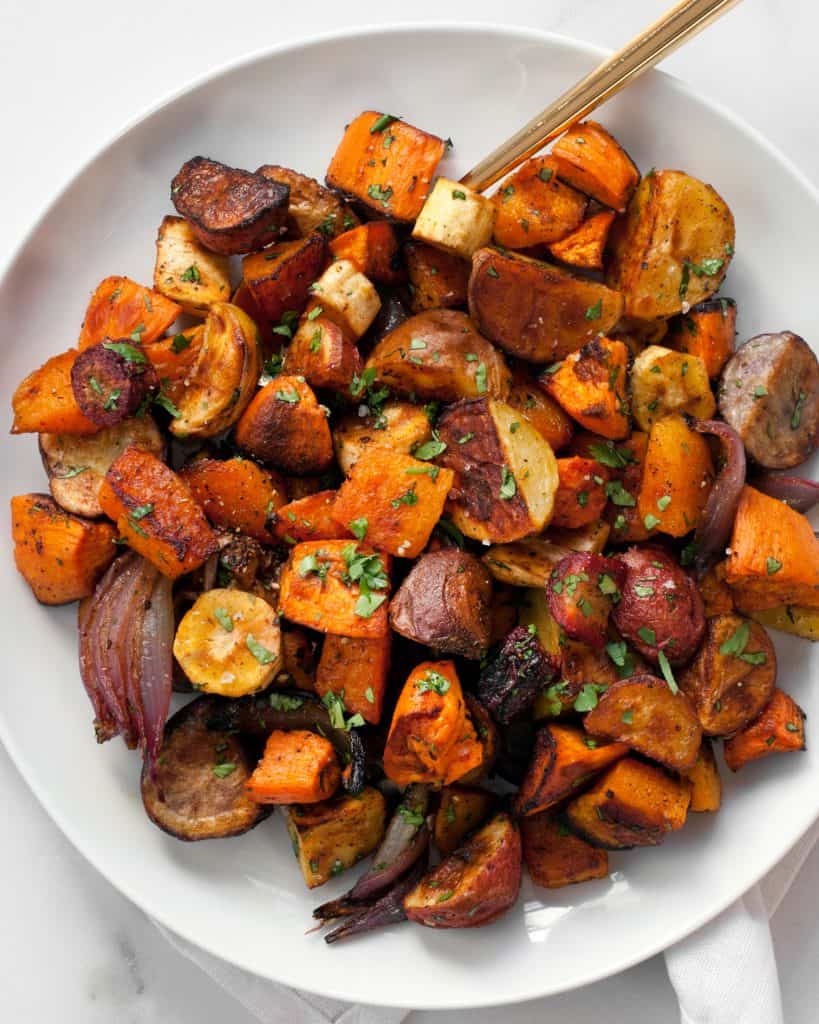 Sheet pans are not something I replace that often.

Those brown marks and cooking spots are badges of honor. The more beaten up they look the better.

It takes them getting warped and uneven for me to decide to get new ones.

My sheet pans get the most use in the fall and winter.

I am a non-stop roasting machine!

No matter the vegetable, I want to chop it, toss it in olive oil, salt and pepper and roast it in the oven.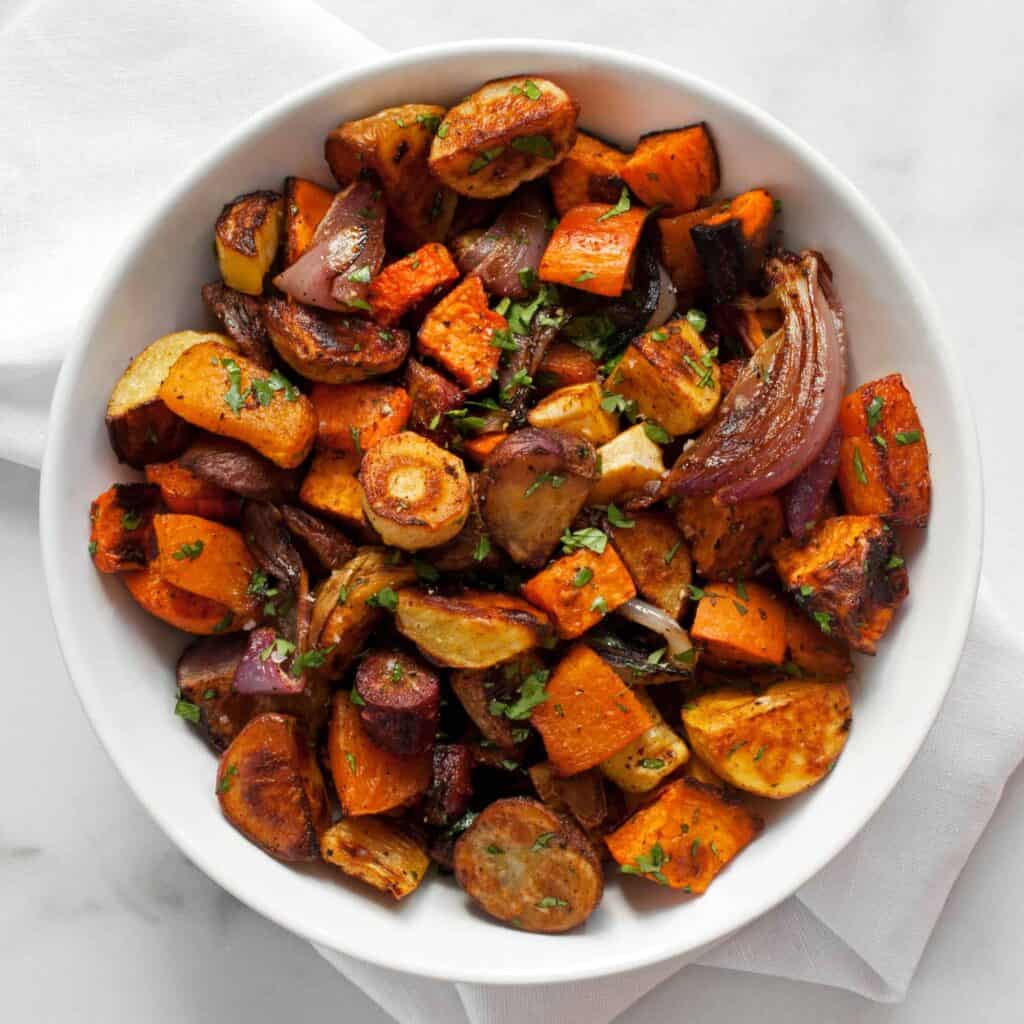 On multiple nights, I don't even get passed eating roasted sweet potato chunks right off the pan instead of using them in an actual recipe for dinner.

When I do want to turn roasted veggies into a meal, I like to mix them with grains like couscous and quinoa or greens.
I love blurring the lines between side and main. Even though I am not an official vegetarian, I am a veggie first eater.
So often a veggie main dish is just a side in a larger portion.
These chili lime roasted root vegetables are a bit different. I consider them a true side.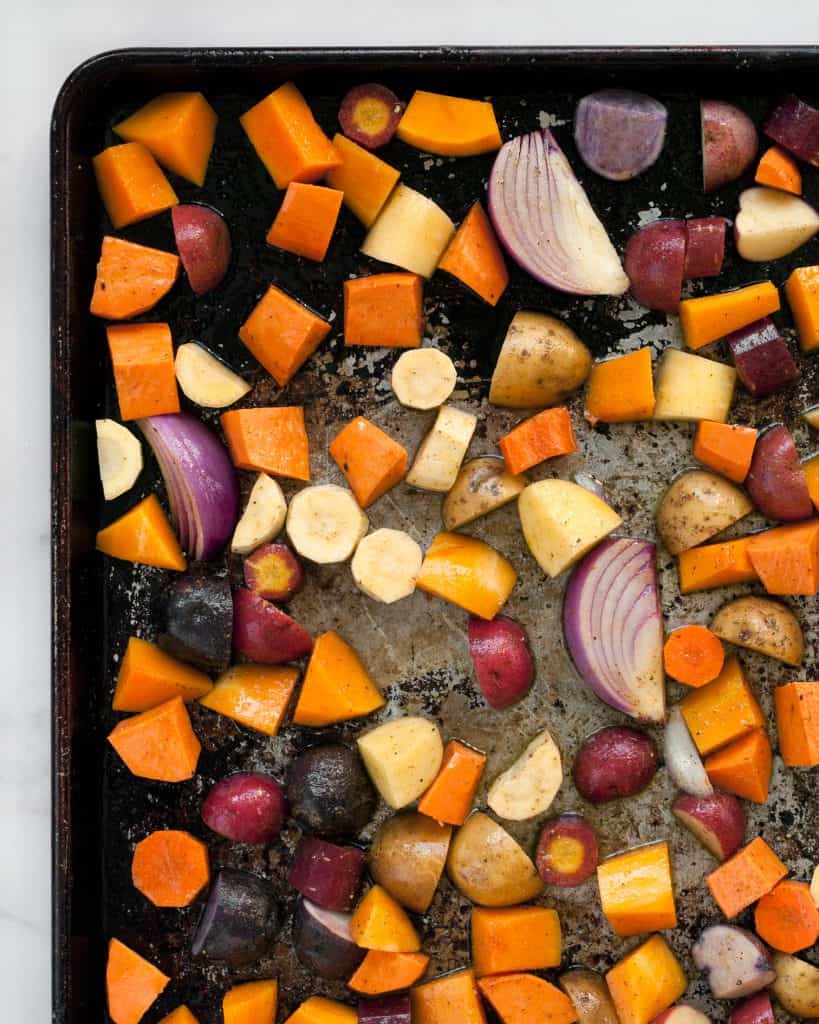 With Thanksgiving coming up, I have been thinking about how to put twists on traditional sides.
You can't go wrong with root vegetables, but I like to make them stand out with spices and citrus.
I am a huge fan of dry-rubs and that includes both turkey and vegetables.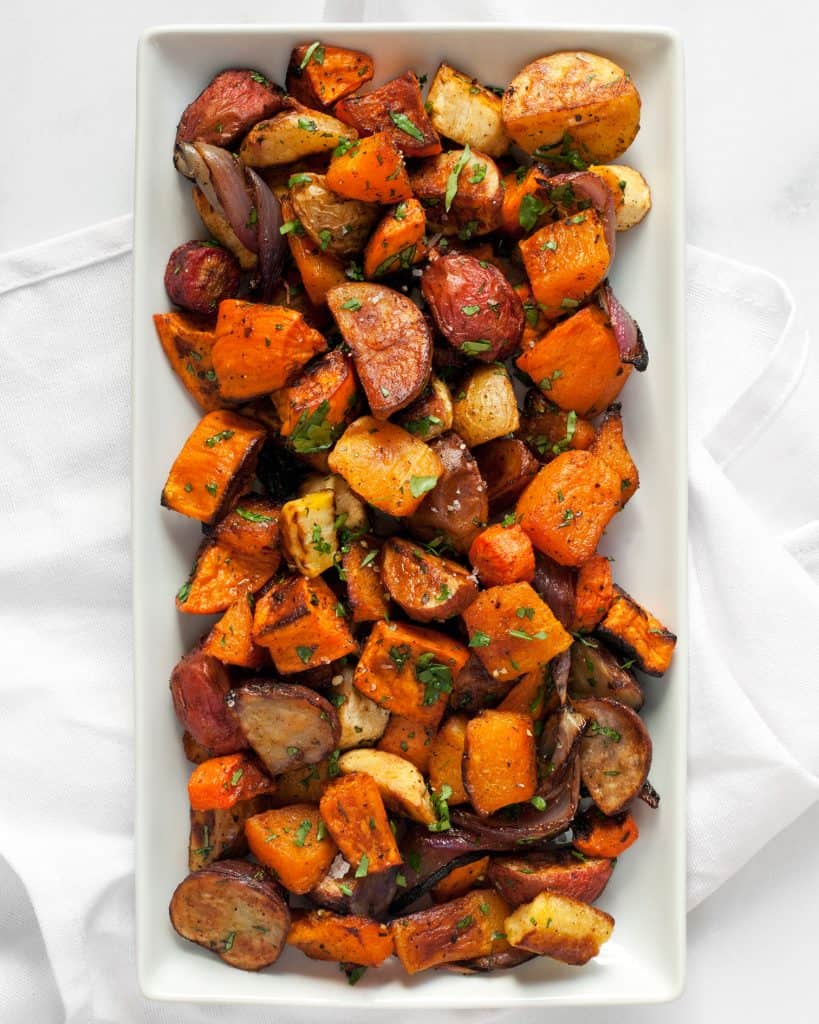 Chili Lime Roasted Root Vegetables: The Ingredients
For chili lime roasted root vegetables, I stir together a mix of chili powder, cumin, salt and pepper.
Then I squeeze in fresh lime juice and whisk in olive oil.
I toss the vegetables in the marinade and arrange them in a single layer on a sheet pan.
For root vegetables, I like sweet potatoes, of course, and butternut squash, onions, fingerling potatoes and parsnips.
It's helpful to cut them in similar sizes, so they cook evenly.
Chili lime roasted root vegetables definitely go with Thanksgiving turkey and other traditional mains no matter what kind of protein. So often these meals are heavy.
Heat and citrus brighten things up on the best way.
Print
Chili Lime Roasted Root Vegetables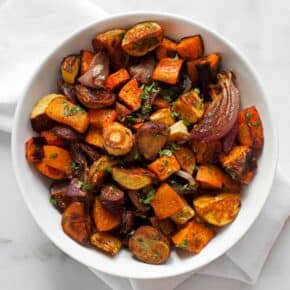 Author:
Prep Time:

10 minutes

Cook Time:

40-45 minutes

Total Time:

50-55 minutes

Yield: Serves

4

1

x
Scale
Ingredients
Juice of 1 lime
3 tablespoons olive oil
1 teaspoon cumin
1/2 teaspoon chili powder
1 teaspoon kosher salt
1/2 teaspoon black pepper
3 pounds root vegetables, peeled and cut into 1-inch chunks (butternut squash, sweet potatoes, carrots, parsnips and red onions cut with root left intact)
1 tablespoon chopped cilantro
Instructions
Preheat the oven to 425 degrees F.
In a large bowl, whisk together half the lime juice, olive oil, cumin, chili powder, salt and pepper. Add the root vegetables stirring to coat.
Arrange the vegetables in a single layer on a sheet pan. Roast 40-45 minutes until browned on the outside and tender in the middle. Toss with the remaining lime juice and cilantro before serving.
SHARE THIS