Roasted Butternut Squash Pizza

Roasted squash, parsley walnut pesto and arugula are the star toppings on this Roasted Butternut Squash Pizza, which is an ode to fall/winter feasting.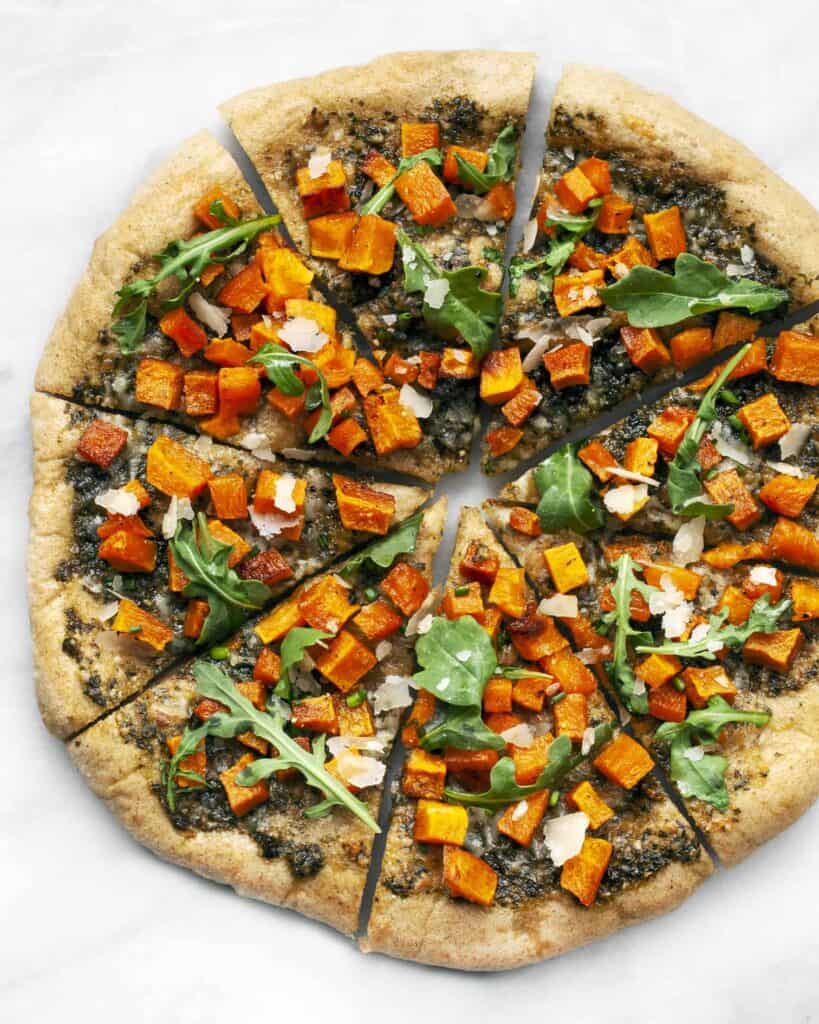 Sometimes I avoid butternut squash, but it has nothing to do with how it tastes.
I absolutely love any variety of roasted squash. It's filling and a healthy version of comfort food.
You can eat those root veggies straight off the sheet pan.
To be honest, butternut squash actually shows my laziness.

This thick-skinned veggie can such a pain to prep and cut.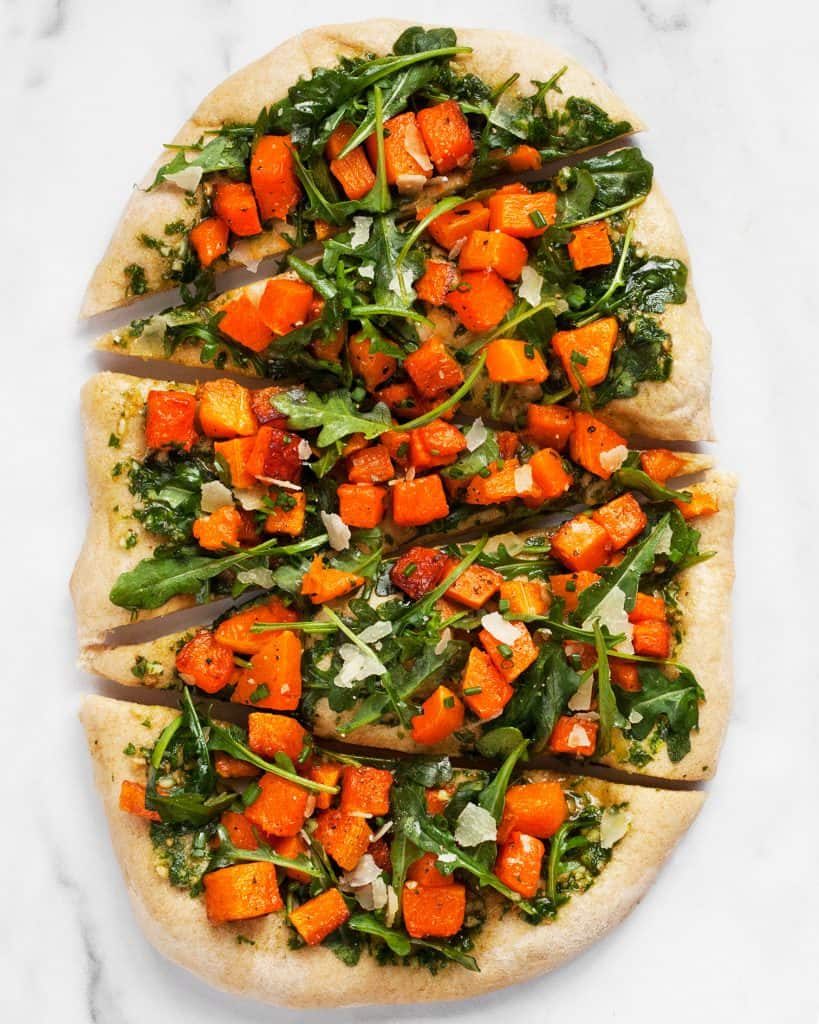 I don't always have the time or patience to tackle it with a peeler, so I take my knife to it. No, it's not efficient.
In fact I end up slicing off the skin plus some of the flesh—whoops!

It's not a big deal. We all could use a little help with our knife skills, right?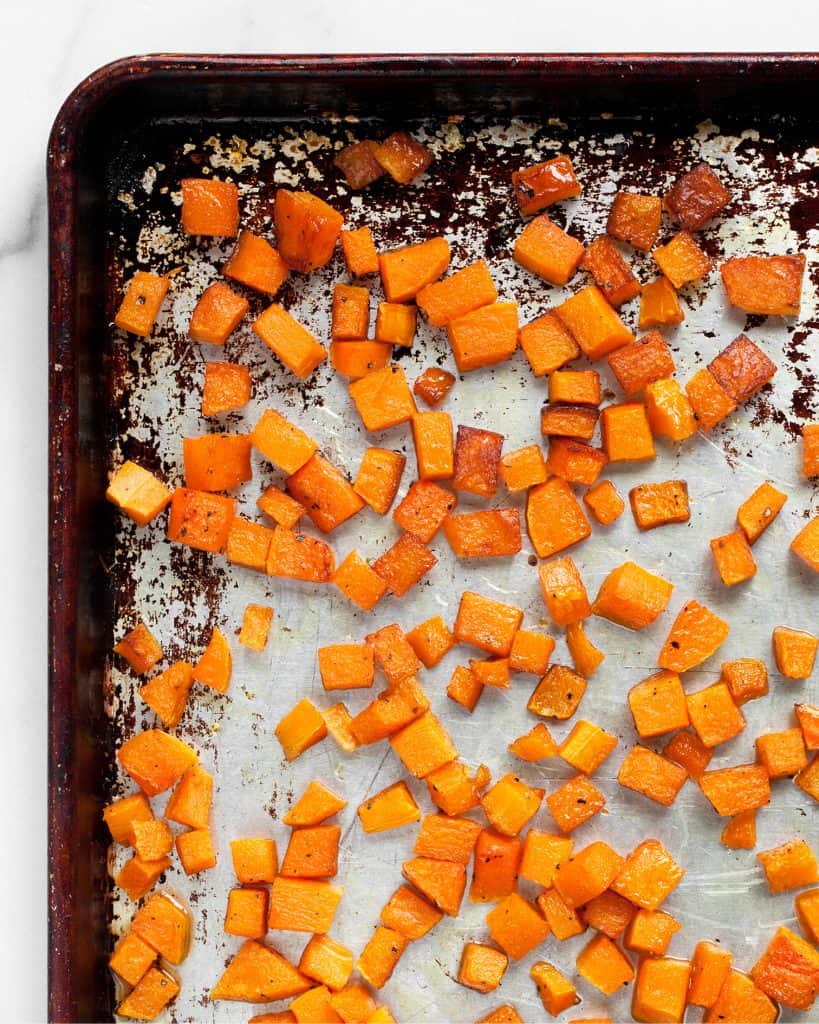 How To Make Roasted Butternut Squash Pizza
Pizza is pretty much a food group to me. I adore a flatbread or anything that involves a bread base and toppings.

I wanted to make a fall pizza, so I accepted the knife skills challenge for this roasted butternut squash pizza.
Full disclosure, I thought about using sweet potatoes instead since they're easier to peel and cube, but I eat A LOT of sweet potatoes.
It was time to embrace squash.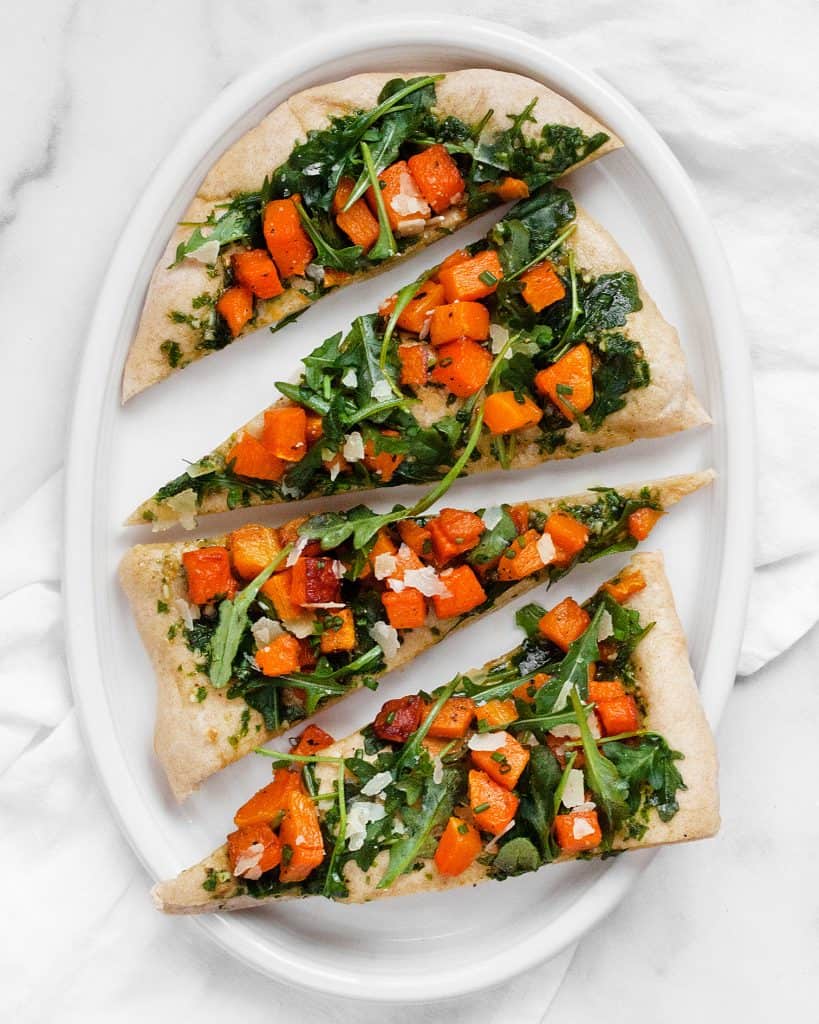 I started with my usual dough recipe, but I swapped out half the bread flour with whole wheat flour.
Using a mix of flours gives the crust a chewier and heartier bite.
While the dough rose, I roasted the squash and made the pesto.

Instead of basil I like making parsley walnut pesto. Its also great tossed in pasta.

Once I rolled out the dough, I gave it a 5-minute head start in the oven.

Then I slathered the crust with pesto and sprinkled on just a little shredded Italian cheese.
When the cheese had melted and the crust turned golden, I topped the pizza with squash, arugula, shaved Parmesan and minced chives.
Shortcuts For Pizza
There are ways to save time making this roasted butternut squash pizza.
Use pre-cut butternut squash. Yes, it is more expensive than buying a whole squash, but it is less work.
Buy pre-made pizza dough in the refrigerated section of the grocery.
Use jarred pesto.
Print
Roasted Butternut Squash Pizza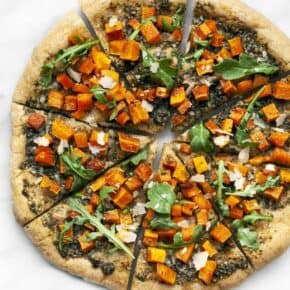 Prep Time:

2 hours

Cook Time:

10-12 minutes

Total Time:

2 hours 10-12 minutes

Yield:

1

–

12

inch pizza

1

x
Scale
Ingredients
For crust
2/3 cup warm water
1/2 teaspoon dry active yeast
1/2 teaspoon granulated sugar
1 teaspoon olive oil plus more for bowl
3/4 cup bread flour plus more for work surface
3/4 cup whole-wheat flour
Cornmeal for pizza stone
For toppings
1 small butternut squash, peeled and cubed
1 tablespoon olive oil
1/2 teaspoon kosher salt
1/4 teaspoon black pepper
1/4 cup parsley walnut pesto
1/3 cup shredded Italian cheese blend
1 handful baby arugula
1 tablespoon minced chives
Shaved Parmesan for serving
Instructions
In a small bowl, combine the water, yeast, sugar and olive oil. Let stand until foamy, about 5 minutes.
In the bowl of a food processor, pulse both the flours and salt. Add the yeast mixture and process until a ball of dough forms. Transfer the dough to an oiled bowl. Cover and let rise until doubled in volume, about 2 hours at room temperature or overnight in the refrigerator.
Preheat the oven to 375 degrees F. Toss the squash with 1 tablespoon olive oil, salt and pepper. Roast for 30 minutes until tender when pierced with a knife.
Preheat the oven to 450 degrees F with a pizza stone inside the oven.
On a lightly floured work surface, roll out the pizza dough into a 12-inch diameter circle or oval shape. Sprinkle the preheated pizza stone with cornmeal and place the dough on it. Bake the crust for 5 minutes before spreading on the pesto, leaving a 1-inch border, followed by the cheese. Continue baking for 5-7 minutes until the crust is golden brown and cooked through and the cheese has melted.
Scatter the squash and arugula over the pizza. Top with Parmesan and chives before serving.
SHARE THIS