Roasted Rainbow Carrots with Carrot Top Pesto

Letting nothing go to waste, I use the green tops for Roasted Rainbow Carrots with Carrot Top Pesto with a combination of parsley, sunflower seeds and lemon juice.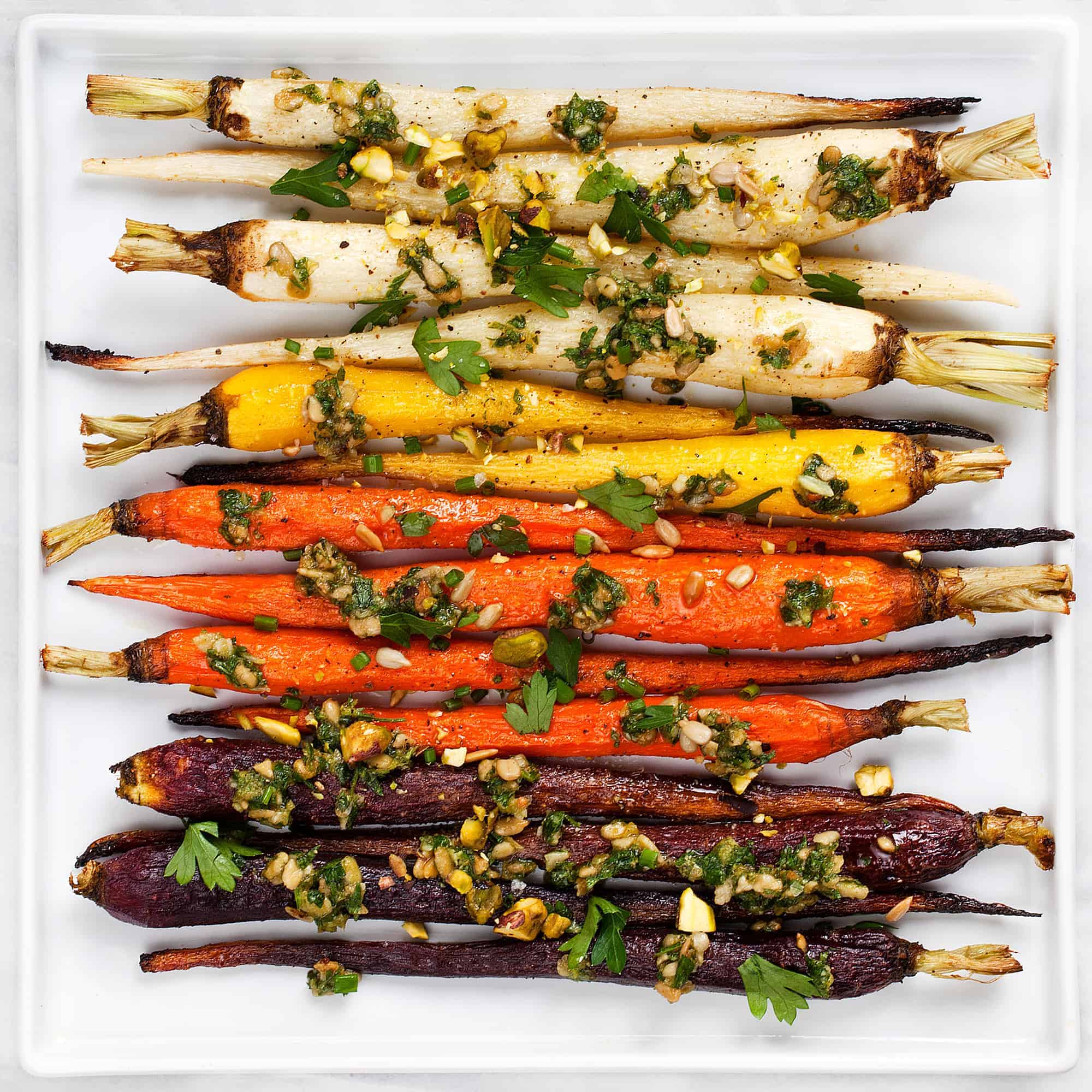 Carrots were one of the few vegetables that I ate as a kid. How things have completely changed!
Now I classify myself as a veggie-centric kind of eater.

Vegetables are the first ingredients I like to figure out when I'm working on a recipe. Everything else builds from those primary veggies.
People often ask if I'm a vegetarian, but I'm not. I don't eat a lot of meat, poultry or fish. It's really when I go out to dinner that I might think about having a protein.
At home chicken is a regular for my husband and son, but most of the time I don't eat it. Give me all the vegetables!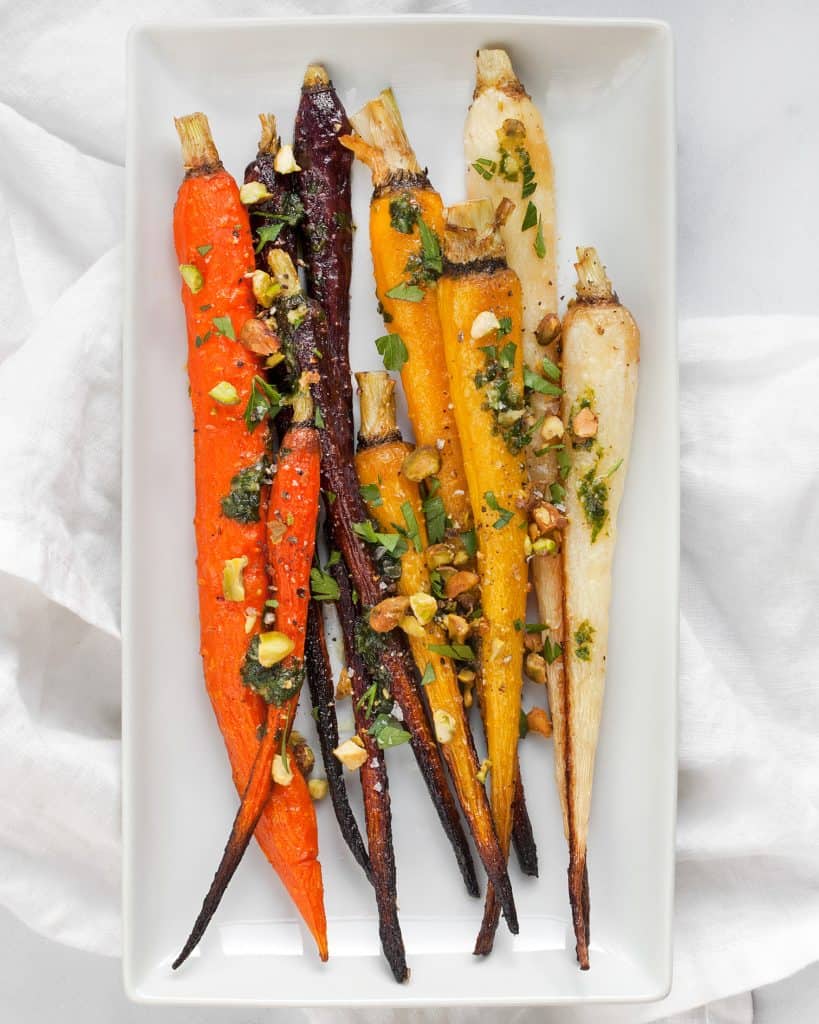 I'm a firm believer that what is considered a side is fair game to turn into a veggie main.
My vegetable obsession also explains why I get so giddy when I spot any vegetable in a non-standard color.

It's the little things like purple cauliflower that make me happy as silly as that sounds.
It used to be that you had to be at a farmers market to find these special colors, but now grocery stores are catching on.
These roasted rainbow carrots with carrot top pesto were the result of my over-excitement at purple, white and orange carrots during my weekly errands.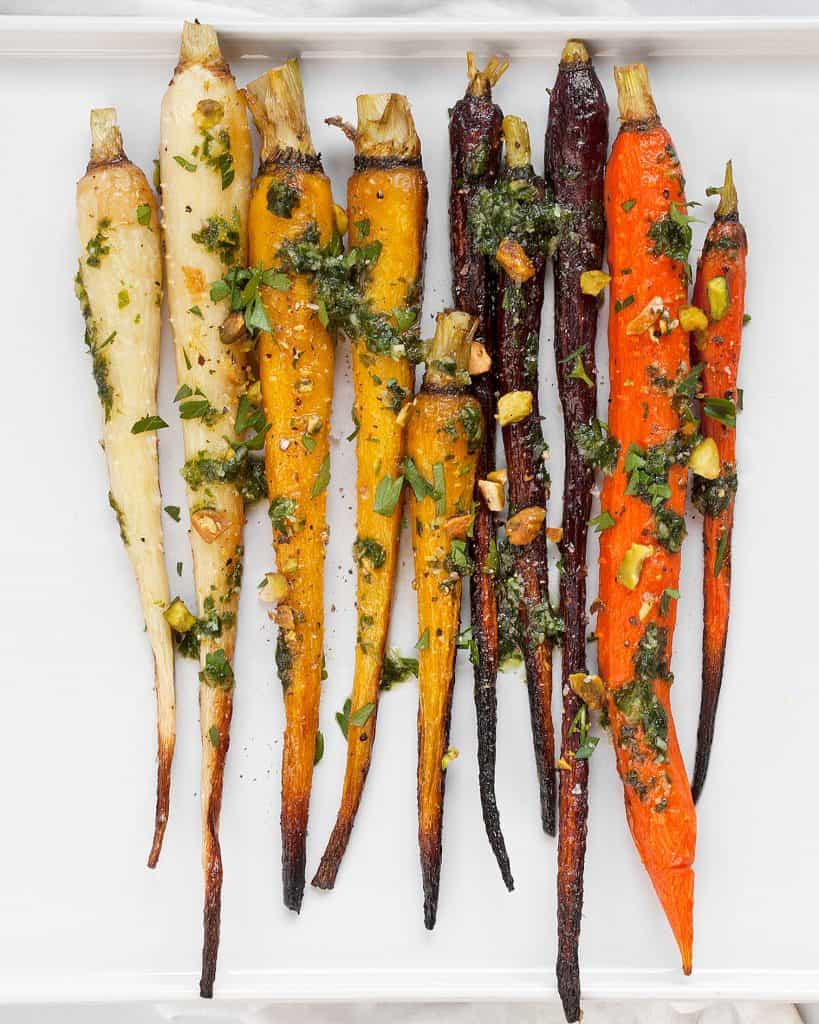 How To Make Roasted Rainbow Carrots With Carrot Top Pesto
I didn't have a plan when I bought two bunches of rainbow carrots, complete with their leafy tops.
Roasting them whole seemed like the best way to preserve their beautiful hues.
It didn't seem right to just toss their greens, so I made carrot top pesto with a mix of parsley and sunflower seeds.

Any chance I can get I try to reduce my food waste and use every part.
To finish off these roasted rainbow carrots with carrot top pesto, I sprinkled on pistachios for even more flavor and crunch.
And of course I had to arrange the carrots by color.
Print
Roasted Rainbow Carrots with Carrot Top Pesto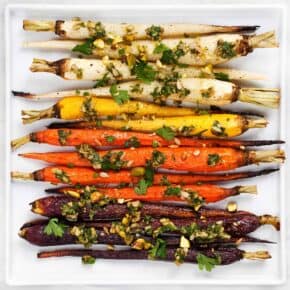 Author:
Prep Time:

10 minutes

Cook Time:

30-35 minutes

Total Time:

40-45 minutes

Yield: Serves

4

–

6

1

x
Scale
Ingredients
For carrots
2 pounds whole rainbow carrots with green tops, peeled
1 tablespoon olive oil
1/2 teaspoon kosher salt
1/4 teaspoon black pepper
For pesto
1 garlic clove, peeled
1/2 cup carrot top leaves
1/3 cup parsley leaves
3 tablespoons sunflower seeds
1 tablespoon fresh lemon juice
1/2 teaspoon kosher salt
1/4 teaspoon black pepper
1/3 cup olive oil
For serving
1/4 cup chopped salted and roasted pistachios
1 tablespoon chopped parsley
Instructions
Preheat the oven to 400 degrees F.
Trim the tops off the carrots and reserve the greens for the pesto. Place the carrots on a sheet pan and toss with olive oil, salt and pepper. Arrange them in a single layer. Roast for 30-35 minutes until the carrots are tender and browning at the edges.
For the pesto, finely chop the garlic in a food processor. Add the carrot top leaves, parsley, sunflower seeds, lemon juice, salt and pepper, and process into a paste. While the food processor is running, pour the olive oil in a fine stream through the feeder tube until the pesto is smooth.
Arrange the carrots on a serving platter. Top with pesto, pistachios and parsley.
SHARE THIS