Roasted Delicata Squash Couscous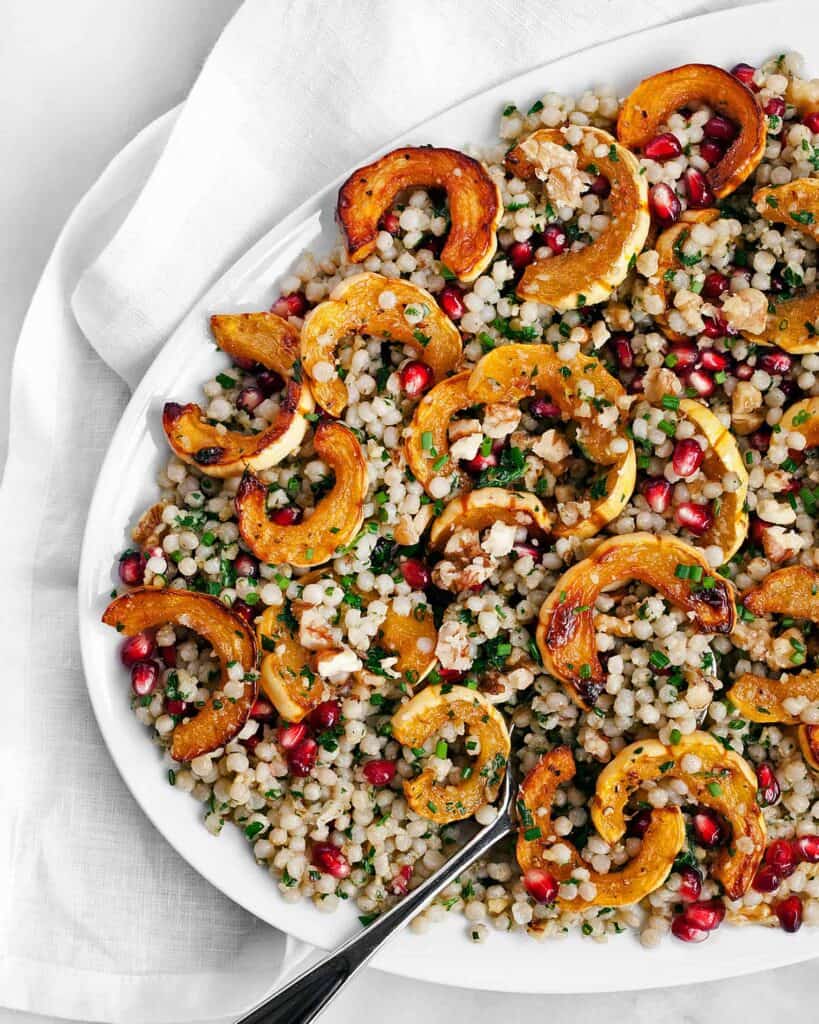 For the last couple weeks I've been admiring the bowl of squash and gourds sitting on my kitchen counter.

My annual collection started a few weeks ago.

The colors are everything I get warm and fuzzy about when thinking about fall–gorgeous oranges, golds and greens.
Some are bumpy and lumpy gourds only meant for decorations. Others are perfectly acceptable to eat.

I just have a hard time parting with my seasonal décor, which is completely ridiculous.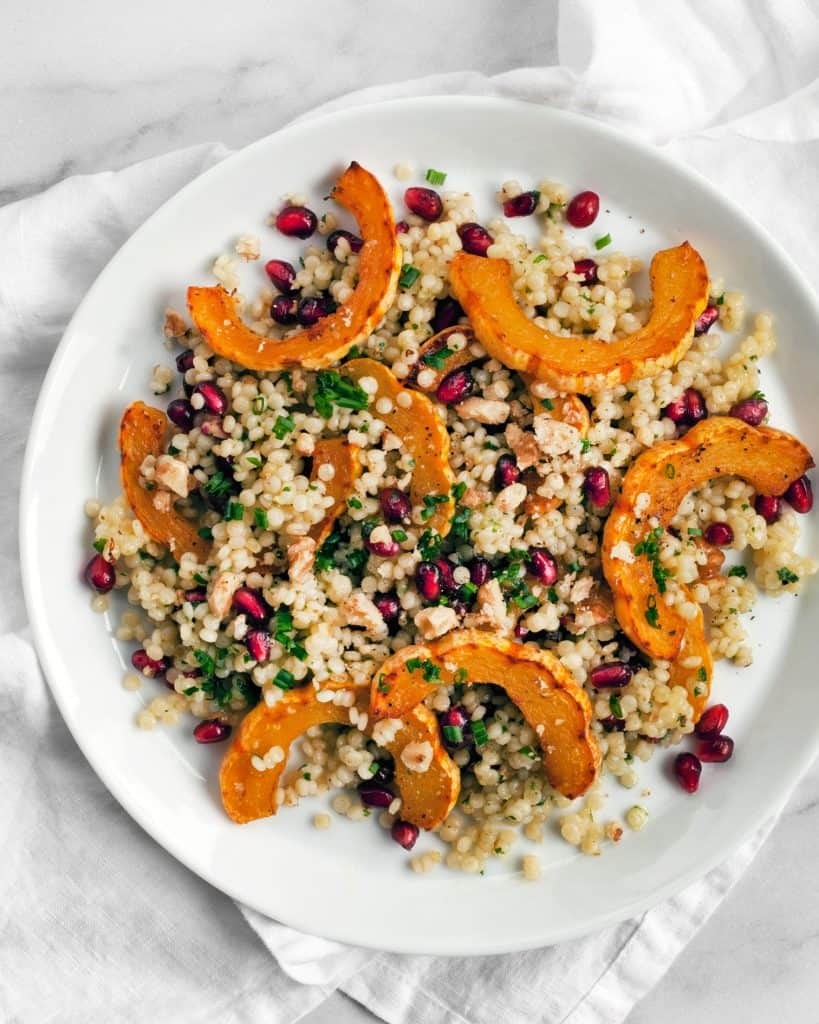 The other day I made the tough decision to say goodbye to one of the edible squash in the bowl.

I almost felt like I needed to apologize to that delicata squash.

As hard as it was, I switched on the oven, pulled out my knife and cutting board and stopped agonizing over my choice.
Was I just going to let it eventually rot on the bowl? Of course not!

It was time to make a big batch of roasted delicata squash couscous.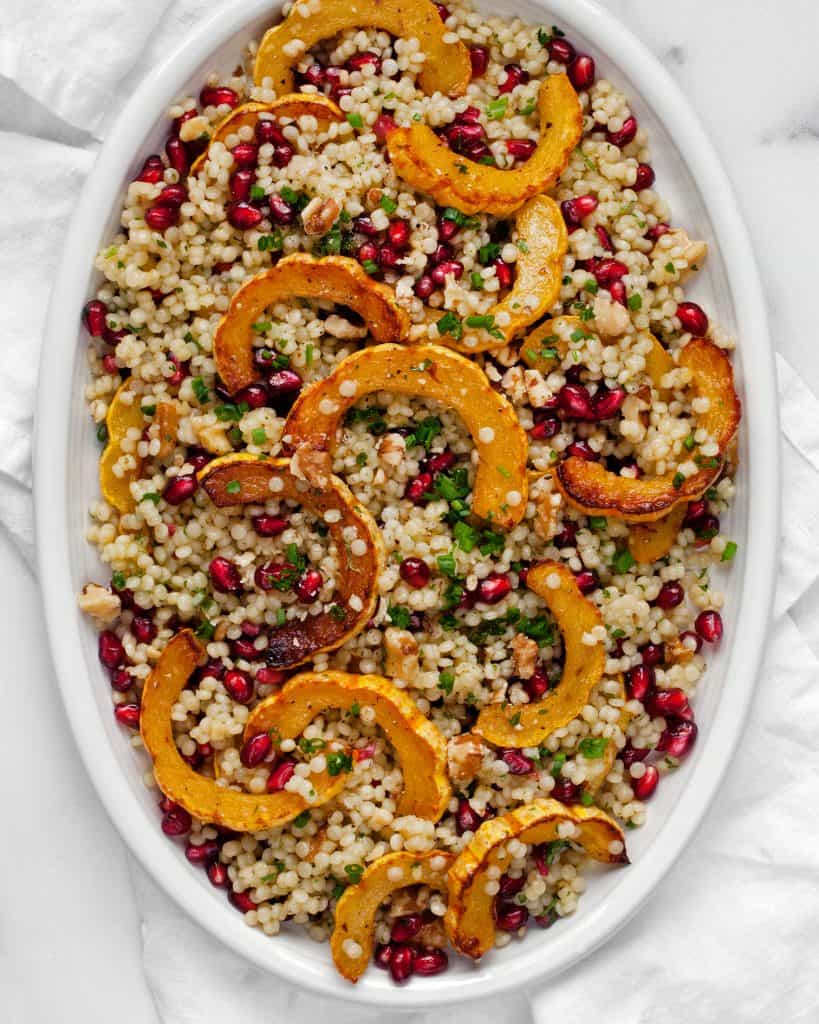 Roasted Delicata Squash Couscous: The Ingredients
While the squash was roasting, I cooked the pearl couscous. Those plump, round grains are so much tastier than standard, fine-grained couscous.
I tossed the squash slices in a mix of olive oil, maple syrup, salt and pepper. The maple syrup gave a hint of subtle sweetness and felt very seasonal.
To bring everything together, I made parsley walnut pesto with Parmesan and lemon juice in the food processor.

I folded the herby pesto into a bowl with the couscous and roasted squash.
Pesto is a great way to add a ton of flavor and should not just be limited to just pasta.
After the pesto, I still wasn't finished.

I stirred in fresh and juicy pomegranate seeds. With their intense ruby color and tart flavor, I adore them.

After sprinkling on walnuts and fresh chives, the couscous was ready to be served.
Print
Roasted Delicata Squash Couscous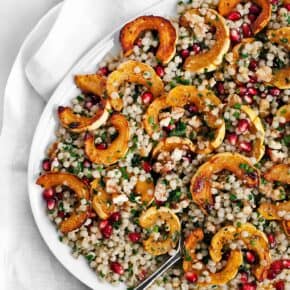 Total Time:

40 minutes

Yield: Serves

4

1

x
Scale
Ingredients
For squash
1 delicata squash, halved lengthwise, deseeded, and sliced crosswise 1/4-inch-thick
1 tablespoon olive oil
2 teaspoons maple syrup
1 teaspoon kosher salt
1/2 teaspoon black pepper
For couscous
1 tablespoon olive oil
1 cup pearl (Israeli) couscous
1 cup plus 2 tablespoons water
For pesto
1 garlic clove, peeled
1 generous handful parsley leaves
1/4 cup walnuts
1/2 ounce grated Parmesan
Juice of 1/2 lemon
1/4 teaspoon kosher salt
1/4 teaspoon black pepper
1/4 cup olive oil
Seeds of 1 pomegranate
1/4 cup roughly chopped walnuts
1 tablespoon minced chives
Instructions
Preheat the oven to 375 degrees F. Line a sheet pan with parchment paper. Toss the squash with the olive oil, maple syrup, salt and pepper. Roast for 30 minutes until brown at the edges and tender.
While the squash is roasting, make the couscous. Heat 1 tablespoon olive oil in a large saucepan over medium heat. Toast the couscous until it is golden, about 5 minutes. Add the water and bring to a boil. Reduce heat to low, cover and simmer until the water is absorbed and the couscous is tender, about 10 minutes.
For the pesto, mince the garlic clove in the bowl of a food processor. Add the parsley, walnuts, Parmesan, lemon juice, salt and pepper. Puree the mixture and while the motor is running, drizzle the olive oil through the feeder tube until the pesto is fully combined.
Place the squash and couscous in a large bowl. Stir in the pesto followed by the pomegranate seeds, walnuts and chives.
SHARE THIS