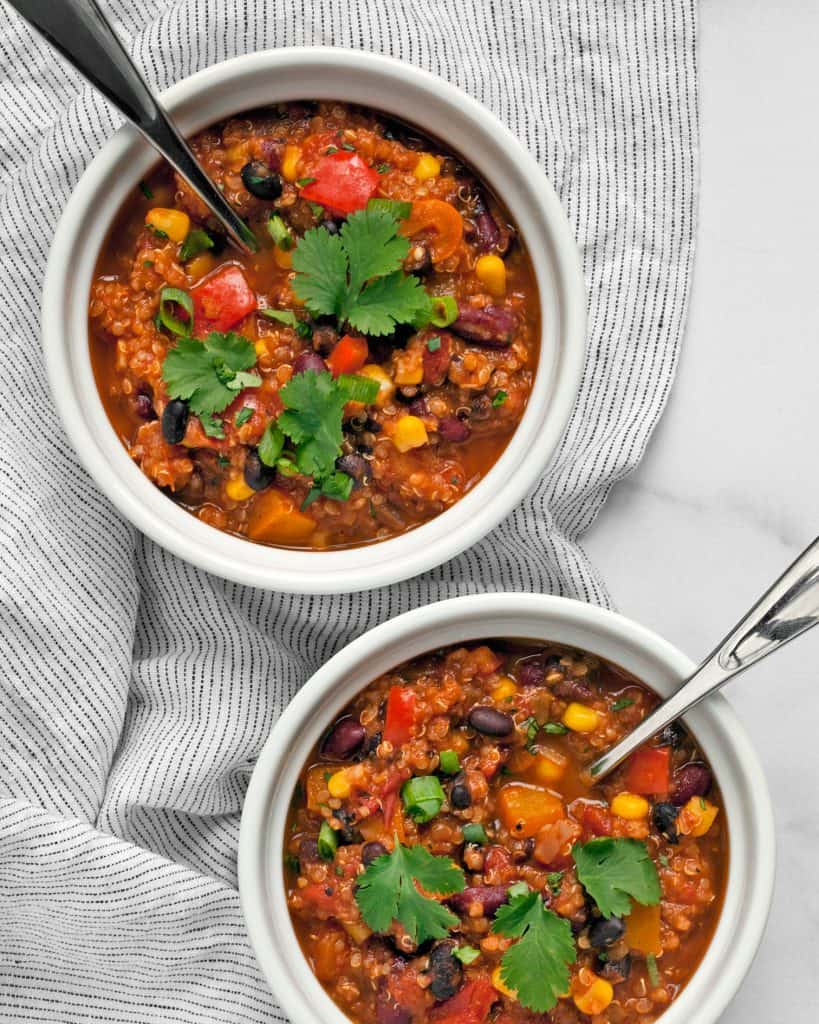 Fall and winter are the obvious seasons for soups, stews and everything that's warm and eaten with a spoon.
Things get a bit more specific with chili.

Actually down to the day: Super Bowl Sunday.

When looking for a meal to feed a hungry group of football spectators, you can do pizza, of course, but I am a huge fan of chili.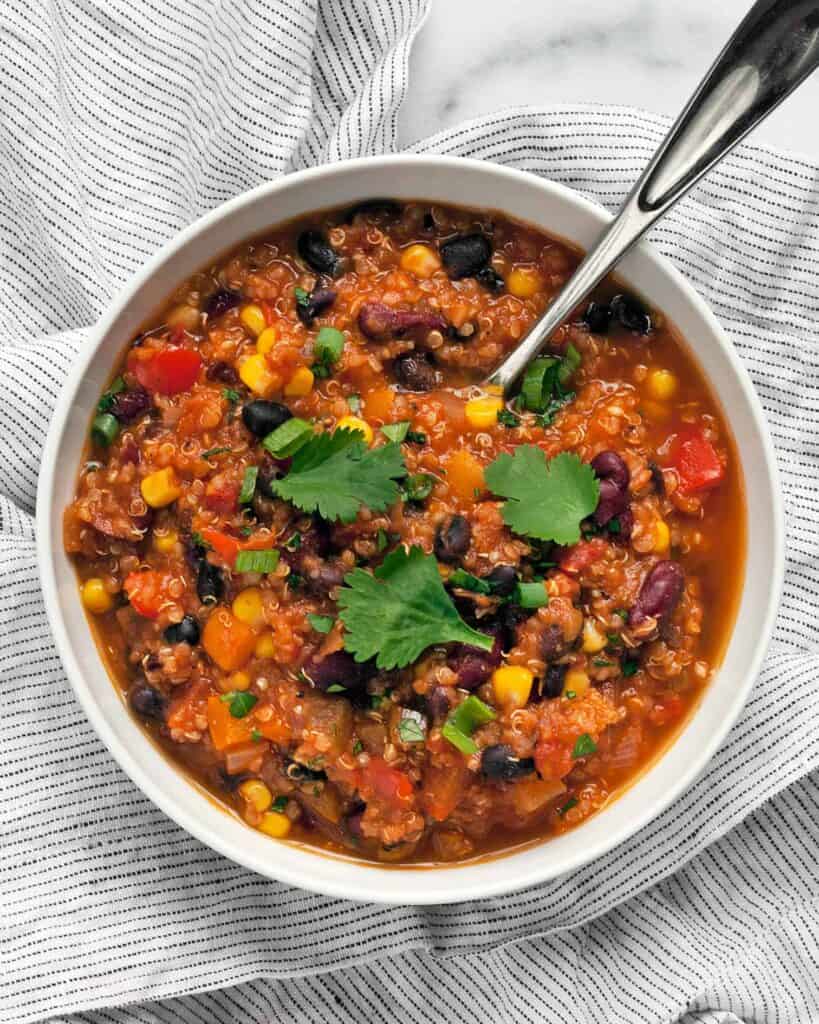 It is the most popular day of the year for pizza delivery, so I would advice against going with the crowd on that one.

And if you make your own pizza, you will find yourself in and out of the oven all night. You will be lucky to even catch a commercial let alone a few minutes of the game.
Chili can be made in advance and reheated, which takes the pressure off the timing.
Super bowl food should be hearty. That's why I go all in on grains in my one pot quinoa chili.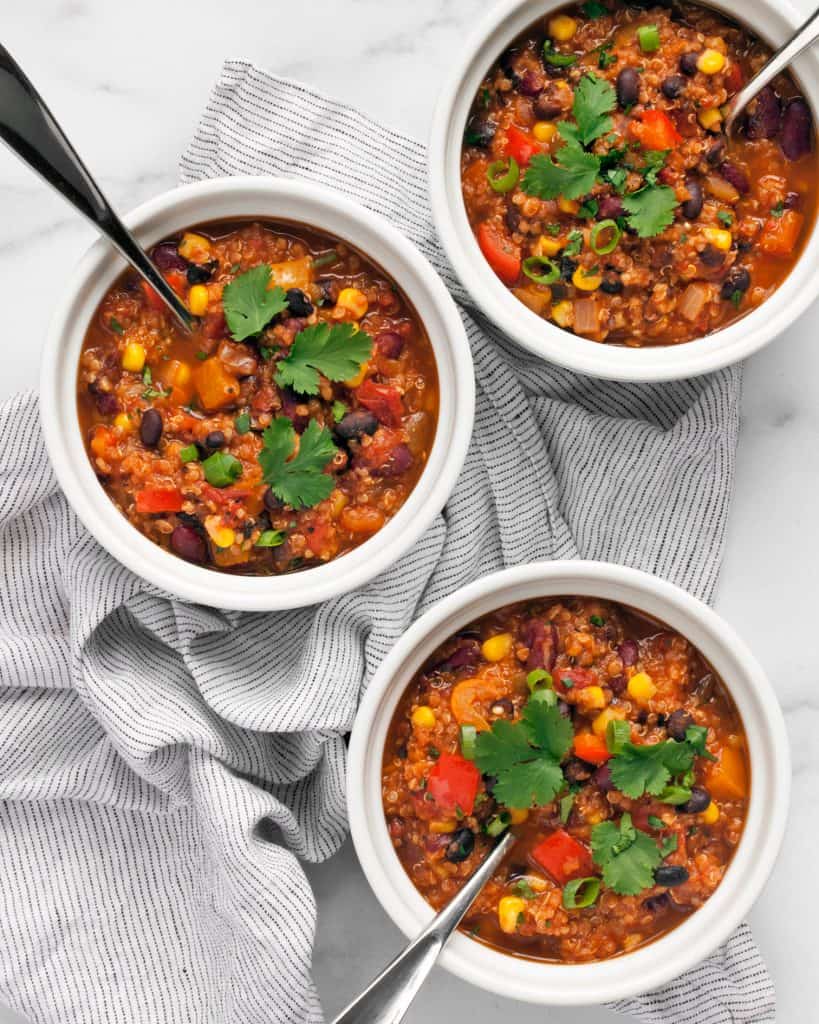 I know that vegetarian dishes are filling, but my carnivore friends might disagree with me.

Yes, they are my guests, but I am sticking with my menu.

The addition of quinoa will keep them happy.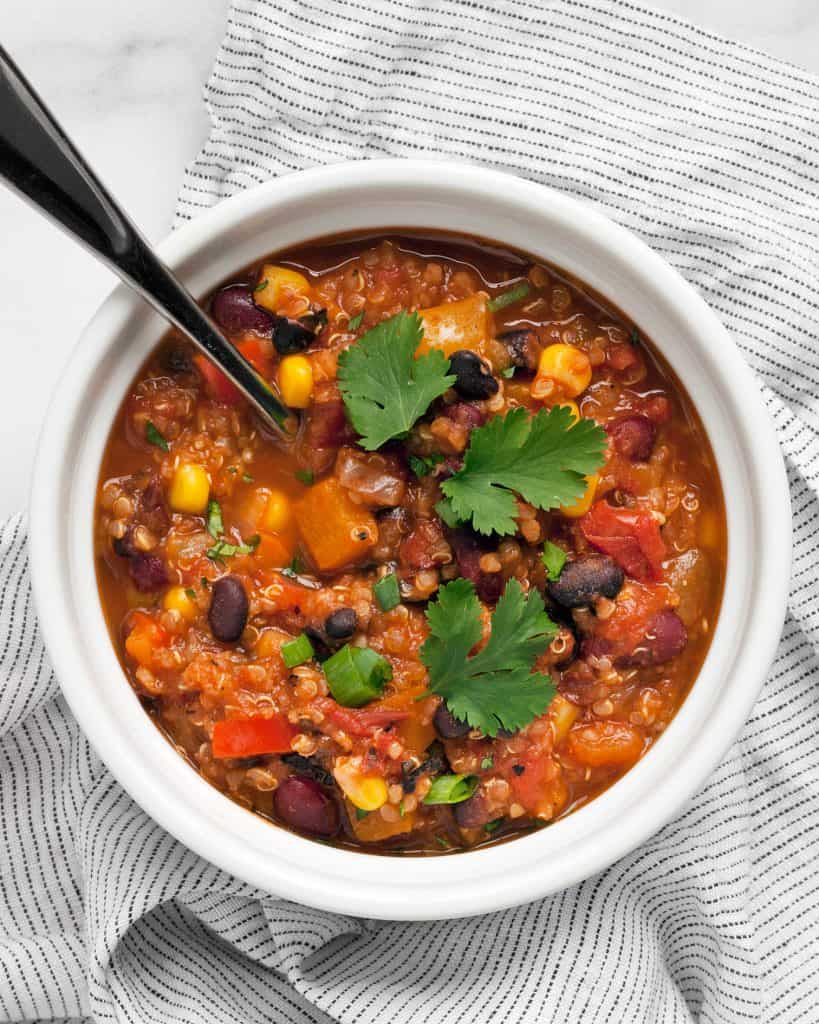 How TO Make One Pot Quinoa Chili
To start, I sauté onions in olive oil—the usual beginning for most soups.

Next up are the aromatics. They include garlic and a can of diced green chilies for some heat.

Diced green chilies are available in mild or hot. It's up to you depending on your tolerance for spicy food.

But those aren't the only fragrant ingredients in this one pot quinoa chili. I add a mix of spices: cumin, hot smoked paprika, chili powder salt and pepper.

Once the onions have turned soft and translucent and have melded with the rest of the flavors, I stir in black beans, kidney beans, corn, crushed-fire roasted tomatoes, veggie broth and quinoa.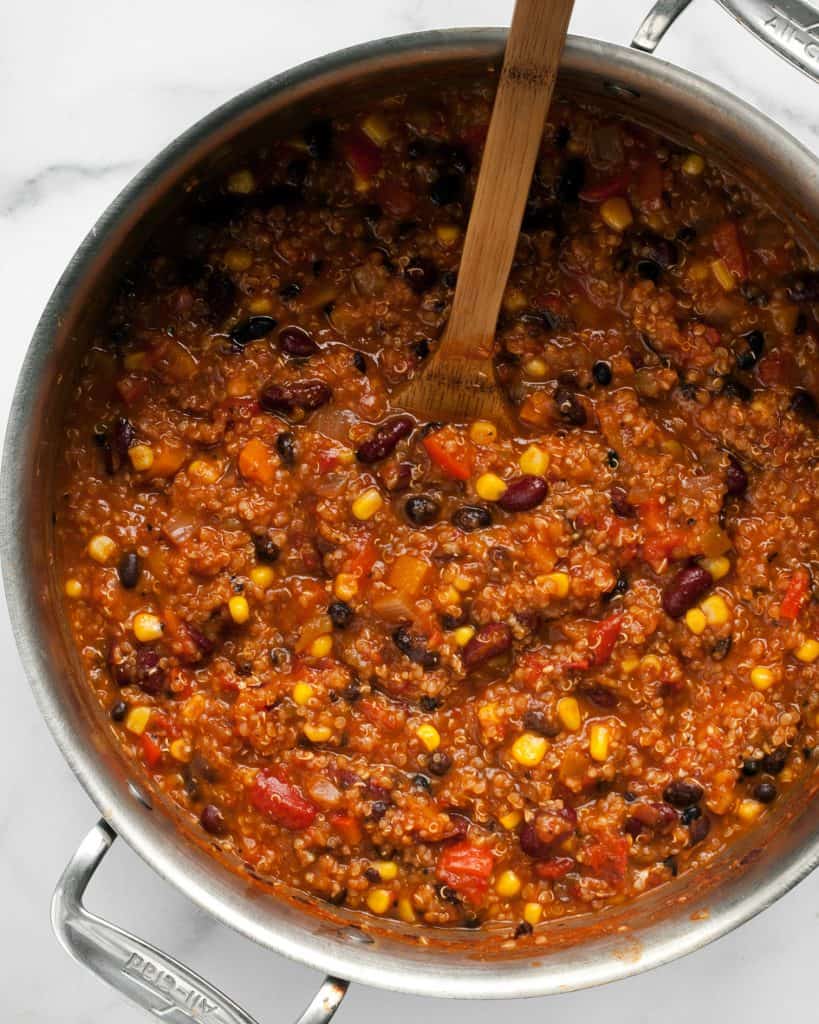 I bring the mixture to a boil and then reduce the heat. The chili simmers for 20-30 minutes until the quinoa is tender.

It's so simple and such a relief that it all cooks in one pot!

To serve, I top each bowl of chili with cilantro and scallions.

You can make the chili a day in advance and reheat it when you're ready.
Print
One Pot Quinoa Chili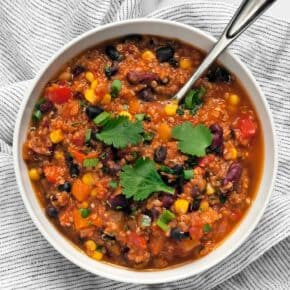 Prep Time:

10 minutes

Cook Time:

30-40 minutes

Total Time:

40-50 minutes

Yield: Serves

4

1

x
Scale
Ingredients
1 tablespoon olive oil
1 small red onion, roughly chopped
1–4 ounce can diced green chilies
2 garlic cloves, minced
2 teaspoons cumin
1/2 teaspoon hot smoked paprika
1/4 teaspoon chili powder
1 teaspoon kosher salt
1/2 teaspoon black pepper
1 red bell pepper, diced
1 orange bell pepper, diced
1–15 ounce can black beans, drained and rinsed
1–15 ounce can kidney beans, drained and rinsed
1–15 ounce can corn, drained and rinsed
1–28 ounce can crushed fire-roasted tomatoes
4 cups low sodium vegetable broth
1 cup quinoa, rinsed
Cilantro, whole leaves and chopped for serving
Sliced scallions for serving
Instructions
Heat the oil in a large saucepan over medium heat. Add the onions and sauté for 4 minutes. Stir in the green chilies, garlic, cumin, paprika, chili powder, salt and pepper. Continue cooking for an additional 3-4 minutes until the onions are soft and translucent.
Add the red and orange peppers and sauté for 2 minutes. Then stir in the black beans, kidney beans, corn, tomatoes, vegetable broth and quinoa. Increase the heat and bring the mixture a boil.
Reduce the heat and simmer for 20-30 minutes until the quinoa is tender.
Top with cilantro and scallions before serving.
Notes
The chili can be made 1 day in advance. Reheat in a sauce pan over medium heat stirring frequently.
SHARE THIS