Baked Mushroom Kale Quesadillas

When you cook these Baked Mushroom Kale Quesadillas on a sheet pan in the oven, all of them will be ready at the same time.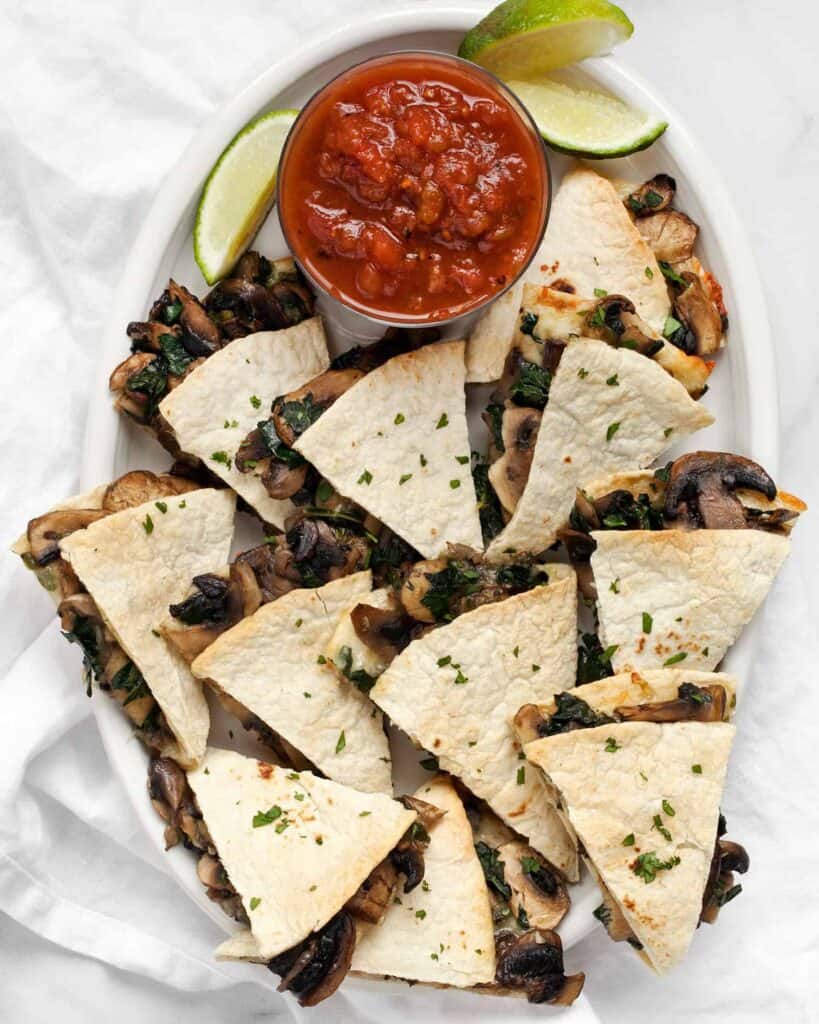 Quesadillas are not something I order at a restaurant.

Most of the time they are just too cheesy for me. I don't love navigating stretchy strings of cheese as I take a bite.

My six-year-old has now switched from tacos to our quesadillas at our favorite taco place in our neighborhood. He too isn't a fan of mounds of melted cheese, so we always make sure to request light cheese.

Like mother like son!

When I crave quesadillas, I first think about the fillings not including the cheese.

Usually I want lots of vegetables with just enough cheese to act like the glue to hold the tortillas together.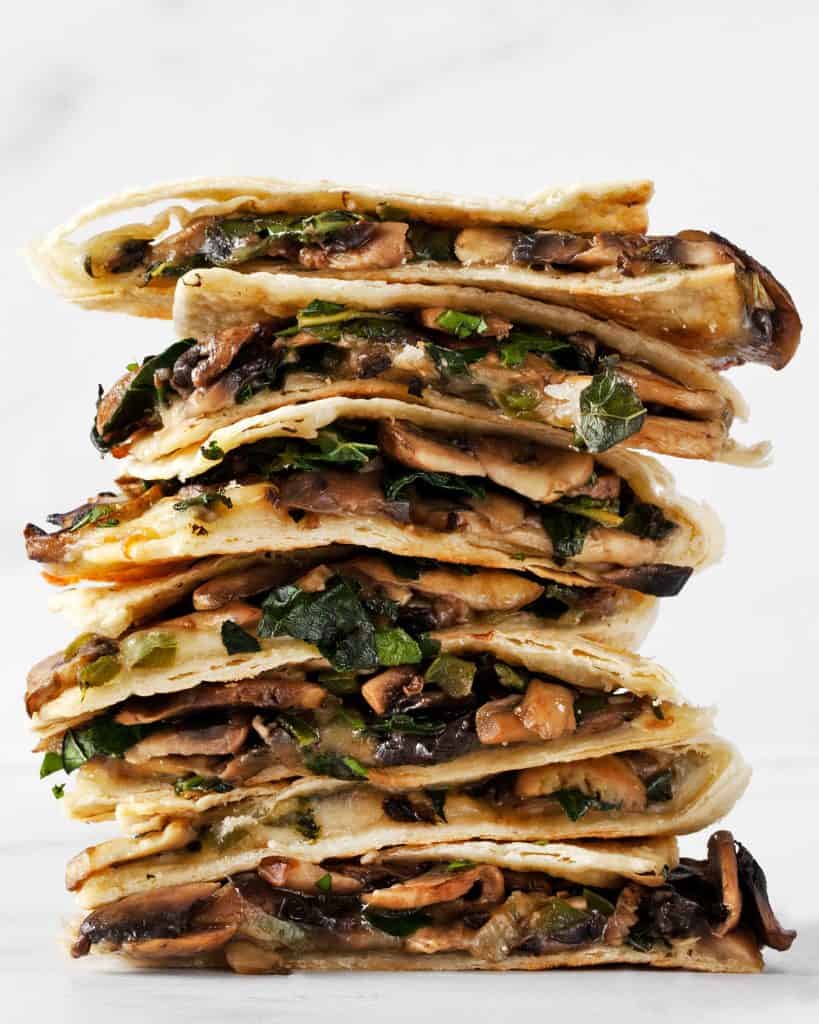 Quesadillas are typically made in a skillet giving enough time for the cheese to melt and for the tortillas to warm.

For these baked mushroom kale quesadillas, I use the stovetop and the oven.

The stove is for the filling, and then oven is for assembly and melting the cheese. The best part about baking quesadillas is that you can cook them all at the same time instead of going one by one in a skillet.

While the oven preheats, I make the filling.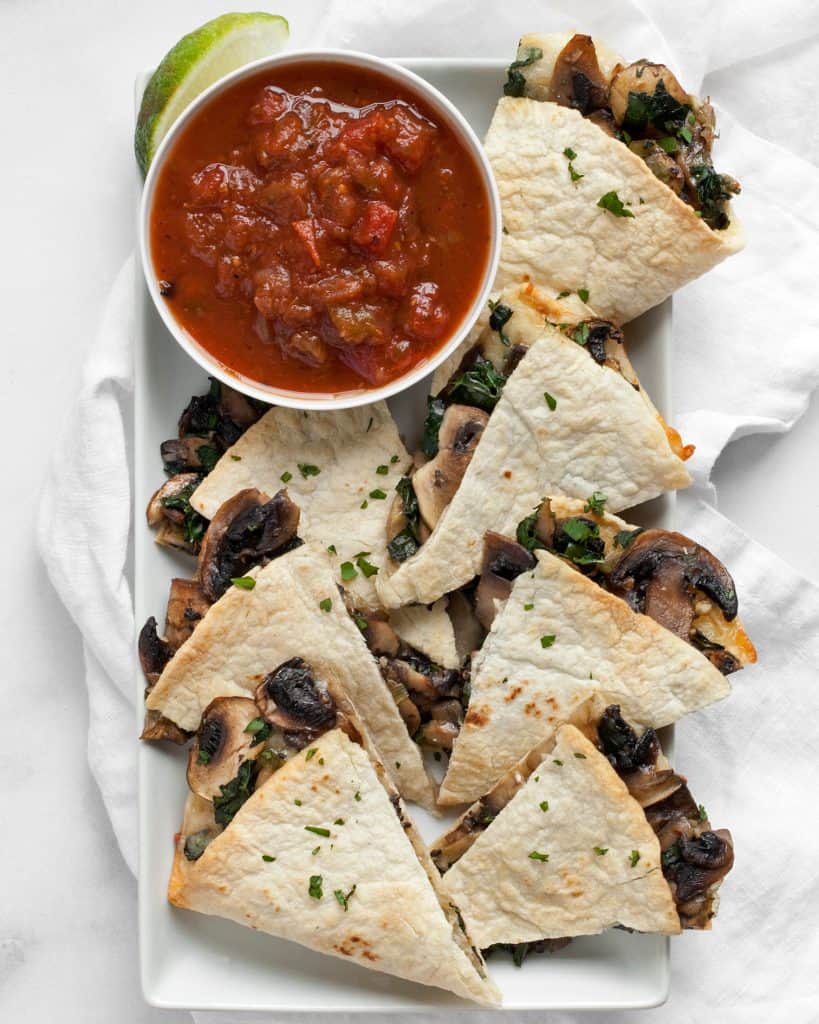 How To Make Baked Mushroom Kale Quesadillas
I sauté the mushrooms in a large skillet allowing them to start to brown.

After that I add aromatics to the mushrooms, including minced garlic and jalapenos and scallions.
In the final minute or so of cooking, I fold in chopped kale. The heat wilts the leaves, and I stir in lime juice.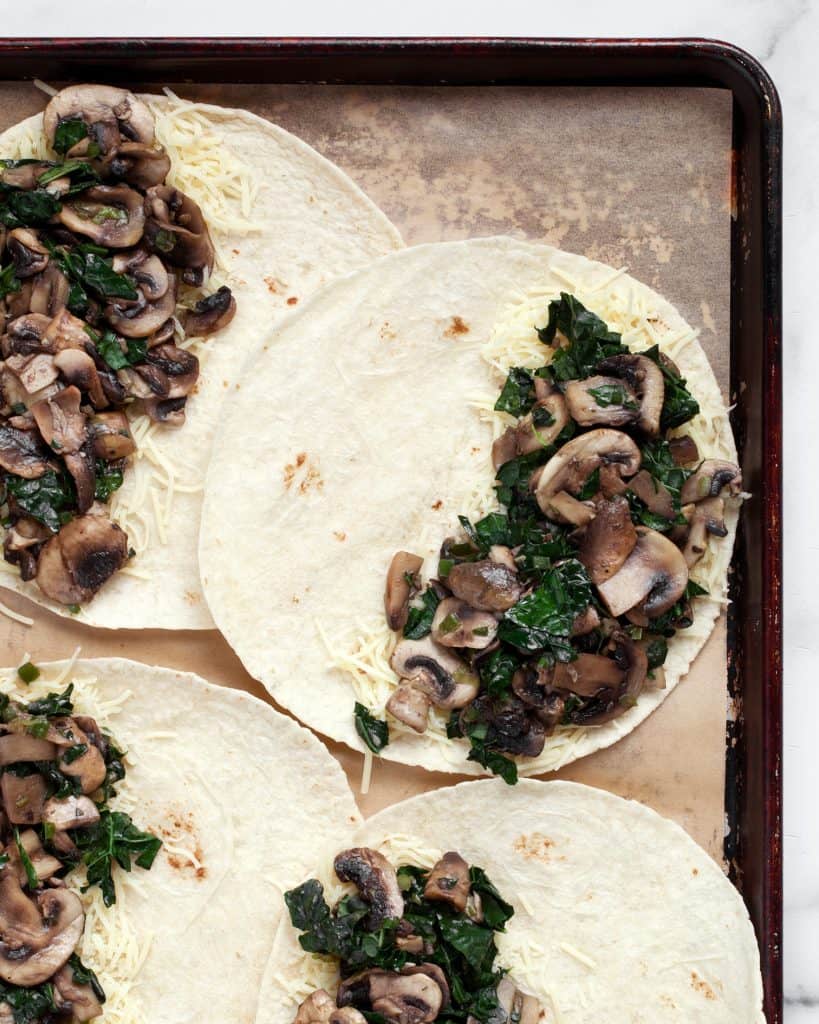 Now that the filling is ready, it's time to assemble the quesadillas.

On a sheet pan lined with parchment paper, I cover half a tortilla with filling and just a quarter cup of shredded cheese.

Then I fold over the tortilla pressing it down into a half round.

It only takes 10-12 minutes for the cheese to melt and the tortillas to turn brown and crisp.

I like to keep things simple serving baked mushroom kale quesadillas with my favorite store-bought salsa, lime wedges and a sprinkle of chopped cilantro on top.
Print
Baked Mushroom Kale Quesadillas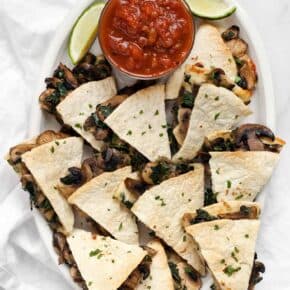 Prep Time:

10 minutes

Cook Time:

10-12 minutes

Total Time:

20-22 minutes

Yield: Serves

4

1

x
Scale
Ingredients
1 tablespoon olive oil
1 pound white mushrooms, sliced
1 jalapeno, deseeded and minced
1 garlic clove, minced
2 scallions, thinly sliced, white and green parts separated
1 cup chopped lacinato kale
Juice of 1 lime
4 flour tortillas
1 cup shredded Mexican blend cheese
1 tablespoon chopped cilantro
Salsa and lime wedges for serving
Instructions
Preheat the oven to 425 degrees F.
In a large skillet, heat 1 tablespoon olive oil over medium high heat. Add the mushrooms and sauté for 5 minutes until the mushrooms start to brown. Stir in the jalapeños, garlic and white parts of scallions and continue cooking for a few minutes until the mushrooms are caramelized and fragrant. Stir in the kale, lime juice and the green scallions.
Place the flour tortillas on a sheet pan line with parchment. Spoon the mushroom filling and 1/4 cup shredded cheese on one half of each of the tortillas. Fold over the quesadillas creating a half-round shape.
Bake the quesadillas for 10-12 minutes until they are lightly browned and the cheese has melted.
Cut the quesadillas into quarters and top with chopped cilantro. Serve with salsa and lime wedges.
SHARE THIS