Pesto is the secret ingredient and herby flavor booster in this easy roasted zucchini squash pea orzo with salty crumbled ricotta salata.

Whenever I roast a mix of vegetables, zucchini and yellow squash are always invited to the party.
It's important to have a variety of textures and flavors when your doing a sheet pan of roasted veggies. I find that I do this at least once a week. The exact vegetables vary a bit depending on my mood and the season.
I like stashing a container of leftover cooked vegetables in my fridge because they can be the start of so many quick and easy meals.
You can scramble them into eggs or tuck them into a fancier version, an omelet.
Paired with greens, those veggies can be turned into a salad.
It's just a matter of figuring out your base. Of course, pasta is another one of my favorites.
It can be as basic as folding roasted vegetables into spaghetti with garlic and olive oil. I love a plate of food that doesn't take much thought. Leftovers always help with that.


Pre-cooking certain ingredients that can be used in multiple meals is really just smart pre-planning and prep.
They are so much more than leftovers.
Things at the farmers market got serious on Saturday. I was at one of my favorite stands when I spotted containers of shelled fresh peas.
The farmer gave very explicit instructions to consume the peas in 2 days or freeze them.

Even though I hadn't planned on leaving with peas, I was up for the challenge, so I bought a container.
How could I pass them up?
How To Make Zucchini Squash Pea Orzo
Pasta had already been on my mind when I found some orzo hiding in the back of a cupboard.
Before cooking the pasta with the peas, I roasted zucchini and squash, my go-to spring/summer vegetables for roasting.
Along with the fresh peas, I figured they were enough to create an interesting pasta.
After the orzo finished cooking, I spooned in pesto for a flavor boost. Then I folded in the peas and roasted veggies.
Finally, I sprinkled on chives and salty crumbled ricotta salata on this this zucchini squash pea orzo.
SaveSave
Print
Zucchini Squash Pea Orzo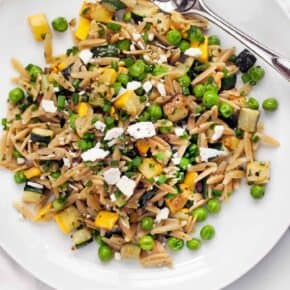 Author:
Prep Time:

10 minutes

Cook Time:

25-30 minutes

Total Time:

35-40 minutes

Yield: Serves

4

1

x
Scale
Ingredients
1 medium zucchini, diced
1 medium summer squash, diced
1 tablespoon olive oil
1/2 teaspoon kosher salt plus more for serving
1/4 teaspoon black pepper plus more for serving
1/2 cup orzo
3/4 cup fresh peas
2 tablespoons basil pesto
2 tablespoons minced chives
1/4 cup crumbled ricotta salata
Instructions
Preheat the oven to 400 degrees F. Place the zucchini and squash on a parchment-line sheet pan. Drizzle with olive oil and sprinkle with salt and pepper. Roast for 25-30 minutes until lightly browned at the edges.
Cook the orzo in boiling salted water according to package instructions. Add the peas in the last minute of cooking. Drain and transfer the orzo and peas to a large bowl. Stir in the pesto followed by the zucchini, squash, chives and ricotta salata. Season with salt and pepper.
SHARE THIS