Smashed Roasted Potatoes
on Apr 11, 2022, Updated Jul 08, 2022
This smashed potatoes recipe proves that you can make the perfect side dish in just 6 ingredients. The roasted potatoes turn out golden brown and crisp on the outside and fluffy on the inside. Finished with a sprinkle of salt, pepper and fresh herbs, they are incredibly versatile and go with almost any main dish.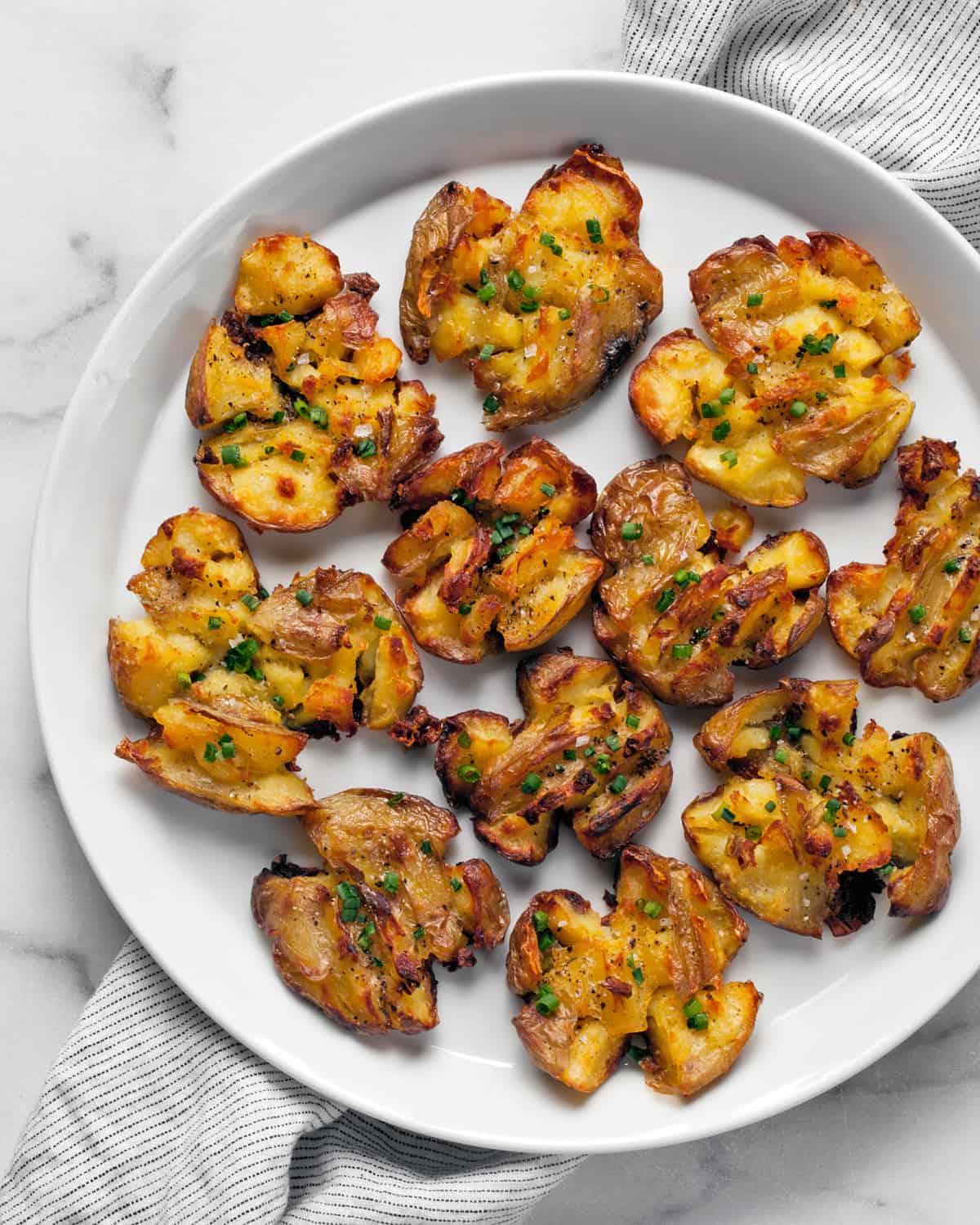 No matter how you make them, I will never say no to potatoes. They are my comfort food—at least one of them. Even in their most basic preparation, diced and tossed with olive oil, salt and pepper and then spread across a sheet pan, what comes out of the oven is total perfection.
These smashed roasted potatoes add an extra cooking step, but some of the prep is eliminated. You don't need a knife for these spuds unlike my garlic herb roasted fingerling potatoes because no cutting is required. Instead, you boil the potatoes before roasting them, so you can easily smash them.
The final result is a roasted potato side dish that maximizes crunchiness and is fluffy on the inside. Because of their shape and bite, I think they will remind you of waffle French fries. And if you want to dip them into ketchup or add a dollop of sour cream, go right ahead!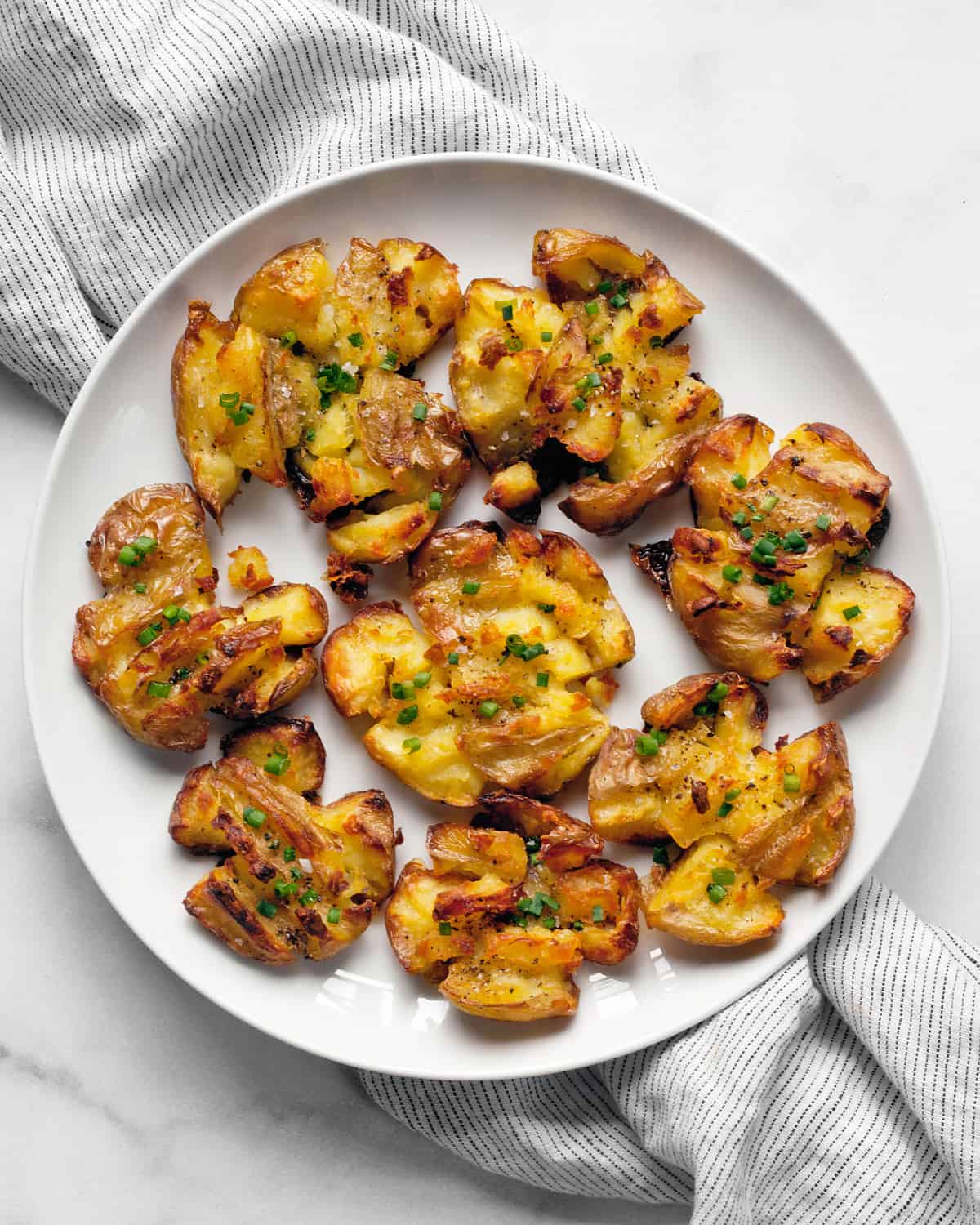 The Secret Getting Roasted Potatoes Crispy
It's pretty simple. The more edges there are, the more opportunity they have to touch the heat of the pan and crisp up in the oven. And when they are rough and irregular, there are more crunchy nooks and crannies.
Boiling the potatoes before roasting not only lets you squash them down easily, but it guarantees that the centers of the potatoes are fully cooked. Then the time in the oven is all about getting them crispy.
Ingredients & Substitutions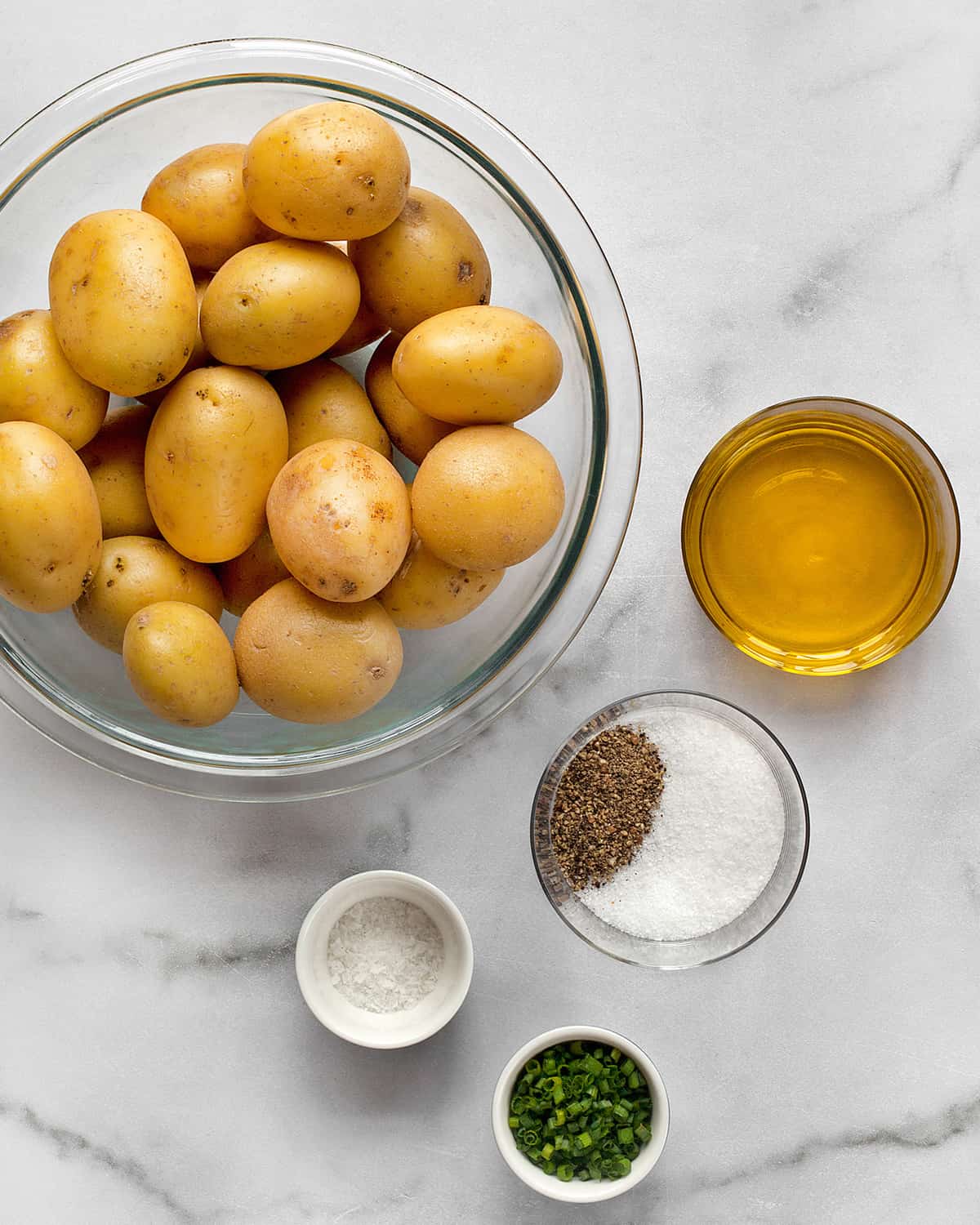 This is what you need:
Potatoes: It's best if you buy small yellow potatoes like Yukon Gold. I love this type of potato because it is excellent for both mashing and roasting. You can also use baby red potatoes, round white potatoes or a mix. They all should be about the same diameter.
Olive oil: This recipe has very few ingredients, so you need to make sure they have good flavor. That's why I use extra virgin olive oil.
Salt & pepper: I season the water the potatoes simmer in on the stove with lots of kosher salt. Then I use kosher salt and black pepper to season the potatoes before roasting them. For a final touch, I lightly sprinkle the crispy smashed potatoes with flaky sea salt.
Chives add something a little oniony for another garnish. Think of sour cream and chive potato chips. You can also use chopped parsley for fresh herbs.
How To Make Smashed Roasted Potatoes
Boil the potatoes. Place the small potatoes and a tablespoon of salt into a large pot and fill it with cold water. This salt acts as a pre-seasoning for the potatoes, which are pretty plain on their own. I like to compare it to salted water you would use for cooking pasta. Reduce the heat and simmer the potatoes until they are tender and you can pierce them with a knife. This will take 25-30 minutes. I keep a lid partially on the pot to reduce the amount of water that evaporates.
Preheat the oven to 425 degrees F.
Generously coat a rimmed baking sheet with olive oil and arrange the cooked potatoes on it. Make sure to allow a couple inches of space around each of them.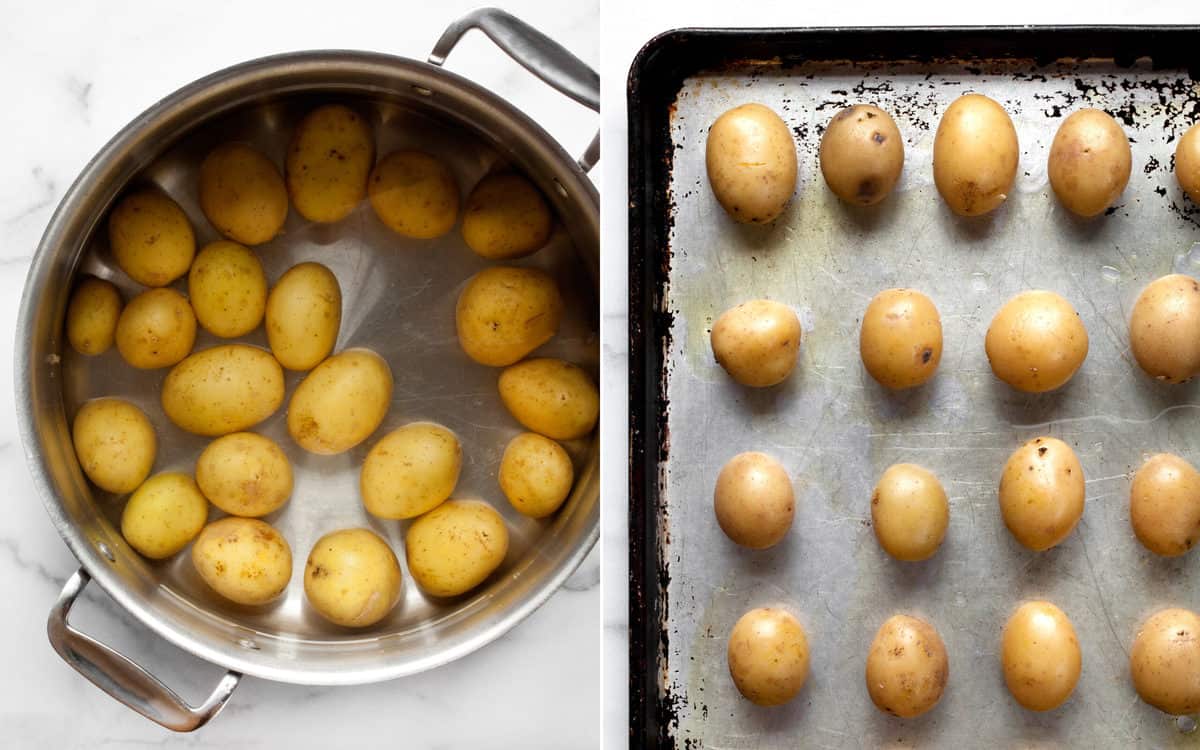 Smash the potatoes. Use a potato masher or the bottom of a glass to press them. The skin of the potatoes will split and the flesh will squash down.
Drizzle the tops of the potatoes with olive oil and season them with salt and pepper.
Roast the potatoes. Give them 35-40 minutes to become deep golden brown and crispy on the outside.
Sprinkle the roasted potatoes with minced chives and flaky sea salt.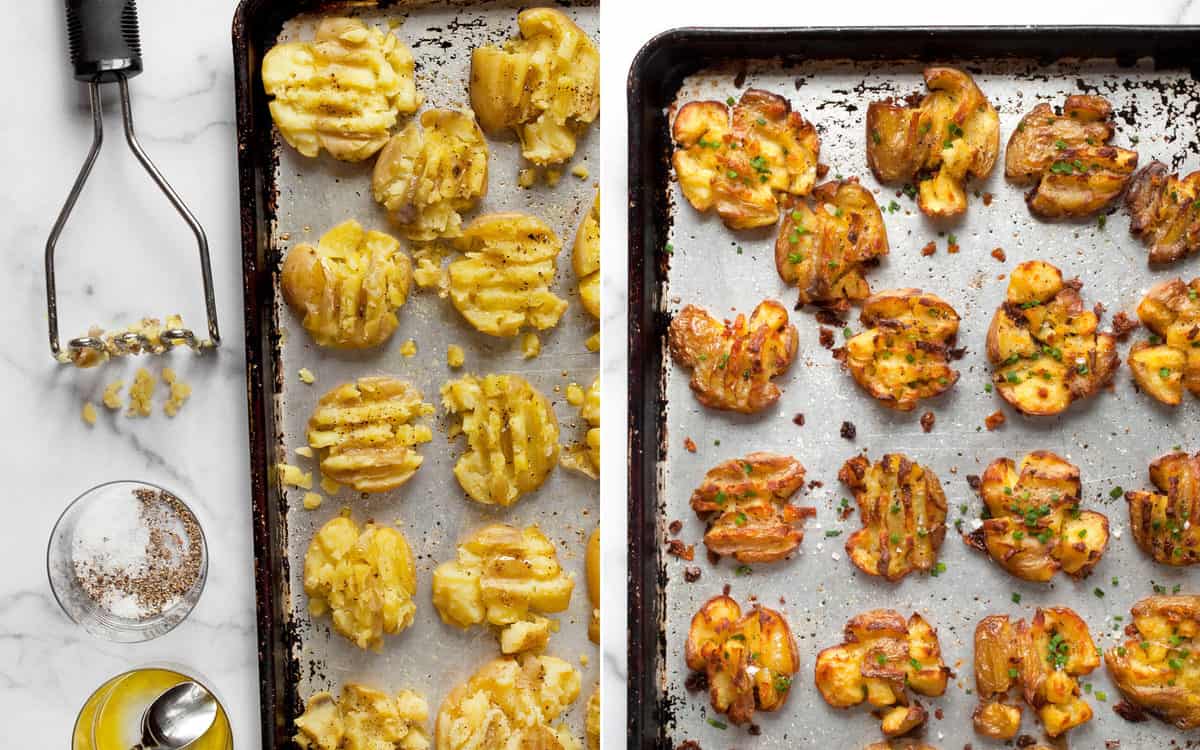 Serving
Crispy smashed potatoes are the ultimate side dish not only because of their taste, but because they go with so many different kinds of meals. They can be formal enough for a holiday like Easter, Thanksgiving or Christmas. Or serve them with a main dish on a weeknight.
You can also think of them as an appetizer like oven-fries and dunk them into a sauce or dip like hummus, tzatziki, pesto, and of course, ketchup.
Leftovers
If you don't manage to finish all the potatoes, you can rewarm them in a 350-degree F oven. They won't achieve the same level of crispiness as they did on their first bake.
You can repurpose leftovers by chopping them and including them in frittata with a mix of other vegetables like roasted red peppers and spinach.
FAQs
What is the difference between mashed potatoes and smashed potatoes?
Mashed potatoes are smooth creamy potatoes made from just the flesh of the potato. They also include milk and butter. Smashed potatoes are first simmered in boiling water to soften them and then they are smashed on a pan and roasted in the oven. Unlike mash potatoes, smashed potatoes have skins and are crunchy and crisp on the outside.
What is the best type of potato for crispy smashed potatoes?
Because of their size, waxy skin and medium-starch content, Yukon Gold potatoes are best for smashed potatoes. They are a type of yellow potato.
Should you boil potatoes in salted water?
Yes! Salting the water adds flavor. And it causes the potatoes to simmer at a higher temperature, so they cook more evenly and the texture of the flesh turns out lighter and fluffier when they finish cooking.
More Potato Recipes
Sweet Potato Skins
Roasted Cauliflower Potato Salad
Garlic Herb Roasted Fingerling Potatoes
Roasted Red Potato Salad with Corn
Roasted Asparagus Potato Salad
Let me know if you made these crispy smashed potatoes. Please leave a comment and review below. Thanks!
Smashed Roasted Potatoes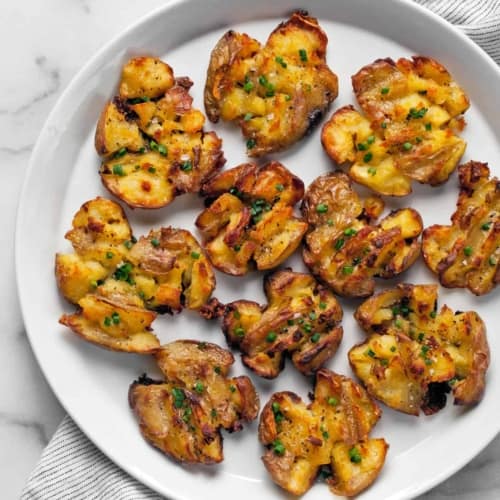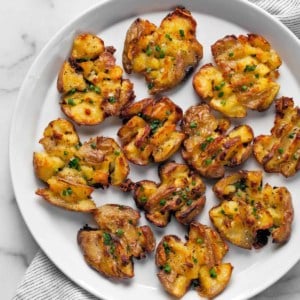 With just 6 ingredients, these smashed roasted potatoes turn out golden brown and crisp on the outside and fluffy on the inside. They are a versatile side dish and go with almost any main.
Ingredients
2

pounds

small yellow potatoes

Yukon Gold

1

tablespoon

plus 1 teaspoon kosher salt

3

tablespoons

olive oil

1/2

teaspoon

black pepper plus more for serving

2

tablespoons

minced chives

Flaky sea salt for serving
Instructions
Place the potatoes and 1 tablespoon kosher salt in a large pot. Fill with cold water covering the potatoes by 1 inch. On the stove over high heat, bring the water to a boil, reduce the heat, partially cover the pot with a lid and simmer the potatoes until they are tender and can be easily pierced with a knife, about 25-30 minutes.

Preheat the oven to 425 degrees F.

Coat a baking sheet with 2 tablespoons olive oil. Place the potatoes on the pan spacing them a couple inches apart, Use a potato masher or the bottom of a glass to smash them down.

Drizzle the tops of the potatoes with the remaining oil and season with salt and pepper.

Roast the potatoes for 35-40 minutes until they are golden brown and the edges are crispy.

Garnish with minced chives and flaky sea salt before serving.
Notes
Store leftovers in an airtight container in the refrigerator up to 3 days. You can warm them in a 350-degree F oven. They will not reach quite the same level of crispiness as when they are first roasted.
Nutrition
Calories:
269
kcal
|
Carbohydrates:
40
g
|
Protein:
5
g
|
Fat:
11
g
|
Saturated Fat:
2
g
|
Polyunsaturated Fat:
1
g
|
Monounsaturated Fat:
8
g
|
Sodium:
1932
mg
|
Potassium:
963
mg
|
Fiber:
5
g
|
Sugar:
2
g
|
Vitamin A:
71
IU
|
Vitamin C:
46
mg
|
Calcium:
31
mg
|
Iron:
2
mg
Nutrition information is automatically calculated, so should only be used as an approximation.