Sweet Potato Skins
on Jan 31, 2022, Updated Jul 08, 2022
Appetizer, game day snack or even dinner, these healthy vegetarian sweet potato skins are stuffed with spinach, black beans & salsa and topped with melted cheese. They're finished with cilantro and scallions.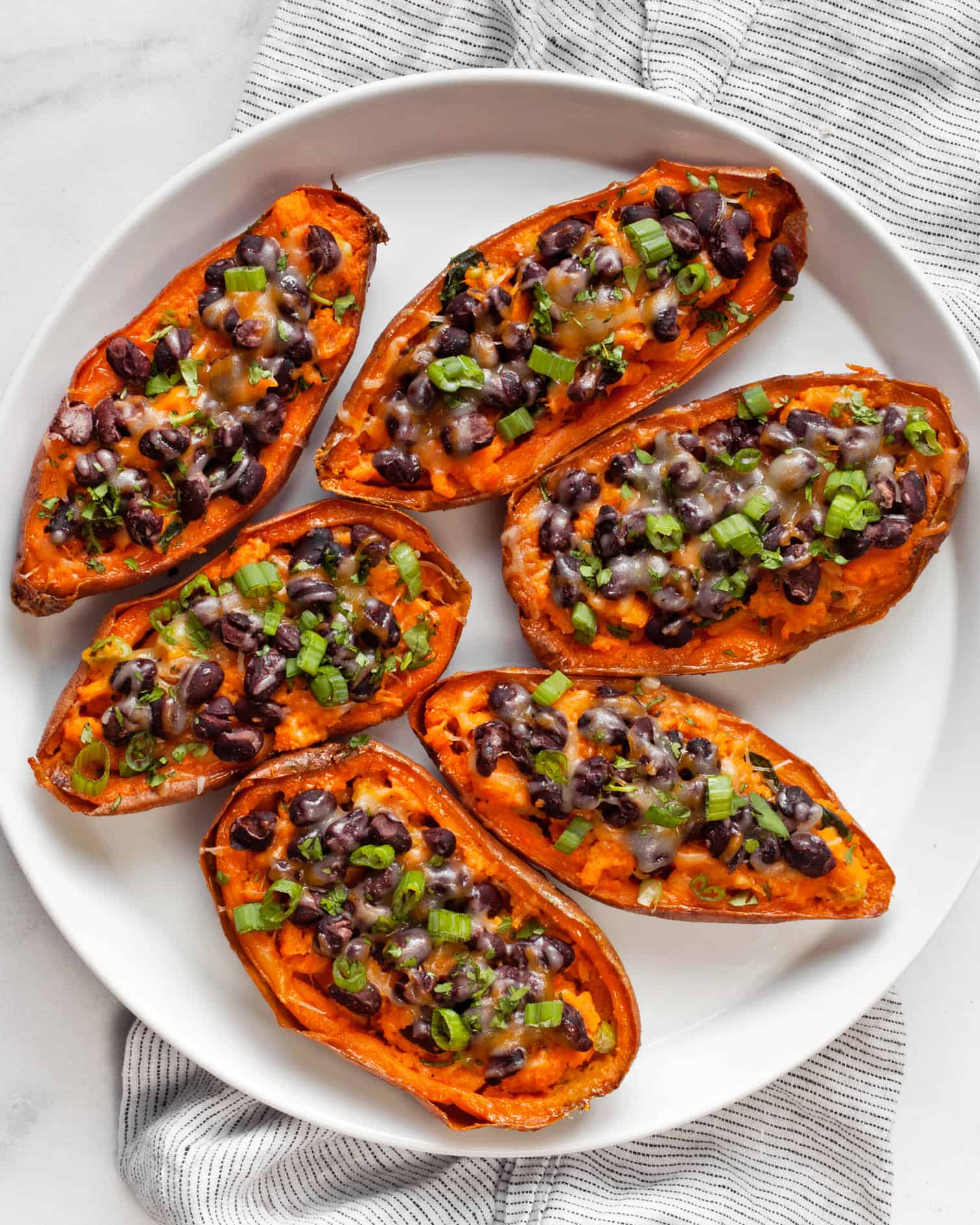 A snacker by nature, I am always looking for recipes for appetizers that I can stretch into a main course if that's what I'm craving. It's only a matter of serving size. If something is sharable for a crowd, you expect a person to only take one, but if it's for less people, there's no problem helping yourself to a few (or more).
Potato skins are one of those starters that you can eat too many of, and they become the meal. That's not always a bad thing. Not that I'm advocating that every time! Plan ahead. Let an app be an app and a main be a main. Again, it's all about a recipe you can use in multiple ways like something in your wardrobe perfect for weekdays and weekends.
Since these vegetarian potato skins are a healthier spin on the bar food classic, they actually end up being more versatile. With the convenience of canned beans and store-bought salsa, the effort is in the assembly, but the steps are repetitive. Once you get the hang of a couple, you'll be well on your way.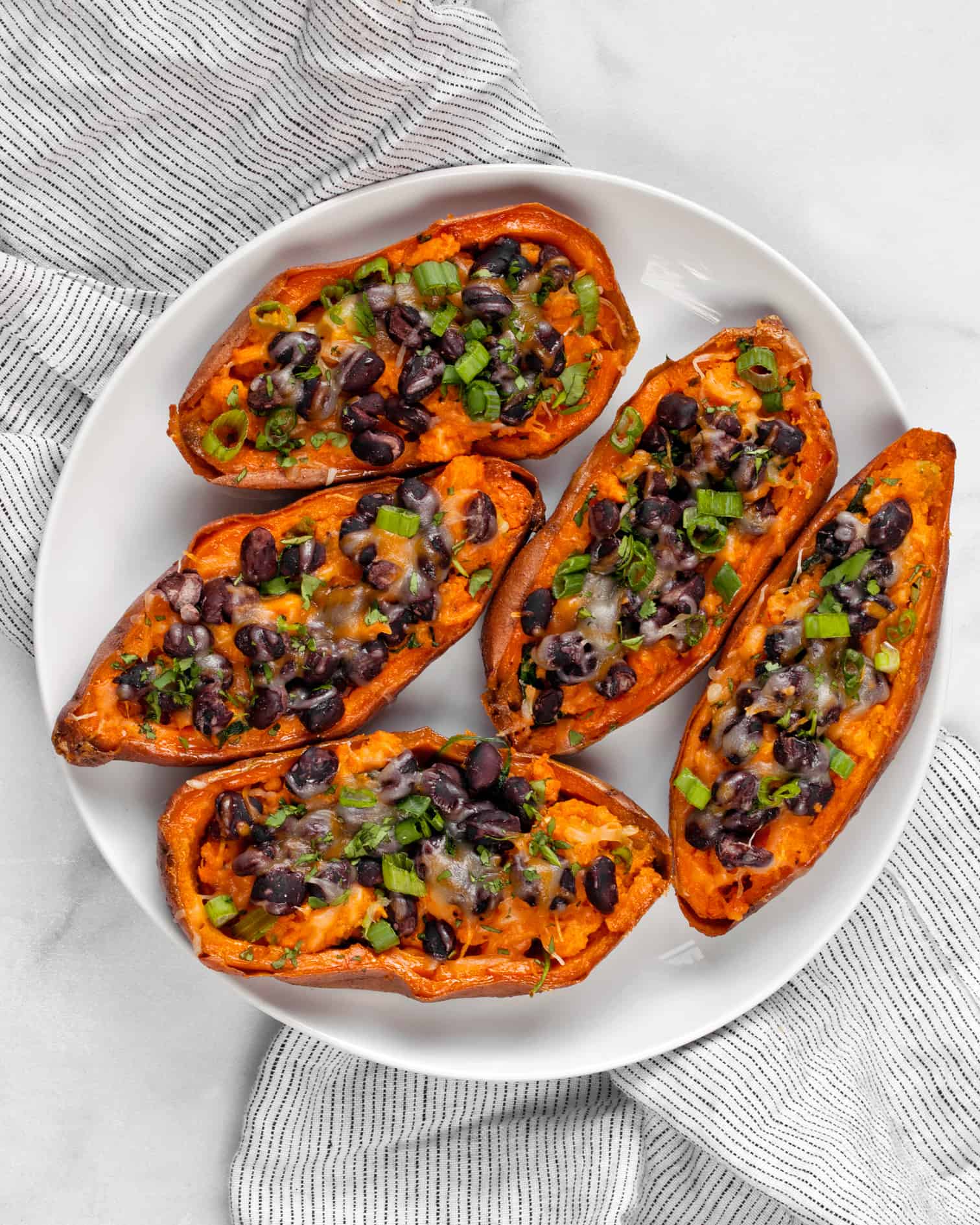 Sweet Potatoes: A Healthier Potato Skin
The original potatoes skins were fried and topped with bacon and sour cream. It was a way for restaurants to make the most of what would have been food waste after the flesh was used for mashed potatoes. Typically, these were russet potatoes that would crisp up in the hot oil of the deep fryer.
With this recipe, the entire potato is used, the bright orange inside and the skin.
As a lover of potatoes, I consider myself an expert when it comes to roasting them. At home, most people avoid vats of oil and turn to an air fryer or the oven to prep potatoes skins. Since they are starchy and floury, russets will crisp up more than sweet potatoes. I just want to set your expectations.
But sweet potatoes do deliver more on flavor and nutrition. They are a great source of fiber, vitamin A, vitamin C and potassium.
And before you ask, yes you can eat the skin of a potato. Many of the nutrients are actually in the skin.
Ingredients & Substitutions
This is what you need:
Sweet potatoes come in a wide range of sizes. I always see some huge ones when I'm at the grocery. Look for small sweet potatoes that are all about the same size. A consistent width is more important than overall length. You want them to be baked and tender in the same amount of time in the oven. The best way to check that they are ready is to pierce them with a paring knife, which should slide right in.
Scallions do double duty when it comes to onion flavor. I sauté the white parts of the scallions for the filling and save the sliced green parts for a final garnish.
Spinach is such a simple way to sneak in some leafy greens. They may end up more in the background of the filling, but they are a worthy addition.
Black beans: I don't want the beans to get buried in the sweet potatoes, so that's why I wait and put them on the filling instead of stirring them in. Pinto or kidney beans would also work. Use canned beans.
Salsa: If you're like me, you are always trying out new brands. I seem to come back to using salsa from my favorite taco place in Chicago. Thank goodness we always seem to end up with leftovers when we order chips & salsa. Again, experiment with different varieties.
Cheese: My preference is to top the skins with a shredded blend of Mexican cheeses. I don't go overboard on the amount of cheese because I don't want to cover-up the filling. You can use vegan cheese instead.
Cilantro: To go with the scallion greens, I garnish the potato skins with chopped cilantro.
Salt & pepper: It's important to season the potatoes with kosher salt and black pepper to bring out all the flavors.
How To Make Loaded Sweet Potato Skins
Preheat the oven to 375 degrees F.
Bake the potatoes. Prick the potatoes all over with a fork. Then bake them until they are tender. You know they have finished cooking, when you can easily pierce them with a paring knife. Let the potatoes cool a little.
Prep the baked potatoes. Slice them in half lengthwise and scoop out the flesh leaving a border around the edges. Place the potatoes cut side down on a parchment paper-lined baking sheet. Brush with olive oil and bake for 10-15 minutes.
Make the filling. Heat the olive oil in a large skillet. Sauté the white parts of the scallions for a couple minutes until they start to soften. Then add the spinach, letting it wilt. Stir in the sweet potato flesh with the salsa, salt and pepper.
Assemble the potato skins. Flip the sweet potatoes over. Spoon in the filling and top with the beans and cheese.
Bake in the oven to melt the cheese, about 5-7 minutes
Sprinkle with the scallion greens and chopped cilantro.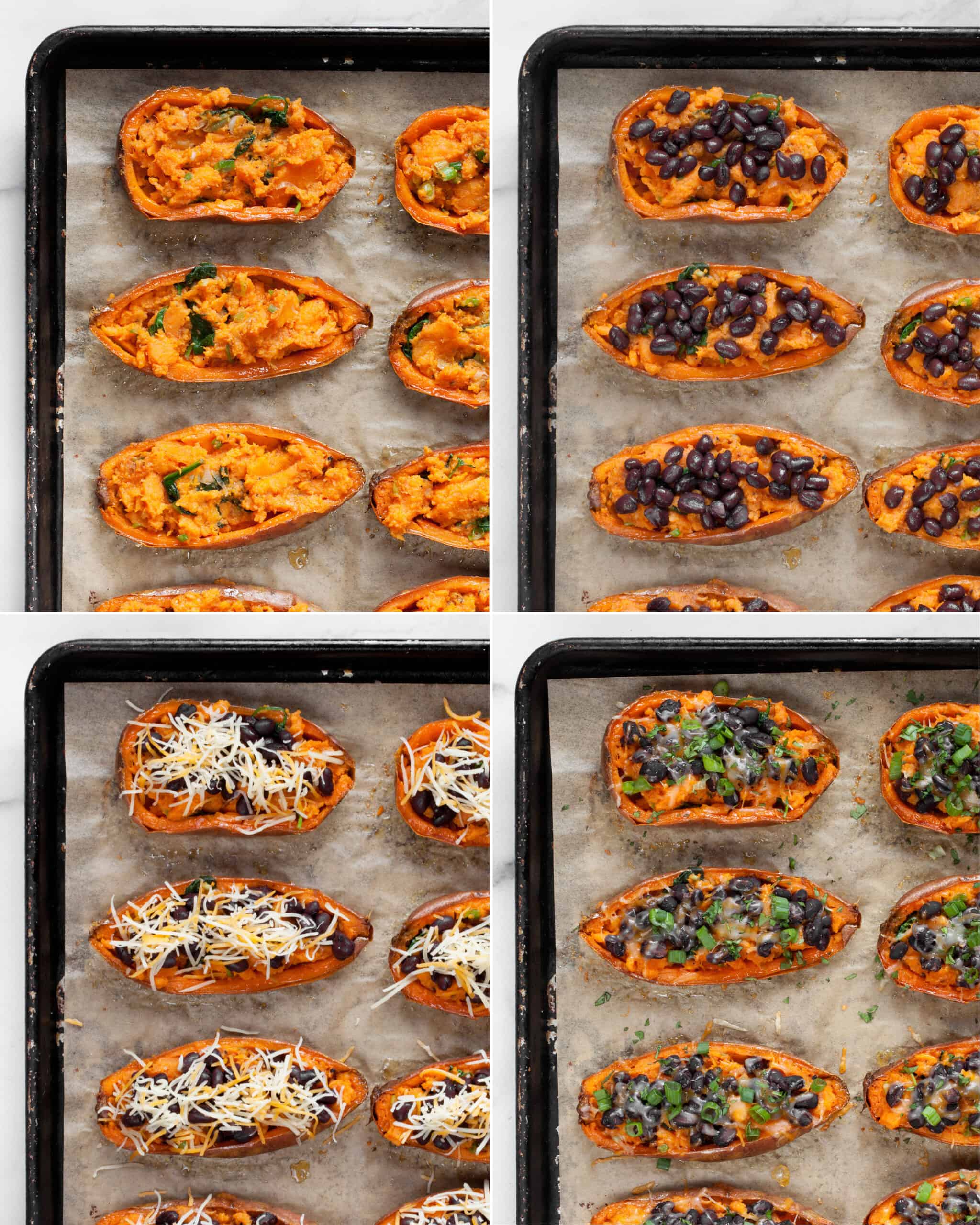 Serving
Again, these are great for a crowd, especially for a Super Bowl party. You can put out extra salsa along with sour cream in small bowls with spoons, if your guests want something extra. Keep in mind, they are a very filling appetizer.
If you are making them for a main dish, try cilantro lime rice on the side.
Leftovers
Sweet potatoes are always fantastic for leftovers. You can rewarm the potato skins in a 350-degree oven for 10-12 minutes.
Sometimes I will chop the potato skins, put them in a bowl with cooked rice and warm it all in the microwave. This makes a very messy (but tasty) grain bowl.
More Baked Appetizer Recipes
Baked Goat Cheese Tomato Dip
Sheet Pan Mushroom Kale Quesadillas
Baked Feta with Olives & Tomatoes
Sriracha Lime Chickpeas
Sheet Pan Nachos
Spicy Sweet Potato Fries
Sweet Potato Skins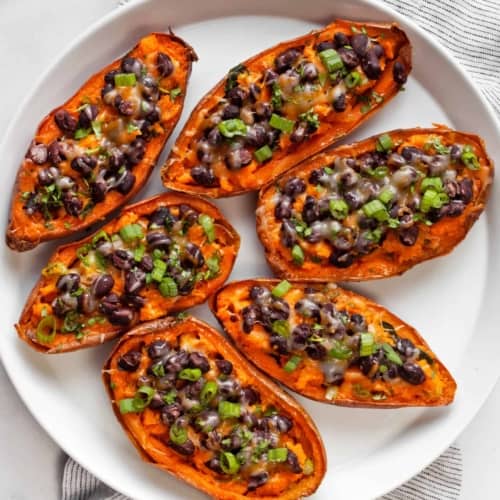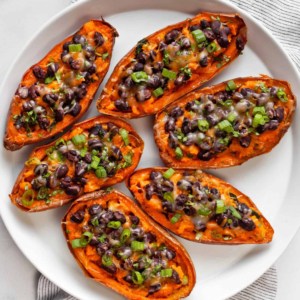 Appetizer, game day snack or even dinner, these healthy vegetarian sweet potato skins are filled with spinach, black beans, salsa and just a little cheese. They're finished with scallions and cilantro.
Ingredients
5

small sweet potatoes

2

tablespoons

olive oil

4

scallions

sliced thinly, white and green parts separated

1

cup

baby spinach

3

tablespoons

salsa plus more for serving

1

teaspoon

kosher salt

1/2

teaspoon

black pepper

1

cup

black beans

from a can, drained & rinsed

1

cup

shredded Mexican blend cheese

1

tablespoon

chopped cilantro
Instructions
Preheat the oven to 375 degrees F.

Prick the sweet potatoes with a fork and bake for 45-55 minutes until they are just tender. Let the sweet potatoes cool for 5-10 minutes before halving them lengthwise and scooping out the flesh leaving a thin layer at the edges. Transfer the flesh to a medium bowl.

Place the potatoes cut side down on a parchment paper-lined sheet pan and brush with 1 tablespoon olive oil. Bake for 10-15 minutes until they turn slight crisp at the edges.

In a large skillet, heat the olive oil over medium high heat. Sauté the white parts of the scallions until they start to soften, about 2 minutes. Add the spinach and cook for a couple minutes until the leaves wilt. Stir in the sweet potato flesh along with the salsa, salt and pepper.

Turn over the potato halves and spoon in the sweet potato mixture. Sprinkle on the black beans and cheese. Melt the cheese in the oven, about 5-7 minutes. Top with green scallions and cilantro before serving.
Notes
You can serve the potato skins with additional salsa as well as sour cream.
Leftovers should be stored in an airtight container up to 4 days. Rewarm them in a 350-degree oven for 10-12 minutes.
Nutrition
Calories:
180
kcal
|
Carbohydrates:
28
g
|
Protein:
6
g
|
Fat:
5
g
|
Saturated Fat:
2
g
|
Polyunsaturated Fat:
0.4
g
|
Monounsaturated Fat:
3
g
|
Cholesterol:
7
mg
|
Sodium:
417
mg
|
Potassium:
496
mg
|
Fiber:
5
g
|
Sugar:
5
g
|
Vitamin A:
16453
IU
|
Vitamin C:
5
mg
|
Calcium:
176
mg
|
Iron:
1
mg
Nutrition information is automatically calculated, so should only be used as an approximation.