Appetizer, gameday snack or even dinner, these vegetarian sweet potato skins are filled with spinach, black beans, salsa and a little cheese.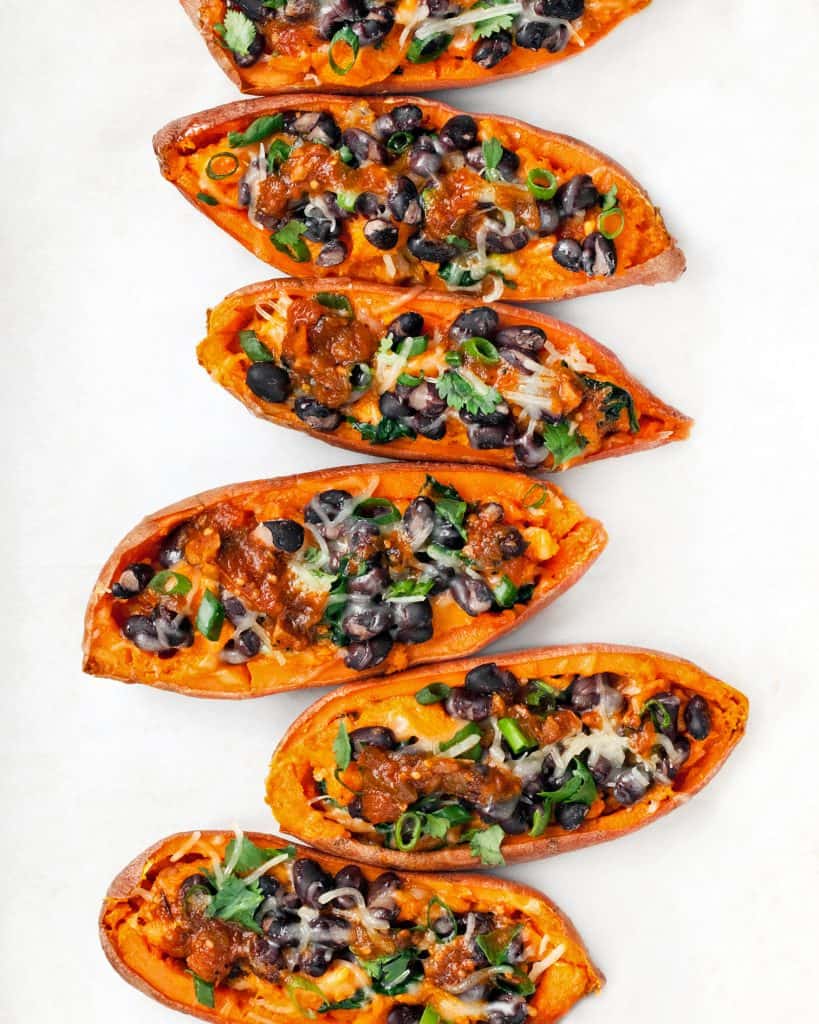 I consider myself to be a professional snacker.

As much as I try to resist the cracker and chip aisles at the grocery, I can't stay away.
It doesn't help that my son share my affection for bagged snacks.

I will never not be around that kind of food. My willpower is always pushed to the limit when I try to have just one bite.
If it's crunchy and salty, I'm all over it. I used to think I was more of a sweets kind of person, but I want it all.

I like to nibble and nosh!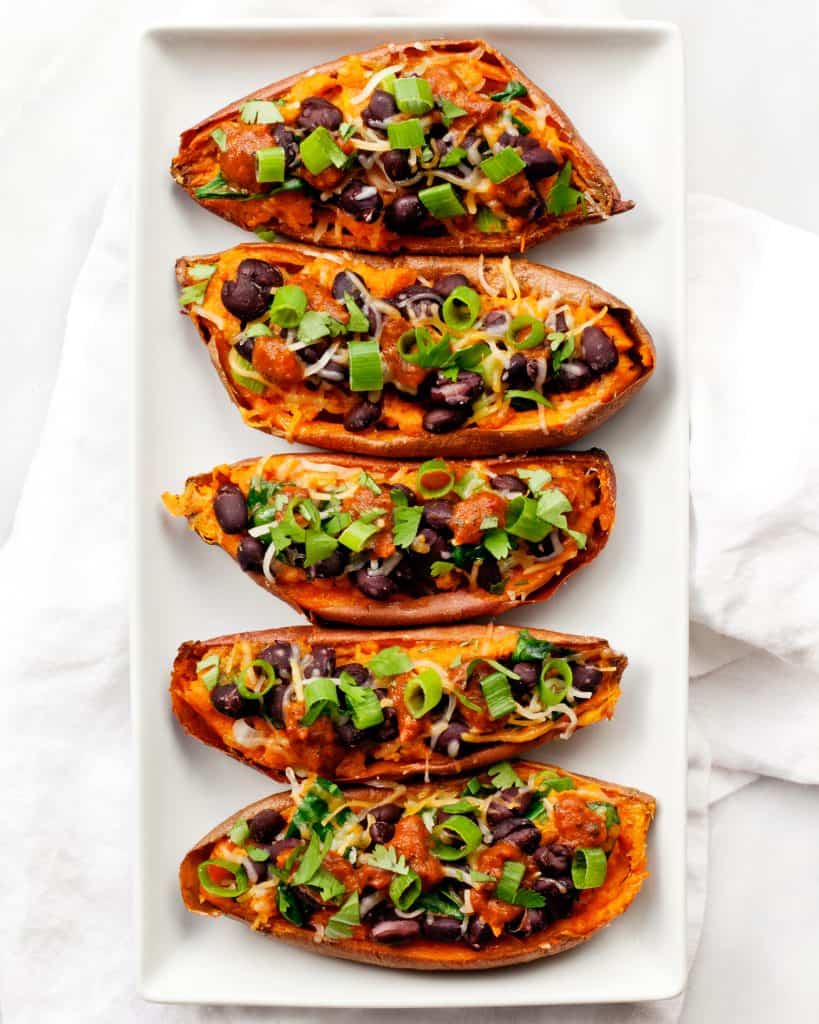 No surprise, I get very excited about the Super Bowl. My Cincinnati Bengals haven't made it to the big game since I was in grade school.

That was a while ago, but I'm not sad my team isn't in the playoffs.

Now I can be 100% focused on food and drinks.
I like watching the game no matter who's playing, and of course, the commercials are pretty great, too.

Let's be honest, most of us are there for the game-day spread. It's always the best part.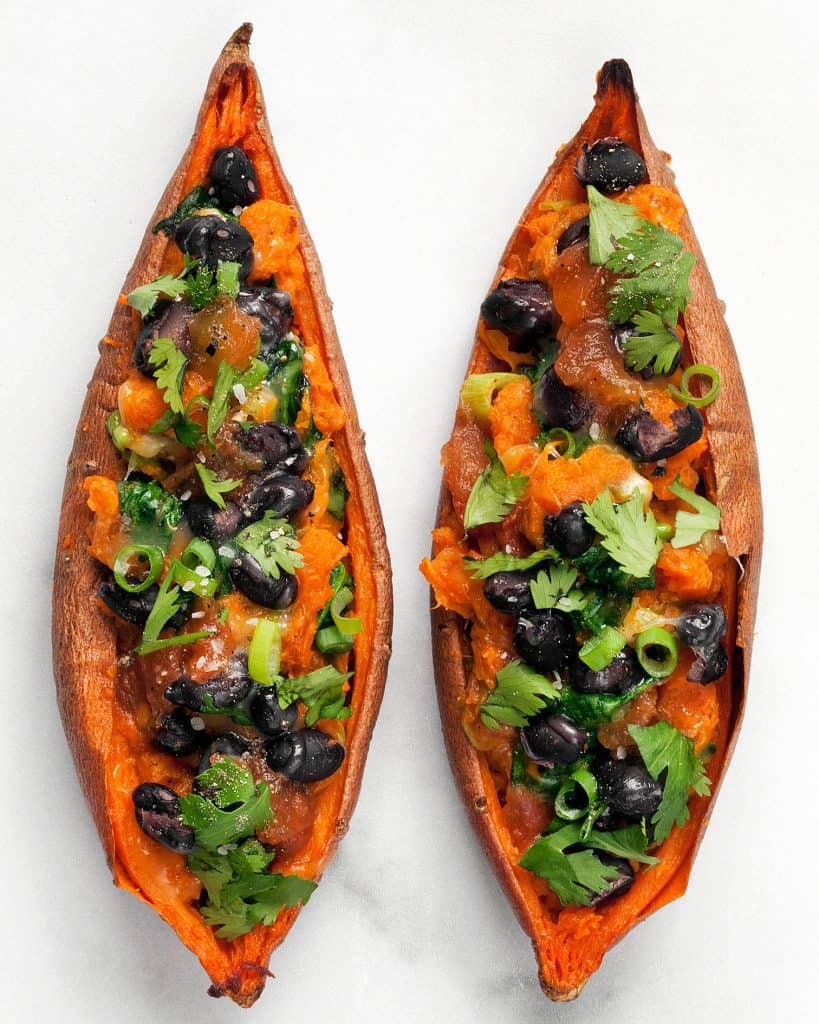 What I like about the food is that unlike the game, you can guarantee the outcome will be good.
This year I want to try a few new things to go with the chili and fudge brownies that have permanent spots on my Super Bowl roster.
After some brainstorming and experimenting, vegetarian sweet potato skins have made the team.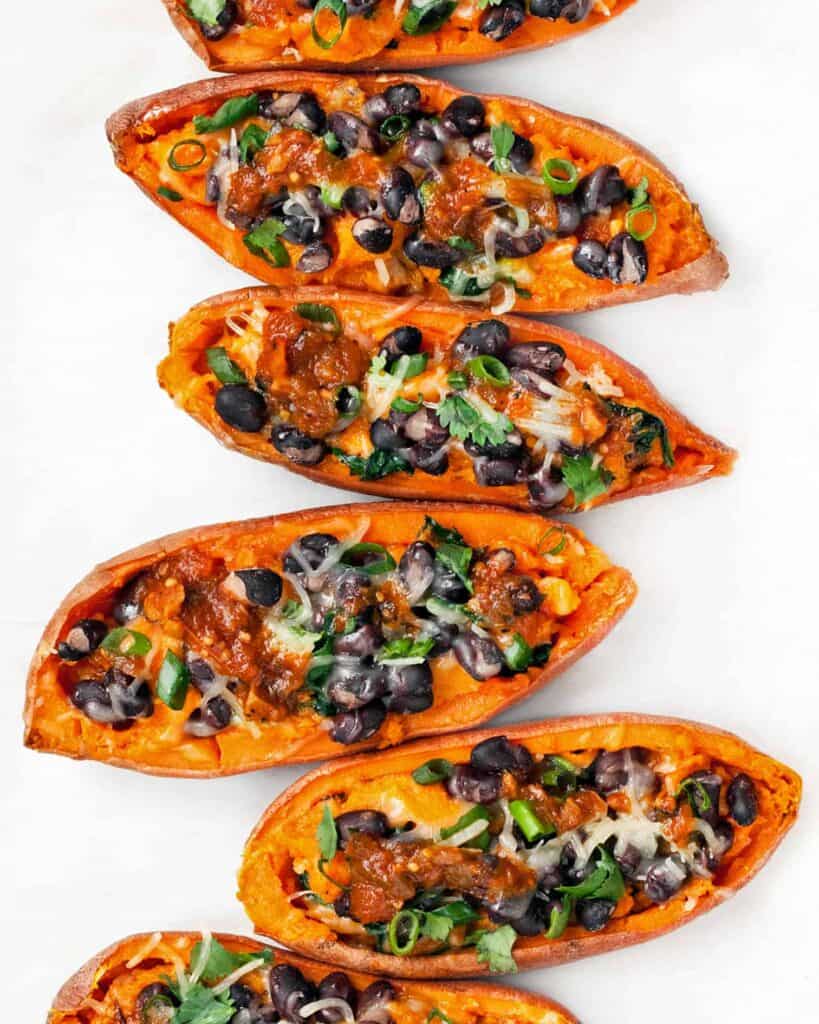 How To Make Sweet Potato Skins
The first step is to roast whole sweet potatoes in the oven.
Once the potatoes are tender and cool enough to handle, I half them and scoop out the flesh.

Then I fold the sweet potato with store-bought salsa, scallions and sautéed spinach.

You can use whatever heat level you want for salsa–mild, medium or hot.
The sweet potato halves go back in the oven to crisp up a bit.
After that, I spoon the flesh back into the potatoes and topped them with black beans and a little shredded cheese. After 5 minutes in the oven again, the cheese melts.
Finally, I top these sweet potato skins with cilantro and more scallions and salsa.
Print
Sweet Potato Skins
Prep Time:

15 minutes

Cook Time:

1 hour 15-20 minutes

Total Time:

1 hour 30-35 minutes

Yield: Makes

10

1

x
Scale
Ingredients
5 small sweet potatoes
2 tablespoons olive oil
3 scallions, sliced thinly, white and green parts separated
2 handfuls baby spinach
2 tablespoons salsa plus more for serving
1/2 teaspoon salt
1/4 teaspoon black pepper
1/2 cup black beans
1/2 cup shredded white cheddar cheese
1 tablespoon chopped cilantro
Instructions
Preheat the oven to 375 degrees F.
Prick the sweet potatoes with a fork and roast for 45-55 minutes until they are just tender. Let the sweet potatoes cool for 5-10 minutes before halving them lengthwise and scooping out the flesh leaving a thin layer at the edges.
Transfer about 1-1/2 cups of the flesh to a medium bowl.
Rub the potatoes with 1 tablespoon olive oil and place them cut side down on a parchment-lined sheet pan. Bake for 10-15 minutes until crisp.
In a large skillet, heat the olive oil over medium high heat. Sauté the white parts of the scallions until they start to soften, about 2 minutes. Add the spinach, cooking for 2 minutes until it wilts. Stir into the sweet potato flesh along with the salsa, salt and pepper.
Turn over the potato halves and spoon in the sweet potato mixture. Sprinkle on black beans and cheese. Melt the cheese in the oven, about 5 minutes. Top with green scallions, cilantro and salsa before serving.
SHARE THIS