Spicy and Sweet Chipotle Snack Mix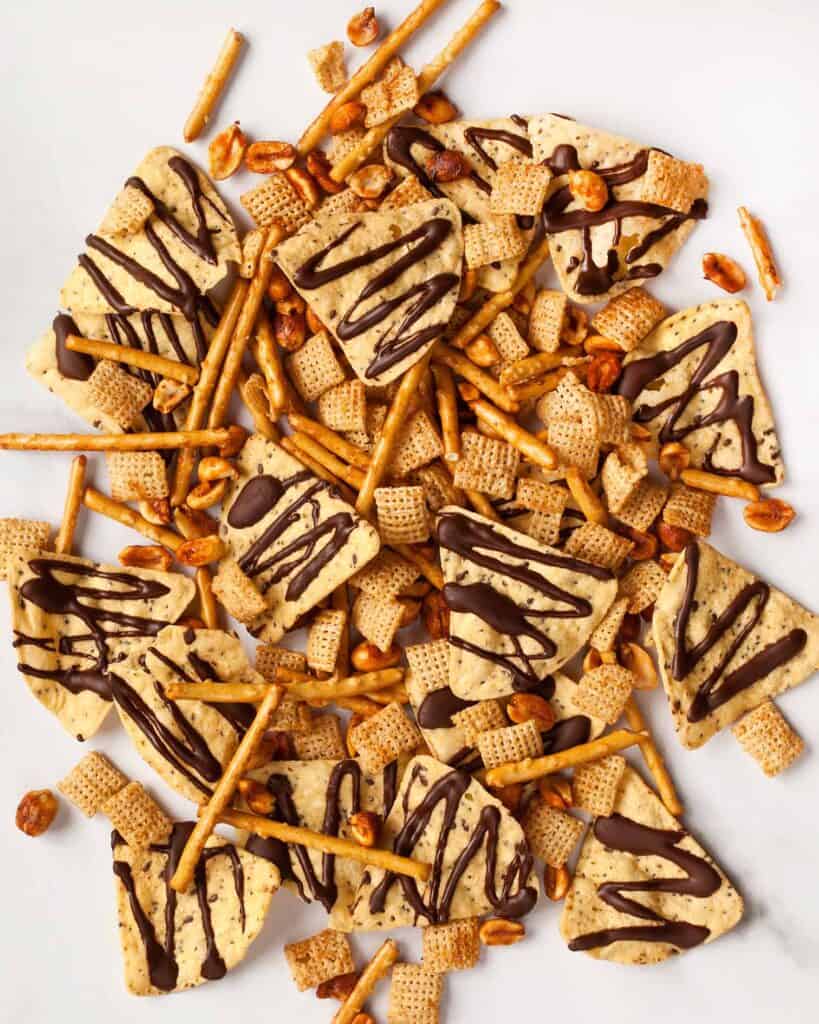 Potato chips, tortilla chips or pretzels? I have a hard time picking my salty and crunchy Super Bowl snacks.
The best part of any game day gathering is that you can take a taste of just about everything. Hopefully all that eating is approached with an element of self-control!
And you can't forget about the cookies, brownies and other sweets. It's a total smorgasbord. The Super Bowl is only once a year. I love that its holiday proportions are pretty much acknowledged by all.

Instead of just dumping a bag of chips into a bowl and serving that alongside a plate of cookies, I came up with a mix that combines snack food and dessert.

I made a spicy and sweet chipotle snack mix with peanuts, tortilla chips, pretzels and Chex cereal.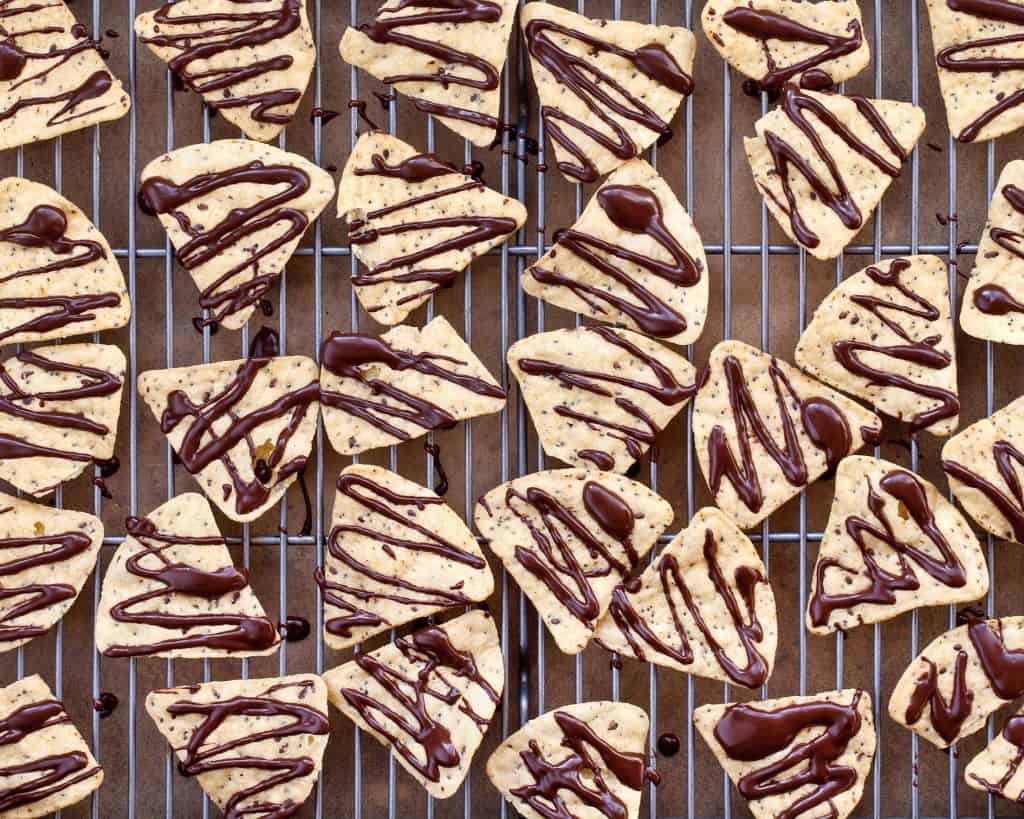 The first step was to melt dark chocolate and drizzle it over multigrain tortilla chips. I discovered what an amazing combination this is thanks to my mother-in-law. She made an absolutely addictive holiday snack mix for Christmas. It has been on my mind ever since!

I stirred roasted salted peanuts with honey and chipotle en adobo sauce and toasted them in the oven. They were nice and spicy with a hint of sweetness from the honey.

On another sheet pan, I combined pretzel sticks and Chex and drizzled them with a mixture of olive oil, honey and cumin.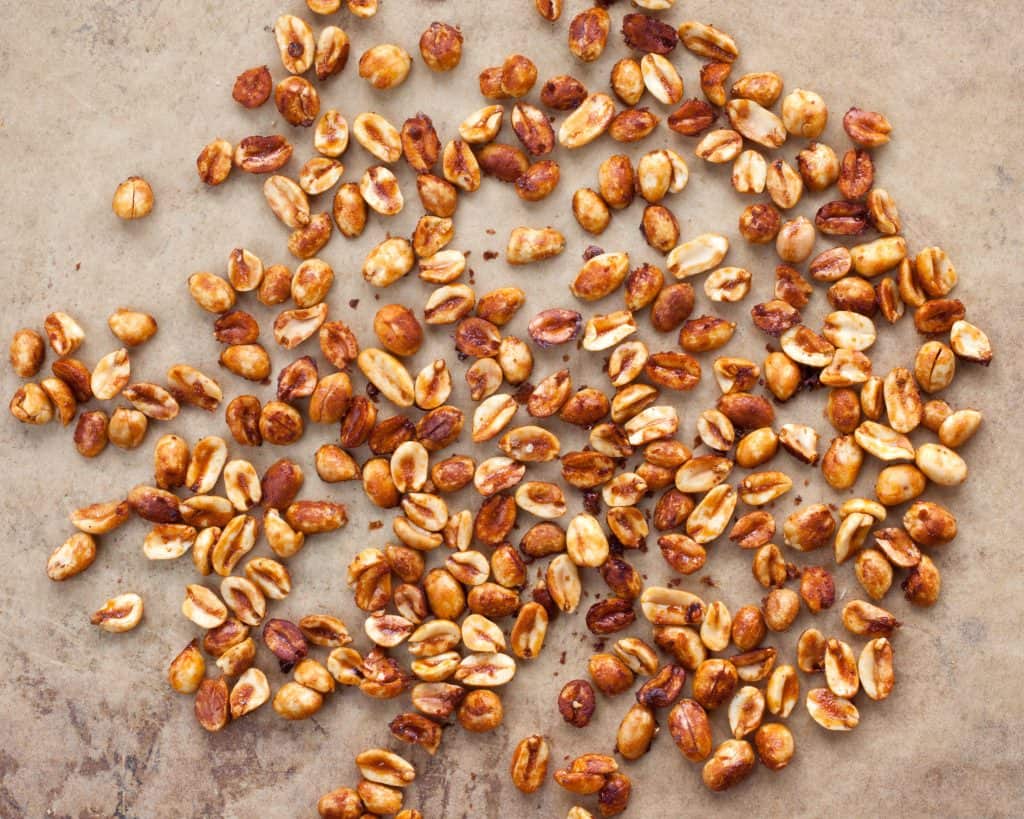 Once the chocolate set on the tortilla chips and the other ingredients had cooled, I put everything into a big bowl. I gave it a gentle stir, so I didn't break any of the crispy snacks. I loved all the components of this snack mix together.
What I found was that I would nibble on a few bites of peanuts, and when they get a bit hot, I moved on to pretzels and Chex for a little relief. Don't be scared, it's a pleasant tingle of spiciness!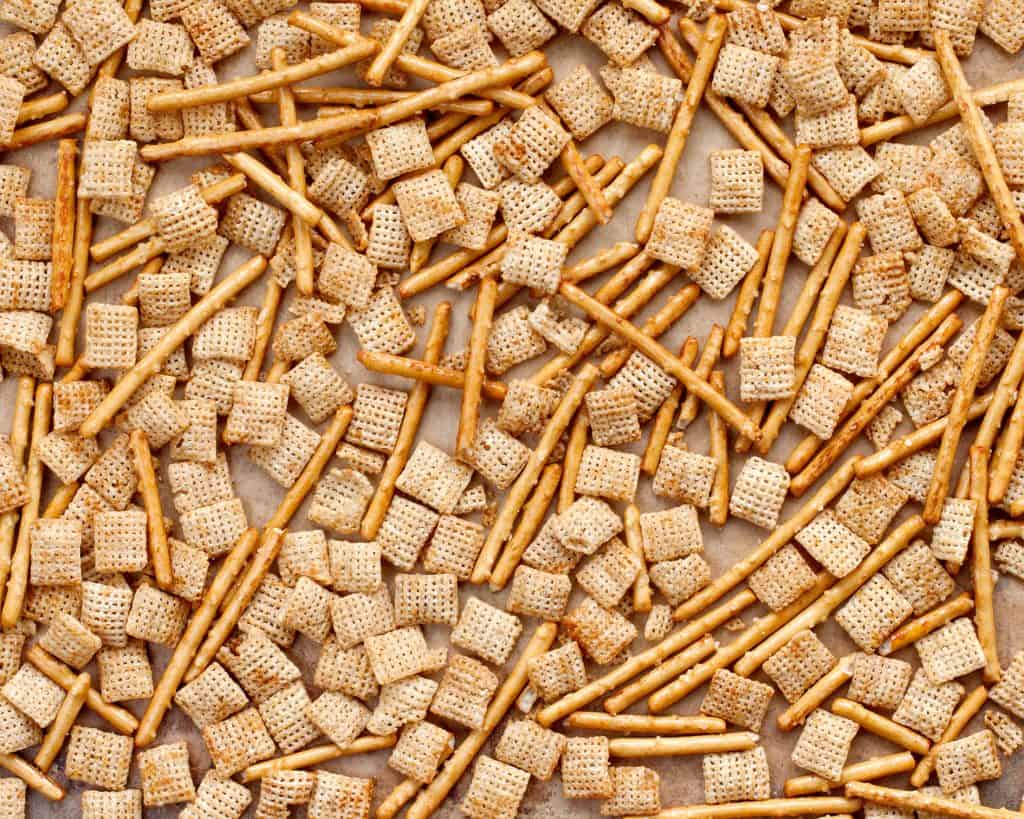 Print
Spicy and Sweet Chipotle Snack Mix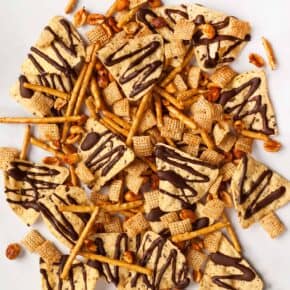 Total Time:

25 minutes + cooling

Yield:

7-8 cups
Ingredients
For tortilla chips
1/4 cup dark chocolate chips
3 ounces multi-grain tortilla chips
For peanuts
2 teaspoons chipotles en adobo sauce
2 teaspoons honey
1 teaspoon olive oil
1 cup salted roasted peanuts
For Chex and pretzels
3 cups Chex cereal
1 cup thin pretzel sticks
1 tablespoon olive oil
2 teaspoons honey
1/4 teaspoon cumin
1/2 teaspoon kosher salt
Instructions
Preheat the oven to 350 degrees F. Line 2 sheet pans with parchment paper.
For the tortilla chips, place the chocolate chips in a microwave safe bowl. Microwave in 30-second blasts, stirring in between, until the chocolate has melted. Place the tortilla chips in a single layer. Drizzle the chocolate over the tortilla chips. Let the chocolate harden and set.
For the peanuts, in a small bowl whisk together the chipotles en adobo sauce, honey and olive oil. Stir in the peanuts. Spread the peanuts in a single layer on one of the prepared sheet pans and toast in the oven for 10 minutes. Let the peanuts cool completely.
Place the Chex and pretzels on the other prepared sheet pan. In a small bowl, whisk together the olive oil honey, cumin and salt. Pour over the Chex and pretzels tossing to coat. Spread into a single layer. Bake for 7-10 minutes until toasted. Let cool.
Combine the tortilla chips, peanuts, Chex and pretzels in a large bowl.
SHARE THIS