Flourless Peanut Butter Chocolate Cookies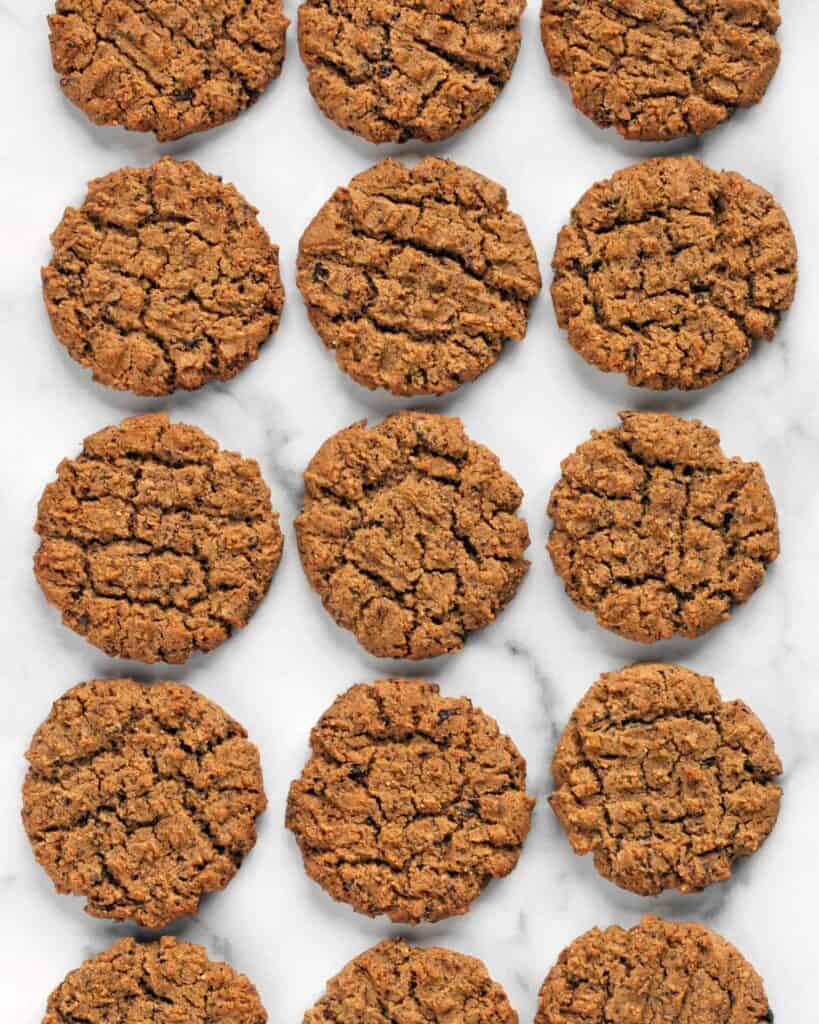 Without fail, I always crave dessert after dinner.

And I admit I could use something post-lunch, too.

That doesn't mean I indulge after every meal.

Dessert is a once a day (or less) thing for me. That way it's more special.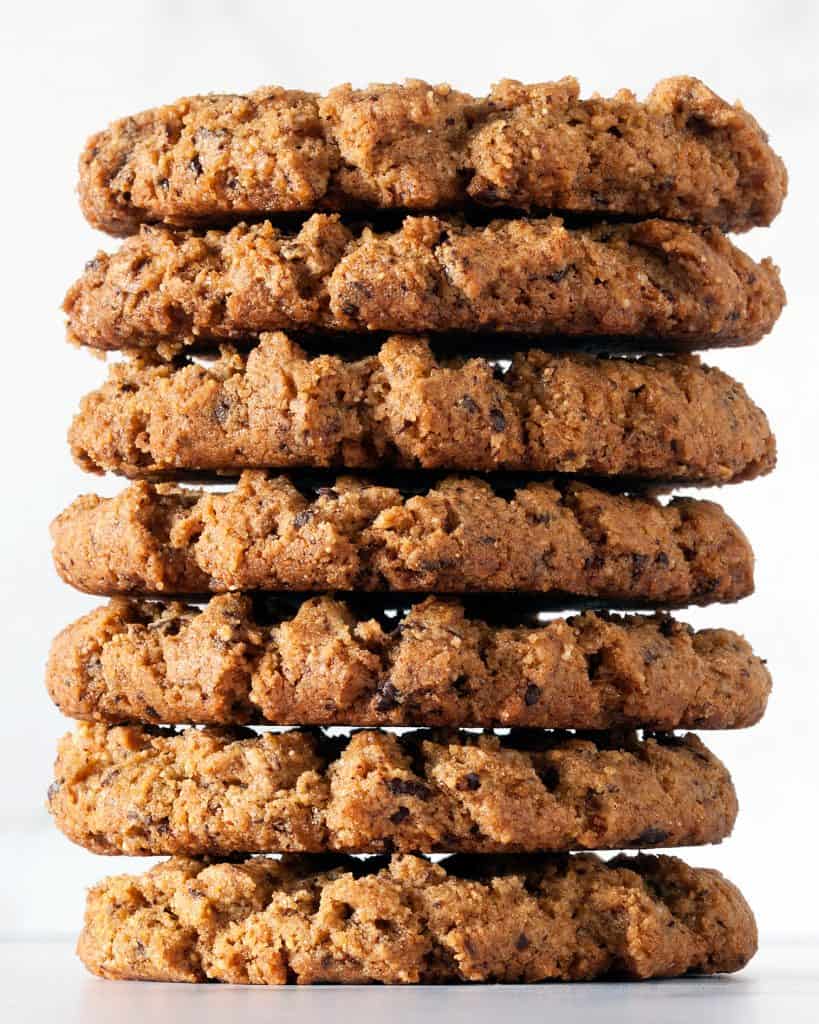 Chocolate is usually top on my list followed by nuts.When chocolate can be combined with peanut butter, that's even better.
From peanut butter cups to a peanut butter chocolate tart, you can't go wrong with this perfect pairing of salty and sweet.
I would even eat just a spoonful of peanut butter straight from the jar with a few chocolate chips for an absolute no frills dessert.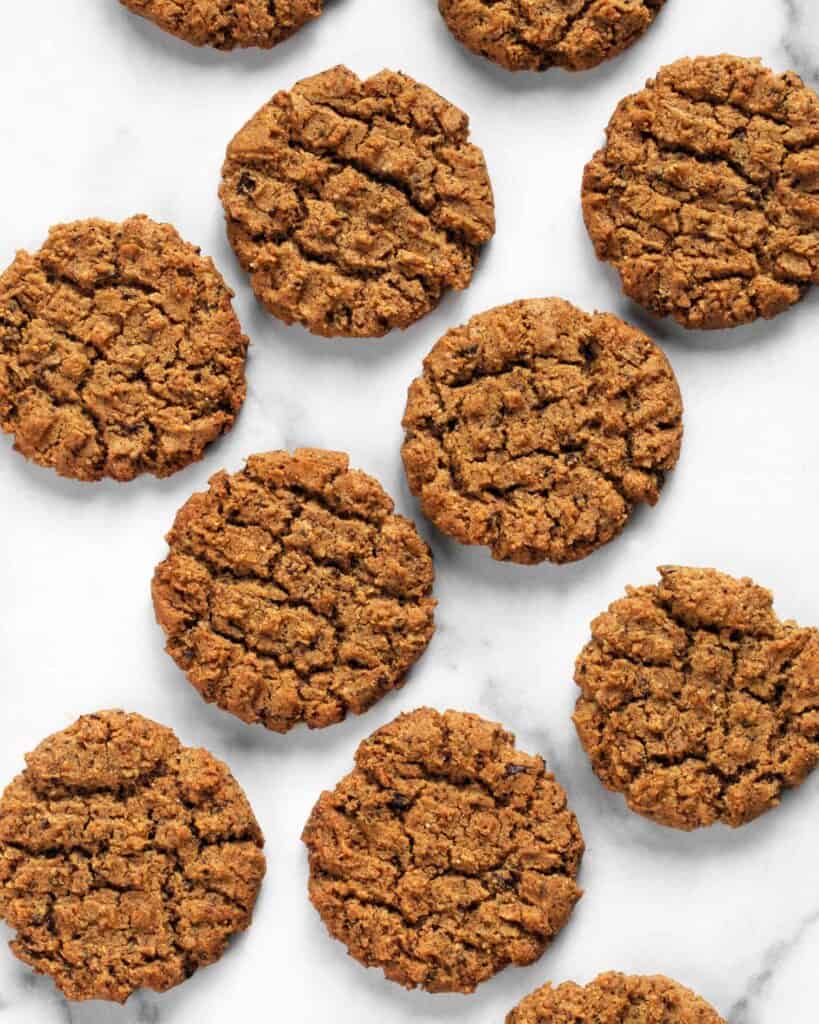 Cookies are easy to bake especially when they don't require many ingredients.

I've gotten completely hooked on these 6-ingredient flourless peanut butter chocolate cookies.
How To Make Flourless Peanut Butter Chocolate Cookies
With natural creamy peanut butter, light brown sugar, baking soda, salt, an egg and chopped chocolate, these cookies don't take much time.

All you have to do is stir everything together in a big bowl until the mixture is combined.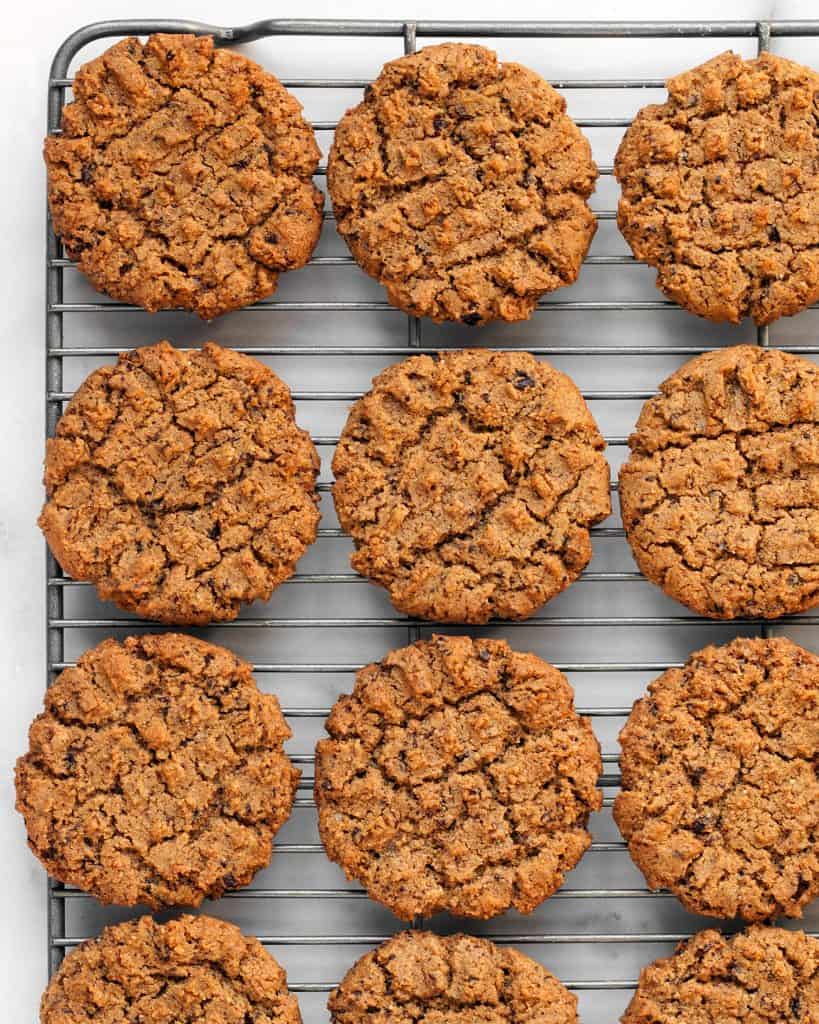 For chocolate chip cookies, I do the dough in advance and let it sit in the fridge.

Baking chilled dough limits cookie spread, and I always have more success ending up with round, uniform shapes.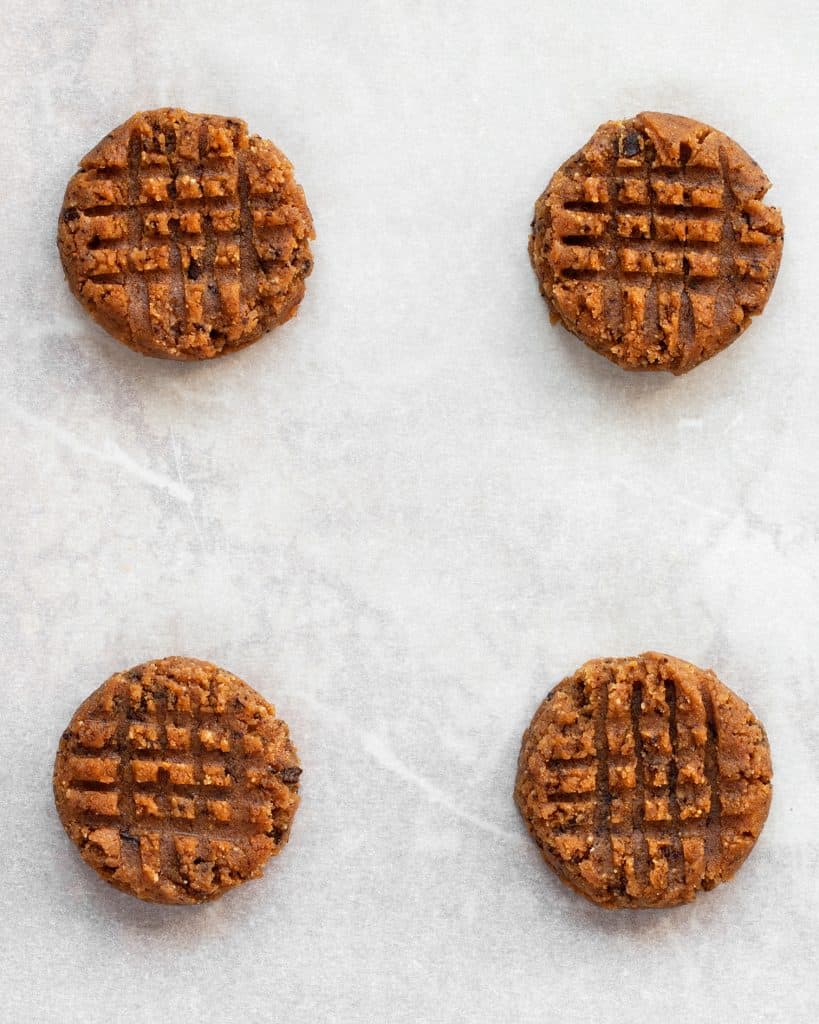 Things are different for these peanut butter cookies. I whip up the dough and go right on with scooping and rolling into balls.

You can see from the photos that the cookies do spread significantly when they bake, but they maintain their shape and thickness.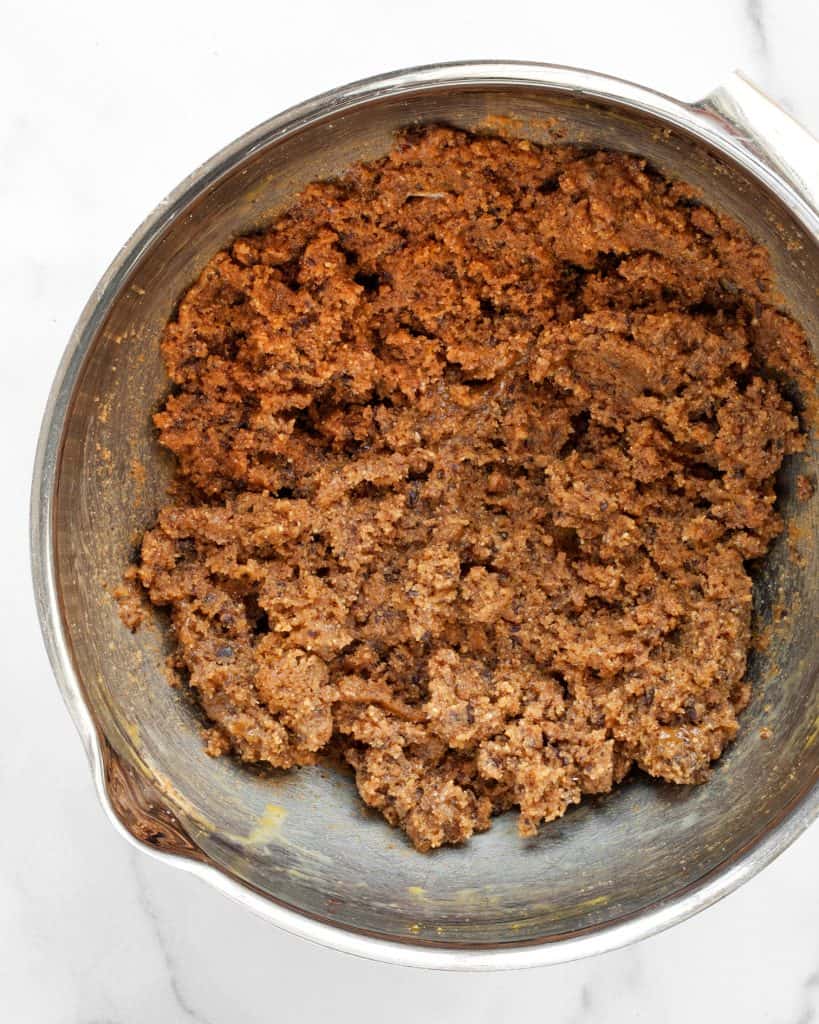 How To Incorporate Chocolate
Cross hatching the tops of peanut butter cookies is an absolute must for me. Of course that creates complications when incorporating chocolate. Chips won't work.
Instead I finely chop bittersweet chocolate from a block or bar. Then I end up with very small pieces of chocolate. Some if it is even more like dust.

The key is to make sure that you don't have any pieces of chocolate that are wider than the spaces between the tines of your fork that would make the pattern impossible to press into the dough balls.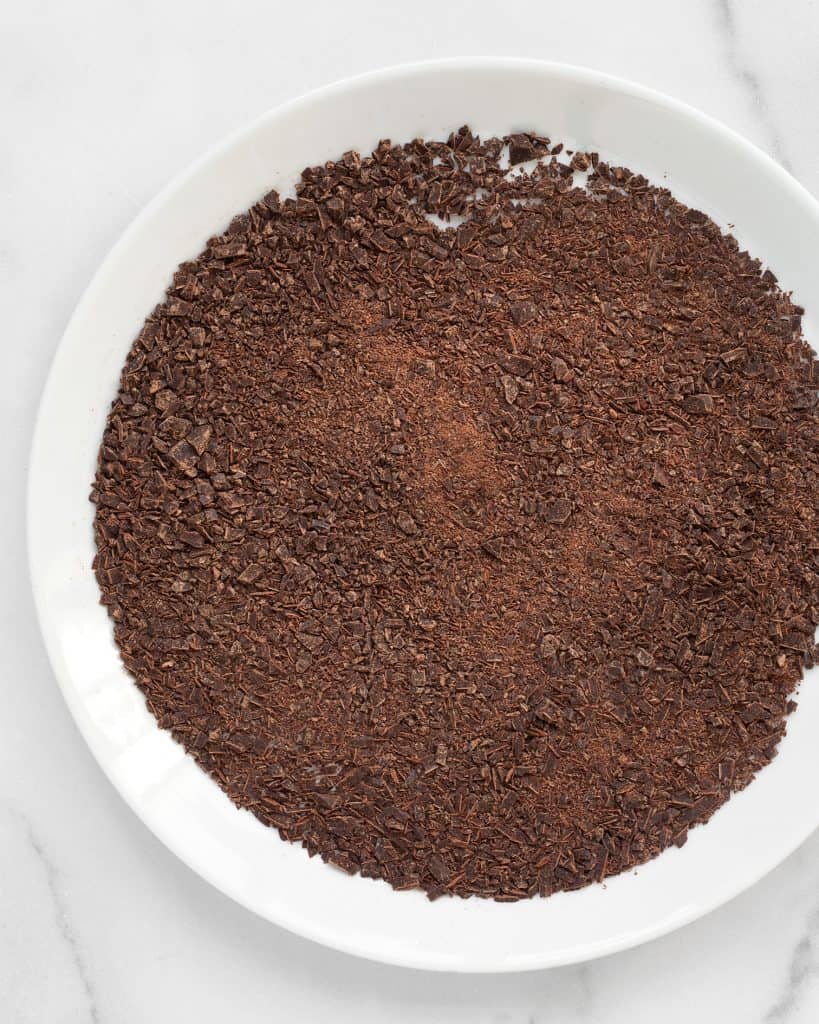 I keep 2 inches between the cookies on the sheet pan to allow the dough space as they bake.

Flourless peanut butter chocolate cookies turn out crispy at the edges and have more crunch than peanut butter cookies with flour that tend to be softer.
They finish baking in 10-12 minutes, and the recipe makes about 18 cookies.
Print
Flourless Peanut Butter Chocolate Cookies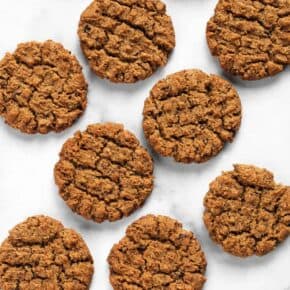 Prep Time:

5 minutes

Cook Time:

10-12 minutes

Total Time:

58 minute

Yield:

18

cookies

1

x
Scale
Ingredients
Makes 18 cookies
1 cup creamy natural peanut butter
1 cup packed light brown sugar
1 teaspoon baking soda
1/4 cup very finely chopped bittersweet chocolate
1 large egg
Instructions
Preheat the oven to 350 degrees F with two racks centered in the oven. Line two sheet pan with parchment paper.
In a large bowl, stir together the peanut butter, brown sugar, baking soda chocolate and egg until fully combined.
Scoop the dough by the scant 1/4-cup-full and roll into balls. Place the dough 2 inches apart on the prepared sheet pans. Using a fork, press a crisscross pattern into the dough.
Bake for 10-12 minutes until golden brown, switching the pans halfway through baking.
Wait 5 minutes before transferring the cookies to a wire rack to cool.
SHARE THIS