My sweet tooth has a tendency to play favorites. It is a test of willpower to say no to dessert especially when it involves chocolate, and paired with peanut butter, chocolate is impossible to refuse. Chocolate and peanut butter are the ultimate match with that addictive balance of salty and sweet. When faced with rows of candy at the checkout, peanut butter cups are my confection of choice.
Homemade peanut butter cups are much richer than the mass-produced kind neatly packaged side-by-side in twos. Silky chocolate luxuriously coats the peanut butter and makes an audible snap when broken in half. Toasting the peanuts in the oven prior to preparing the filling intensifies the flavor of the peanut butter center. One of these is enough to satisfy a craving.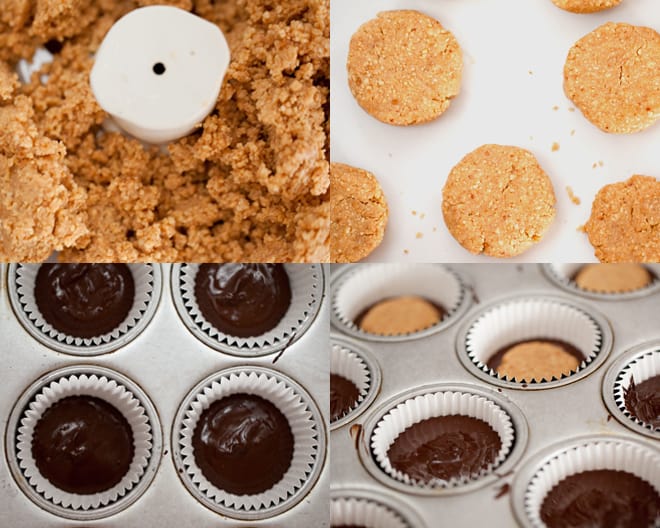 Peanut Butter Cups
Adapted from Jam It, Pickle It, Cure It by Karen Solomon
Makes 12 cups
1-1/3 cups roasted salted peanuts
2 teaspoons honey
1 teaspoon canola oil
2 tablespoons confectioners' sugar
1 teaspoon vanilla extract
1/2 teaspoon kosher salt
12 ounces dark chocolate, finely chopped
Preheat the oven to 350 degrees F. Toast the peanuts on a foil-lined sheet pan until they are lightly browned and fragrant, about 7 minutes.
Line a 12-cup muffin pan with paper inserts.
Allow the peanuts to cool. Then transfer to a food processor, and process for 3 minutes until the peanuts are the consistency of fine breadcrumbs scraping down the sides of the bowl with a spatula as necessary. Add the honey, oil, sugar, vanilla extract and salt, and process until fully incorporated.
Divide the peanut filling into 12 balls about 2 teaspoons each. Flatten the balls into disks that will fit inside the muffin cups without touching the sides.
In a medium saucepan bring 1 inch of water to a low simmer. Place the chocolate in a heatproof bowl over the saucepan without the water touching the bottom of the bowl. Stir frequently until the chocolate is glossy, smooth and fully melted. (Alternatively, melt the chocolate in the microwave in 30-second blasts stirring to distribute the heat.)
Place about 2 teaspoons of chocolate in the bottom of each muffin cup. Top with a peanut butter disk gently pressing it, so chocolate partially coats the sides. Cover the peanut butter with about 1 teaspoon of chocolate smoothing it out with the back of a spoon.
Let the peanut butter cups sit at room temperature for at least 4 hours until they harden. Store in an airtight container, but do not refrigerate.