Peanut Butter Cups
on Mar 08, 2013, Updated Jun 17, 2021
There's nothing wrong with the store-bought, but homemade peanut butter cups are even better because you can use a higher quality chocolate and make these in a muffin pan.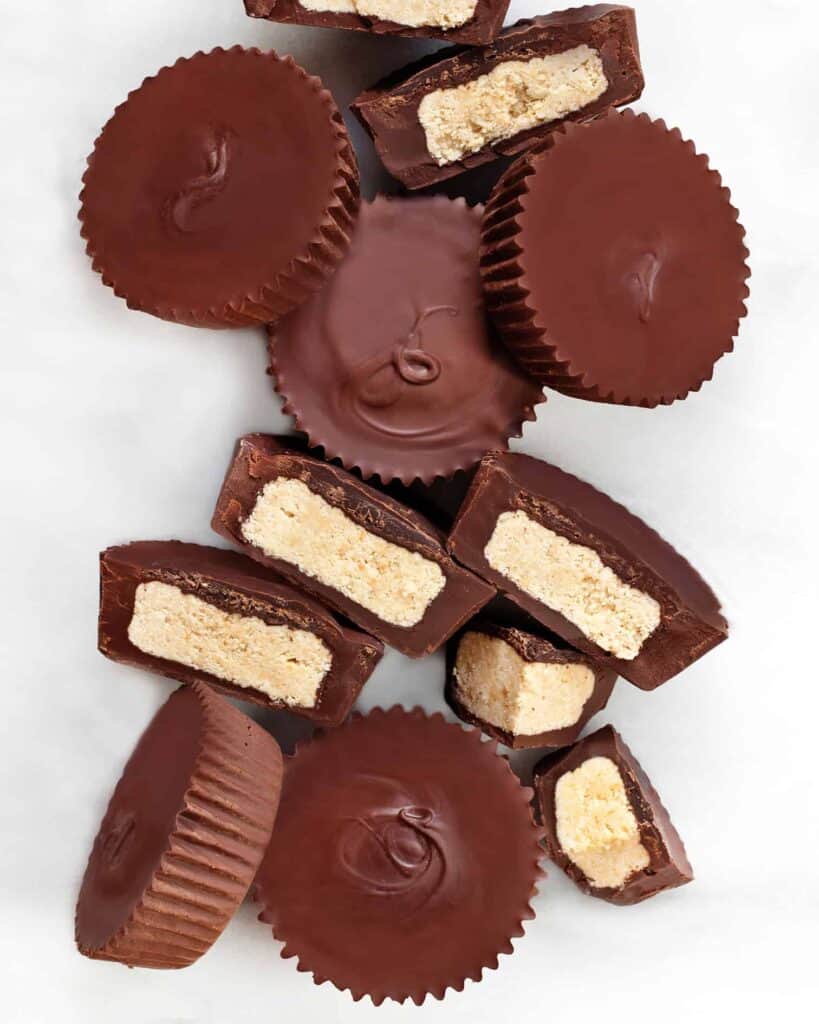 My sweet tooth has a tendency to play favorites. Chocolate will always be my number one. Anything nutty ranks a close second.
It's a test of sheer willpower for me to say no to dessert when it involves chocolate, and paired with peanut butter, chocolate is impossible to refuse. They are pure magic together.
Nothing compares to the ultimate match of chocolate and peanut butter.

That addictive balance of salty and sweet is what gets me.

When I'm daydreaming glazing longingly at the rows of candy at the grocery store checkout, peanut butter cups are always calling my name.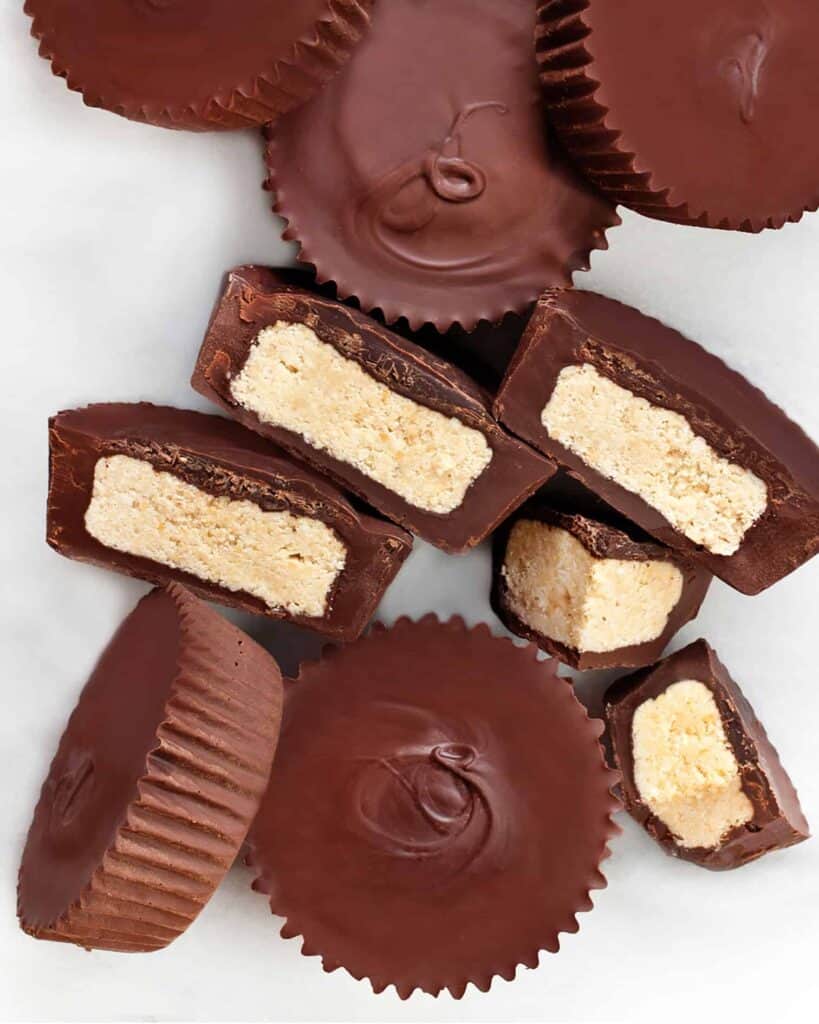 There is nothing wrong with the classic mass-produced peanut butter cups packaged neatly in pairs.
But homemade are even better!
You can use higher quality chocolate like a nice, rich dark. And the filling can be a sweet peanut butter made from scratch.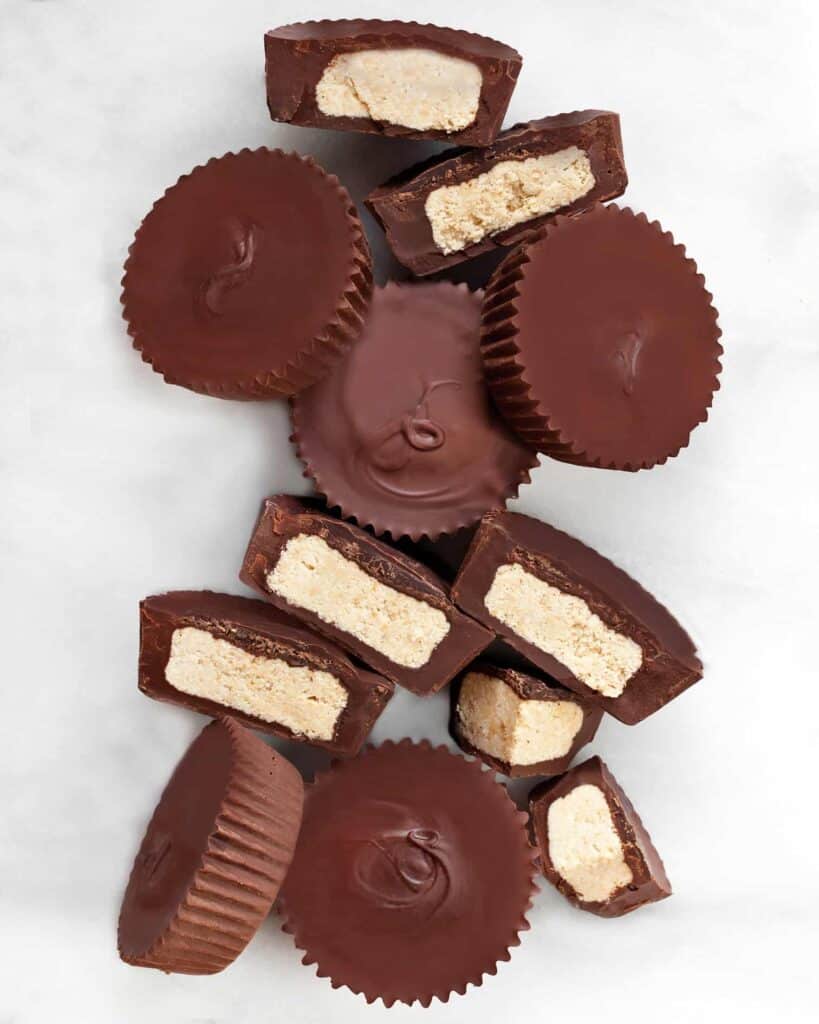 How To Make Peanut Butter Cups
I start by toasting the peanuts the oven. Don't skip this step because it intensifies the flavor of the peanut butter centers.
Then I chop the nuts finely in the food processor with honey, oil, confectioner's sugar, vanilla extract and salt.

After that I roll the peanut butter into balls and flatten them into disks to fit inside the muffin cups.
Carefully, I melt the dark chocolate over a pot of simmering water on the stove and spoon a slick of chocolate to coat the bottoms of the cups in a muffin pan.

Next I place a peanut butter disk on top and pour the remaining chocolate over the peanut butter until it's completely disguised.
The hours waiting for them to set are agonizing, but totally worth it.

The silky chocolate coating the peanut butter makes the most wonderful audible snap when broken in half.

One of these is enough to satisfy a craving, but it's tough not to start nibbling on a second peanut butter cup.
Peanut Butter Cups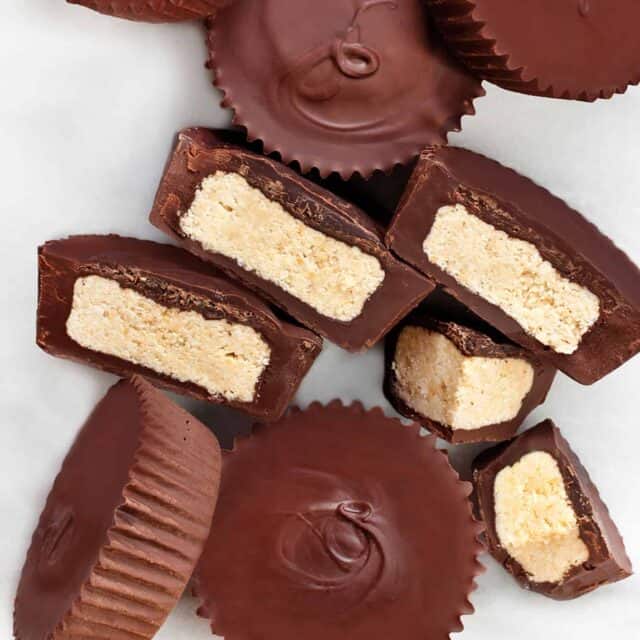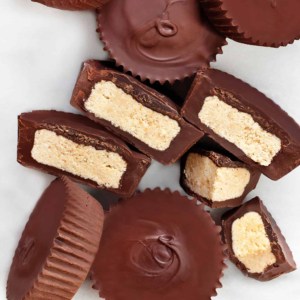 There's nothing wrong with the store-bought, but homemade peanut butter cups are even better because you can use a higher quality chocolate and make these in a muffin pan.
Ingredients
1-1/3

cups

roasted salted peanuts

2

teaspoons

honey

1

teaspoon

vegetable oil

2

tablespoons

confectioners' sugar

1

teaspoon

vanilla extract

1/2

teaspoon

kosher salt

12

ounces

dark chocolate

finely chopped
Instructions
Preheat the oven to 350 degrees F. Toast the peanuts on a foil-lined sheet pan until they are lightly browned and fragrant, about 7 minutes.

Line a 12-cup muffin pan with paper inserts.

Allow the peanuts to cool. Then transfer to a food processor, and process for 3 minutes until the peanuts are the consistency of fine breadcrumbs scraping down the sides of the bowl with a spatula as necessary. Add the honey, oil, sugar, vanilla extract and salt, and process until fully incorporated.

Divide the peanut filling into 12 balls about 2 teaspoons each. Flatten the balls into disks that will fit inside the muffin cups without touching the sides.

In a medium saucepan bring 1 inch of water to a low simmer. Place the chocolate in a heatproof bowl over the saucepan without the water touching the bottom of the bowl. Stir frequently until the chocolate is glossy, smooth and fully melted. (Alternatively, melt the chocolate in the microwave in 30-second blasts stirring to distribute the heat.)

Place about 2 teaspoons of chocolate in the bottom of each muffin cup. Top with a peanut butter disk gently pressing it, so chocolate partially coats the sides. Cover the peanut butter with about 1 teaspoon of chocolate smoothing it out with the back of a spoon.

Let the peanut butter cups sit at room temperature for at least 4 hours until they harden. Store in an airtight container, but do not refrigerate.
Nutrition
Calories:
201
kcal
|
Carbohydrates:
16
g
|
Protein:
3
g
|
Fat:
14
g
|
Saturated Fat:
7
g
|
Polyunsaturated Fat:
1
g
|
Monounsaturated Fat:
5
g
|
Trans Fat:
0.01
g
|
Cholesterol:
1
mg
|
Sodium:
120
mg
|
Potassium:
235
mg
|
Fiber:
3
g
|
Sugar:
8
g
|
Vitamin A:
11
IU
|
Vitamin C:
0.01
mg
|
Calcium:
25
mg
|
Iron:
3
mg
Nutrition information is automatically calculated, so should only be used as an approximation.