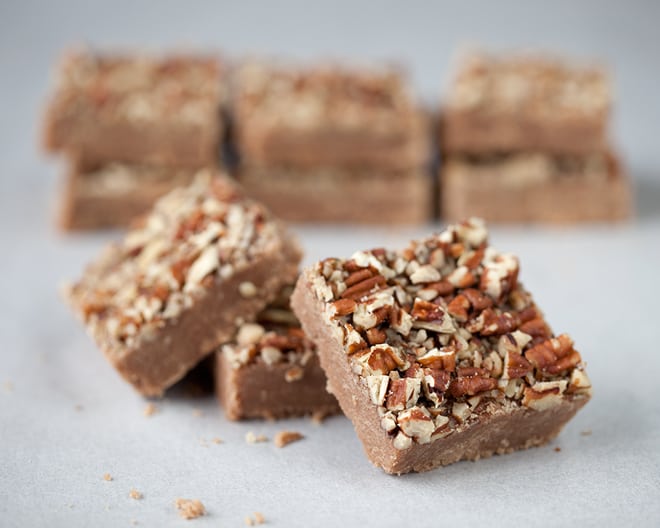 My computer is my recipe box. Ingredients and instructions are typed out in Word documents. Others are bookmarked under my favorites. While electronic storage is efficient, it does not have same charm as a simple rectangular container stuffed with dog-eared 3-inch by 5-inch index cards. I remember as a child thumbing through my mother's recipe box searching for something sweet to bake.
During my mom's last visit, she brought a few selections that she thought I would enjoy trying out. These cinnamon squares are a specialty of my paternal grandmother. They have the distinct crumbly and addictive texture of very thick shortbread.  Finished with a generous topping of chopped pecans, the cinnamon flavor is perfectly balanced thanks to a little cocoa powder.
Makes 16 squares
Non-stick cooking spray
2 cups all-purpose flour
2 teaspoons ground cinnamon
1 tablespoon unsweetened cocoa powder
8 ounces (2 sticks) unsalted butter at room temperature
1 cup granulated sugar
1 large egg, separated
1 teaspoon vanilla extract
1 cup pecans, roughly chopped
Preheat the oven to 350 degrees F. Grease an 8-inch square cake pan with non-stick cooking spray.
In a medium bowl, combine the flour, cinnamon and cocoa powder.
In the bowl of a stand mixer fitted with the paddle attachment, cream the butter and sugar until light and fluffy. Mix in the egg yolk and vanilla extract. Add the dry ingredients and mix until just combined.
Spread the dough into the prepared cake pan. Whisk the egg white until frothy, brush it on top of the dough and sprinkle with pecans. Bake for 20-25 minutes. Let the cinnamon squares cool before cutting. Store in an airtight container