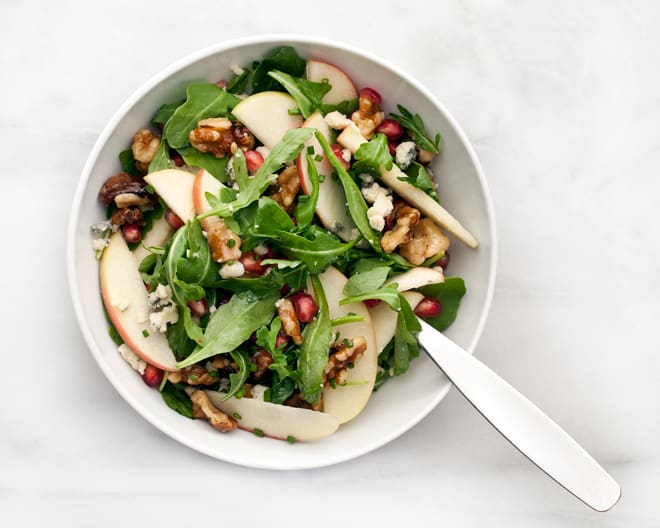 I've been oohing and aahing at all the fall fruits and vegetables at the farmers market, and right now I'm on a major apple kick that isn't going to end anytime soon. From last week's cinnamon-spiked muffins to my afternoon snack routine of apple slices smeared with peanut butter, I can't get enough in red, yellow and green. Pink Lady apples, with their crisp, tangy bite, are my favorite.
I made an apple walnut salad with baby arugula & spinach, crumbled blue cheese and pomegranate. To get a good balance of salty and sweet, I candied the nuts in a warm skillet with maple syrup and tossed them with cinnamon, salt, pepper and chili powder for a little heat. I loved this crunchy salad and its mix of ingredients, and I am already thinking about what to do next with this year's apple crop.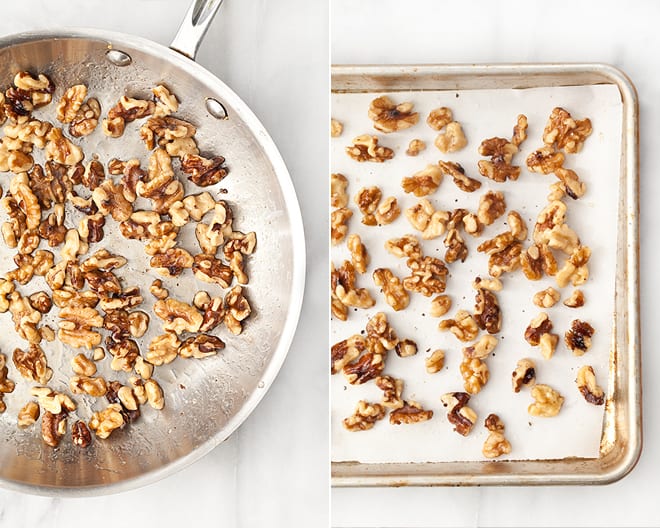 Apple Walnut Salad
Serves 4
For vinaigrette
2 tablespoons white balsamic vinegar
1/2 teaspoon Dijon mustard
1/4 teaspoon salt
1/4 teaspoon pepper
1/4 cup olive oil
For salad
1 cup walnuts
2 tablespoons maple syrup
1/4 teaspoon cinnamon
1/4 teaspoon chili powder
1/2 teaspoon salt
1/2 teaspoon black pepper
5 ounces baby arugula & spinach mix
2 firm, crisp apples, cored and sliced thinly
1/2 cup crumbled blue cheese
1 whole pomegranate, seeded
2 tablespoons minced chives
For the vinaigrette, in a small bowl, combine the vinegar, mustard, salt and pepper. Whisk in the olive oil until fully combined.
For the walnuts, place a dry skillet over medium heat. Add the maple syrup, cinnamon, chili powder, salt and pepper and toast for a few minutes, stirring occasionally. Transfer the nuts to a parchment-lined plate to cool.
For the salad, combine the arugula & spinach, apples, blue cheese, pomegranate, chives and walnuts. Toss with the vinaigrette before serving.