Pesto Barley with Scallions & Cannellini Beans

My husband likes to joke that if wasn't for me he would eat spaghetti every night for dinner. Now one of our three-year-old's favorite meals is pasta, "Daddy style," which is spaghetti with olive oil, garlic powder and plenty of Parmesan. Absolutely no black pepper or red pepper flakes like Dad usually adds to his version of his signature dish.
I don't always want to join them on the pasta train, but that doesn't mean I have the motivation to make something else. My solution is to stir pesto into a can of beans. To make this a blog-worthy recipe, I added whole grains and greens to my pesto barley with scallions & cannellini beans. It was simple and great for lunchtime leftovers the next day.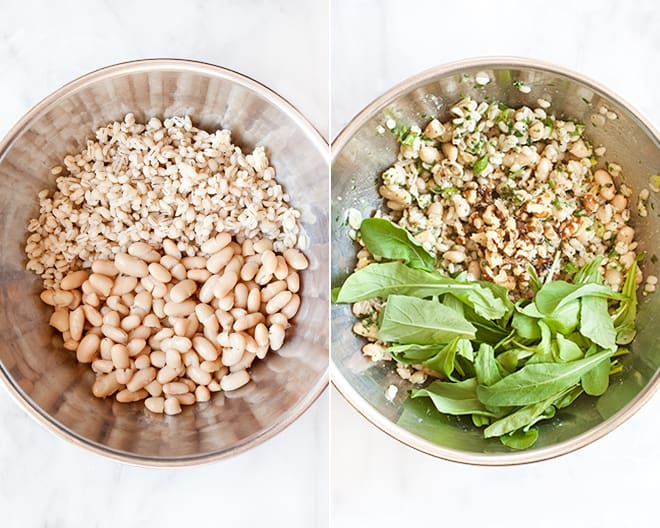 Pesto Barley with Scallions & Cannellini Beans
Serves 4
1/2 cup pearl barley
1 cup water
2 garlic cloves, peeled
1/2 cup walnuts plus more for garnish
1/2 ounce Parmesan, grated, plus more shaved for serving
1-1/2 cups basil leaves
1/4 teaspoon salt
1/4 teaspoon black pepper
1/4 cup olive oil
1/4 cup basil pesto
1-15 ounce can cannellini beans, drained and rinsed
1 handful baby arugula
2 scallions, thinly sliced
2 tablespoons minced chives
1/4 cup chopped walnuts
In a medium saucepan, combine the barley and water. Bring to a boil, reduce heat and simmer for 30 minutes until tender. Fluff with a fork and transfer to a large bowl.
For the pesto, mince the garlic cloves in the bowl of a food processor. Add 1/4 cup walnuts, Parmesan, basil, salt and pepper. Puree the mixture. While the motor is running, drizzle the olive oil through the feeder tube until the pesto is fully combined.
Add the beans, arugula, scallions, chives and remaining walnuts to the barley. Stir in about 1/4-1/3 cup pesto. Top with Parmesan before serving.
Save the extra pesto for another use.
SaveSave