This pearl barley tabbouleh has lots of herbs including parsley and mint. It's more filling than the classic version because of the grains.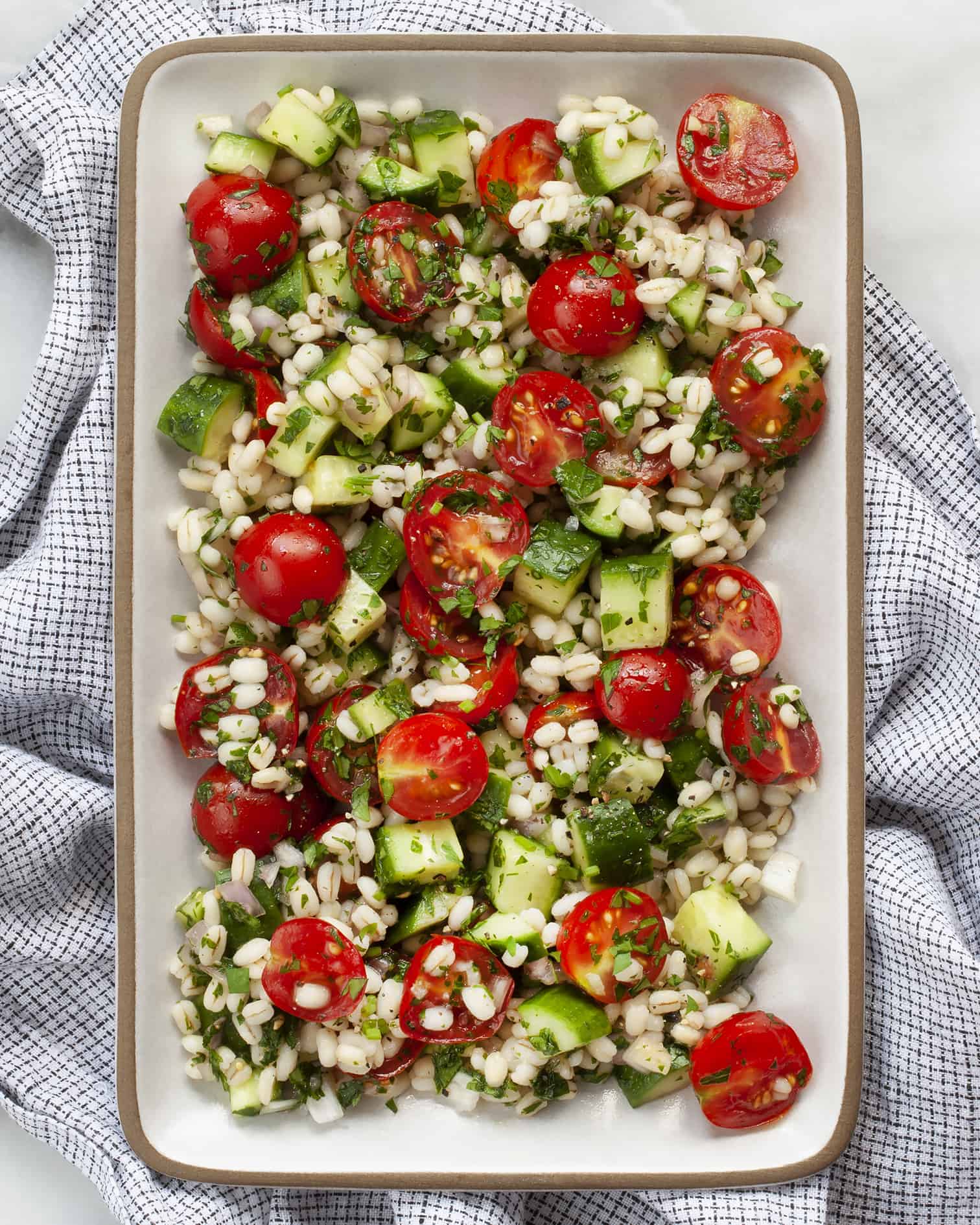 For the second summer in a row, we didn't get our act together to plant a container garden.
Of course, I couldn't be more disappointed. Strolling out to the back deck to pick tomatoes, basil or another herb is always such a joy. And so convenient!
Before we knew it May became June and now it's almost July. At that point it was too late.
It's not all bad. Now I am depending on the farmers market for all my fruit and veggies.
So I'm spending a little more than usual. I love going to markets even when I don't end up buying anything. It's even better that I can't leave without picking up at little something.
There is always next year for my green thumb!
I love fresh flowers, but lately I have been buying so many bunches of herbs at the market.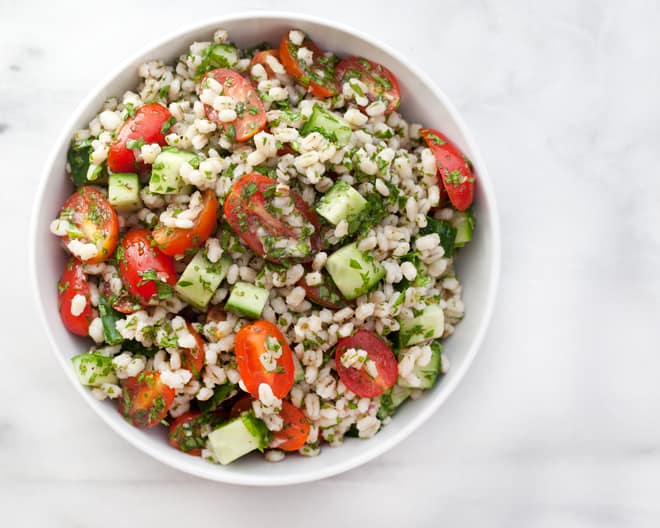 My favorite way to keep them fresh is to put the bunches of herbs in jars of water on the kitchen counter.
They are basically my version of flowers. I'm really into all that green.
Even though I thought I had a surplus, I needed to replenish my herbs after I made this pearl barley tabbouleh.
How To Make Pearl Barley Tabbouleh
Using grains in this classic Lebanese salad gave it more heft and official status as a satisfying vegetarian main. It shouldn't be relegated to a side.
First, I started simmering the barley. Once the grains were tender, I folded in halved grape tomatoes, diced cucumbers, parsley and mint.
To give the salad some brightness, I squeezed in lemon juice and stirred in a pinch of allspice along with salt and pepper.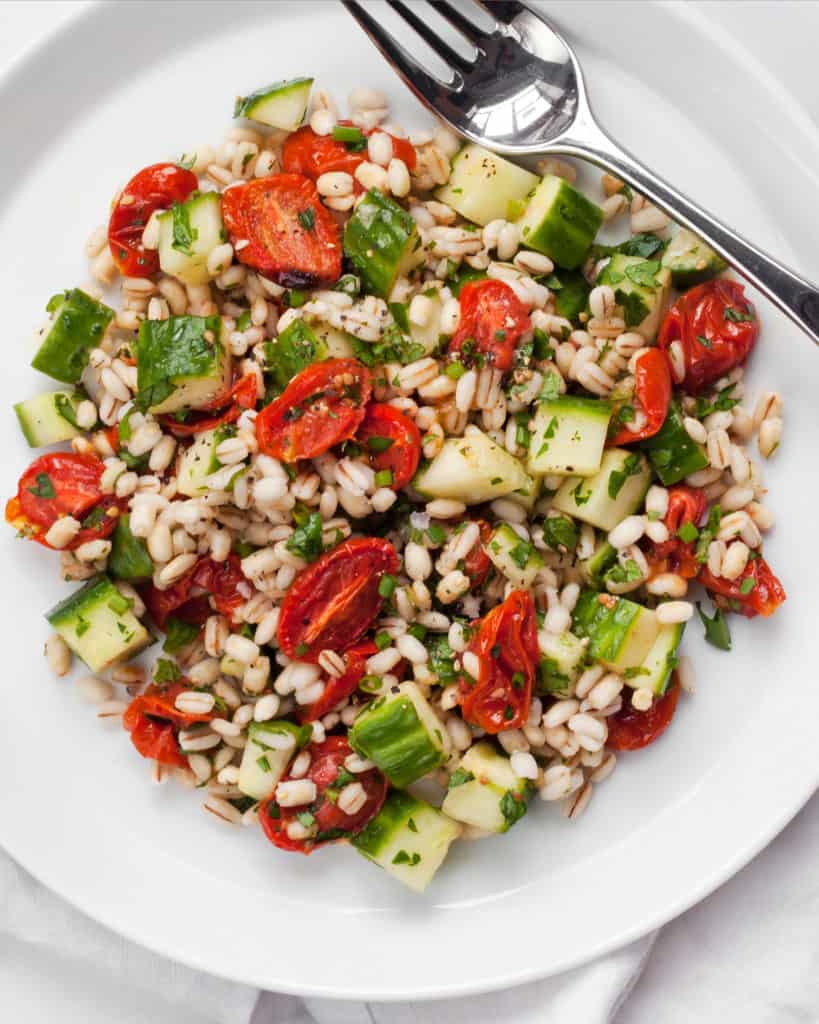 Update:
My patience to wait for tomato season gets pushed every spring. When something is so close, it just seems to take even longer to get here.

Raw tomatoes just aren't the same when it isn't the height of the season. My solution is to roast them.
Roasting tomatoes adds so much flavor to the point that even in the summer I might be roasting them for this pearl barley tabbouleh.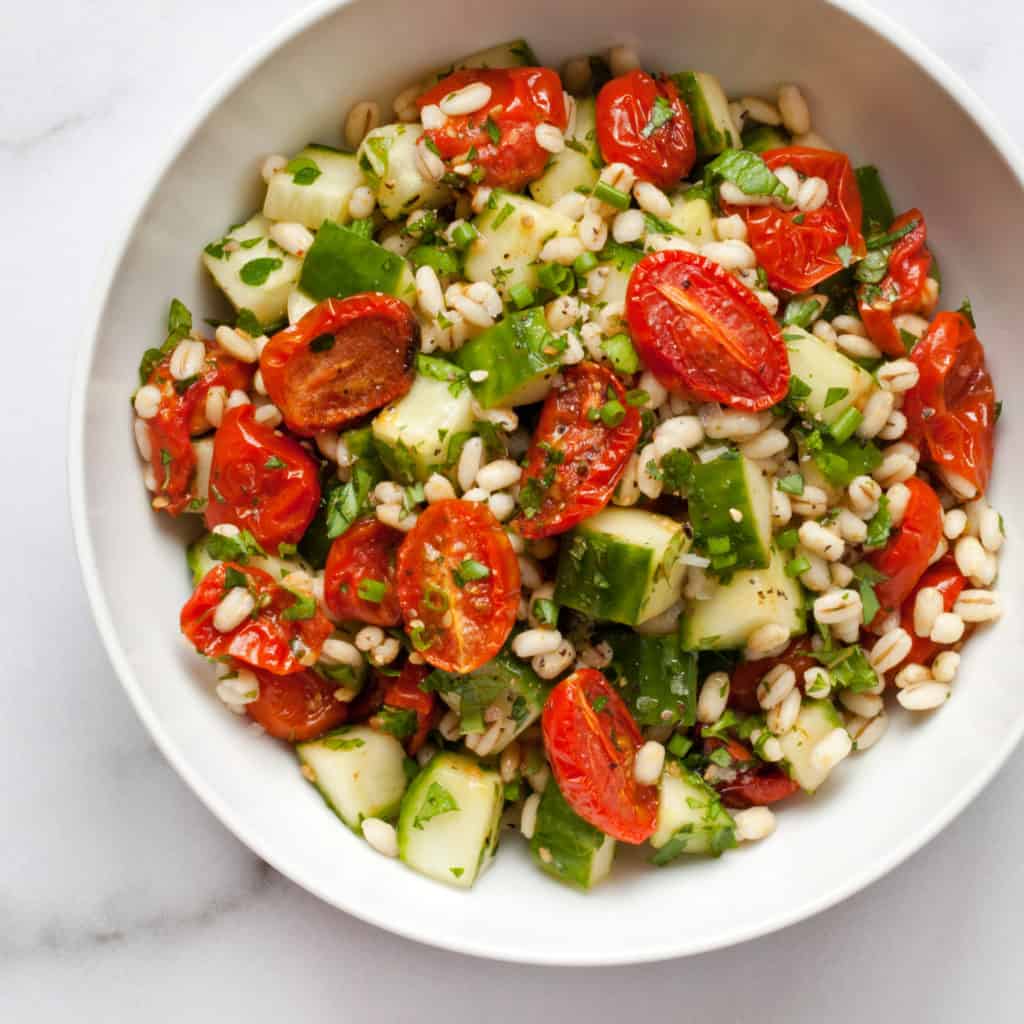 Print
Pearl Barley Tabbouleh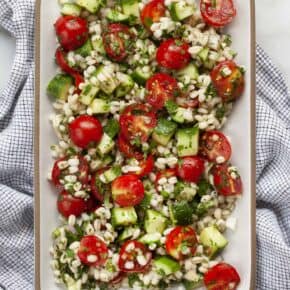 Author:
Prep Time:

10 minutes

Cook Time:

12 minutes

Total Time:

22 minutes

Yield: Serves

4

1

x
Scale
Ingredients
1/2 cup pearl barley
1–1/4 cups water
1/2 pint grape tomatoes
1/2 cup diced cucumbers
1/2 cup parsley leaves, finely chopped
1/2 cup mint leaves, finely chopped
1 garlic clove, minced
1 tablespoon minced chives
Juice of 1 lemon
Pinch of allspice
1/2 teaspoon kosher salt
1/4 teaspoon black pepper
Instructions
In a medium saucepan, combine the barley and water. Bring to a boil, reduce heat and simmer until tender, about 12 minutes. In a mesh strainer, rinse the barley in cold water.
Transfer the barley to a large bowl. Stir in the tomatoes, cucumbers, parsley, mint, chives, lemon juice, allspice, salt and pepper.
SHARE THIS