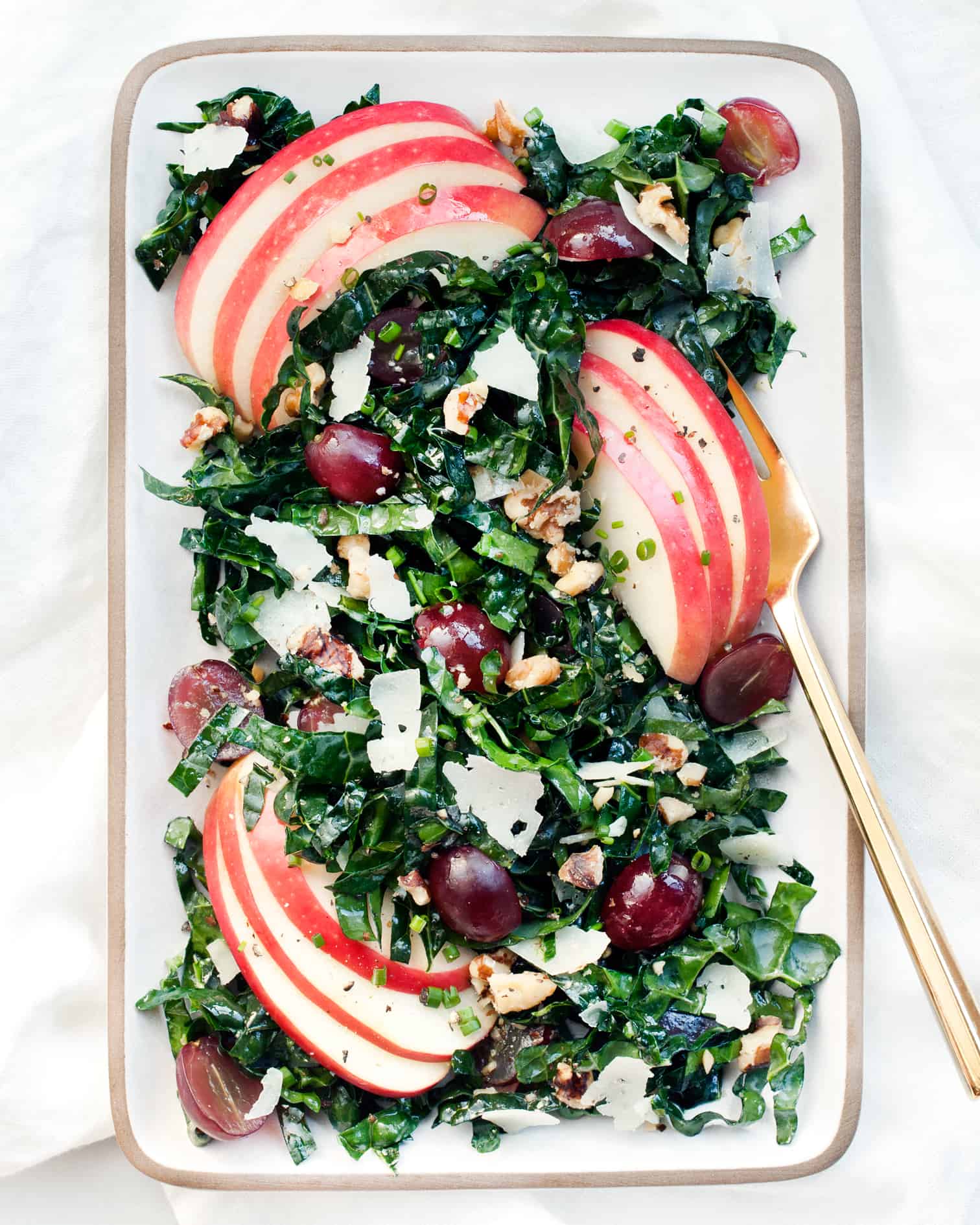 I'm definitely not a resolutions person. I already have an ongoing list of things in my life that I'm trying to improve like eliminating mindless snacking and working more fruits and veggies into my diet. I tend to reach for anything classified as a carb in between my more virtuous moments when I have something like this kale apple salad, which was yesterday's spontaneous pantry/fridge-foraged lunch.
My number one rule with kale salads is that each bite must contain more than just kale. I raided the leftovers from my New Years Eve cheese plate and used red grapes and Manchego cheese. Not wanting to be without crunch, I sliced crisp Pink Lady apples and chopped some toasted walnuts. I whisked up mustard vinaigrette with shallots, Dijon and champagne vinegar to bring all the ingredients together.
Kale Apple Salad
Serves 4
2 bunches lacinato kale
3 Pink Lady Apples, cored and thinly sliced
3/4 cup halved red grapes
1/4 cup chopped toasted walnuts
1 ounce Manchego cheese, shaved
1 tablespoon minced chives
1/4 cup olive oil
2 tablespoons champagne vinegar
1 teaspoon Dijon mustard
1 shallot, minced
1 teaspoon kosher salt
1/2 teaspoon black pepper
Remove the ribs from the kale and finely chop the leaves. Place them in a large bowl with the apples, grapes, walnuts, Manchego and chives
For the vinaigrette, whisk together the olive oil, champagne vinegar, mustard, shallots, salt and pepper in a small bowl.
Toss the vinaigrette in the salad before serving.