Fig Salad with Arugula, Goat Cheese & Couscous
on Sep 12, 2022, Updated Apr 08, 2023
Fresh figs are one of those ingredients that you can't pass by when you see them in the produce section or the farmers market (depending where you live) because the season will only last so long. Keep things classic and easy and toss them in a salad with arugula, goat cheese, walnuts and red onions that's dressed in balsamic vinaigrette.
Once you make this salad, you will dream about having a fig tree in your backyard like I do. Although they're technically not a fruit, I still put them in that category. And I love leafy green salads with fruit as the feature. Also try them in a fig radicchio salad or a fig goat cheese flatbread.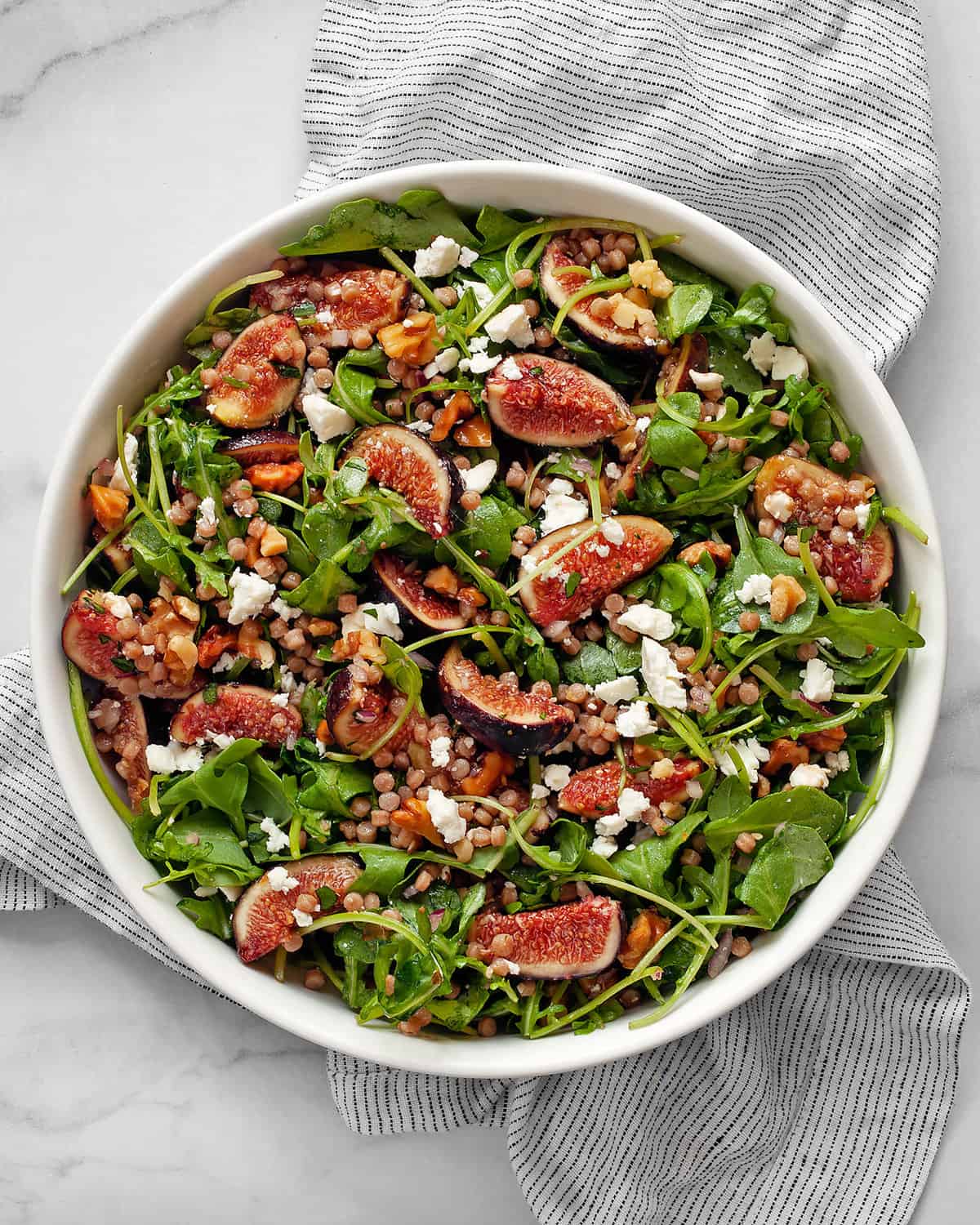 Why Are Fresh Figs So Special?
With their teardrop shape and deep rosy pink interior, fresh figs are absolutely beautiful. They have 2 seasons: early summer and late summer to early fall. Because of their limited availability, I always do a silent freak out when I see them at the grocery. It's hard to keep my cool, but I manage to do it.
Their flavor and consistency can be best described as subtly sweet, aromatic and soft. The tiny seeds on the inside give them a little bit of crunch. It's really what you pair with figs that makes them shine. You can go sweet or savory. Either way, keep it simple. Think honey, salty and stinky cheeses, nuts like almonds and walnuts, lemon or vanilla, but of course, not all of these at once.
Tips for Fresh Figs
Choose figs that are plump and slightly soft. These are the signals that they are just at the point of peak ripeness. When they get too soft, you are probably better off simmering them on the stove. This cranberry fig jam uses dry figs, but you could throw in some fresh ones too.
Figs are delicate. They should be stored at room temperature, but use them as soon as possible. And keep an eye on them to make sure you don't see one start to go bad because it can spread to other figs in the bowl.
The Ingredients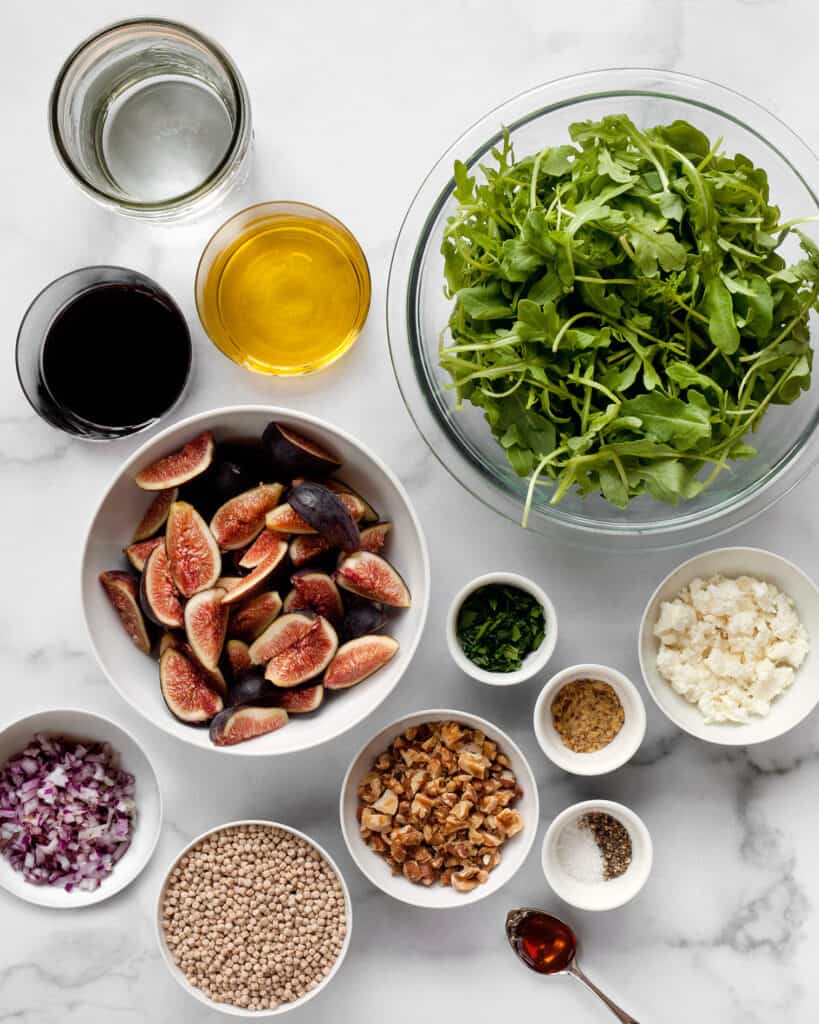 This is what you need:
Figs: I recommend black mission figs or brown turkey figs for this recipe. With their brownish purple skins, you can find both at the grocery when in season. Missions are slightly sweeter.
Couscous: Round and plump pearl couscous, also known as Israeli couscous, is great for this salad because its size is similar to the chopped nuts and onions. Barley or farro would work as substitutes.
Arugula is a baby green that has a nice peppery bite. You can swap it with spinach or use a mix of both.
Onions: Make sure that the red onions are diced small, so they are a size that's close to the couscous grains.
Walnuts: Toast the chopped nuts on a pan in a 350-degree F oven for about 5 minutes before you add them to the salad. Alternate nuts include almonds or pecans.
Goat cheese is one of the many cheeses that are good with fresh figs. You can also try crumbled feta, blue cheese or gorgonzola depending on what you like.
Parsley: Don't skip chopped fresh herbs in your salads. They help you layer in more flavor.
Balsamic vinegar is the obvious choice for the dressing because it goes so well with figs. If you want something lighter use white balsamic vinegar or champagne vinegar instead.
Whole grain mustard helps the dressing emulsify and not separate as well as adds flavor.
Honey gives the balsamic vinaigrette a hint of sweetness. Or use maple syrup.
Olive oil: Use extra virgin olive oil for the toasting the couscous and for the dressing.
Salt & pepper in the vinaigrette season the overall salad.
How To Make This Fresh Fig Salad
1. Make the couscous. Toast the couscous in a medium pot over medium heat. Then pour in the water. Bring to a boil, reduce heat, cover and simmer until the couscous is tender and has absorbed most of the water, about 10 minutes.
2. Make the vinaigrette. In a small bowl, whisk the honey, mustard, balsamic vinegar, olive oil, salt and pepper.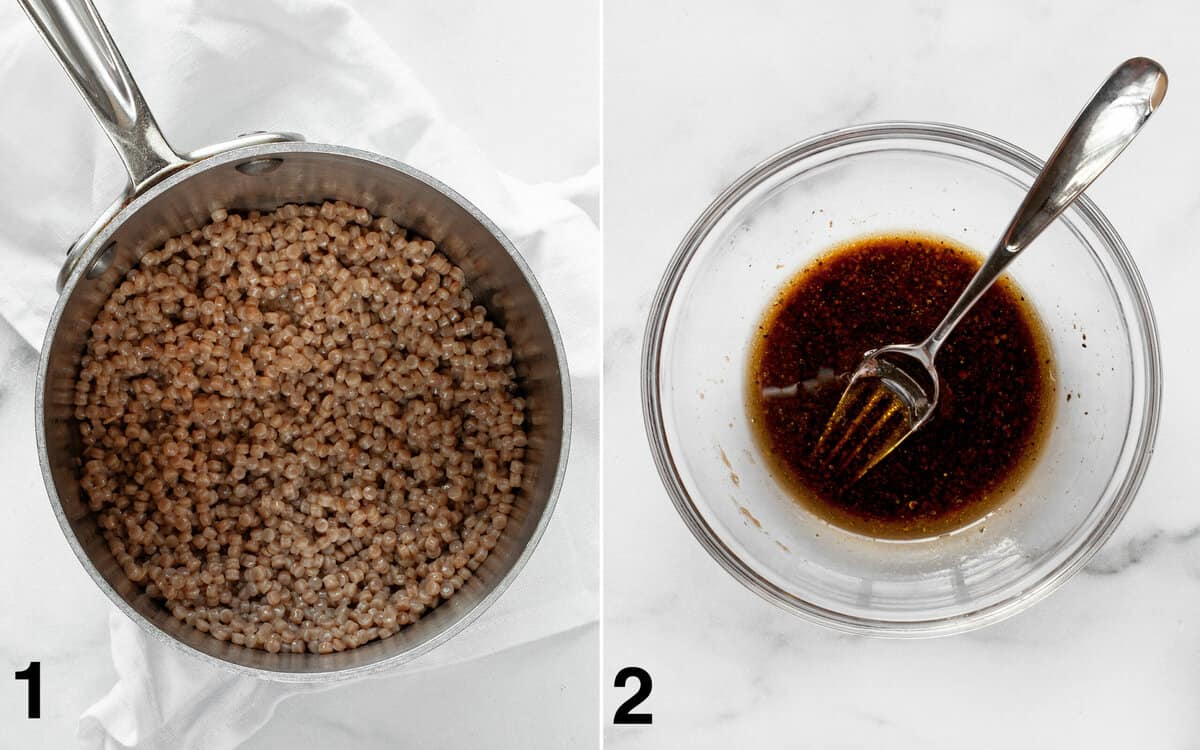 3. Combine the salad ingredients in a large bowl including the figs, red onions, walnuts, goat cheese, arugula and parsley.
4. Toss the salad with the balsamic dressing. It's best to start with a little, so you don't add too much at once.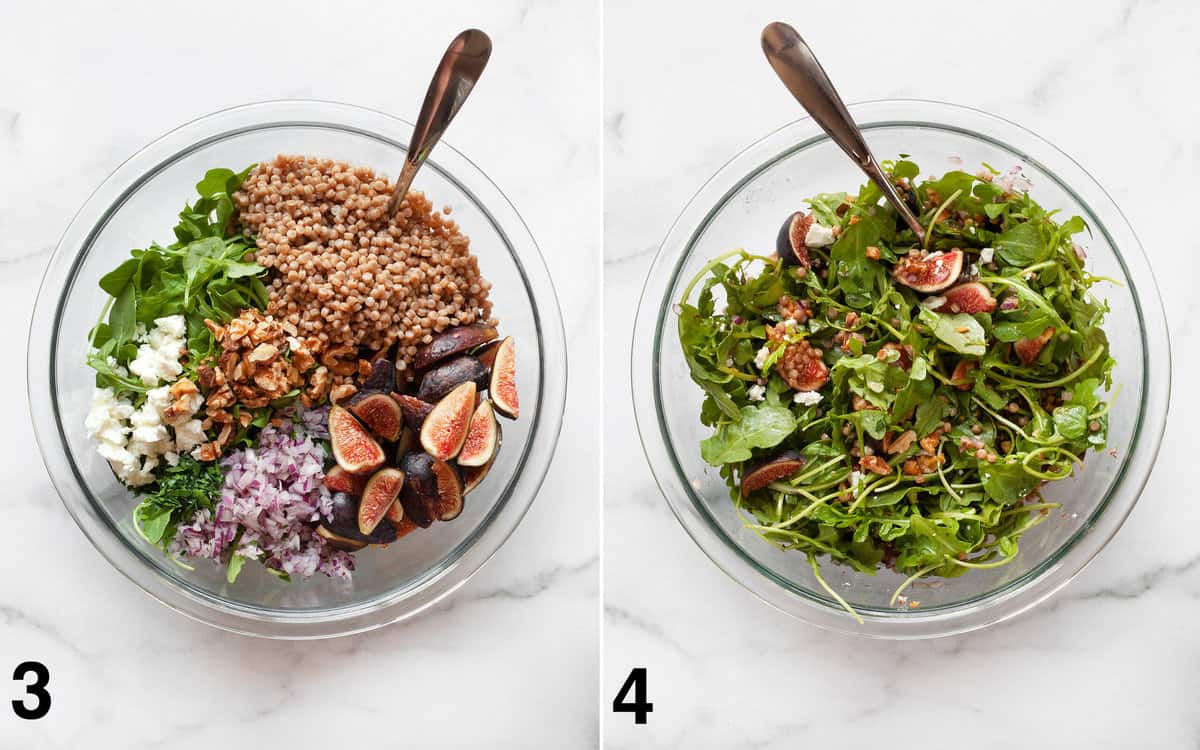 Serving
Because of the couscous, this eats like a big salad for lunch or dinner. If you want to add a protein, try shredded rotisserie chicken or grilled or roasted chicken. You can also toss in torn pieces of prosciutto, which is another classic fig pairing.
Leftovers
If you are planning to save some of the salad and not eat it all at once, portion it out and do not toss it in the dressing. Store leftovers in an airtight in the container in the fridge up to 3 days. Keep the vinaigrette in a small jar separate from the fig arugula salad.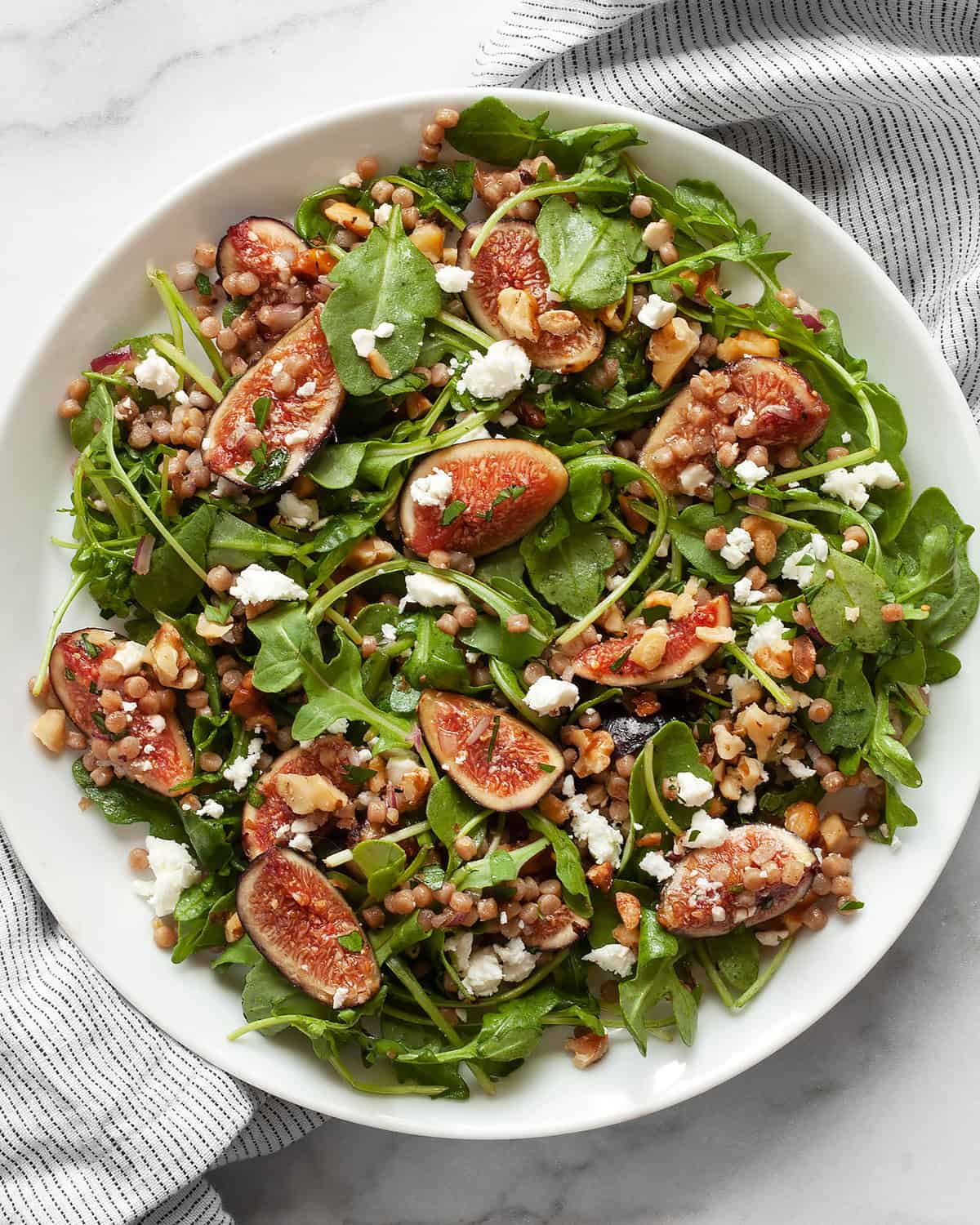 More Salad Recipes
Strawberry Pistachio Goat Cheese Salad
Apple Cabbage Salad
Roasted Beet Salad with Oranges and Pears
Blackberry Salad with Pesto Vinaigrette
Citrus Salad with Olives and Pomegranate Seeds
Kale Brussels Sprout Pear Salad
Fall Harvest Salad
Fig Salad with Arugula, Goat Cheese & Couscous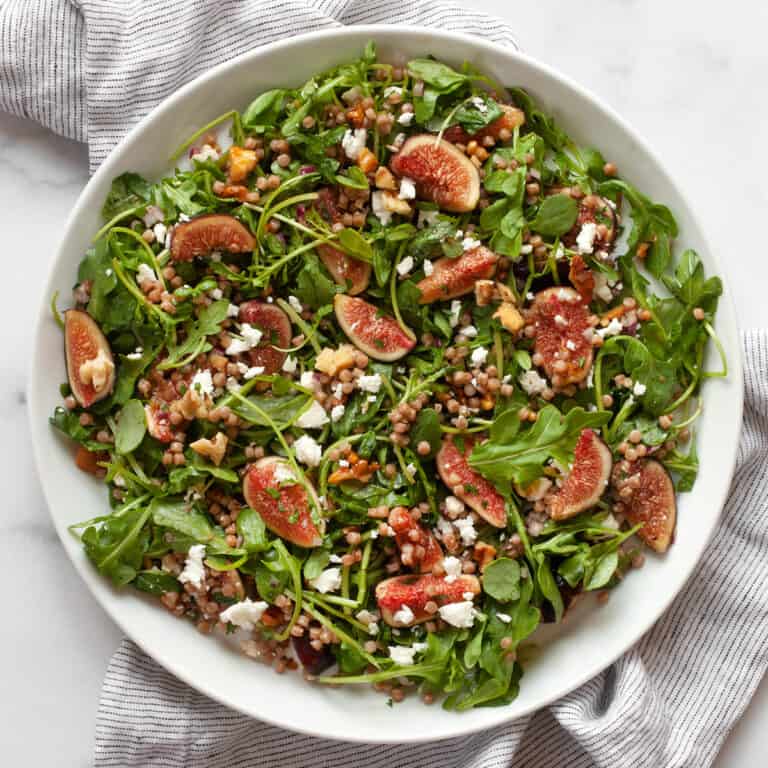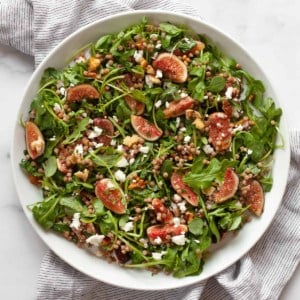 Pearl couscous makes this fresh fig salad with goat cheese, toasted walnuts and arugula so satisfying. It's tossed in balsamic vinaigrette.
Ingredients
For couscous

1

teaspoon

olive oil

1/2

cup

pearl couscous

whole wheat, if possible

1/2

cup

+ 1 tablespoon water

For vinaigrette

1

teaspoon

honey

1

teaspoon

whole grain mustard

2

tablespoons

balsamic vinegar

3

tablespoons

olive oil

1/2

teaspoon

kosher salt

1/4

teaspoon

black pepper

For salad

10

fresh figs

stems trimmed, quartered

1/4

cup

finely chopped red onions

1/4

cup

chopped toasted walnuts

1/4

cup

crumbled goat cheese

5

ounces

baby arugula

1

tablespoon

chopped parsley
Instructions
For the couscous, heat 1 teaspoon olive oil in a medium saucepan over medium heat. Toast the couscous for 2-3 minutes until golden, stirring frequently. Add the water and bring to a boil. Reduce heat to low, cover and simmer until the couscous is tender and most of the water has been absorbed, about 10 minutes. Drain any remaining water.

For the vinaigrette, whisk together the honey, mustard, balsamic vinegar, olive oil, salt and pepper in a small bowl.

To assemble the salad, combine the figs, red onions, walnuts, goat cheese, arugula and parsley in a large bowl. Drizzle in the vinaigrette, tossing to combine.
Notes
If you are planning to save some of the salad, do not toss is in the vinaigrette. Leftovers can be stored in an airtight container in the refrigerator up to 3 days. Keep the salad dressing separate.
Instead of walnuts, you can also use chopped almonds or pecans.
You can swap the goat cheese and use feta, blue cheese or gorgonzola instead.
Nutrition
Calories:
386
kcal
|
Carbohydrates:
47
g
|
Protein:
9
g
|
Fat:
20
g
|
Saturated Fat:
4
g
|
Polyunsaturated Fat:
5
g
|
Monounsaturated Fat:
10
g
|
Cholesterol:
7
mg
|
Sodium:
374
mg
|
Potassium:
526
mg
|
Fiber:
6
g
|
Sugar:
25
g
|
Vitamin A:
1252
IU
|
Vitamin C:
10
mg
|
Calcium:
141
mg
|
Iron:
2
mg
Nutrition information is automatically calculated, so should only be used as an approximation.