All this grilled dukkah broccoli needs is a squeeze of smoky grilled lemons. Dukkah is a spice blend made from hazelnuts, cumin, coriander and sesame seeds.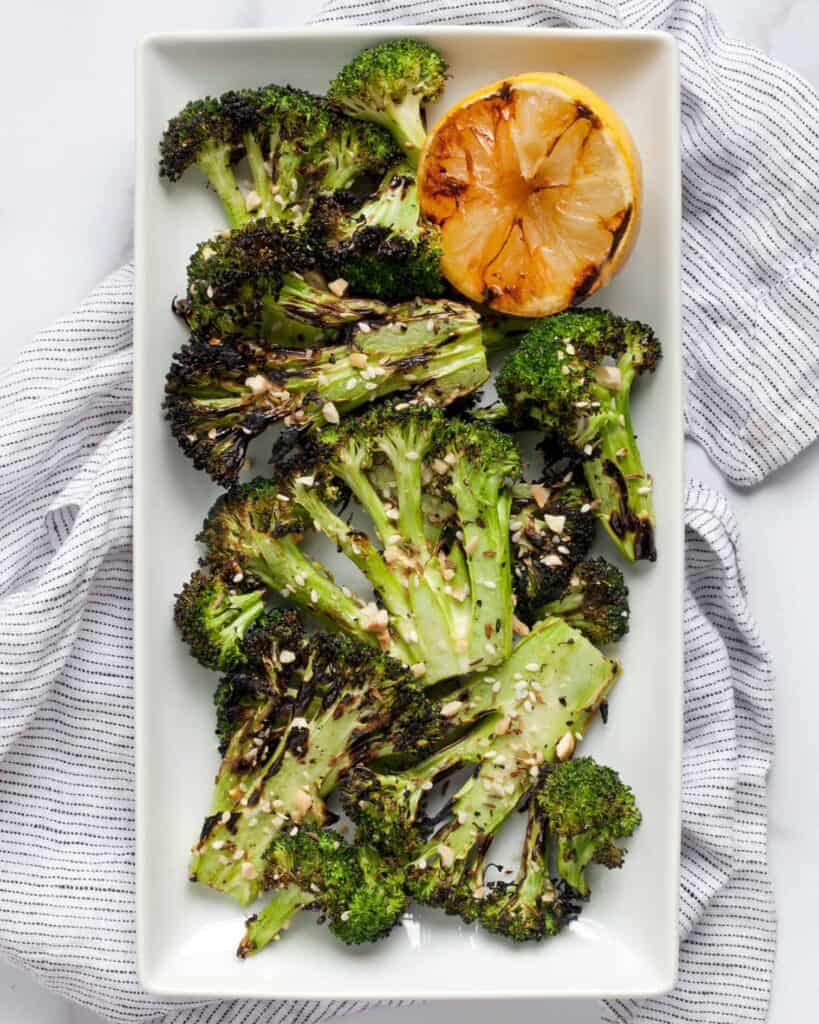 I don't want to admit the hours I've spent pondering broccoli in the last few days.
It was as if I was trying to figure out the meaning of life. I just couldn't decide what to do with it.

My original plan was to roast the broccoli and turn it into a salad. Something about that didn't feel springy enough even though I never stop roasting veggies no matter the season.
It's been so chilly and rainy here that I think I'm off my spring game. I know I'm not the only one who's confused on May because of what it's been like so far.
After all that debate, I decided I needed something new. Something I had never tried before.
Grilled broccoli!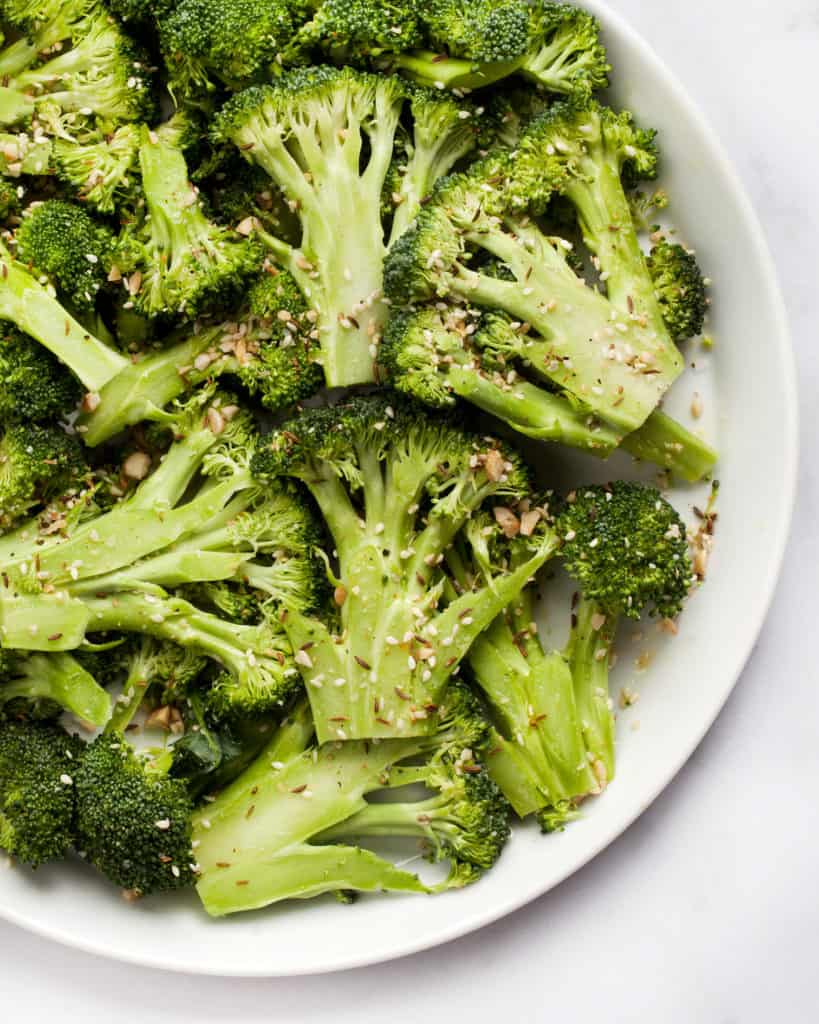 How To Make Grilled Dukkah Broccoli
Everything tastes better grilled, right? And broccoli is no exception.
I had 3 heads of broccoli, about 1 pound. Their stalks were pretty long, so I trimmed them leaving about 2 inches.
Instead of just breaking up the heads into florets, I cut slices. Yes, some more tree-looking, bushy pieces fell off, but they were big enough that I knew they wouldn't slip between the grates.
I always toss veggies in olive oil, salt and pepper before I grill them. This broccoli needed more.
I searched my pantry and found blanched hazelnuts leftover from something I baked a few months ago. Then it hit me: dukkah.
Dukkah is an Egyptian nut and spice blend. I don't have a spice grinder, but I was fine with mine turning out a little more coarse.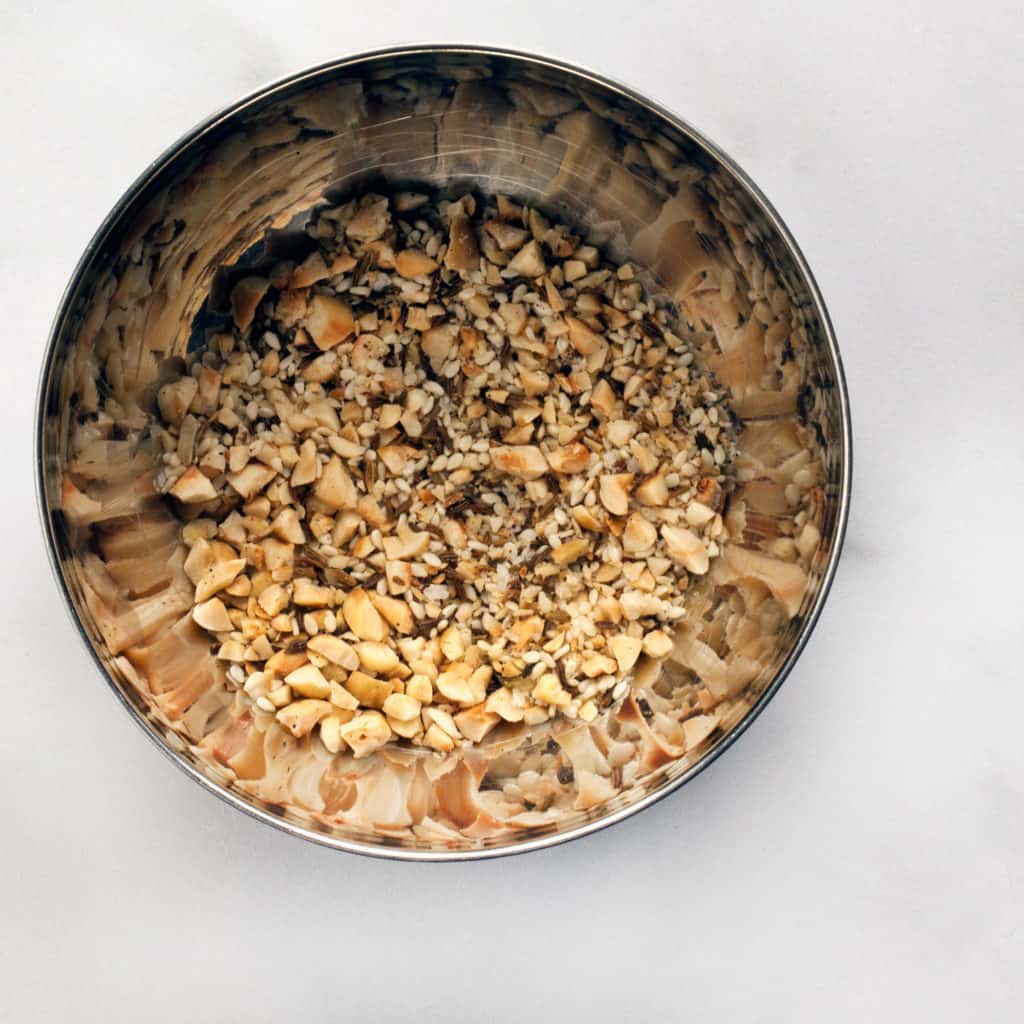 The Spice Mix
At some groceries, you can find dukkah in the spice aisle, but trust me, it wasn't hard to make it myself.

I chopped the hazelnuts and toasted them in a dry skillet with cumin seeds, coriander seeds, sesame seeds, salt and pepper. In a couple minutes, the mixture was fragrant.

I dumped the nuts and spices onto my cutting board and then finely chopped it a bit more with my chef's knife.
With the grill preheated, I sprinkled the dukkah over the broccoli. It didn't take long for it to get nice and charred on the edges.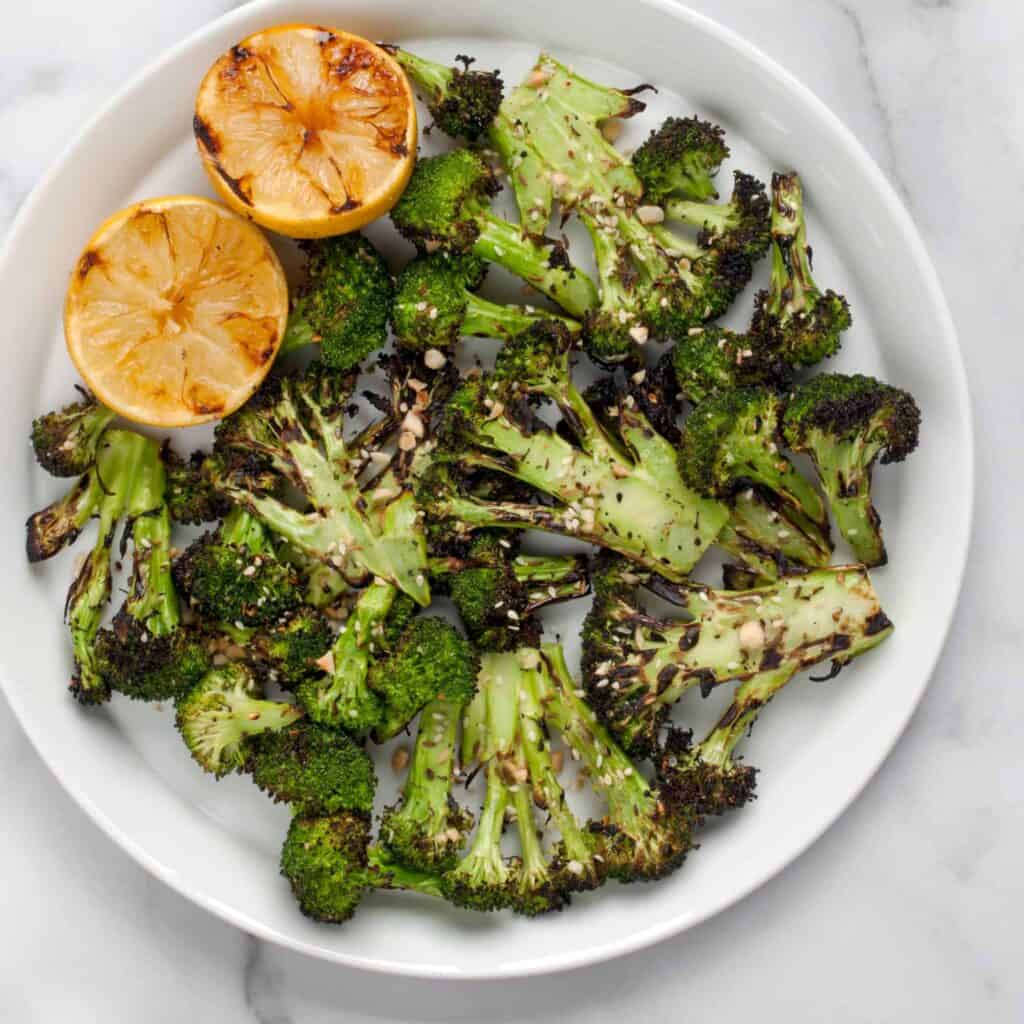 I put a halved lemon, cut-side down on the grates, while the broccoli cooked.
I arranged the grilled dukkah broccoli on a serving dish, squeezed over the smoky lemon juice and sprinkled on more of the spice blend.
It is great for a grilled side.
Print
Grilled Dukkah Broccoli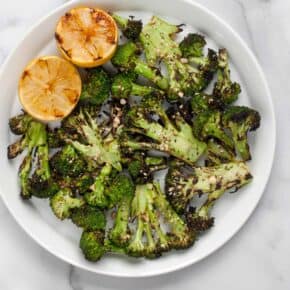 Author:
Prep Time:

10 minutes

Cook Time:

4 minutes

Total Time:

14 minutes

Yield: Serves

4

1

x
Scale
Ingredients
1/4 cup roughly chopped blanched hazelnuts
1 tablespoon cumin seeds
1 tablespoon sesame seeds
1 teaspoon coriander seeds
1 teaspoon kosher salt
1/2 teaspoon black pepper
3 heads broccoli (about 1 pound)
1 tablespoon olive oil
1 lemon, halved
Instructions
For the dukkah spice mix, toast the hazelnuts, cumin seeds, sesame seeds, coriander seeds, salt and black pepper in a small skillet over medium heat until fragrant, about 2 minutes. Transfer the mixture to a cutting board and finely chop.
Preheat a gas or charcoal grill on medium high heat.
Trim the stem of each broccoli head, so it is 2-inches long. Cut into 1/4-inch thick slices.
Toss the broccoli in olive oil and 1-2 tablespoons dukkah. Grill the broccoli until it is charred at the edges, about 2 minutes per side.
Grill the lemon halves, cut-side down until they have grill marks, about 2 minutes.
Place the broccoli on a serving dish. Sprinkle with additional dukkah as desired. Squeeze the lemons over the broccoli.
Notes
Extra dukkah can be stored in an airtight container.
SHARE THIS