Cheese Tortellini Pasta Bake

With plenty of roasted broccoli, Kalamata olives and tomatoes this lighter Cheese Tortellini Pasta Bake doesn't go overboard on the melted cheese.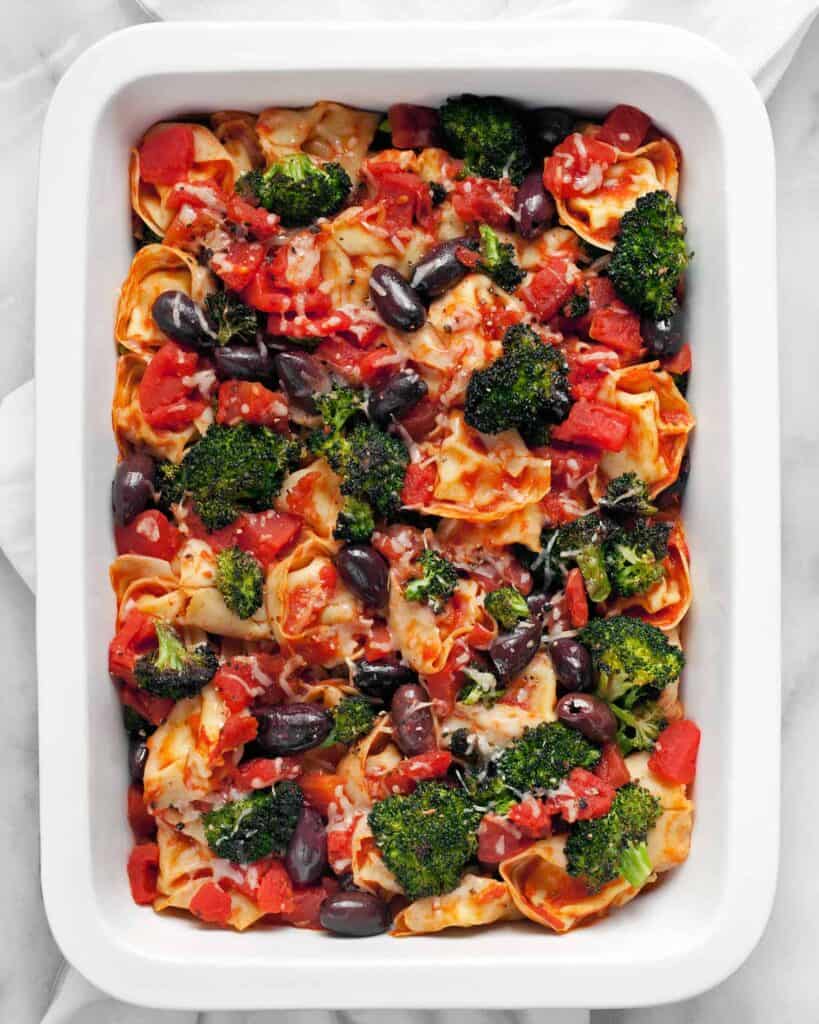 There is never a weekly grocery run where I don't have pasta in my cart.
Spaghetti for my husband, wagon wheels for my son and any shape of chickpea pasta for me.
It's no secret that we are obsessed with pasta at our house.
This is not an exaggeration.
Our go-to family dinner no matter the night of the week is pasta.
I love that noodles are never anything complicated. So often you can just forage in the fridge or pantry for a few star ingredients.

Then sauté and roast whatever you find and fold that wonderful mess into pasta.
These are satisfying meals packed with lots of flavors.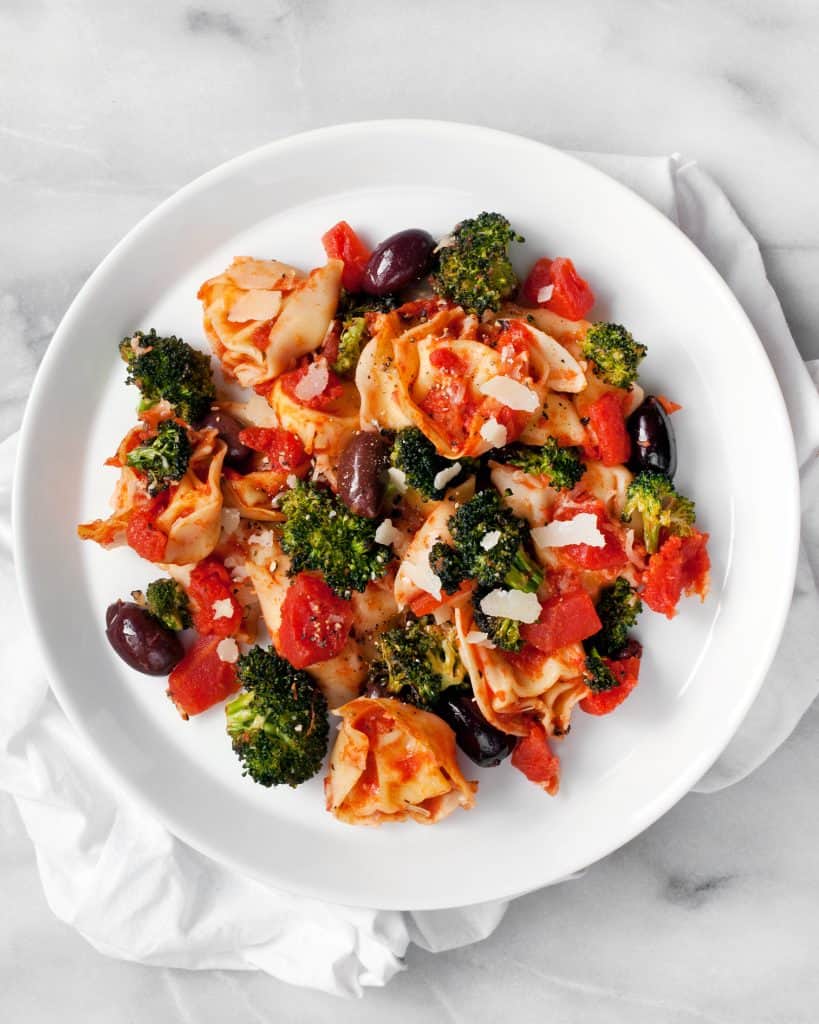 Sometimes I don't know why I even ask my husband and son what they want to eat because I know 99% of the time the answer will be pasta.
Our five-year-old goes through phases from garlic & oil to tomato sauce. When he was younger, he called it "sauce pasta."
My pasta creations are not always spontaneous. When they're planned, they are suitable to entertain and feed a crowd.
This cheese tortellini pasta bake is very easy to assemble.

I wouldn't say I'm a big casserole person. That's because I find them too cheesy or saucy, and the main ingredients get lost.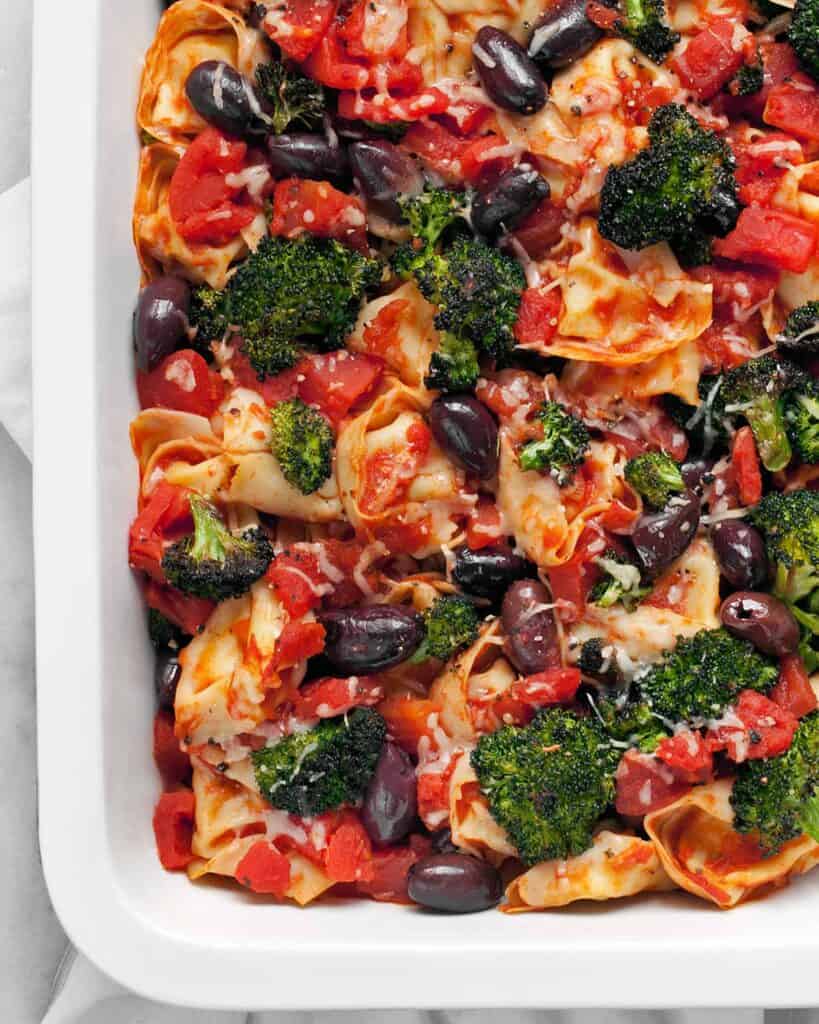 Cheese Tortellini Pasta Bake: The Ingredients
With a mix of veggies, pasta and sauce, I don't want to hide what's inside this cheese tortellini pasta bake.
The first step is to roast broccoli. While the broccoli is in the oven, I cook the fresh tortellini and then stir it into jarred tomato sauce.
I usually stick to dried pasta, so it always feels like a bit of a splurge to buy filled fresh pasta from the refrigerator case.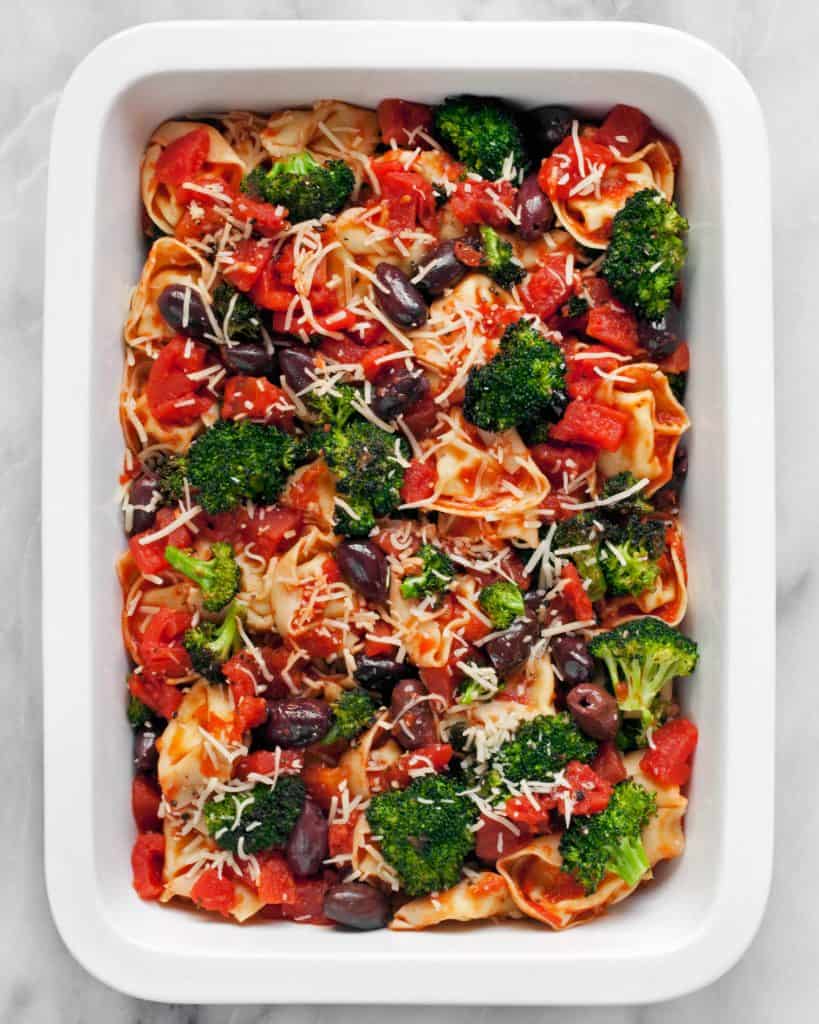 To assemble the cheese tortellini pasta bake, I alternate tortellini and broccoli with Kalamata olives, diced tomatoes and some shredded cheese.

Again, if you're looking for a gooey, saucy and cheesy pasta casserole, this isn't the one for you.
But I know you won't be disappointed with this lighter version of a pasta bake.
Print
Cheese Tortellini Pasta Bake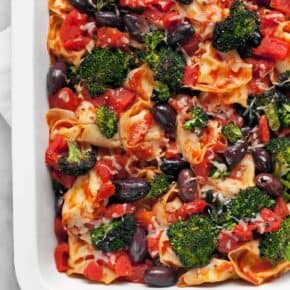 Prep Time:

15 minutes

Cook Time:

20 minutes

Total Time:

35 minutes

Yield: Serves

6

–

8

1

x
Scale
Ingredients
1/2 pound broccoli florets
1 tablespoon olive oil
1/2 teaspoon kosher salt
1/4 teaspoon black pepper
1 pound fresh cheese tortellini pasta
1-1/2 cups tomato sauce
1-14.5 ounce can diced tomatoes, juice drained
3/4 cup pitted Kalamata olives
1 cup shredded Italian blend cheese
Grated Parmesan for serving
Instructions
Preheat the oven to 400 degrees F. Toss the broccoli with olive oil, salt and pepper on a sheet pan. Roast for 10 minutes until the broccoli starts to brown at the edges. Set aside and increase the oven temperature to 450 degrees F.
Cook the fresh tortellini according to package instructions. Drain and transfer to a large bowl. Fold in the tomato sauce. In a rectangular baking dish, layer the tortellini alternating with the broccoli, diced tomatoes, olives and shredded cheese. Bake for 10 minutes until the cheese has melted.
Top with grated Parmesan for serving.
SHARE THIS