These thin and crispy M&M cookies match the bite of the candy shells. Don't forget to press extra M&Ms into the cookies when you pull them out of the oven, so they have just the right amount of chocolate.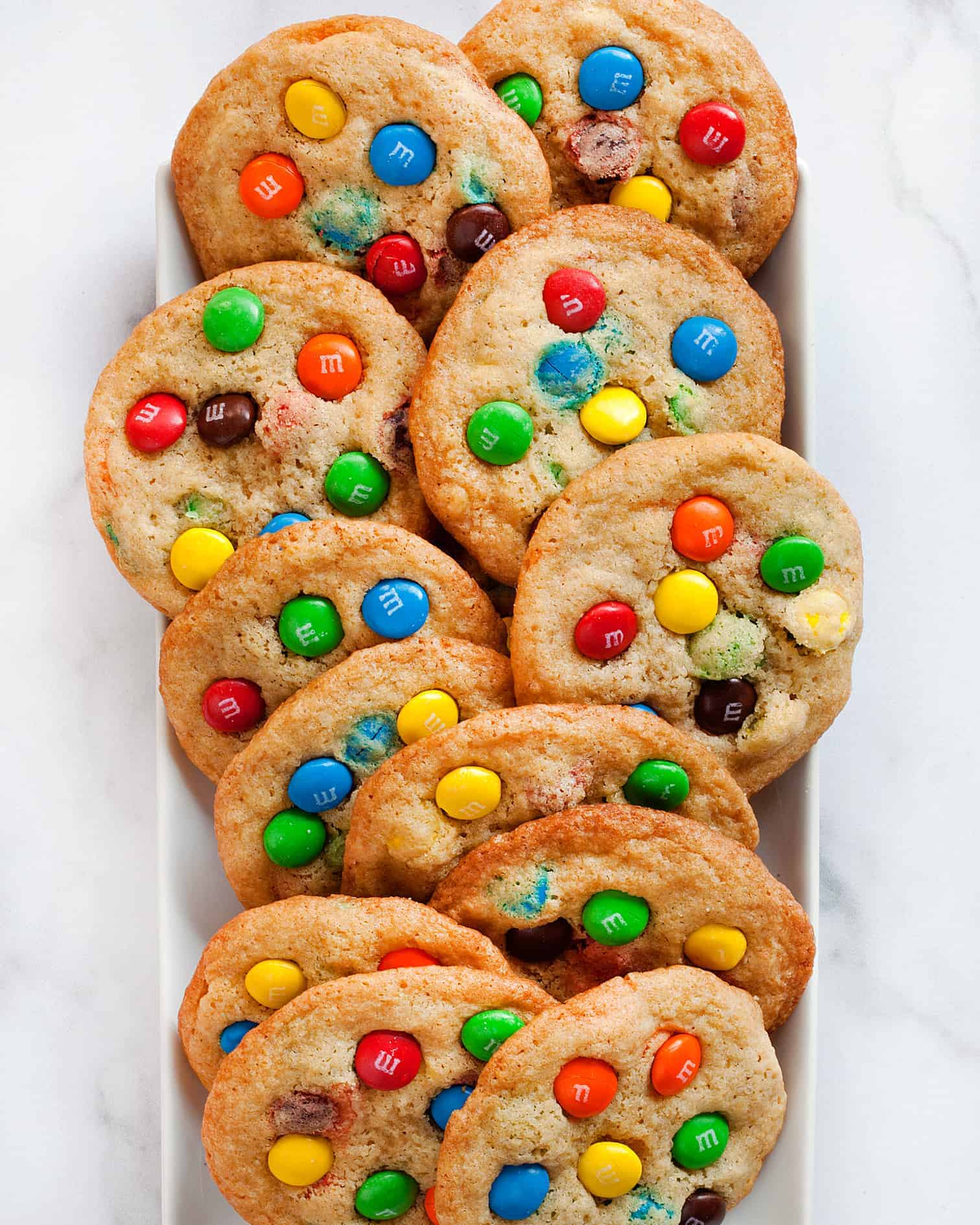 I love cookies and have always loved them, so it's pretty tough for me to pick a favorite.
If I was forced to rank them, I would say:
1) Salted Chocolate Chunk Cookies
2) Peanut Butter Cookies
3) Crispy M&M Cookies
Having a throwback moment, I decided to revisit that 3rd place cookie.
I first shared the recipe for crispy M&M cookies way back in 2014 in the early days of Last Ingredient.
My husband is a big fan of M&M cookies, so they are on my regular baking rotation. With his birthday the other week, I baked them instead of a cake.

Crispy M&M Cookies: The Ingredients
In that batch (and a few more), I tweaked the recipe increasing the yield to 3 dozen cookies and adjusting the baking soda and baking powder to maximize the crispness.
Cookie bite and texture are very personal. I like crispy M&M cookies because they match the crunch and snap of the candy shells.
One of the trickiest things about M&M cookies and any cookie with a special ingredient that's mixed in, is to getting those chips or nuts to show on the surface of the baked cookies.
How frustrating is it when you can't see the M&Ms in your cookies even after you carefully arranged them on top before they went in the oven?


I wait and press M&Ms into the cookies right when I take them out of the oven. M&Ms tend to crack in the heat then they are baked in the oven anyway.
It's a total food stylist trick that works
Are those late addition M&Ms as secure as the ones baked in? No. But if you store them flat, stacked candy side up, you will only lose a few.
Then once the cookies are all eaten, you can take comfort in the loose M&Ms that fell into the bottom of the container.
Print
Crispy M&M Cookies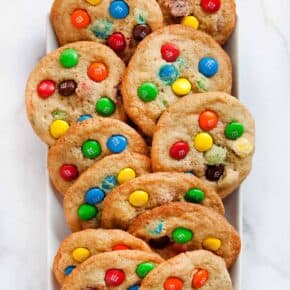 Prep Time:

15 minutes

Cook Time:

12-14 minutes

Total Time:

27-29 minutes

Yield:

36

cookies

1

x
Scale
Ingredients
2 cups all-purpose flour
1/2 teaspoon baking soda
1/2 teaspoon baking powder
1/2 teaspoon salt
1 cup (2 sticks) unsalted butter at room temperature
1 cup granulated sugar
1/2 cup packed light brown sugar
2 teaspoons vanilla extract
2 large egg
2 cups M&Ms

Instructions
Preheat the oven to 350 degrees F. Line two sheet pans with parchment.
In a medium bowl, combine the flour, baking soda, baking powder and salt.
Using an electric mixer, cream the butter and sugars until light and fluffy, about 5 minutes. Mix in the vanilla extract and egg until fully incorporated. Fold the dry ingredients into the wet ingredients. Stir in 1-1/2 cup M&Ms.
Drop the dough by the scant 1/4-cup spacing 3-inches apart on the sheet pans. Bake for 12-14 minutes until golden brown. Press the remaining M&Ms into the tops of the warm cookies immediately when you take them out of the oven.
Cool on the cookies on the sheet pans for 5 minutes before transferring to a wire rack to cool completely.
Store in an airtight container.
SHARE THIS