Baked Sweet Potato Fritters
on Jan 12, 2023, Updated Jul 08, 2023
These easy sweet potato fritters are baked in the oven and not fried. That makes them tasty and healthy. They're seasoned with dried spices including chili powder and cumin, so they have some heat. Serve them as an appetizer, in a salad or with cooked grains.
If you're craving another oven fritter recipe, try these Baked Zucchini Corn Fritters too.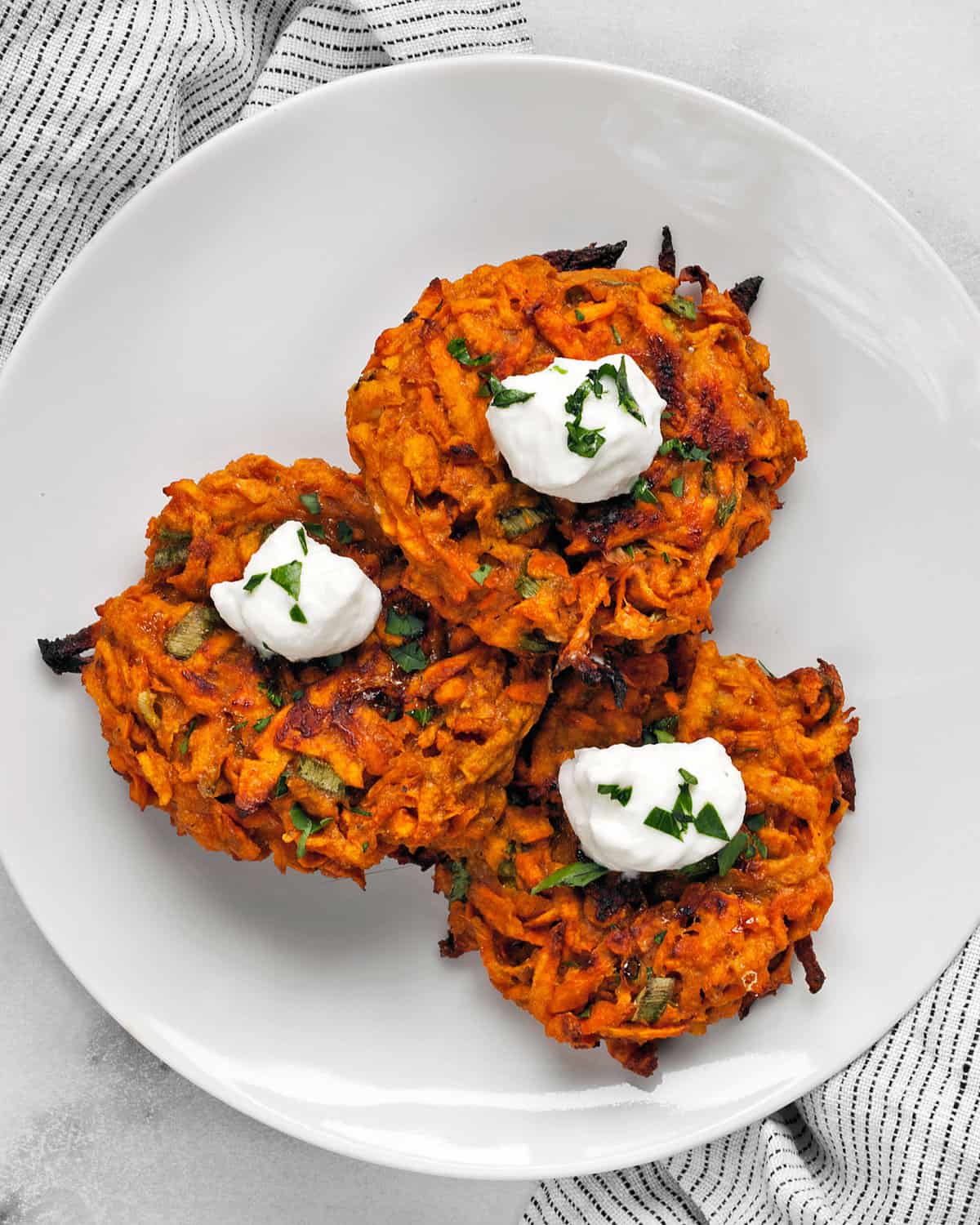 Why You'll Love These Baked Fritters
They are healthier than typical fritters. Because they are baked and not fried, they're much lower in cholesterol, trans fat and saturated fat.
And since they aren't fried, they are easier to make and less messy. Whether it's a vat of vegetable oil to deep fry or a shallow amount to pan fry, baking just involves a pan greased with non-stick cooking spray. Also, baking is more consistent and it requires less effort.
The fritters have only 10 ingredients (not including the yogurt and fresh herbs for serving). The grated sweet potato is seasoned with spices that you might already have in your pantry.
They are more than an appetizer. You can also serve these fritters as a side dish or include them in a salad to turn them into a main dish.
What are Fritters?
Sweet or savory, fritters are a mix of ingredients, usually 1 or 2 main ones with batter that are formed into patties and deep fried. They can be apple fritters dusted in powdered sugar that you see at donut shops. There are banana fritters too for something sweet. On the savory side potato latkes and even crab cakes can be considered types of fritters.
Do You Have to Fry Fritters?
I know there will be fritter purists out there who won't call something a fritter unless it's fried in oil. But always a fan of a sheet pan in the oven, I make this much healthier version that's baked. While they won't completely brown like they would if they were fried, the sides of these sweet potato fritters that do make contact with the pan will crisp up.
The Ingredients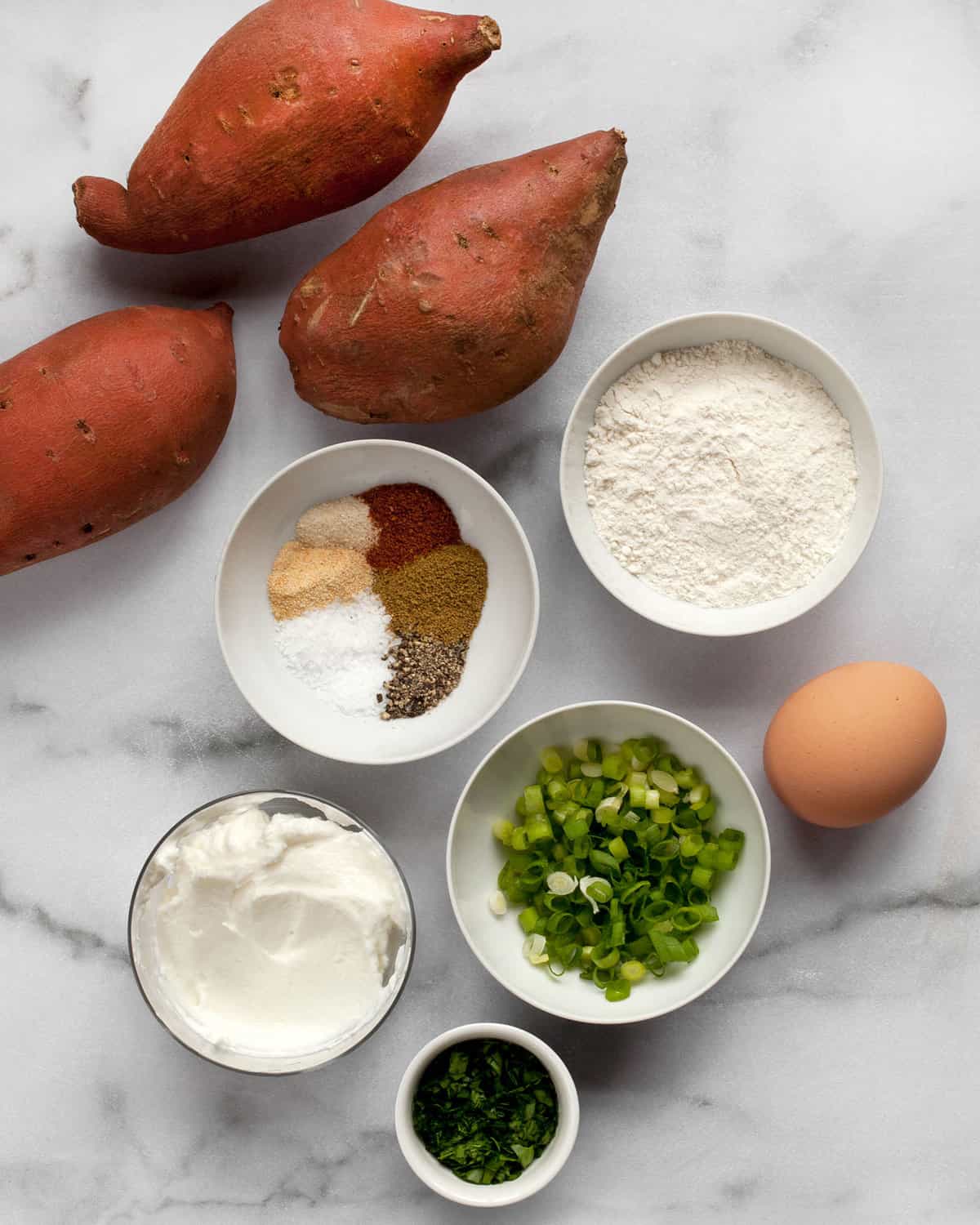 This is what you need:
Sweet potatoes vary a lot in size. The recipe calls for 1 pound. That can be one large sweet potato, two medium or three small potatoes. If you don't have a kitchen scale, use a scale in the produce department at the grocery. Or if you're at a farmers market, just ask when they weigh everything before you make your purchase.
Flour is a main component of the batter along with an egg. It absorbs some of the moisture from the potatoes and helps the fritters become crisp at the edges.
Egg is the liquid that binds the shredded sweet potatoes together. I lightly whisk it before I stir it in.
Spices: Even sweet potatoes are a blank canvas. I like my fritters to be a smidge spicy, so I use a combination of cumin and chili powder along with garlic powder, onion powder, kosher salt and black pepper.
Scallions: To go with the spices, I also include thinly sliced scallions for light onion taste.
Greek yogurt: These fritters are great dipped into tangy Greek yogurt when you serve them. You can substitute with sour cream.
Parsley: I sprinkle the cooked fritters with chopped herbs like parsley, chives or fresh cilantro.
How To Shred Sweet Potatoes
When I used to make these fritters, I would pull out my spiralizer to cut the potatoes. As beautiful as they looked that way, I now use my box grater, so there is less to clean up. All you have to do is to peel the sweet potatoes and run them over the largest holes of the grater. Then take a towel to gently squeeze them to remove some of the moisture. They won't have as much liquid as zucchini, so don't expect there to be too much to pat off.
And yes, you can shred the potatoes in a food processor using the grating disc.
How To Make Baked Sweet Potato Fritters
Preheat the oven to 400 degrees F. Grease a baking sheet with non-stick cooking spray.
1. Shred the sweet potatoes using a box grater. Towel off the excess moisture.
2. Combine the potatoes, scallions, spices and flour in a large mixing bowl.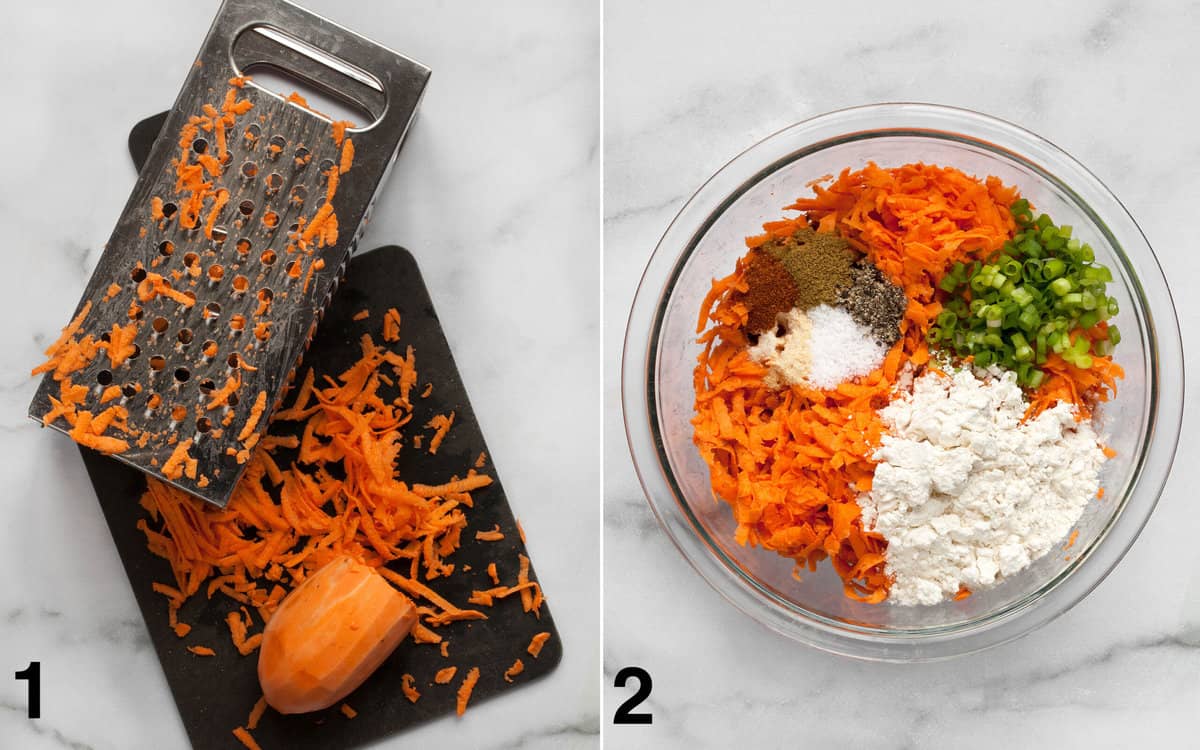 3. Carefully stir the ingredients together.
4. Stir in the egg. Make sure that it is evenly distributed throughout the batter.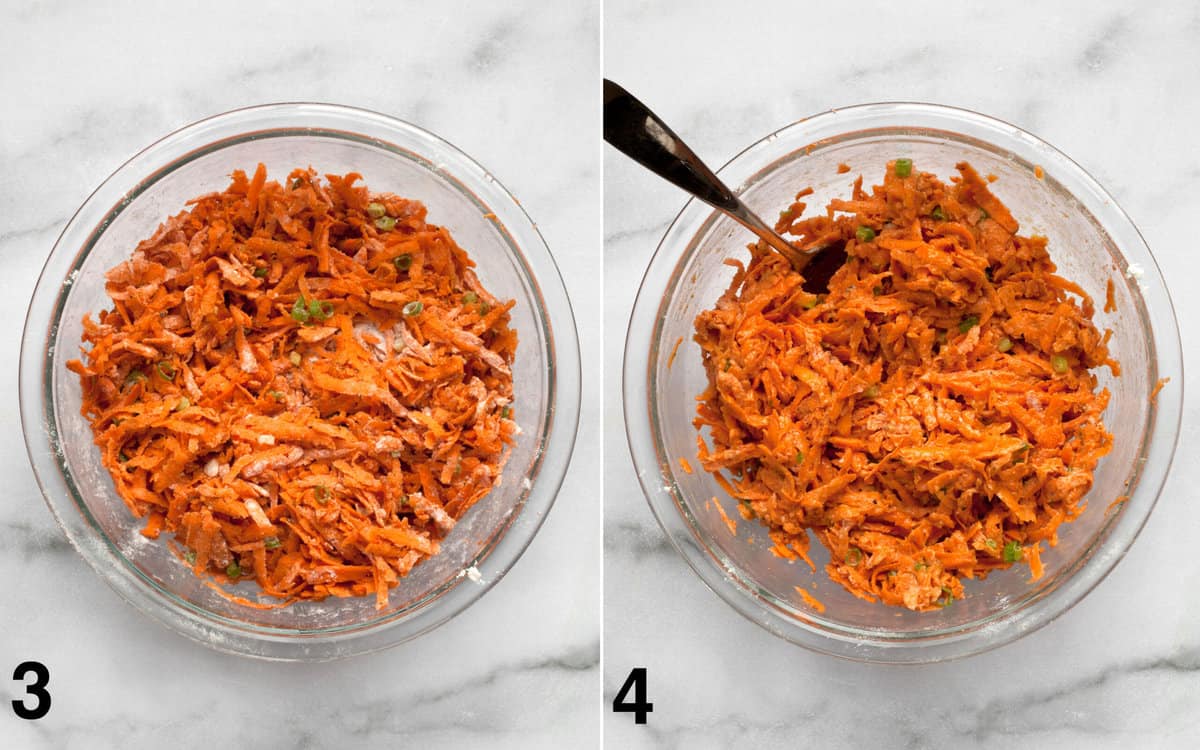 5. Scoop the fitters and shape them into patties. You don't need to press them too hard. Just make sure that you use enough pressure so they stay together. It's ok if the edges are uneven.
6. Arrange the fritters on the sheet pan and bake them for 25-30 minutes until they are golden brown. Flip them over a little over halfway through baking. Sprinkle the fritters with chopped parsley and serve them with yogurt.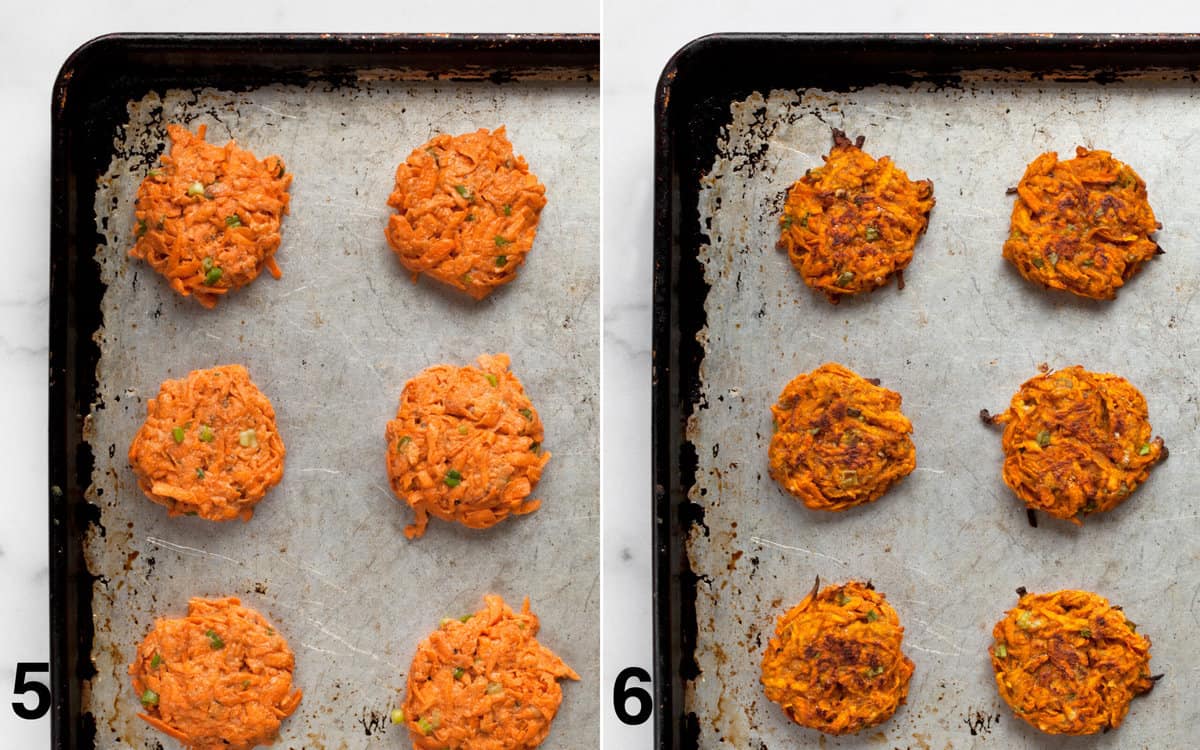 Serving
As mentioned, you can serve these fritters as an appetizer with Greek yogurt for a dipping sauce, which will balance out the spices. Another option that takes inspiration from my Baked Falafel Salad is to make a kale or spinach salad and top it with the fritters. It is similar to this Roasted Sweet Potato Chickpea Salad.
Leftovers
You can keep the fritters in an airtight container in the fridge up to 3 days. Or freeze them for 1 month. Eat them cold or warm them in a 350-degree F oven. They will likely lose some of their crisp outsides when you reheat leftovers. Always let the fritters them cool to room temperature before storing them.
FAQs
Can you make this fritter recipe gluten free?
Yes, you can substitute rice flour for the all-purpose flour, so the fritters are gluten free.
Can you use another type of potato besides sweet potatoes?
You can swap out the sweet potatoes and use Yukon Gold potatoes instead.
What dipping sauces are good with sweet potato fritters?
Try Greek yogurt, sour cream or salsa. Hummus has a more spreadable consistency, but it's also great with fritters.
Baked Sweet Potato Fritters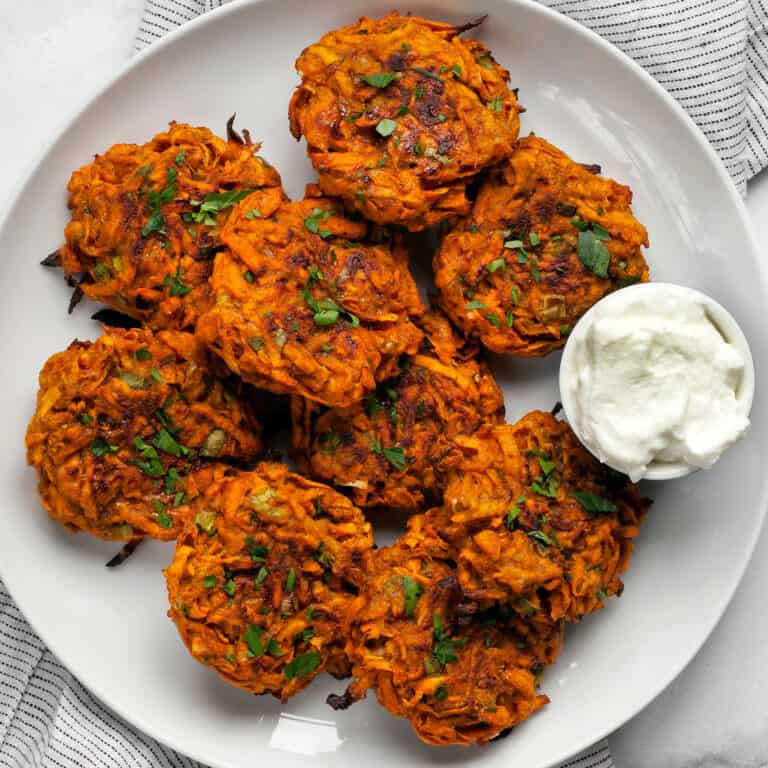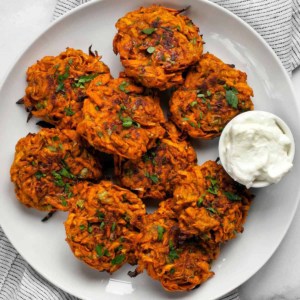 These healthier sweet potato fritters bake in the oven instead of being fried. They are a little spicy, seasoned with cumin and chili powder.
Ingredients
Non-stick cooking spray

1

pound

sweet potatoes

1 large, 2 medium or 3 small sweet potatoes

1

teaspoon

cumin

1/2

teaspoon

chili powder

1/4

teaspoon

garlic powder

1/4

teaspoon

onion powder

1

teaspoon

kosher salt

1/2

teaspoon

black pepper

1/3

cup

all purpose-flour

2

scallions

thinly sliced

1

large egg

lightly beaten

Chopped parsley for serving

Greek yogurt for serving
Instructions
Preheat the oven to 400 degrees F. Grease a baking sheet with non-stick cooking spray.

Peel the sweet potatoes. Grate them using the large holes of a box grater or a food processor fitted with the grating disc. Gently squeeze the shredded potatoes with a towel to remove excess moisture.

Combine the potatoes, cumin, chili powder, garlic powder, onion powder, kosher salt, black pepper, flour and scallions in a large bowl.

Stir in the egg.

Portion out the fritter batter by the 1/4-cup-full. Form them into patties, but do not pack them too tight. They should just be able to hold their shape. Space them 2-3 inches apart on the pan.

Bake the fritters for 25-30 minutes until they are browned on both sides, flipping them over just over halfway through baking.

Garnish them with chopped parsley and serve with Greek yogurt.
Notes
Recipe makes 8-10 fritters.
To make the fritters gluten free, use rice flour instead of all-purpose flour.
You can substitute the yogurt and use sour cream.
You can also garnish them with other fresh herbs such as cilantro and chives.
Let the fritters cool before storing leftovers in an airtight container in the refrigerator up to 3 days. They also can be frozen up to 1 month. Warm them in a 350-degree F oven. Leftovers can be eaten cold or warm.
Nutrition
Calories:
157
kcal
|
Carbohydrates:
32
g
|
Protein:
5
g
|
Fat:
1
g
|
Saturated Fat:
0.4
g
|
Polyunsaturated Fat:
0.3
g
|
Monounsaturated Fat:
0.5
g
|
Trans Fat:
0.01
g
|
Cholesterol:
41
mg
|
Sodium:
666
mg
|
Potassium:
446
mg
|
Fiber:
4
g
|
Sugar:
5
g
|
Vitamin A:
16289
IU
|
Vitamin C:
4
mg
|
Calcium:
54
mg
|
Iron:
2
mg
Nutrition information is automatically calculated, so should only be used as an approximation.
Originally published October 10, 2019. Updated: January 12, 2023.