Harissa Roasted Tomato Cucumber Couscous
Nothing is worse than when you pick-up a perfect summer tomato that's been sitting on your counter only to find a blemish or worse.

I had four or five big beefsteak tomatoes in my kitchen that had been patiently waiting days to be consumed.

When I finally got around to using them in a recipe, I lifted one up to find a bruise and a patch of mold.

Another one was oozing out a mystery clear liquid and was kind of mushy.
To throw them away would have been totally unacceptable.

You can rescue tomatoes that are well past their prime.

Don't eat wrinkly, soft borderline bad tomatoes raw. They are great for dishes like soups or sauces. No matter if they are sautéed on the stove or baked in the oven.

Save those pristine, just picked tomatoes for Caprese or Greek salads when you can really appreciate them.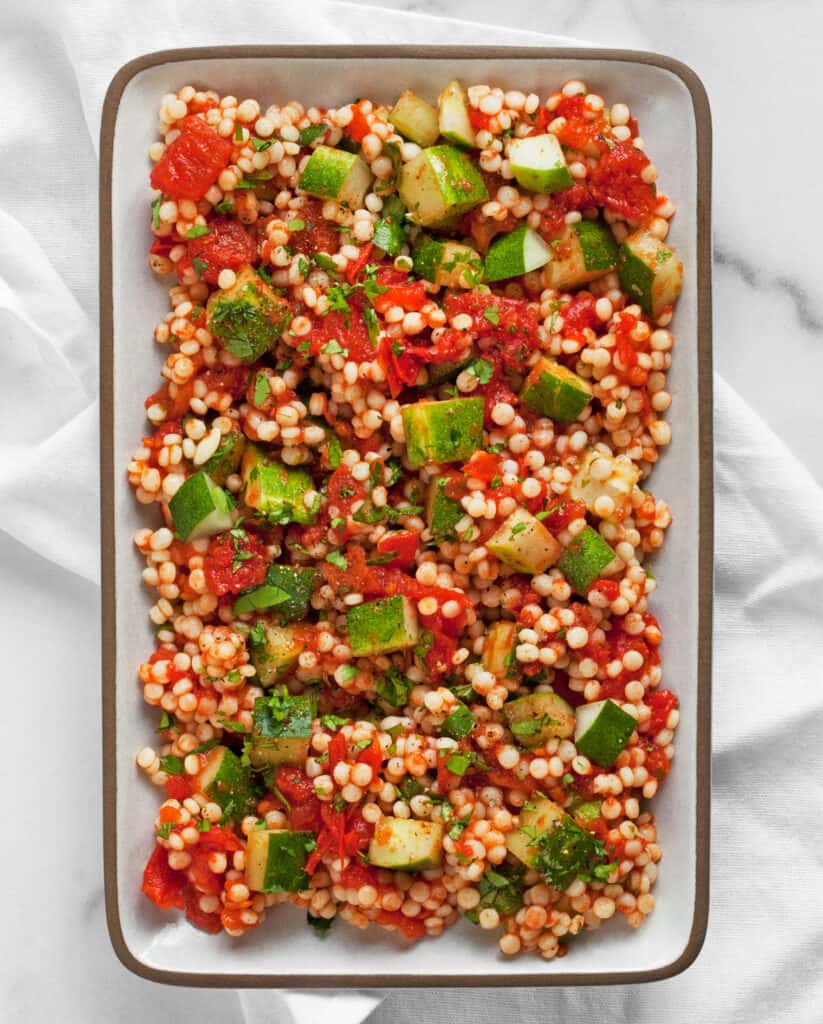 I had to do a total 180 on what I planned to eat when I discovered their condition.

But in the end, it was absolutely for the best.
I decided to make harissa roasted tomato cucumber couscous. It was a little hot and cool all at the same time.

Keeping a jar of spicy harissa paste in my fridge comes in handy at the most unexpected times.
How to Make Harissa Roasted Tomato Cucumber Couscous
First, I roughly chopped the tomatoes, cutting out the parts that looked questionable.

Then I put the tomatoes into a large bowl and tossed them with a mixture of harissa, olive oil, salt and pepper.
Before roasting them in a 400-degree oven, I poured the tomatoes into a 13-inch by nine-inch baking dish.

Having the tomatoes in a shallower layer rather than piled high in a smaller dish helped the mixture thicken as it cooked.

I roasted the tomatoes for 45 minutes.

While the tomatoes were in the oven, I made a batch of pearl couscous.

Also known as Israeli couscous, those plump grains are better suited than the usual couscous to stand up to the chunky tomatoes.

If you can't find pearl couscous, you could use orzo or barley instead.
I combined the tomatoes with the couscous, cucumbers and lots of chopped parsley and cilantro.

With the leftovers of this harissa roasted tomato cucumber couscous, I added chopped olives and crumbled feta for a twist on a Greek salad.
Print
Harissa Roasted Tomato Cucumber Couscous
Prep Time:

15 minutes

Cook Time:

45 minutes

Total Time:

60 minutes

Yield: Serves

4

1

x
Scale
Ingredients
2 tablespoons plus 1 teaspoon olive oil
2 tablespoons harissa
1 teaspoon kosher salt
1/2 teaspoon black pepper
2–1/2 pounds beefsteak tomatoes, cored and roughly chopped
1 medium cucumber, diced
1/2 cup chopped parsley and/or cilantro
Instructions
In a large bowl, whisk together 2 tablespoons olive oil, harissa, salt and pepper. Stir in the tomatoes.
Pour the tomato mixture into a 13-inch by 9-inch baking dish spreading into an even layer.
Roast the tomatoes for 40-45 minutes until they have broken down and thickened slightly. Let the tomatoes cool till they are warm or at room temperature.
While the tomatoes are roasting, heat 1 teaspoon olive oil in a medium saucepan over medium heat. Toast the couscous for a few minutes until it is golden. Add the water and bring to a boil. Reduce heat to low, cover and simmer until the water is absorbed and the couscous is tender, about 10 minutes.
Use a slotted spoon to transfer the tomatoes to a large bowl laving most of the juice in the baking dish. Stir in the couscous, cucumbers, parsley and cilantro.
SHARE THIS