5-Ingredient Cherry Tomato Sauce
Small tomatoes aren't just for salads and roasting. They're great for sauce too. And it doesn't get easier than this cherry tomato sauce. With 5 ingredients, including garlic, olive oil, salt and pepper, you can make an exciting, dynamic and intensely tomato-y sauce with 2 pints of cherry tomatoes.
If you're looking for another simple from-scratch sauce recipe, try this Fresh Tomato Sauce made with roma tomatoes or Stewed Tomatoes.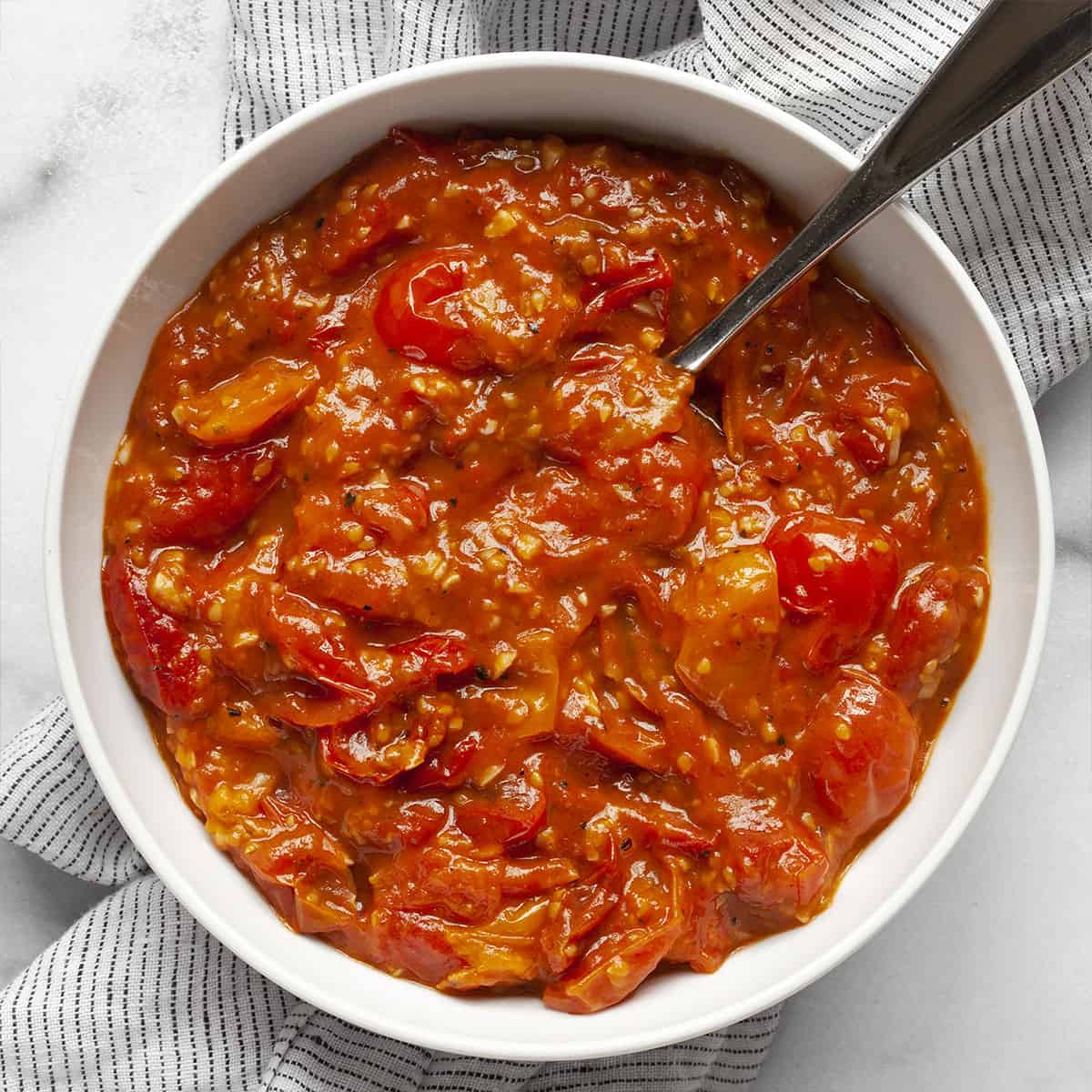 Why You'll Love This Recipe
It has only 5 ingredients. Homemade tomato sauce doesn't have to be complicated. One of the best parts of using cherry tomatoes is that you don't have to peel them, which is what you have to do with larger tomatoes typically used for sauce. You just have to slice cherry tomatoes in half. That's it.
Somehow the sauce turns out delicately chunky. You will be able to see the remnants of cherry tomatoes throughout the sauce. It has lovely texture from the tomato seeds, minced garlic and tomato skins. The sauce isn't a full puree, and that's a good thing. It's kind of rustic and a beautiful way to celebrate tomato season.
This sauce is for more than just pasta. Noodles are the most obvious way to put tomato sauce to use, but don't stop there. You can dip toasted bread (even better if it's garlic bread) into the sauce to turn it into an appetizer. It's also a great way to do pizza sauce that's different than the usual smooth, pureed sauce.
How is This Different than Burst Tomato Pasta?
One of my other favorite ways to cook cherry tomatoes is in my Burst Tomato Pasta. For that recipe, I leave the tomatoes whole, and they end up more wrinkled and soft than an actual sauce. For this cherry tomato sauce, I give the tomatoes more time to cook into a full fledged sauce.
The Ingredients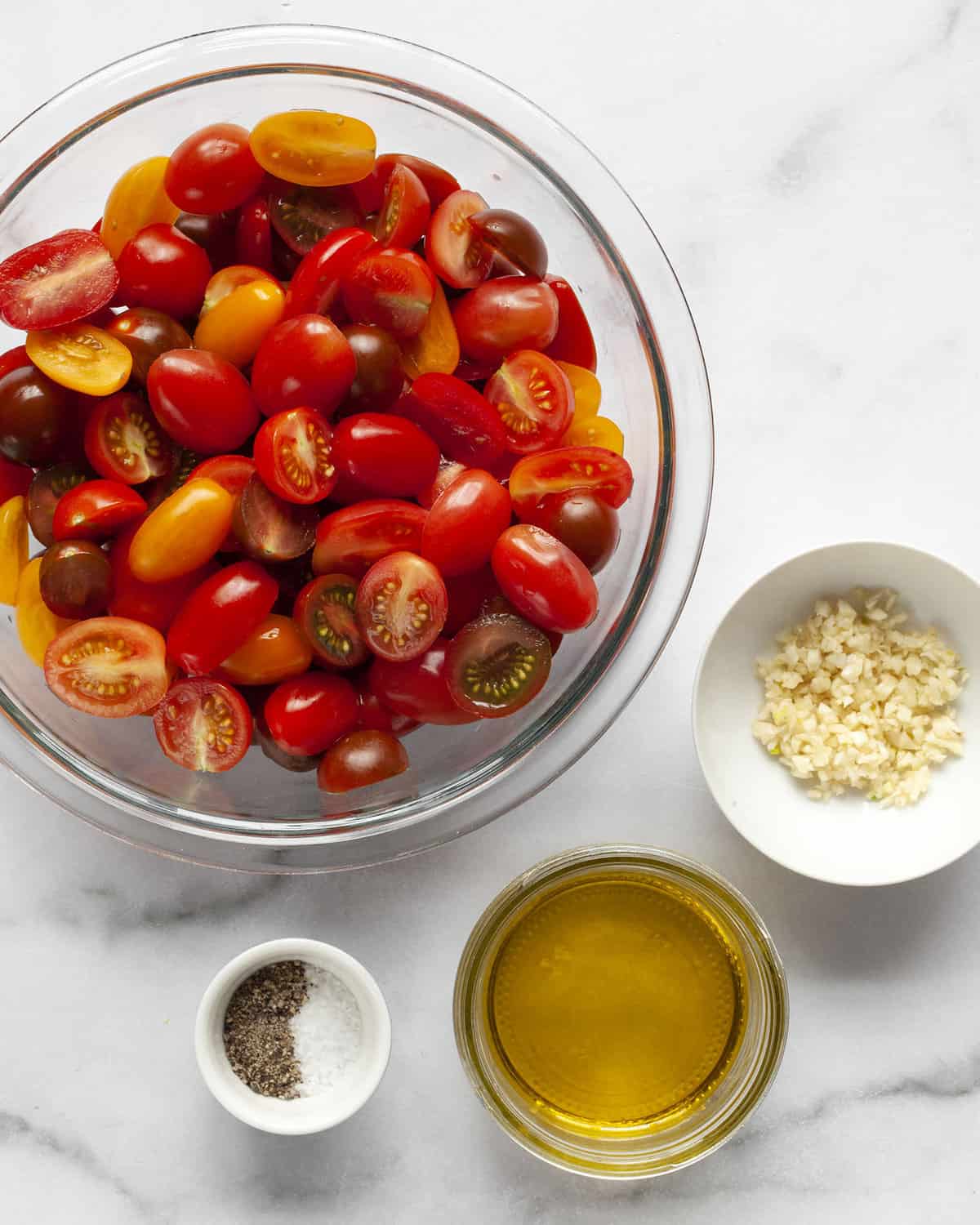 This is what you need:
Cherry tomatoes: The color doesn't matter. They can be all red or a combination of red, orange and yellow. I take a serrated knife to cut them in half. This speeds up the cooking process rather than keeping them whole. By exposing the flesh of the tomatoes, they cook down faster.
Garlic: Four garlic cloves may sound like a lot, but it's not. As the tomatoes simmer, their flavor becomes more concentrated and stronger. That quantity of garlic is necessary for balance. You want to be able to taste some garlic in any tomato sauce.
Olive oil: This recipe has a short ingredient list. For the best taste, use extra virgin olive oil.
Salt & pepper round out the seasonings. I don't think the sauce needs oregano, thyme, red pepper flakes or any other dried spices, but this really comes down to personal preference. Taste the sauce and adjust the seasoning level to your taste.
How To Make Cherry Tomato Sauce
1. Heat the olive oil in a big skillet or sauté pan over medium heat.
2. Add the tomatoes. At first it will seem like a lot in the pan, but that's fine. Part of what helps them cook is that they are crowded next to each other, so the tomatoes end up steaming each other while sautéing.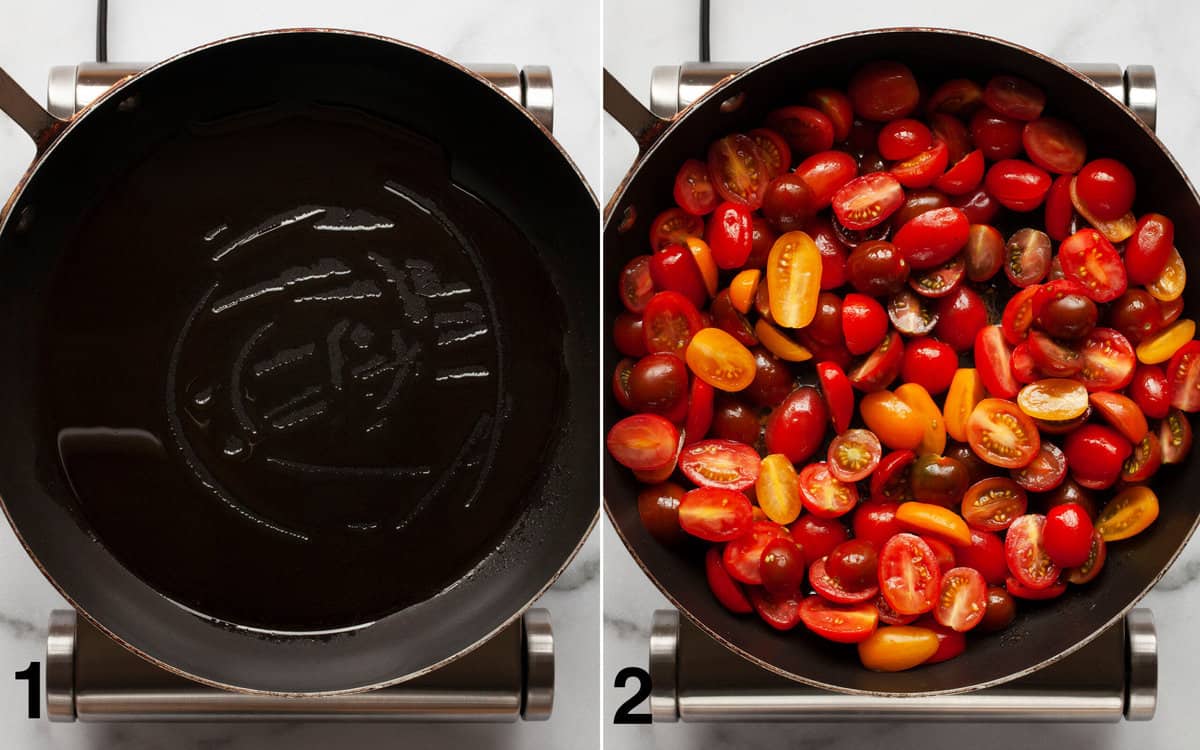 3. Stir in the garlic, salt and pepper. You should wait to do this until you can see a good amount of sauce around the tomatoes. Then there's no risk of the garlic burning.
4. Continue simmering the sauce. Turn the heat up slightly to medium high. The sauce is ready when all the tomatoes have broken down into sauce and it has thickened. To see the full transformation from tomatoes to sauce, watch the recipe video below.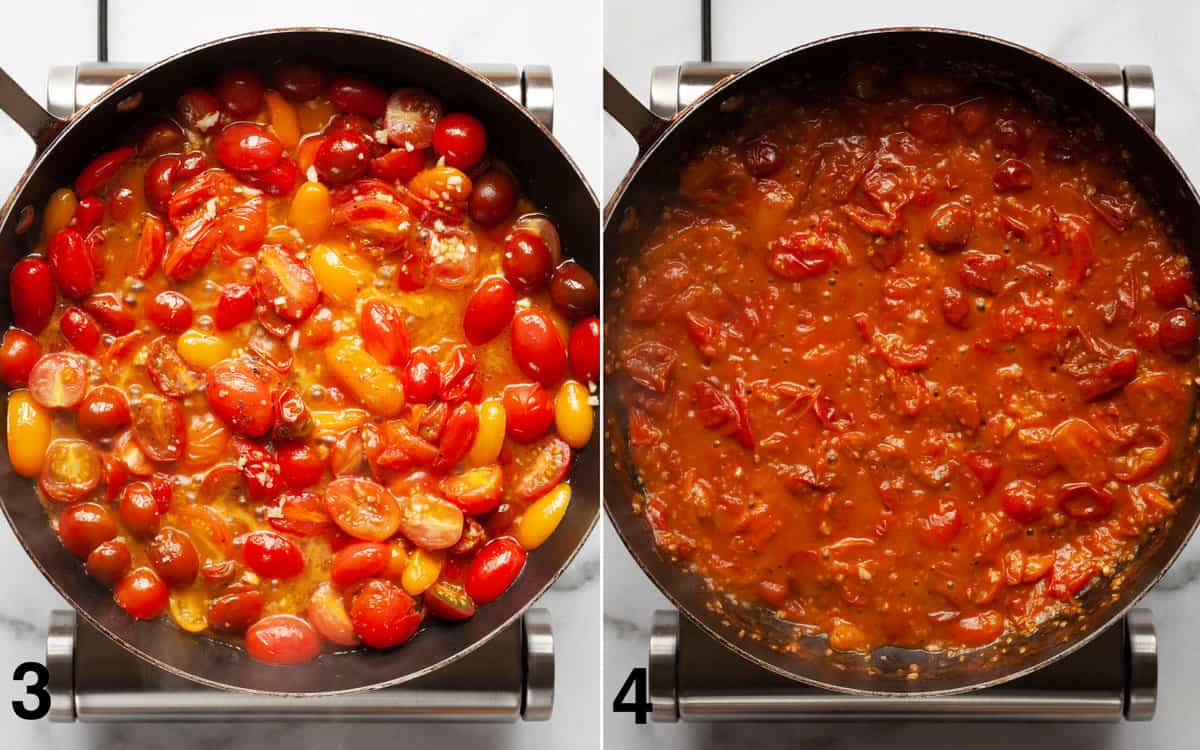 Serving
As mentioned, there are multiple ways you can enjoy this tomato sauce:
Pasta sauce: Spoon it over your favorite pasta shape with a splash of pasta water, and top it with fresh basil leaves and Parmesan cheese.
Sauce for alternative noodles: Whether that's chickpea pasta or zucchini noodles, this tomato sauce is wonderful with pastas made with non-traditional ingredients.
Pizza sauce: Too often not enough attention is given to the sauce on a pizza. With this cherry tomato sauce, you can keep with just the essentials and top your pizza with fresh mozzarella and fresh herbs. It won't need anymore than that.
A spoonable topping or dip for bread: It can be garlic bread or toasted bread. This makes a very tasty appetizer.
A condiment for roasted vegetables: Try the sauce on the side with roasted zucchini, yellow squash or bell peppers.
A topping for eggs. No matter if they are scrambled, fried, baked or prepared another way, tomatoes go with eggs. You can spoon some of the sauce onto your next egg dish.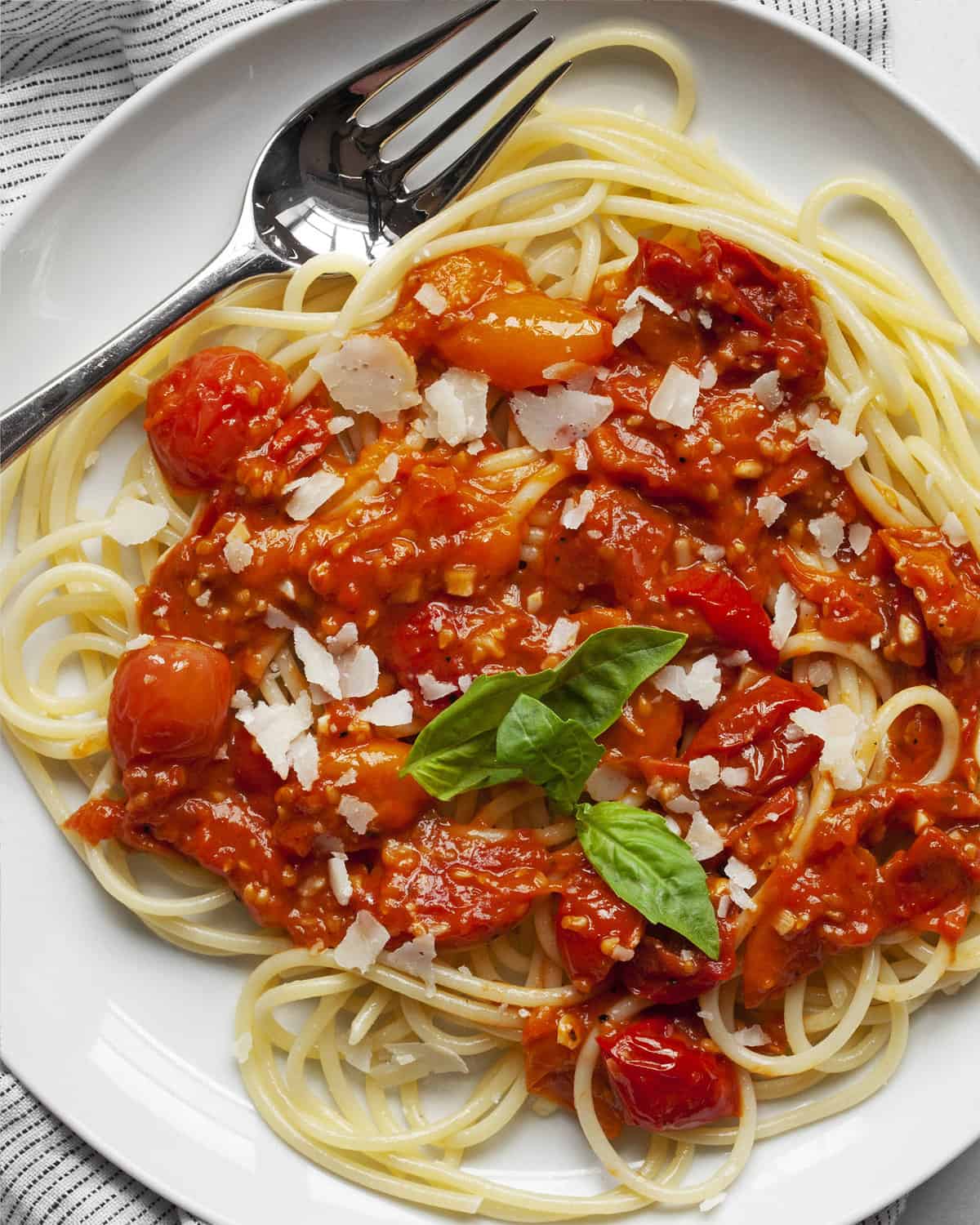 Leftovers & Storage
You can keep the sauce in an airtight container in the refrigerator up to 3 days. To store it longer, you can freeze it up to 1 month. Always let the sauce cool to room temperature before you put it in the fridge or freezer.
I like to portion out the sauce into smaller containers when I freeze it. Then I can thaw a meal-sized amount when I want to eat it. To thaw the sauce, let it sit out a room temperature to melt and soften a little. Then you can warm it on the stove over low to medium heat. Stir it to distribute the heat.
Recipe Tips
Do not substitute with grape tomatoes. Yes, they are both about the same size, but cherry tomatoes are more juicy than grape tomatoes. Also, I find that their skins are slightly more tender, so they break down better into sauce when they simmer.
Be patient and let the tomatoes transform into sauce. The heat in the pan is enough to make the tomatoes turn into sauce. You can encourage the process by gently squashing them with a wooden spoon, but it's not necessary to go in with a potato masher.
Stir the tomatoes frequently as they sauté. There will always be areas in the pan that are hotter than others. This helps the sauce cook more evenly.
If you have a parmesan rind, simmer it in the sauce. I keep a bag of rinds in my fridge. When you add one to a pot of sauce or tomato soup, they add umami flavor.
Recipe FAQs
Can you make tomato sauce without peeling tomatoes?
When you use cherry tomatoes for sauce, the skins are more tender than larger tomatoes, so they break down more easily and add a nice texture. With larger tomatoes such as roma tomatoes, you should peel them first.
Do you need to puree cherry tomato sauce in a blender?
It is up to you. I don't think it needs it. I like that this sauce lightly chunky. If you prefer smooth sauce, then go ahead and blend it.
Did you make this tomato sauce recipe? Please leave a rating and comment below. Thanks!
Cherry Tomato Sauce Recipe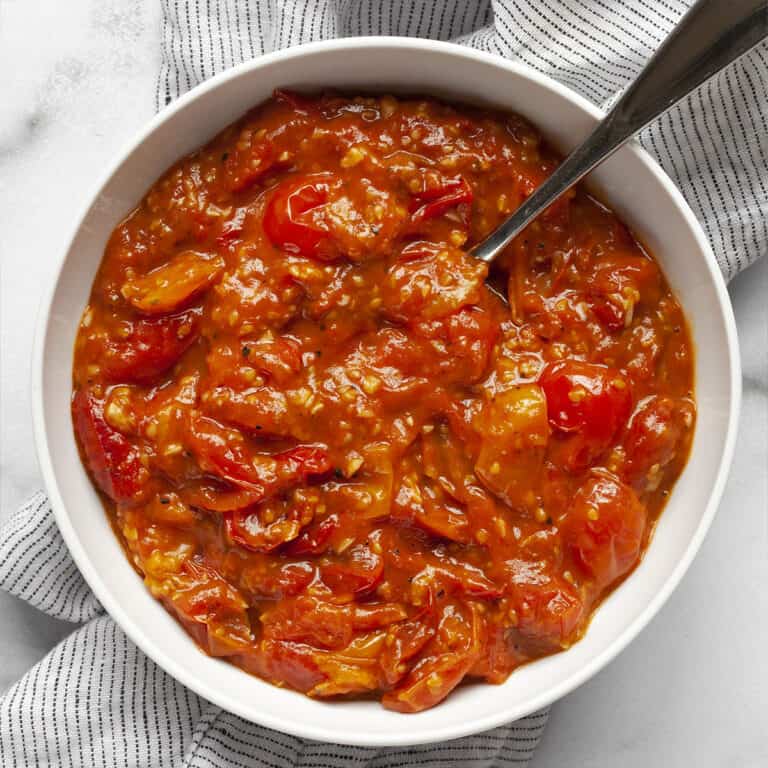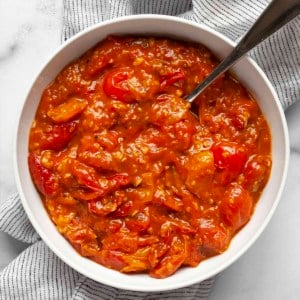 With a couple pints of cherry tomatoes, minced garlic, olive oil, salt and pepper, you can make this easy 5-ingredient cherry tomato sauce.
Ingredients
3

tablespoons

olive oil

2

pints

cherry tomatoes

halved

4

garlic cloves

minced

1

teaspoon

kosher salt

1/2

teaspoon

black pepper
Instructions
Heat the olive oil in a large skillet over medium heat.

Add the tomatoes and stir them into the oil.

Sauté the tomatoes for 5-7 minutes until they start to release their juices and are a little saucy. Then stir in the garlic, salt and pepper.

Increase the heat to medium high. Continue cooking the tomatoes for 15-20 minutes. The will lose their shape and continue to release their juices. While they are simmering, stir them frequently to distribute the heat evenly. You can gently press the tomatoes down with a wooden spoon to help them break down.

Once the sauce has thickened and very few tomatoes are still visible, the sauce is ready.
Notes
Recipe makes about 1-1/2 cups sauce.
Store the sauce in an airtight container in the refrigerator up to 3 days. You can freeze it up to 1 month. Thaw it at room temperature. When it starts to soften, then warm it on the stove over low to medium heat.
You can use the sauce in pasta, on pizza, as an appetizer with toasted bread, as a condiment for roasted vegetables or spooned on eggs.
Nutrition
Calories:
141
kcal
|
Carbohydrates:
11
g
|
Protein:
2
g
|
Fat:
11
g
|
Saturated Fat:
1
g
|
Polyunsaturated Fat:
1
g
|
Monounsaturated Fat:
8
g
|
Sodium:
608
mg
|
Potassium:
531
mg
|
Fiber:
2
g
|
Sugar:
6
g
|
Vitamin A:
1159
IU
|
Vitamin C:
55
mg
|
Calcium:
33
mg
|
Iron:
2
mg
Nutrition information is automatically calculated, so should only be used as an approximation.