Marinated Cherry Tomatoes
on Aug 05, 2021, Updated Jul 08, 2022
From salads to pasta to bruschetta, there are so many things you can do with these simple marinated cherry tomatoes with garlic, fresh herbs and onions.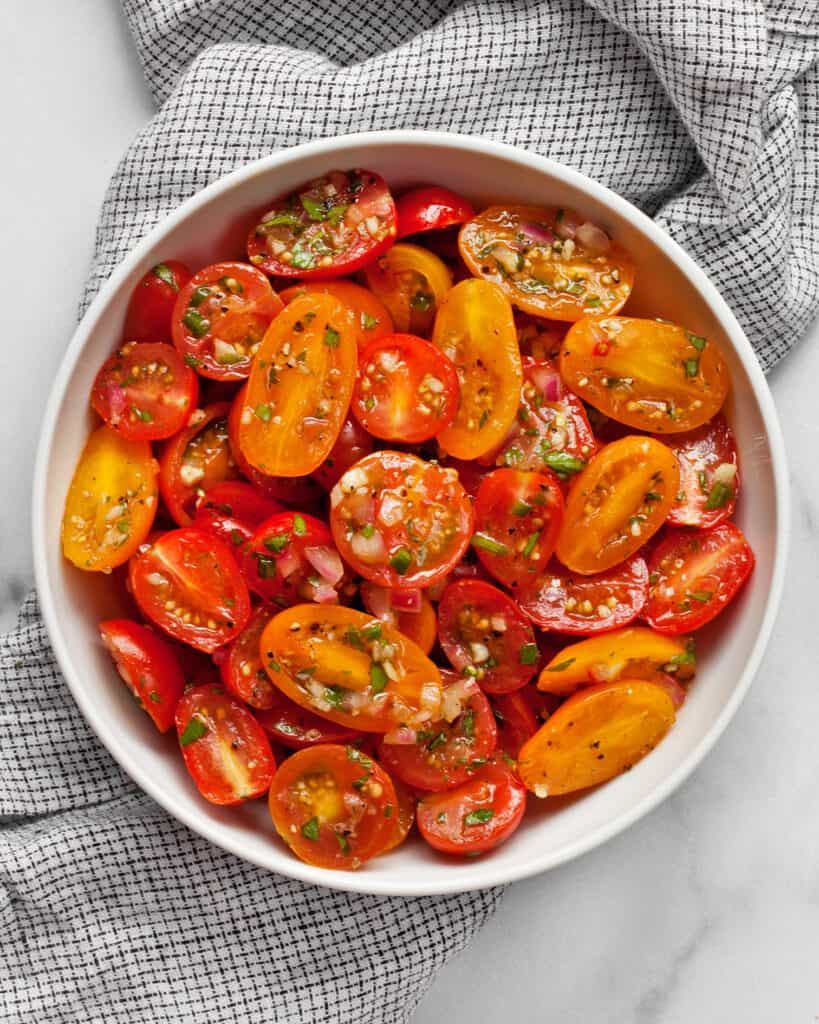 In the last week or so I've really been soaking up summer. That involves spending more time outside picnicking, going on walks in the neighborhood and tending to our garden.
This year we decided to keep things small in our container garden. We have 3 Earthbox self-watering containers. If you've never had a vegetable garden before and feel intimidated, these are the way to go. That's because you can't mess up watering. There's no guessing if you have under or over-watered.
One of our containers is overflowing with flowers and the others have tomatoes. The other day I spotted a few of the cherry tomatoes on a tall plant turning red.
Now I am already thinking ahead to picking tomatoes off the vine and eating them. Maybe in a week or so those first ones will be ready.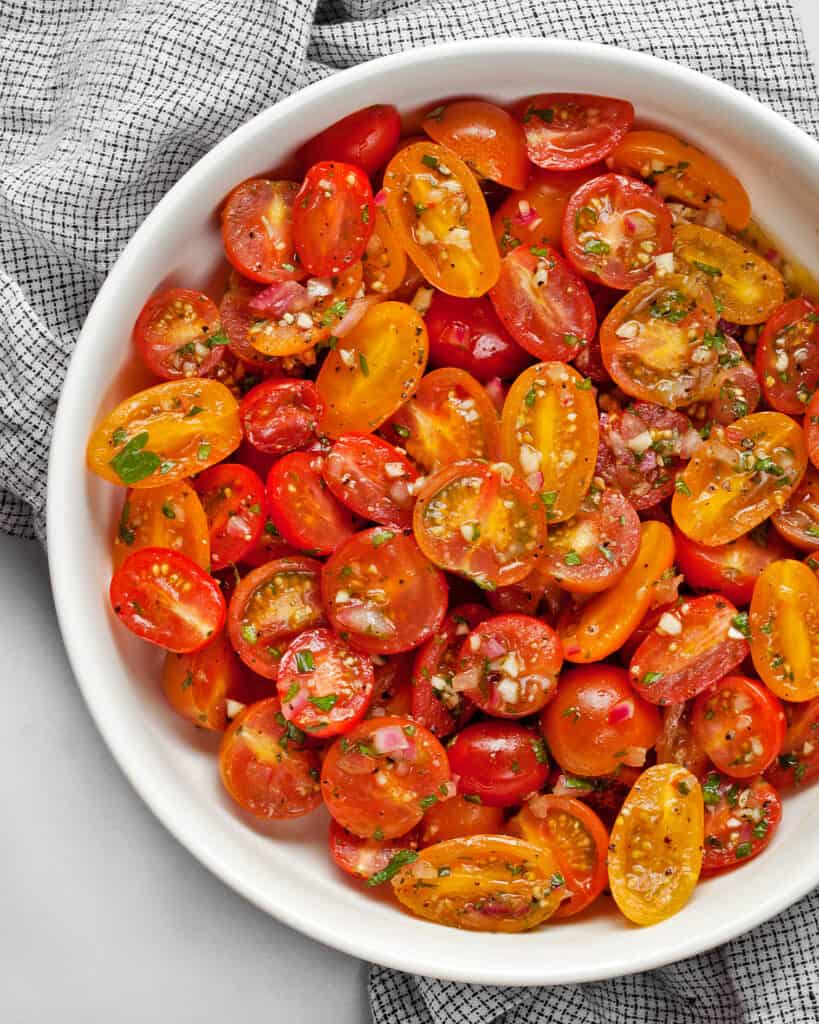 Tomatoes: Roasted vs. Raw
As antsy as I am for all my tomatoes to be ripe, I know I will end up with too many at once. As if that's a problem, right?
I don't always want to slow roast tomatoes or do the quicker version with my 30-minute roasted tomatoes.
Sometimes I go ahead and leave them raw. It is so easy to make marinated tomatoes. It takes minutes to stir everything together.
The tough part is waiting for the flavors to develop. That's the point of marinating anything. You have to be patient, and sometimes that's hard.
Of course I will never stop making roasted cherry tomatoes, even in the heat of summer, because I love eating them every way possible.
The Ingredients
This is what you need for this cherry tomato recipe:
Cherry Tomatoes: Since this recipe is so simple, it's important that you use the best cherry tomatoes you can find. This is the time to head to a farmer's market during peak tomato season.
Garlic: It is amazing how 2 minced garlic cloves add lots of flavor to the marinade.
Onions: Red onions are my first pick, but any color onions will work. Make sure to chop them finely, so you don't bite into a chunk of onion. This dish is all about the tomatoes!
Red wine vinegar: For acid, I whisk in red wine vinegar. If you are looking for a stronger vinegar flavor, reach for balsamic vinegar.
Olive oil: I always use extra virgin olive oil when I am making any vinaigrette.
Chives & parsley: Never one to skip on fresh herbs, I like both chives and parsley for the tomatoes.
Salt & pepper: The final touch to the marinade is seasoning with salt and pepper.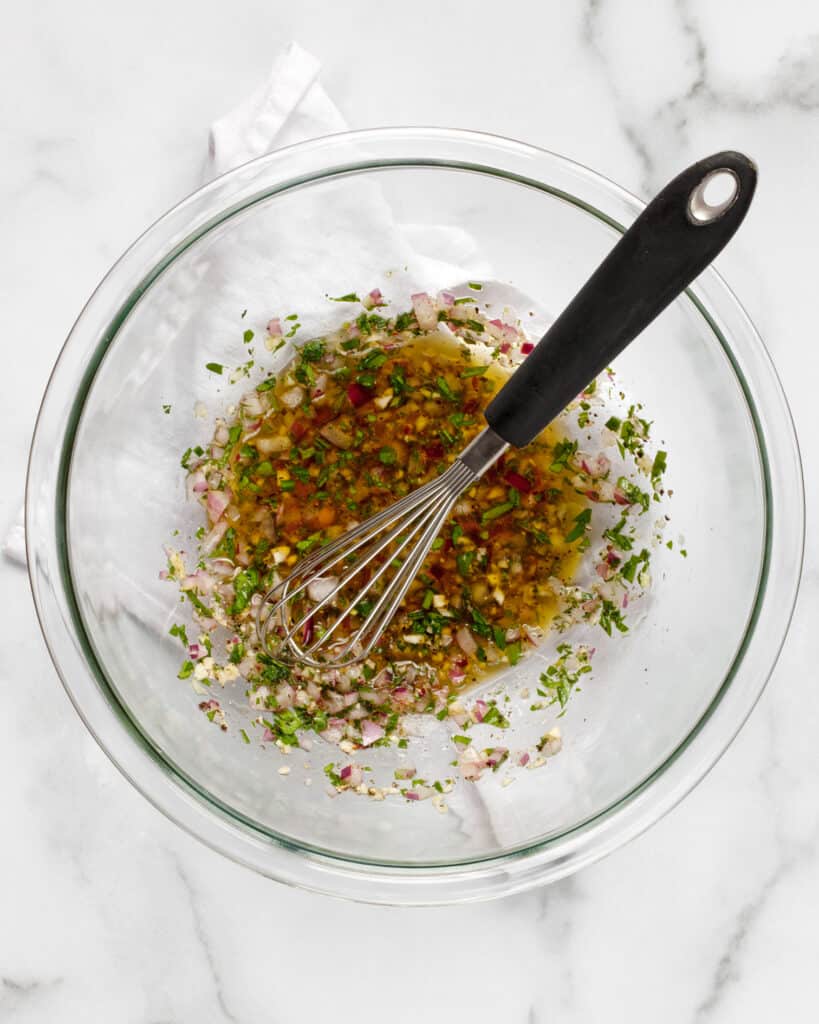 How To Make Marinated Cherry Tomatoes
Marinating tomatoes is not difficult. It will probably take you longer to prep the tomatoes by cutting them in half and chopping the onions and herbs.
For the marinade, I whisk together minced garlic, onions, red wine vinegar, olive oil, chives, parsley, salt and pepper in a large bowl.
Then I add the tomatoes, stirring them around to make sure they are well coated.
I like to give the tomatoes an hour or 2 to marinate. You can do this at room temperature. If you want the tomatoes to marinate longer, put them in the fridge.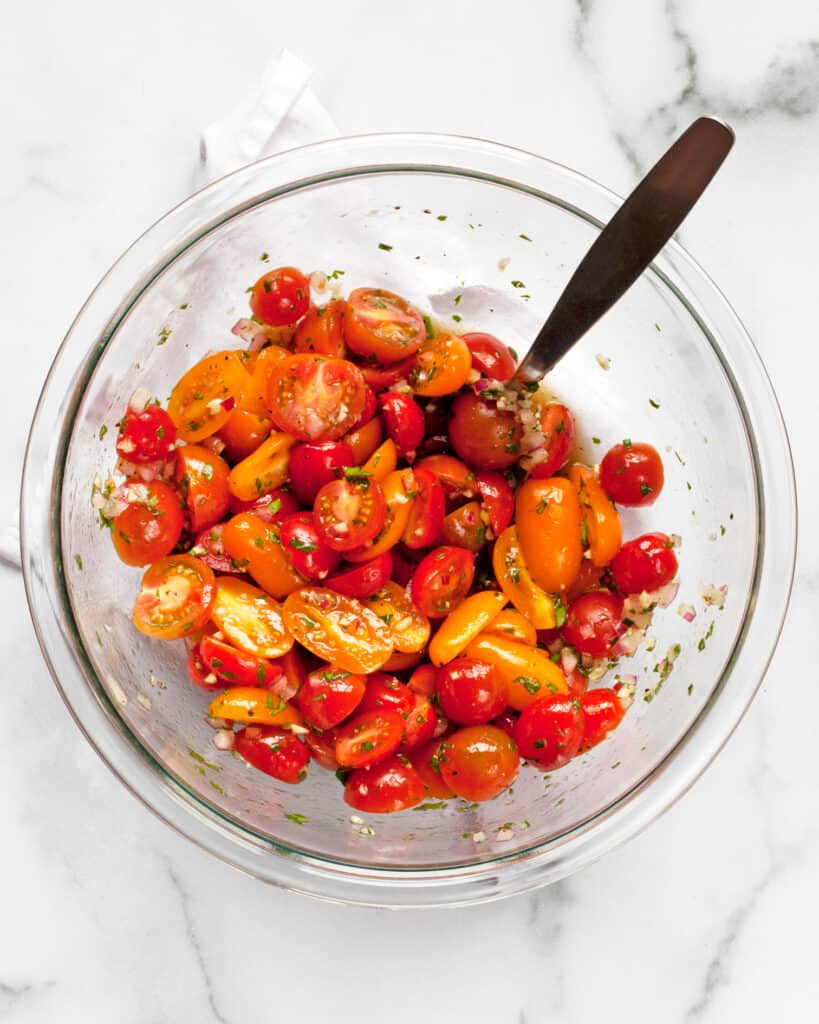 How To Serve Marinated Tomatoes
What's so great about these marinated cherry tomatoes besides how simple they are to make, is that you can serve them in all sorts of different ways. Even with a single batch:
With or without greens, you can eat the tomatoes as a salad. If you want, you can add torn fresh mozzarella or crumbled feta.
Make a pot of pasta, drain it and rinse the noodles in cold water. Then you can stir in the tomatoes and their juices for cherry tomato pasta salad. I like to also add grated Parmesan cheese or pecorino and fresh basil.
Slice a baguette and spoon on the tomatoes for bruschetta. Add a step by toasting the bread in the oven and rubbing it with a garlic clove for cherry tomato crostini.
Top grilled fish or chicken breasts with these fresh tomatoes.
Spoon them on top of avocado toast.
Make a cucumber and cherry tomato salad. You can even add crumbled feta.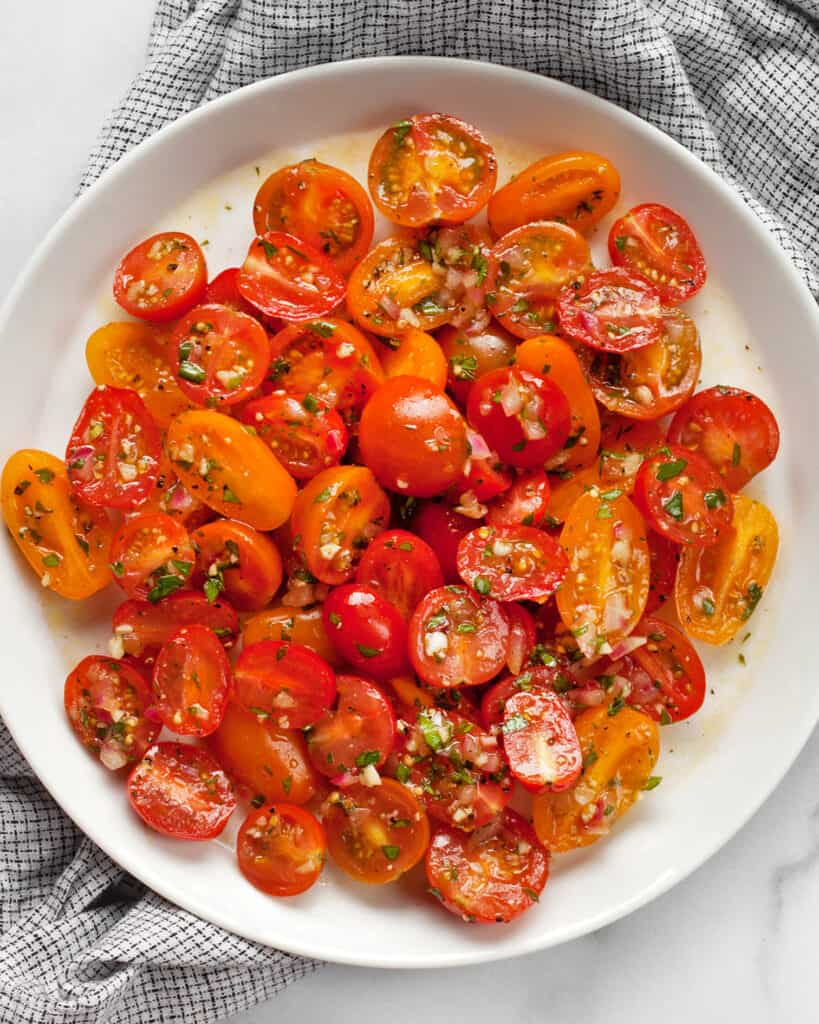 Storage
Store the leftover tomatoes in an airtight container in the refrigerator up to 5 days. I like to let them sit on the counter at room temperature to lose some of that chill from the fridge.
More Fresh Tomato Recipes
Not in the mood to turn on the oven? Try these recipes with raw tomatoes:
Tomato Chili Mozzarella Salad
Fresh Corn Tomato Salad
Green Bean Tomato Olive Salad
Balsamic Tomato Peach Salad
Quinoa Taco Salad
Cornbread Panzanella Salad
Peach Tomato Salad
Caprese Salad
Heirloom Tomato Bruschetta Pasta Salad
Southwestern Pasta Salad
Marinated Cherry Tomatoes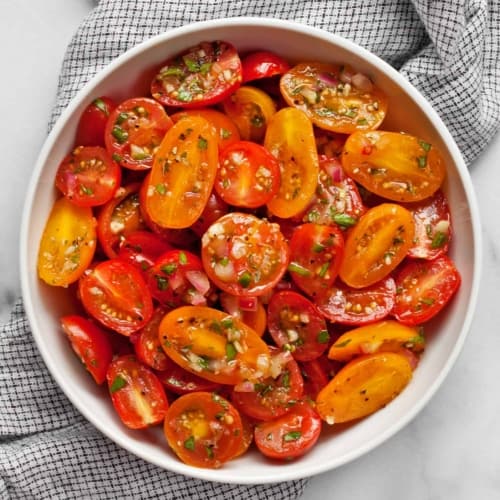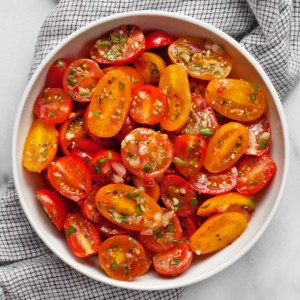 From salads to pasta to bruschetta, there are so many things you can do with these simple marinated cherry tomatoes with garlic, fresh herbs and onions.
Ingredients
2

garlic cloves

minced

1/4

cup

finely chopped onions

2

tablespoons

red wine vinegar

3

tablespoons

olive oil

1

tablespoon

minced chives

1

tablespoon

chopped parsley

1/2

teaspoon

kosher salt

1/2

teaspoon

black pepper

1

pound

cherry tomatoes

halved
Instructions
In a large bowl, whisk together the garlic, onions, vinegar, olive oil, chives, parsley, salt and pepper.

Stir in the tomatoes. Let them marinate for 1-2 hours at room temperature. You can also marinate the tomatoes in the refrigerator for 12-24 hours. Just make sure to let them come to room temperature before serving.
Notes
Serving suggestions
Salad with or without greens
Bruschetta or crostini (spoon the tomatoes on fresh or toasted sliced baguette)
Pasta salad
Grains (stirred into cooked quinoa, farro or barley)
Topping for grilled fish or chicken
Store the tomatoes in an airtight container in the refrigerator up to 5 days.
Nutrition
Calories:
122
kcal
|
Carbohydrates:
6
g
|
Protein:
1
g
|
Fat:
11
g
|
Saturated Fat:
1
g
|
Polyunsaturated Fat:
1
g
|
Monounsaturated Fat:
8
g
|
Sodium:
305
mg
|
Potassium:
282
mg
|
Fiber:
1
g
|
Sugar:
3
g
|
Vitamin A:
673
IU
|
Vitamin C:
29
mg
|
Calcium:
21
mg
|
Iron:
1
mg
Nutrition information is automatically calculated, so should only be used as an approximation.