Marinated Mozzarella Balls
on Aug 16, 2021, Updated May 26, 2023
With a combination of basil, parsley, fresh lemon, a sliced garlic clove and extra virgin olive oil, marinated mozzarella balls make it simple to transform this mild soft cheese as it soaks up those fantastic flavors. You can serve the mozzarella as an easy appetizer recipe with bread or on a charcuterie board or antipasto platter. Or add it to homemade pizzas, salads or pastas.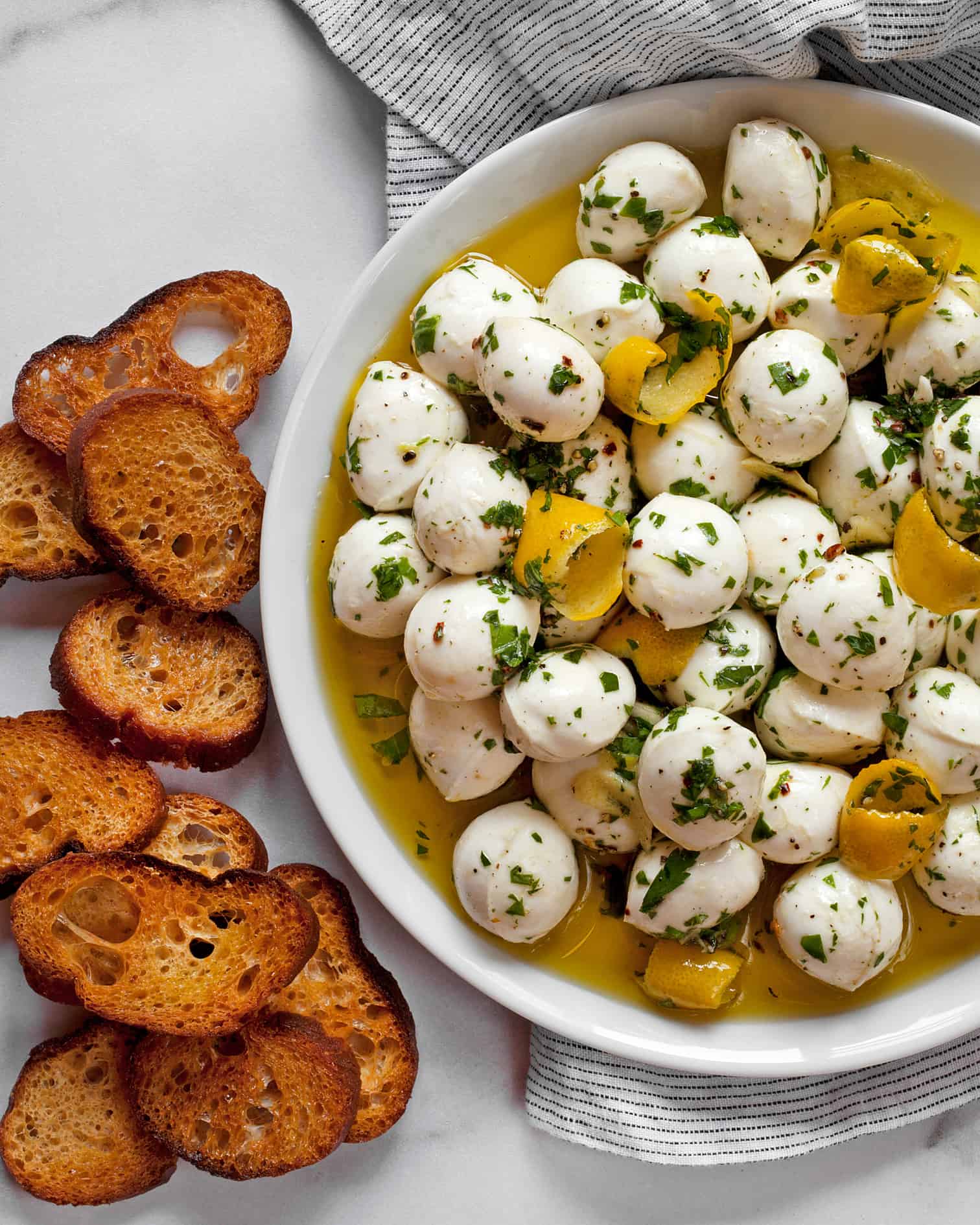 Why You'll Love This Recipe
The prep is quick and easy. You are essentially jazzing up some store-bought ingredients in minutes. The final result is even more satisfying given the minimal effort needed. Marinating fresh mozzarella is one of my favorite no-cook and nearly no-prep recipes.
You can boost the mild flavor of mozzarella. It is the perfect blank canvas for citrus, garlic and fresh herbs. This is why you can use it for an appetizer, pizza, pasta and more.
It is a make-ahead recipe that you can enjoy in multiple ways. There's a reason why I come back to these kinds of recipes. That's because they manage to be a special version of leftovers that taste new and exciting depending how you serve them.
Basic Formula for Marinated Mozzarella
There are different flavor variations you can do when marinating fresh mozzarella, but it's most important to have fresh herbs, fresh garlic and some sort of acid.
That acid can be vinegar like balsamic, white wine vinegar or red wine vinegar. I am a big fan of lemons because citrus will also provide that much-needed sharpness and brightness to this milky and mellow cheese.
The Ingredients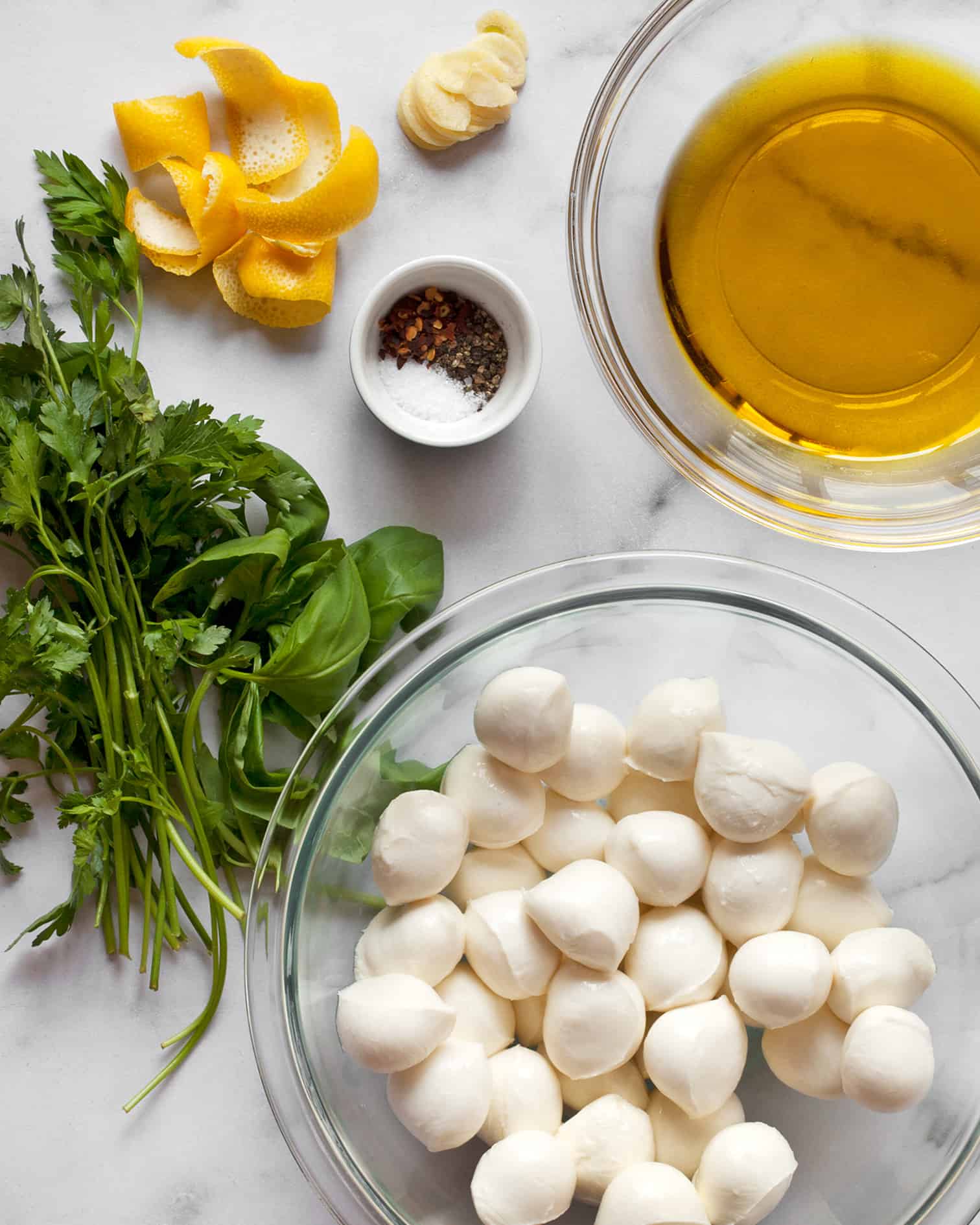 This is what you need:
Fresh mozzarella: You can find multiple sizes of mozzarella at the grocery. Rather than going for big egg-sized ovoline or medium-sized bocconcini, I prefer ciliegine mozzarella, which is the size of a cherry. Then I know each bite of cheese will be able to make direct contact with the marinade.
Garlic: A little goes a long way when you slice a single garlic clove. Given time to soak in the marinade, it adds nice garlic flavor.
Lemon: I take my vegetable peeler and cut strips of the peel off the lemon and then halve it and squeeze out the juice.
Olive oil: Definitely use high quality extra virgin olive oil for the best taste. Once the flavors have had a chance to develop, it's also lovely to take some oil from the marinade along with a little balsamic vinegar to dress a salad.
Parsley & Basil: Chopped fresh parsley and fresh basil give the marinade something herby that works with the lemon and garlic. You can experiment with the herb mix. Fresh thyme and oregano are also good additions.
Red pepper flakes: The heat is very subtle when you add just a quarter teaspoon of red pepper flakes, but don't skip this ingredient.
Salt & pepper: To round out the marinade, I include salt and pepper.
How To Make Marinated Mozzarella Balls
Before you get started with the marinade, it's important to prep the mozzarella. All you have to do is drain the balls from the liquid in the container and pat them with a towel.
Make the marinade. In a bowl that will be big enough for the cheese balls, whisk together the olive oil, lemon peel, lemon juice, garlic, parsley, basil, red pepper flakes, salt and pepper.
Stir the mozzarella into the marinade. Make sure that it is very well coated in the olive oil mixture. Then let it marinate.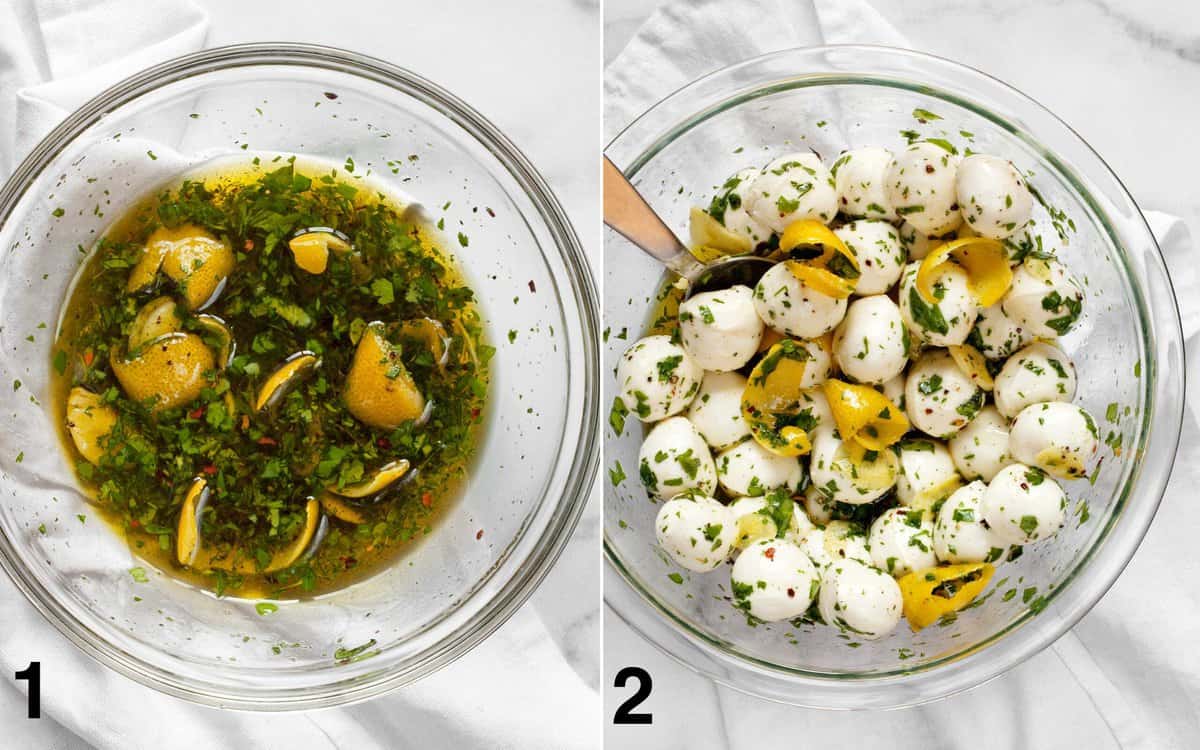 How Long Do You Marinate Fresh Mozzarella?
Putting together the recipe is the quick part. Then comes the wait. It's best to marinate the mozzarella for at least 45 minutes to 1 hour at room temperature.
Storage Instructions
If you are planning to marinate it longer, put the cheese in an airtight container such as a jar. You can use more than one if necessary. Also, depending on the shape and size of the container, you may need to pour in additional olive oil, so the balls are mostly submerged.
Once you are ready to serve them, let the mozzarella balls sit at room temperature, so the olive oil becomes liquid again if it has hardened in the chill of the refrigerator. You can keep the mozzarella in the fridge up to 7 days.
How To Serve Mozzarella Balls
They can be an appetizer and more. This is why I love marinating fresh mozzarella so much. If you want to treat it like a starter, serve it with crusty bread. You can spoon the balls from the dish or use toothpicks to treat them more like bites. Then you can dip the bread into the oil as you enjoy it with the cheese.
Another option is to use the mozzarella in a salad. Pairing it with slow-roasted tomatoes and greens is always good. You can add avocado too. Try them in an Italian Chopped Salad.
This mozzarella can also be used for a pizza topping or added to pasta. Lemon, garlic, herbs and cheese work really well with either dish.
FAQs
What are fresh mozzarella balls called?
The name depends on their size. Ovoline are egg-sized. Bocconcini are bite-sized. Ciliegine are the size of cherries, and perlini are mozzarella pearls.
How long can you store marinated mozzarella?
You can keep marinated mozzarella balls in an airtight container in the refrigerator up to 7 days.
What is the difference between fresh mozzarella and burrata?
Fresh mozzarella has the same consistency from the outside all they way through the center of the ball. Burrata is basically a mozzarella pouch with cream in the middle.
Marinated Mozzarella Balls Recipe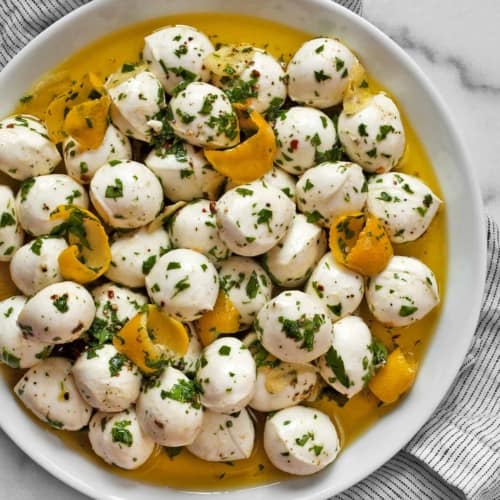 Soaked in olive oil and a mix of garlic, lemon and herbs, marinated mozzarella balls are a great appetizer served with toasted bread. Or try them on pizzas and in salads or pastas.
Ingredients
8

ounces

fresh mozzarella balls, ciliegine size

1/2

cup

olive oil

1

lemon

peel and juice

1

garlic clove

thinly sliced

2-3

tablespoons

chopped parsley and basil

1/4

teaspoon

red pepper flakes

1/2

teaspoon

kosher salt

1/2

teaspoon

black pepper
Instructions
Drain the mozzarella and pat off the excess moisture with a towel.

In a large bowl, stir together the olive oil, lemon peel and juice, garlic, parsley, basil, red pepper flakes, salt and pepper. Add the mozzarella and spoon the marinade over the cheese.

Marinate the mozzarella for at least 45 minutes to 1 hour at room temperature before serving.
Notes
For the lemon, use a vegetable peeler to slice off the peel in sections. Then cut the lemon in half and squeeze out the juice.
Store in an airtight container in the refrigerator up to 7 days. Depending on the size of the container, you may need to pour in some additional olive oil to make sure the balls are mostly submerged in the oil. Bring to room temperature before serving.
Serve the mozzarella with toasted bread as an appetizer. You also can use the marinated mozzarella in salads, on pizzas or in pastas.
Nutrition
Calories:
170
kcal
|
Carbohydrates:
2
g
|
Protein:
1
g
|
Fat:
18
g
|
Saturated Fat:
3
g
|
Polyunsaturated Fat:
2
g
|
Monounsaturated Fat:
13
g
|
Cholesterol:
1
mg
|
Sodium:
205
mg
|
Potassium:
39
mg
|
Fiber:
1
g
|
Sugar:
0.5
g
|
Vitamin A:
151
IU
|
Vitamin C:
11
mg
|
Calcium:
15
mg
|
Iron:
0.3
mg
Nutrition information is automatically calculated, so should only be used as an approximation.