Soaked in olive oil and a mix of fresh herbs including basil & rosemary, marinated mozzarella balls are great in tomato salads or as the feature element in a charcuterie spread.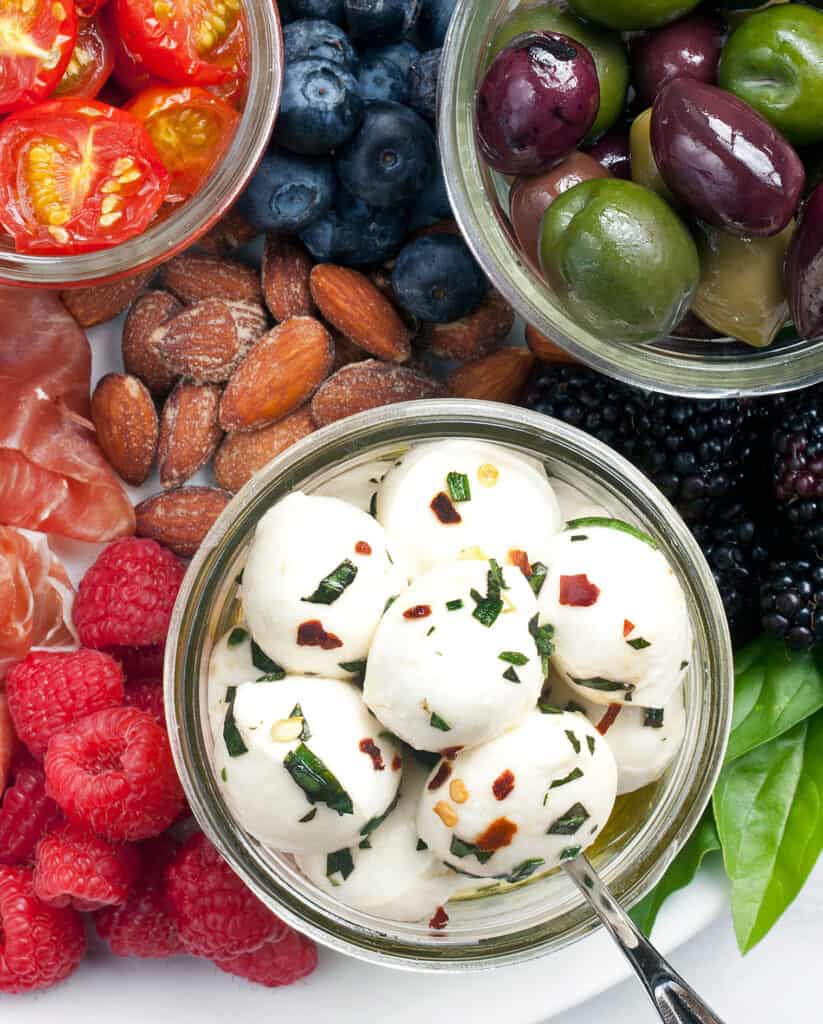 The tomato plants in our container garden are a 4-foot-tall tangled mess.
The cages didn't do much to tame those tentacles.
Instead they have become a wild hedge in dire need of a trim.
Actually, it's pretty impressive especially because I am a novice gardener.
The right amount of sunshine from Mother Nature and watering from my husband and me has worked some green thumb magic.
And I couldn't be happier with how unruly they look because the more branches, the more tomatoes.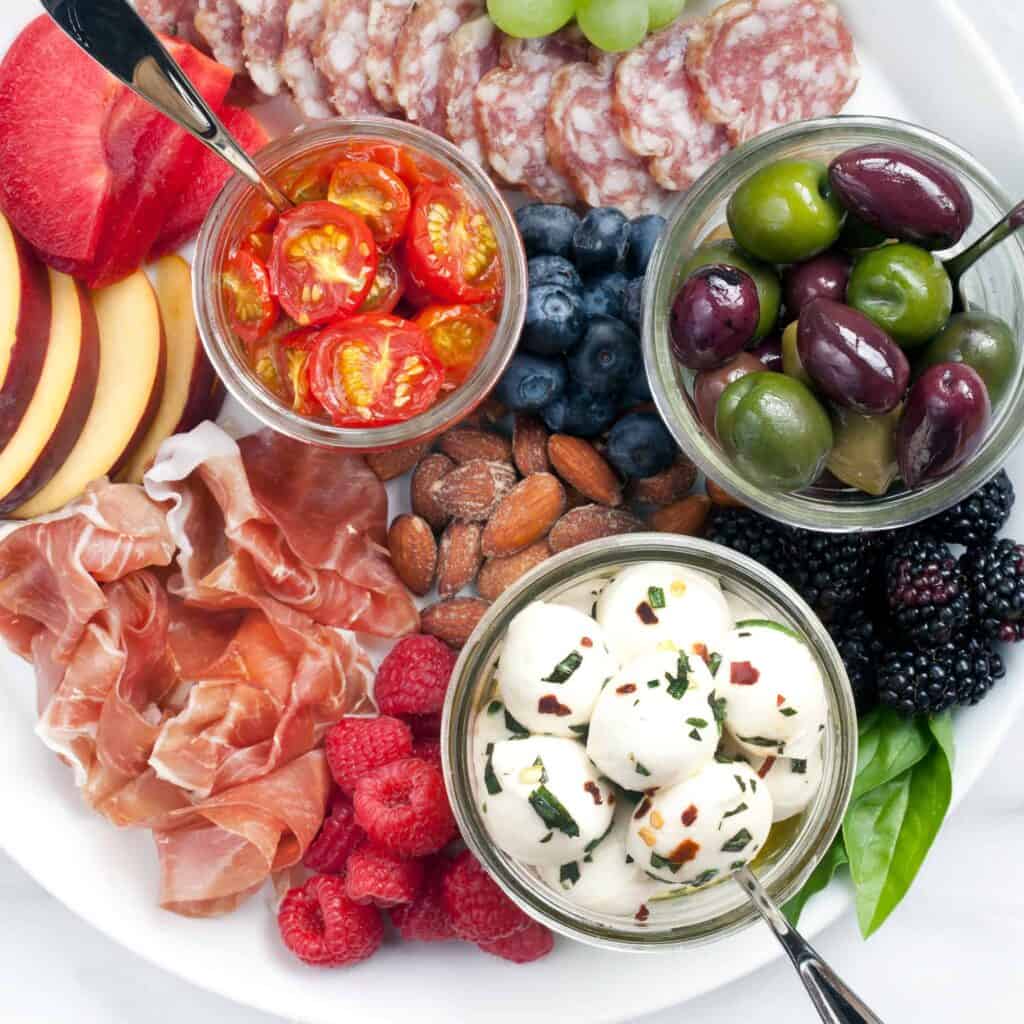 Just a week ago we started picking the red ripe ones. They're so sweet that I've been eating them like candy.
One of summer's great joys is eating a cherry tomato straight off the vine.
Growing next to those tomatoes are a couple basil plants that are also thriving in the sun.
Of course that means we've had Caprese salads repeat!

Sometimes I like to dress up tomato salads or cheese plates with marinated mozzarella and take advantage of fresh herbs and dried spices.
How To Make Marinated Mozzarella
The active time for this recipe is minimal. You just need to be patient to give the cheese time to take in all the fragrant ingredients.
First, I place fresh mozzarella balls in a small bowl. I like to use ciliegine or bocconcini because they are bite-sized.
Then I add fresh chopped herbs, usually a combination of basil, chives, rosemary and oregano.
Also in the bowl goes a peeled and smashed garlic clove, red pepper flakes, salt and whole black peppercorns.
I pour in olive oil, cover the bowl and let it sit in the mixture overnight.
These marinated mozzarella balls end up with a lot of flavor and are a perfect match for my homegrown cherry tomatoes.
They even can be the star of a summer charcuterie plate complete with berries and stone fruit.
SaveSave
Print
Marinated Mozzarella
Author:
Prep Time:

5 minutes

Cook Time:

Marinate overnight

Total Time:

5 minutes + marinating overnight

Yield:

8 ounces

1

x
Scale
Ingredients
8 ounces mozzarella (ciliegine or bocconcini), drained
2–3 tablespoons chopped fresh herbs (basil, chives, rosemary, oregano)
1 garlic clove, peeled and smashed
1/2 teaspoon black peppercorns
1/4 teaspoon kosher salt
1/2 teaspoon red pepper flakes
Instructions
In a small bowl, combine the mozzarella, herbs, garlic, peppercorns, salt and red pepper flakes. Pour in the olive oil and gently stir the mixture. Transfer to an airtight container and marinate in the refrigerator overnight. Let the mozzarella come to room temperature before serving.
SHARE THIS