Haircuts and pizza are two things that don't sound like they go together.
Weirdly enough, they've become a ritual in our family. Let me explain.
My son and I get haircuts together. With school and work, we end up at the salon for early evening joint appointments.
My husband will meet us. Then we all go out for pizza.
This pairing seems so normal to our 4-year-old that when his uncle mentioned that he was getting a haircut, our little guy asked if he was going to eat pizza afterward. It was a serious question as if this is something everyone does.
We've officially made it a thing. Even though we eat pizza all the time, there is something more special when it's after a trip to the salon.

Having a small child means, pizza is often one of our most frequent dinner options.
While I do love pizza, I don't always want to eat it especially when I'm craving something fresh with veggies.
Fortunately, I have found that restaurants that specialize in pizza often have great salads from chopped to spinach and everything in between.
Our regular pizza place has a Southwest salad with jicama. I am obsessed with it's crunchy, juicy bite.
Jicama is a forgotten root veggie for me that I wish I remembered to eat more often.
It's even good just with lemon or lime juice and a sprinkle of chili powder, salt and pepper.

How To Make A Jicama Black Bean Salad
Inspired by that salad, I made a jicama black bean salad in my own kitchen.
It had grilled corn, tomatoes, scallions and cilantro. The salad was satisfyingly crunchy.
I tossed the ingredients in a cumin-spiked lime vinaigrette. My jicama black bean salad was fresh and filling.
It's on my regular rotation. Sometimes I will combine it with lots of chopped Romaine if I am in the mood for greens.
Print
Jicama Black Bean Salad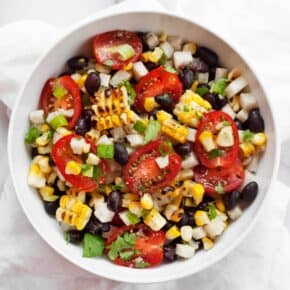 Author:
Prep Time:

15 minutes

Cook Time:

5-7 minutes

Total Time:

20-22 minutes

Yield: Serves

4

1

x
Scale
Ingredients
For salad
2 ears of corn, shucked
1 teaspoon olive oil
Pinch of kosher salt
Pinch of black pepper
1 cup diced peeled jicama
1–15 ounce can black beans, rinsed and drained
1 cup halved cherry tomatoes
1 scallions, thinly sliced
For vinaigrette
Juice of 1 lime
1 tablespoon finely chopped cilantro plus more for serving
1 garlic clove, minced
1 teaspoon cumin
1/2 teaspoon kosher salt
1/4 teaspoon black pepper
1/4 cup olive oil
Instructions
Preheat a gas or charcoal grill on high heat.
Rub the corn with 1 teaspoon olive oil and pinches of salt and pepper. Grill until lightly charred, about 5-7 minutes. Let the corn cool slightly before slicing the kernels off the cob. In a large bowl, combine the corn, jicama, black beans, tomatoes and scallions.
For the vinaigrette, whisk together the lime juice, cilantro, garlic, cumin, salt, pepper and olive oil until fully combined. Stir into the salad. Top with additional cilantro before serving.
SHARE THIS