Spreading ramp pesto turns toast into the ultimate ramp garlic bread. The broiler works its magic turning the bread golden brown and melting the fresh mozzarella.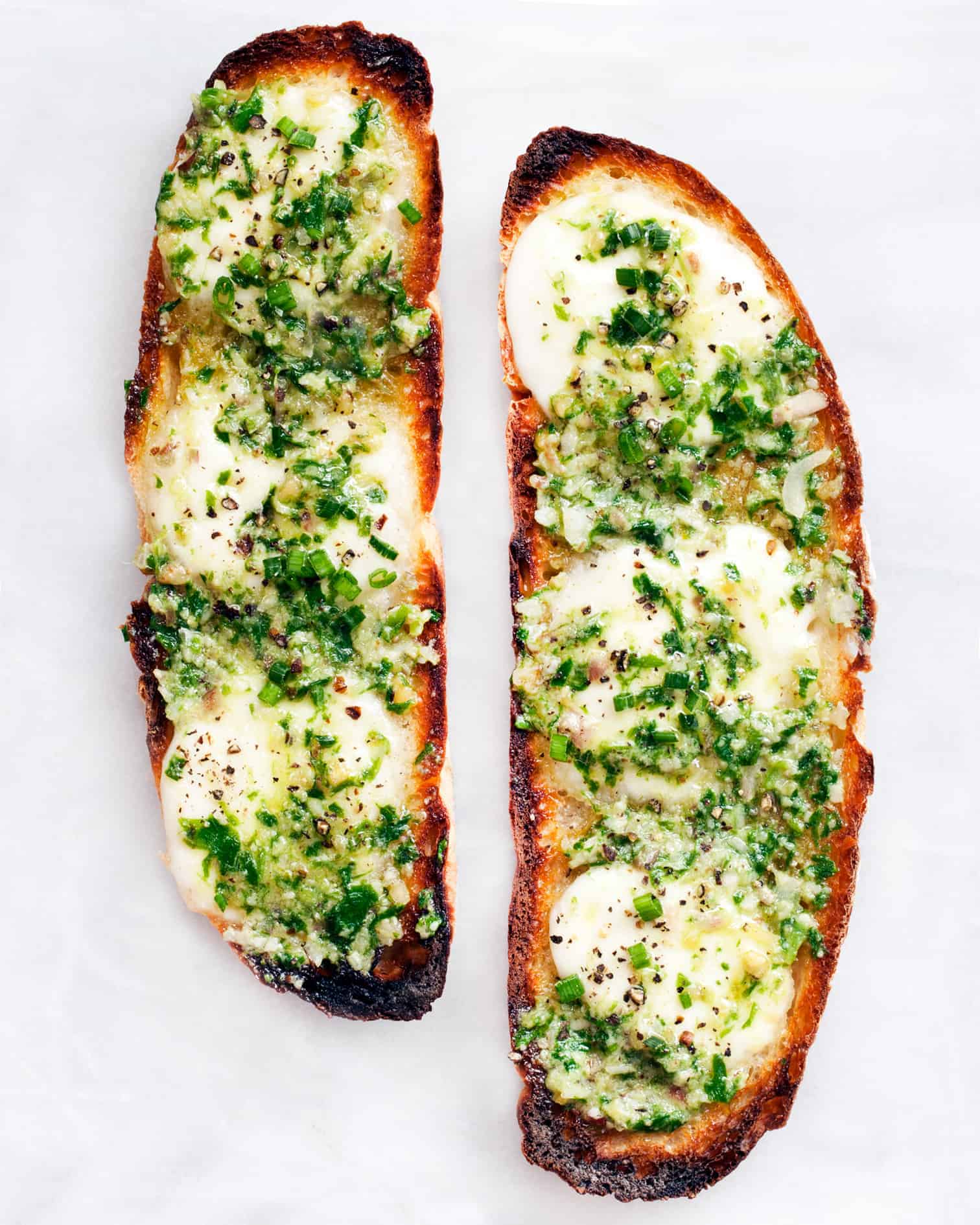 Every spring I experience the same single sleepless night.
I am always on the go so much that I don't have trouble falling asleep. It only takes a few minutes with my head on the pillow for me to go from awake to totally out.
When Friday comes around, I'm extra exhausted from the week, but this past Friday night, I could barely sleep.
It wasn't because I wasn't tired. I was totally pooped.
Friday was that special spring night when I just can't sleep.
The start of outdoor farmers market season on that first Saturday morning gets me so excited that I am wired.
And when I'm on like that, it's hard for me to switch my mind off.
The selection at the early markets isn't great, but there are certain veggies, like ramps, that only last for a couple weeks.
And sometimes they sell out at the stalls, so you have to do your shopping early. I operate with a controlled sense of urgency.
Being a morning person and a market super-fan makes it pretty easy for me to get there first thing.
I left the market with a bunch of ramps assuming I would whip up a jar of pesto.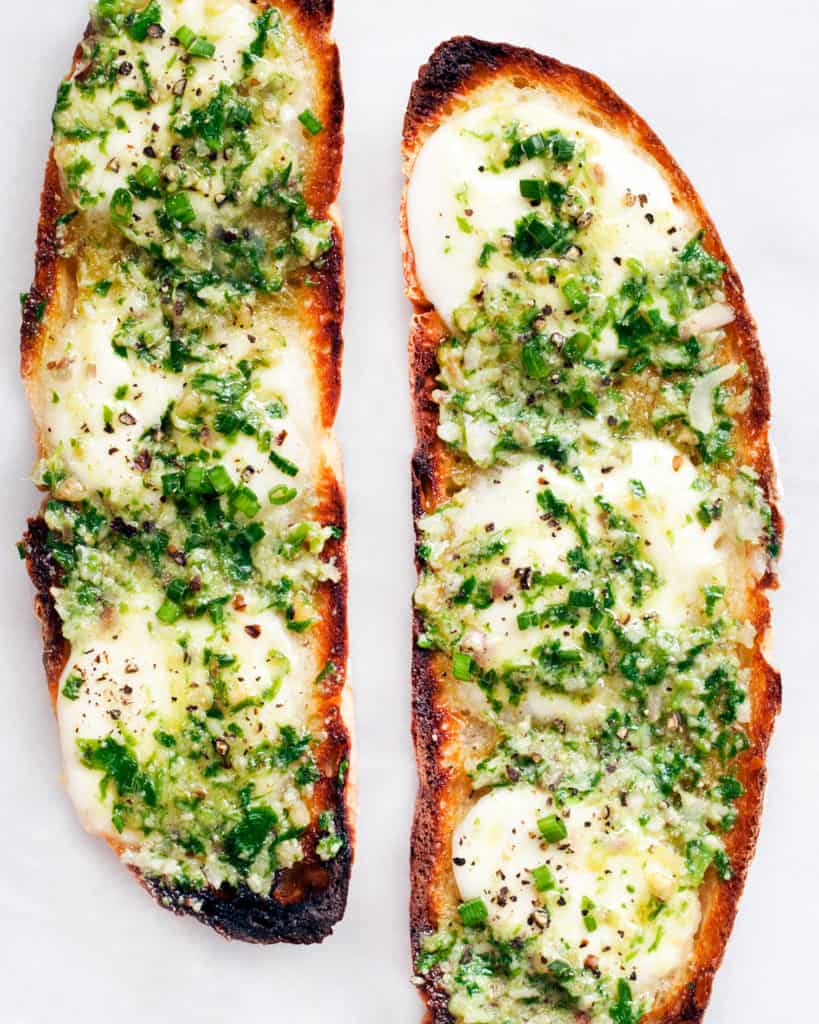 How To Make Ramp Garlic Bread
Things ended up taking a turn, in a such good way!

I preheated the boiler, drizzled crusty bread with olive oil and layered on thinly sliced fresh mozzarella.
Underneath the heat, those slices went until they got crispy at the edges and the cheese bubbled and melted.
The broiler is very hot, so you really have to watch it to make sure whatever you're cooking doesn't burn.
Once my mozzarella toasts were out of the oven, I spread on the pesto for the ultimate ramp garlic bread.
Sometimes plain old garlic bread can be too buttery or oily. By adding the ramp spread, this garlic bread had a lot more going on.
It was oniony and plenty garlicky!
SaveSave
Print
Ramp Garlic Bread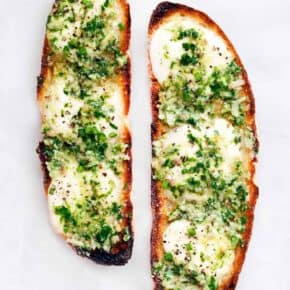 Author:
Prep Time:

10 minutes

Cook Time:

3-4 minutes

Total Time:

13-14 minutes

Yield: Serves

8

–

10

1

x
Scale
Ingredients
1 bunch of ramps (about 7), trimmed, whites and leaves separated
1/4 cup walnuts
1/2 ounce grated Parmesan plus more for garnish
1 tablespoon fresh lemon juice
1/4 teaspoon salt plus more for seasoning
1/4 teaspoon black pepper plus more for seasoning
1/3 cup olive oil plus more for drizzling
1 round loaf crusty bread, sliced
1/2 pound fresh mozzarella, thinly sliced
2 tablespoons chives
Instructions
Bring a small saucepan of salted water to a boil. Blanch the ramp leaves for 30 seconds. Shock in a small bowl of ice water to stop cooking.
Roughly chop the white parts of the ramps. Pulse in a food processor until minced. Add the ramp leaves, walnuts, Parmesan, lemon juice, salt and pepper. Puree the mixture and while the motor is running, drizzle the olive oil through the feeder tube until the pesto is fully combined.
Adjust a rack in the oven about 4 inches from the broiler and preheat on high. Arrange the bread on a sheet pan and drizzle with olive oil. Top each with a few slices of mozarella. Broil for 3-4 minutes until the mozzarella has melted and the bread is golden on the edges.
Spread the pesto on the bread and season with salt and pepper before serving immediately.
SHARE THIS