Homemade Onion Jam
on Mar 02, 2023, Updated Jun 23, 2023
Jams shouldn't be limited to sweet fruit. You can make savory ones like this homemade onion jam that has just 7 ingredients. Giving chopped onions time to soften, brown and caramelize with red wine vinegar and fresh rosemary on the stove transforms them into a condiment, topping and so much more.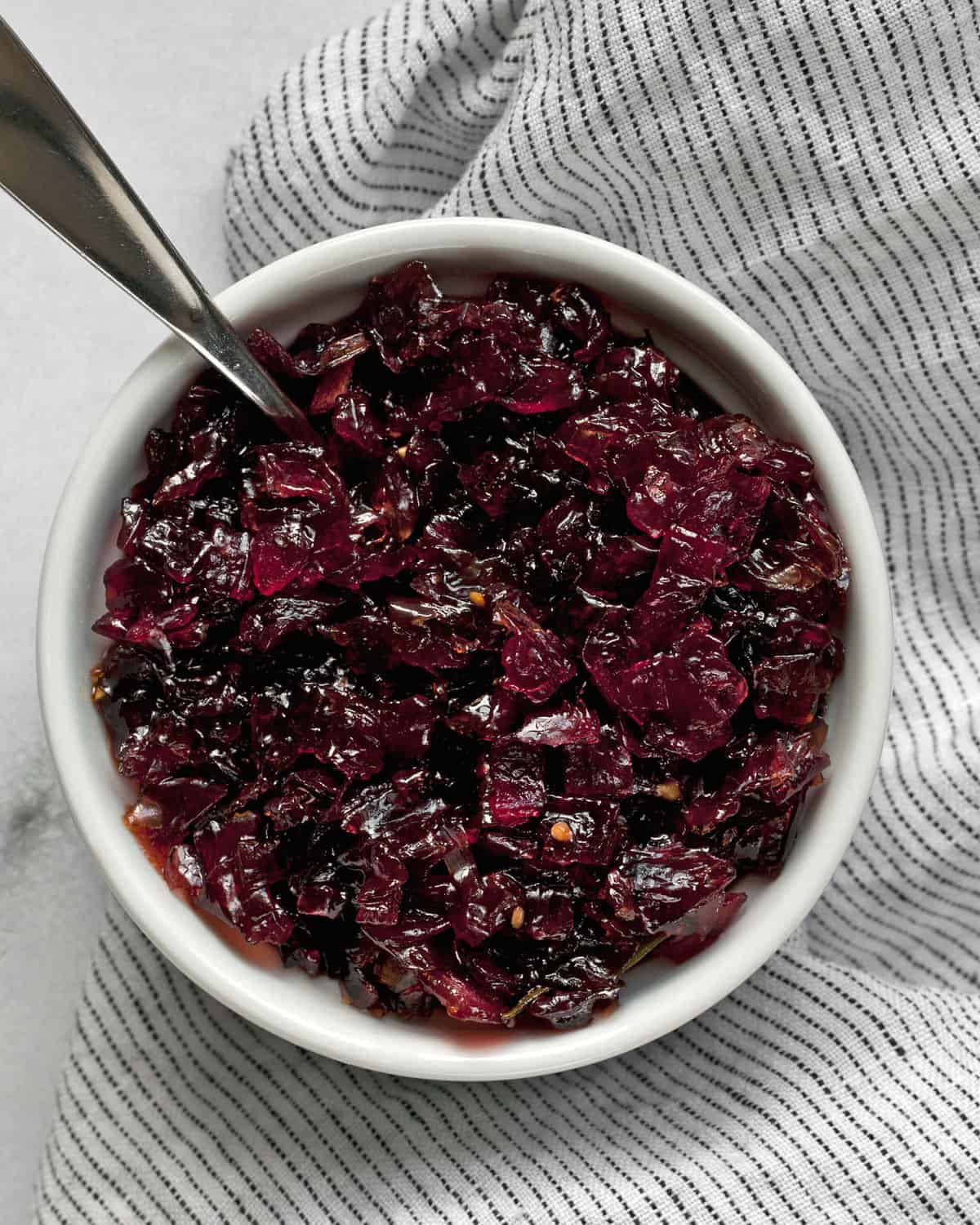 Why You'll Love This Recipe
Homemade jam is easy. Don't feel like you always have to buy jam at the grocery or the farmer's market. It's very simple to make your own with less than 10 ingredients. And you can customize it too.
Onion jam is freezer-friendly. You shouldn't feel like just because you made a batch jam you actually have to can it. Since this recipe yields about 1-1/2 cups of jam, I usually keep it in the fridge and put some of it in the freezer to save it a bit longer.
The secret to really tasty home cooking is all in the details. It's the little things like condiments, dressings and toppings. Those thoughtful small additions served on the side enhance even the simplest dish. That's why I like to keep from-scratch versions of basil pesto, tomato sauce and jams in my fridge or stashed in my freezer at all times. They are great flavor boosters.
The Ingredients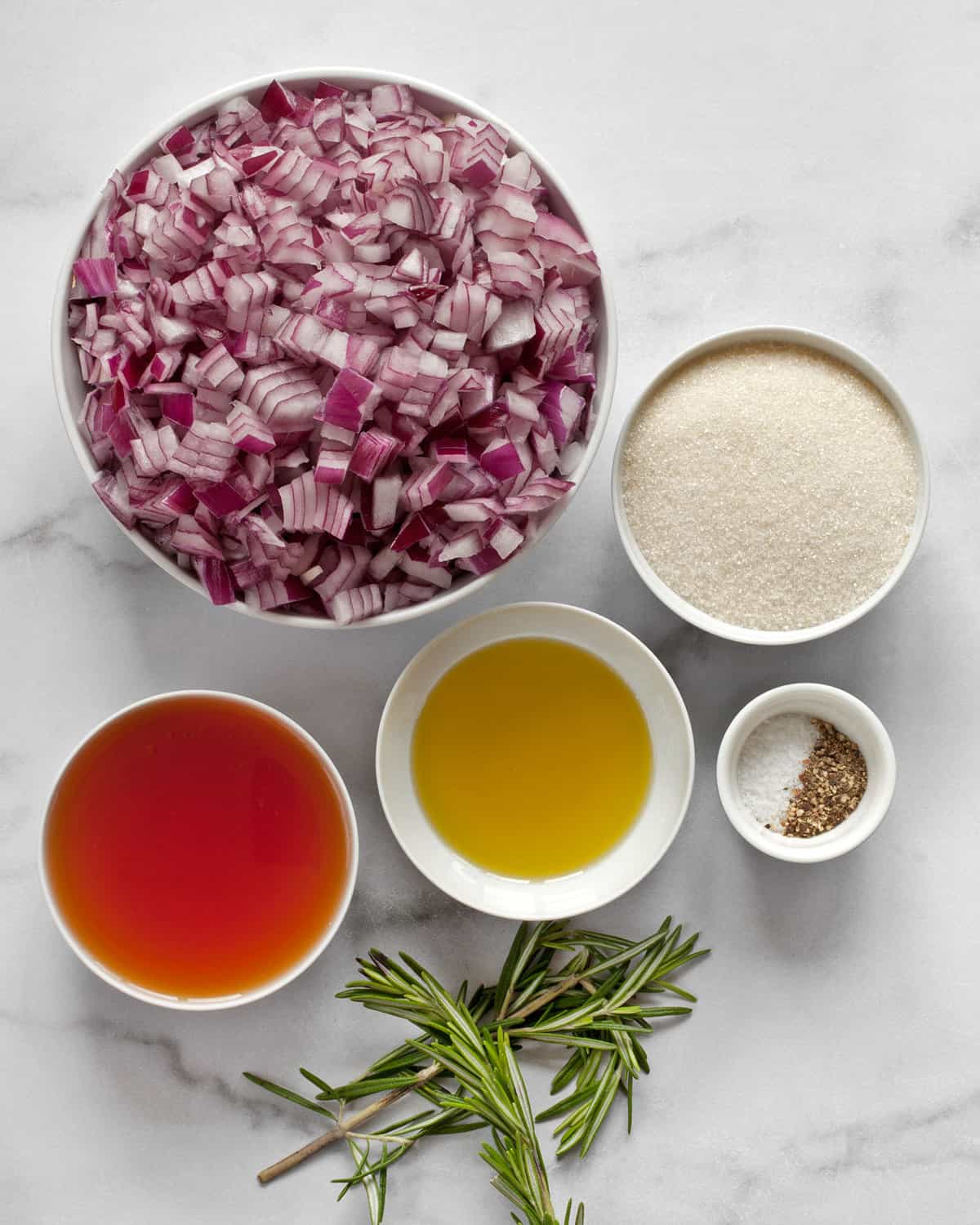 This is what you need:
Onions: I love red onions for their vibrant color and their crisp bite. You can substitute with yellow onions, white onions or sweet onions like Vidalia. You can even use a mix if that's what you have in your kitchen. Yellow and white onions will break down more into a spreadable consistency than red onions.
Olive oil: Since this is a recipe with a limited number of ingredients, you want to make sure they all have the best flavor. That's why I sauté the onions in high-quality extra-virgin olive oil.
Red wine vinegar is the acid that adds something tart to the jam. It also enhances the color of the red onions. If you want a more strong and rich jam, you can swap it out for balsamic vinegar.
Sugar helps the onions caramelize. This jam turns out savory, while still having a hint of sweetness to it. You can switch to light brown sugar, which will give it a more molasses flavor and the color will be darker. Do not substitute with maple syrup or honey.
Rosemary: I throw in a couple fresh sprigs while the onions cook on the stove. You can also use fresh thyme or both for a more herby jam.
Salt & pepper are important seasonings to bring out the flavor of the onions and the rest of the ingredients.
How To Make Red Onion Jam
1. Heat the olive oil in large sauté pan or skillet over medium-high heat.
2. Sauté the onions until they become very soft and translucent. Some should start to brown at the edges. This will take about 10-15 minutes.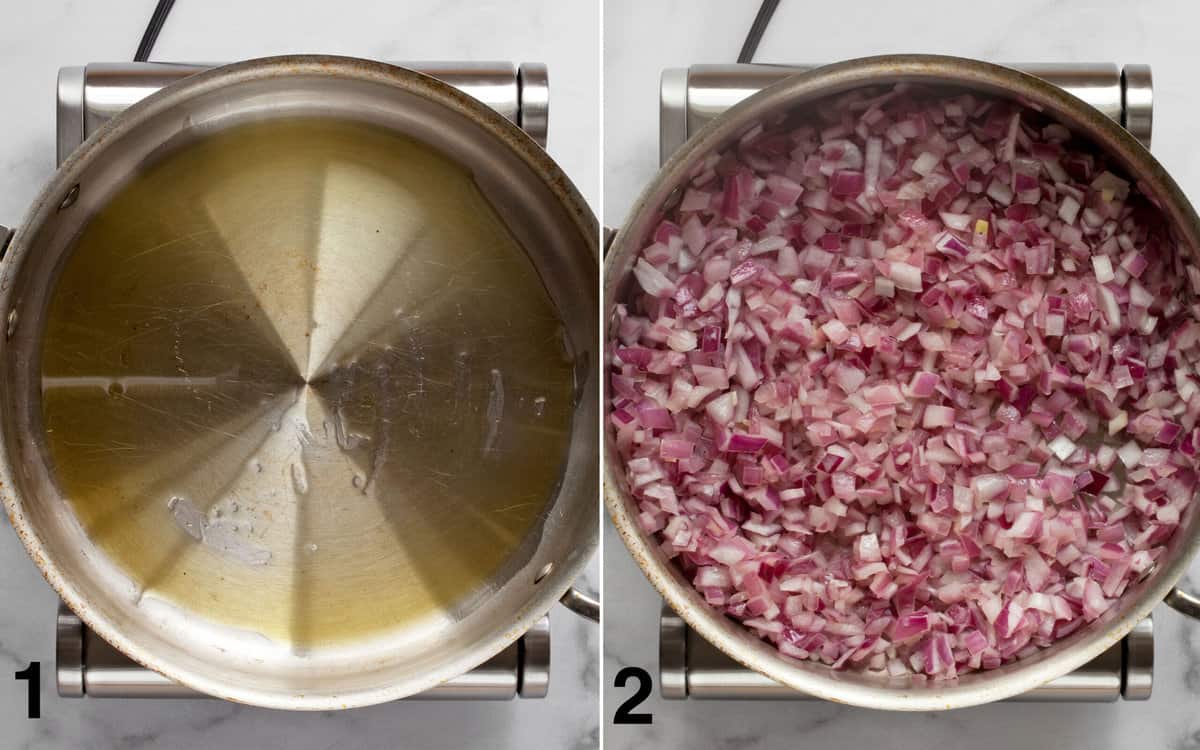 3. Turn down the heat to medium low and stir in the vinegar, salt and pepper. Keep sauteing and the vinegar will bubble away and reduce in 2-3 minutes.
4. Stir in the sugar and rosemary sprigs.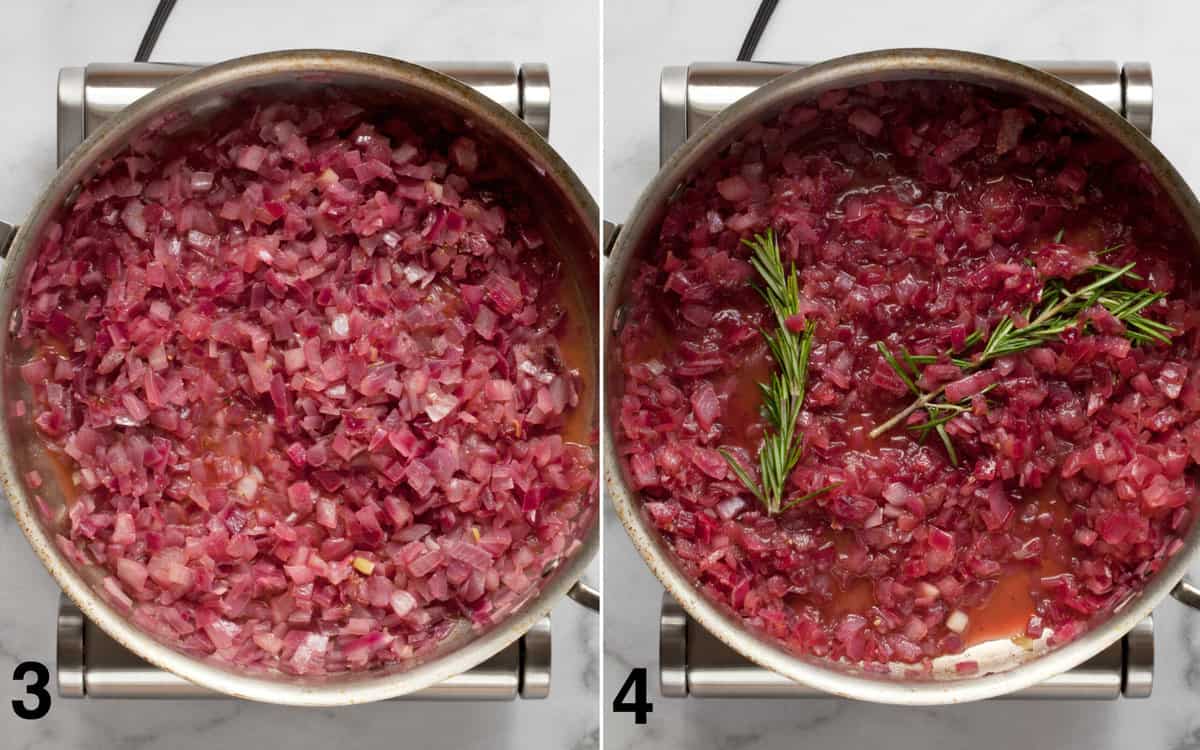 5. Turn up the heat to medium-high and sauté the onions until they become jammy and even more fragrant, about 10-15 minutes.
6. Remove the rosemary sprigs before serving or transferring to a jar.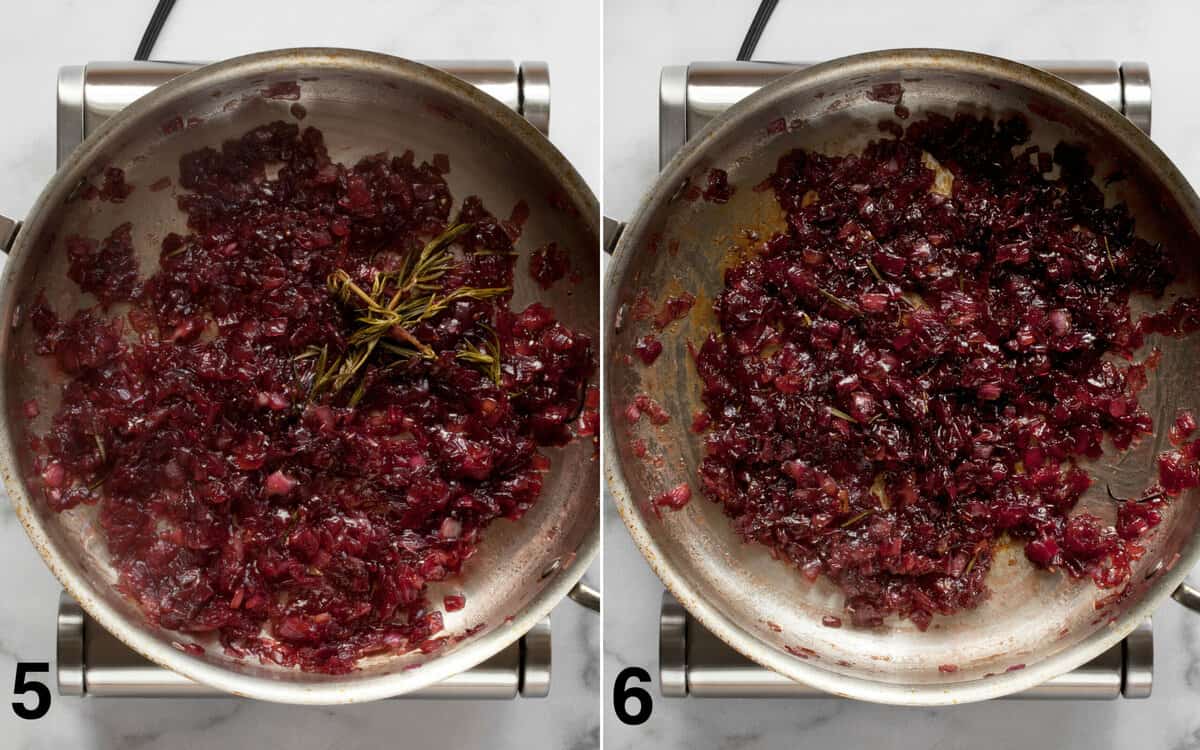 What To Serve with Onion Jam
Onions are such a universal ingredient and the starting point for so many dishes. This jam puts onions front and center rather than working in the background. Here are 10 ways you can enjoy it:
A topping for burgers: Try putting the jam on any kind of burger from beef burgers to turkey burgers to black bean burgers. Skip raw onions and use this caramelized onion jam instead.
An accompaniment with a cheese board: You can include a small bowl of jam on a cheese and charcuterie board. Or go ahead and spoon it onto crackers with sliced cheese for an appetizer.
An addition to roasted vegetables: No matter the season, whether it's roasted root vegetables or roasted tomatoes and zucchini, stir a spoonful of jam into the veggies when they are hot from the oven.
On a bagel: Either slater your bagel with cream cheese and then spread onion jam. Or mix together the jam with soft, room temperature cream cheese and then put it on a bagel.
With roasted chicken or turkey: Include it as a condiment on the side with classic roasted chicken or turkey. Then use it on sandwiches made with the leftovers.
A sauce for pasta: Stir onion jam into pasta with some olive oil. If you are using jam that's cold since it's been stored in the fridge, sauté it in a little oil and then stir it into the pasta. You can add minced garlic too. Then finish it with lots of grated Parmesan.
A pizza topping: Spread the jam on the rolled-out dough and layer on the rest of the toppings. Or dollop it on the pizza after you take it out of the oven.
For the best grilled cheese: When you're assembling the slices of bread and cheese, add some onion jam before you toast your grilled cheese on the stove. Gruyere melts wonderfully and pairs so well with caramelized onions.
With omelettes or scrambled eggs: Sauté the jam for your favorite quick egg dishes like omelettes or scrambles with vegetables.
An addition to soups: Too boost that taste of onions, stir in the jam with the garlic, spices and other aromatics before you pour in the broth. I love this variation with roasted tomato soup. It will give you hints of French onion soup flavor.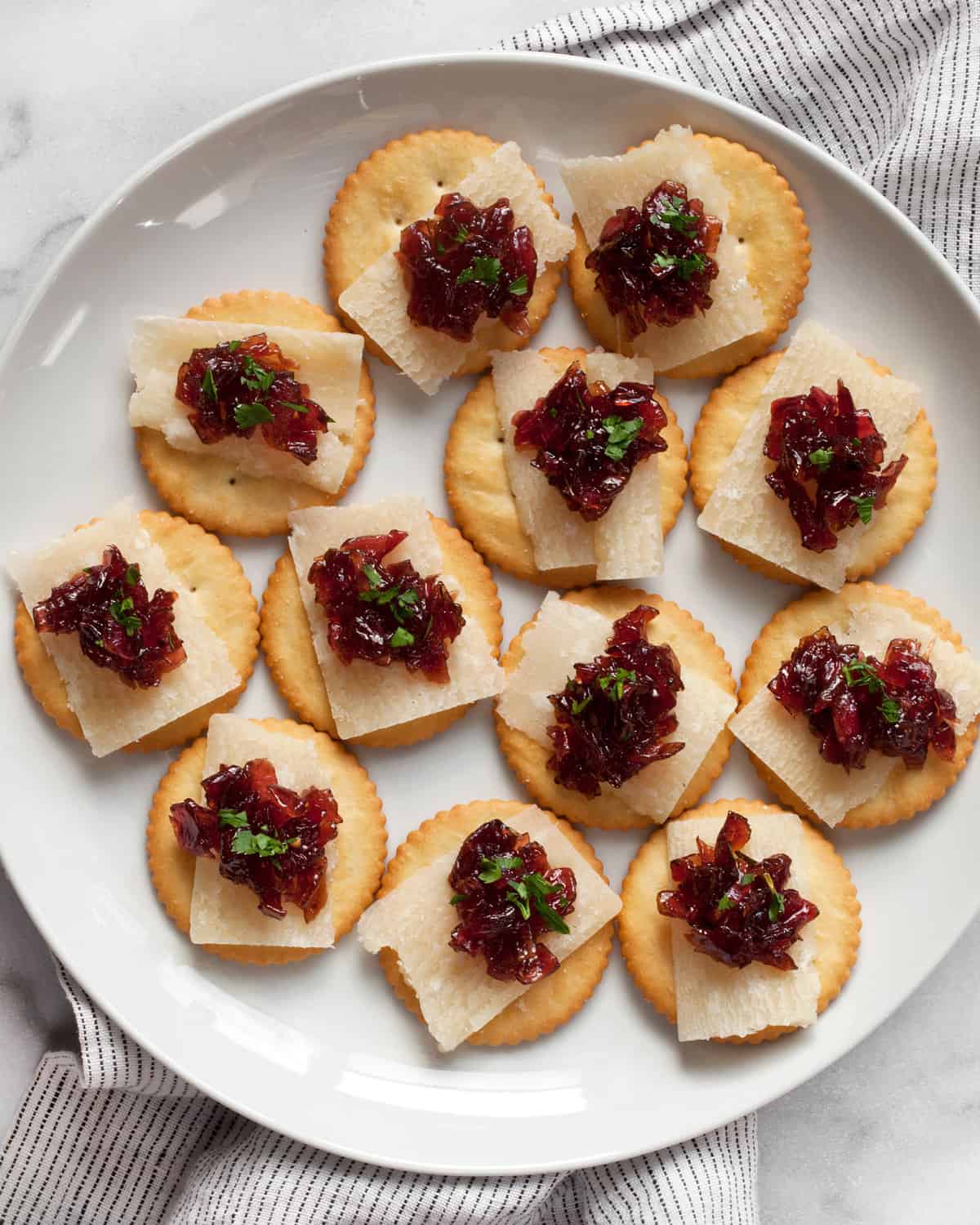 Storage & Freezing
You can keep the jam in an airtight container in the refrigerator up to 2 weeks.
To store it up to 2 months, freeze it. I recommend putting it in smaller containers, so you can thaw it and use it in smaller amounts, as needed. Spoon the jam into ice cube trays. Then it's so convenient to pop out those onion jam cubes.
FAQs
What is onion jam made of?
Onion jam consists of onions, vinegar, sugar and aromatics, which include fresh herbs, salt and pepper.
Can onion jam be canned?
It's optional. You can store store this jam in the fridge or freezer, but if you want to extend its shelf-life, go ahead and can it in a water bath.
Can you add garlic to onion jam?
You can add minced garlic to this recipe. I recommend waiting until the last 3-5 minutes to add a couple minced garlic cloves. If you add them too early, they will burn. That's why I would save them for the end of cooking.
More Jams, Spreads & Sauces
Homemade Cranberry Sauce
Cherry Tomato Confit
Marinated Roasted Sweet Peppers
Pear Compote with Fresh Ginger
Roasted Tomato Pesto
Did you make this jam? Please leave a rating and comment below. Thanks!
Onion Jam Recipe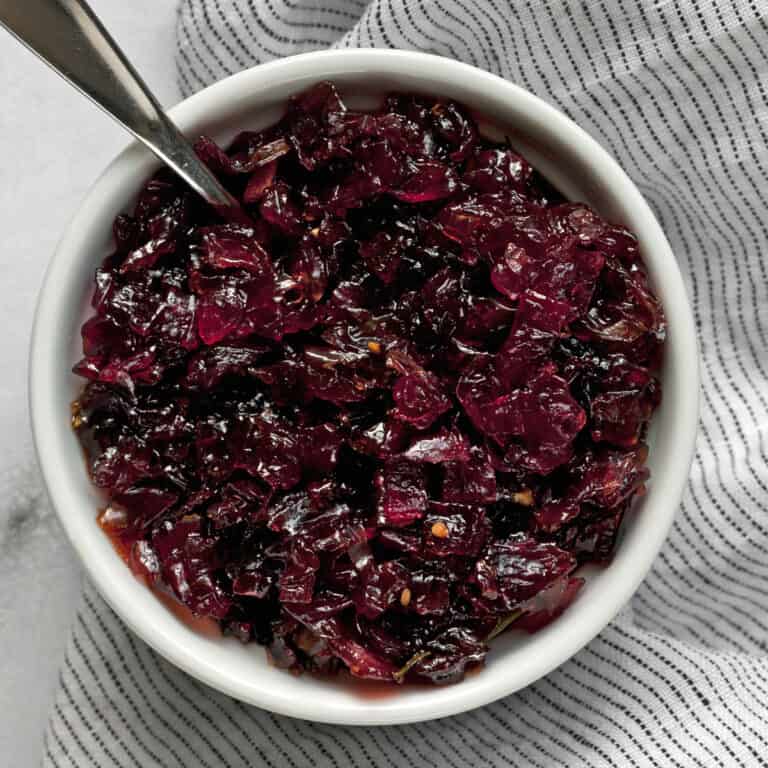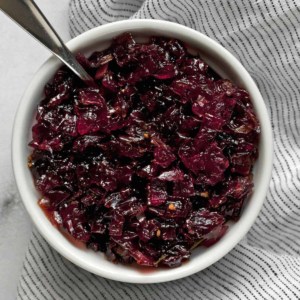 There are so many things you can do with this onion jam. Add it to grilled cheese, pasta, pizza and roasted veggies.
Ingredients
2

tablespoons

olive oil

2

large onions,

about 1-1/2 pounds, roughly chopped

1/2

cup

red wine vinegar

1

teaspoon

kosher salt

1/2

teaspoon

black pepper

1/2

cup

granulated sugar

2

sprigs fresh rosemary
Instructions
In a large sauté pan, heat the olive oil over medium-high heat.

Sauté the onions until they turn soft and translucent and some are lightly browned at the edges, about 10-15 minutes. 

Reduce the heat to medium low and add the vinegar, salt and pepper. Continue cooking, letting the vinegar reduce, about 2-3 minutes.

Stir in the sugar and rosemary. Increase the heat to medium-high and sauté for 10-15 minutes. The onions should be completely soft, jammy and caramelized.

Let the jam cool before you store it.
Notes
Recipe makes 1-1/2 cups.
You can use red onions, yellow onions, white onions, sweet onions or a mix.
For more rich and intense flavor, use balsamic vinegar instead of red wine vinegar.
For fresh herbs, you can substitute with thyme or include both rosemary and thyme.
You can swap light brown sugar for granulated sugar.
Store the jam in an airtight container in the refrigerator up to 2 weeks. 
To keep the jam up to 2 months, put it in the freezer. Store in ice cube trays. They are easier to thaw and if you are adding them to simmering soups or sauces, you can throw in frozen cubes.
Nutrition
Calories:
232
kcal
|
Carbohydrates:
41
g
|
Protein:
2
g
|
Fat:
7
g
|
Saturated Fat:
1
g
|
Polyunsaturated Fat:
1
g
|
Monounsaturated Fat:
5
g
|
Sodium:
591
mg
|
Potassium:
264
mg
|
Fiber:
3
g
|
Sugar:
32
g
|
Vitamin A:
5
IU
|
Vitamin C:
13
mg
|
Calcium:
43
mg
|
Iron:
1
mg
Nutrition information is automatically calculated, so should only be used as an approximation.
Originally published March 17, 2014. Updated: March 2, 2023.