Sautéed Broccolini With Spiced Almonds

Made on the stove, sautéed broccolini with spiced almonds uses a mix of cumin and cayenne pepper. The best sides are fast and don't hog valuable oven space.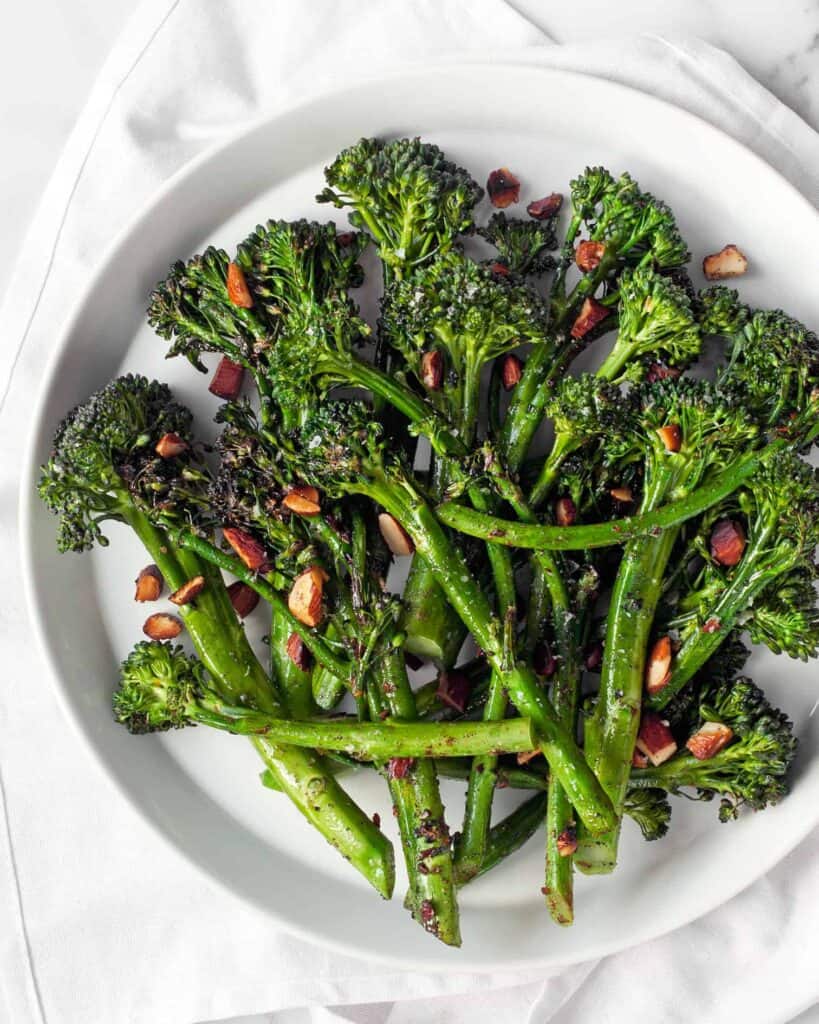 If you've been a regular reader of my posts in the last month or so, you know I've been going on (and on) about my love of sheet pans.

Yes, they are one of my top cooking tools, but to be honest, I am so sick of washing them.

Sheet pans are big and tough to maneuver around my kitchen sink.

Water always ends up everywhere it's not supposed to be. How can cleaning create such a mess?
I must be doing something wrong.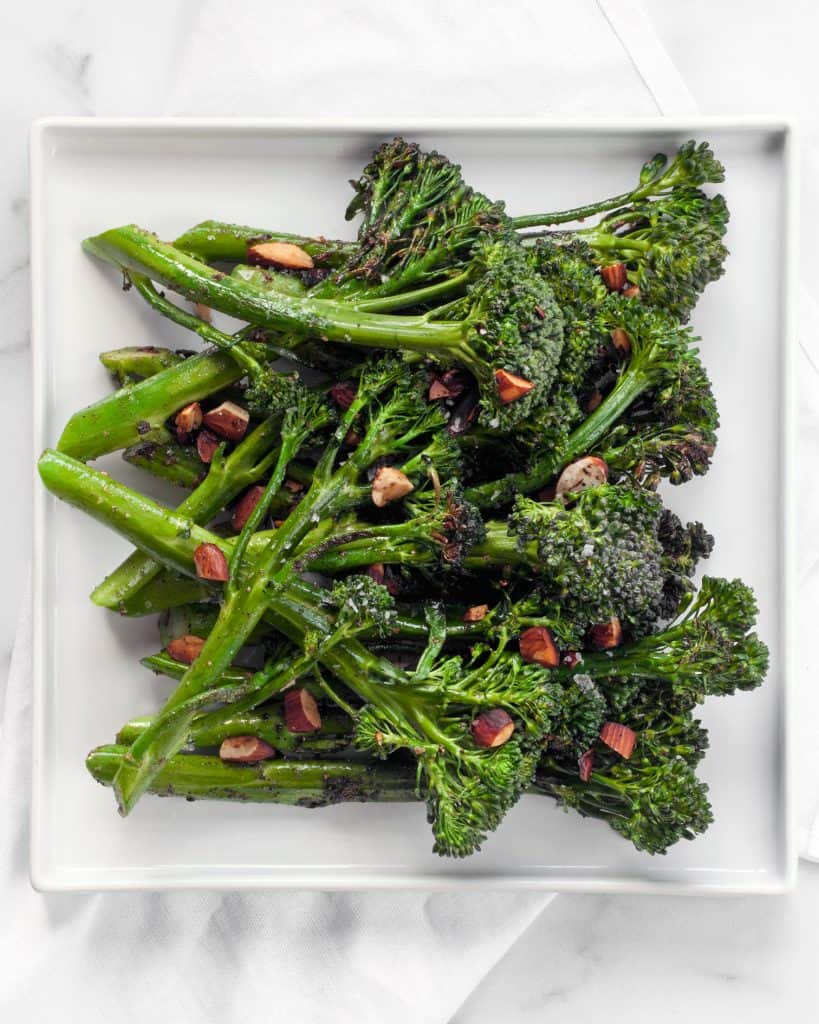 One of the problems is that we have a double-bowl sink, which makes washing anything bigger than one side a real challenge.
On my list for my kitchen renovation, that will eventually happen (I hope), is to have a single bowl sink perfect for washing the big stuff.
Why Stovetop Sides Are So Great
Fall is prime roasting season, but I don't want to neglect my trusty skillet.
Cooking on the stovetop is often faster than the oven, and a pan, even a large one, is easier for cleanup.
Using the stove also reduces competition for the oven, which is fierce this time of the year leading up to Thanksgiving and continuing though winter.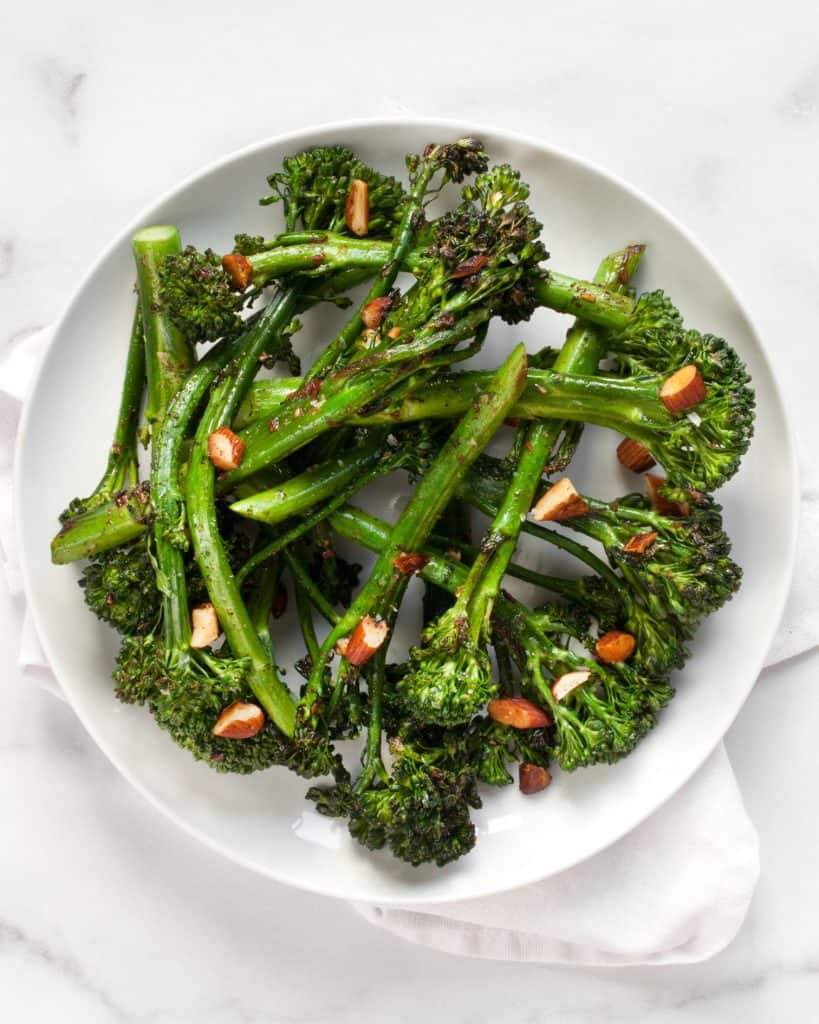 Sautéed broccolini with spiced almonds is a side that can be made at the last minute after everything else is ready to be served.

Broccolini isn't actually baby broccoli. It's a cross between broccoli and Chinese broccoli.
What I love about it most are the stems. And if you get them just right, they are so fresh and crisp.
How To Make Sautéed Broccolini with Spiced Almonds
Since this recipe is very quick, I make sure everything is ready to go before I heat up the skillet.

I start by combining the spices, a mix of cumin, paprika, cayenne pepper, garlic powder, salt and pepper.

Yes, it seems like a lot of spices, but they all go so well with the broccolini, and they transform the nuts.

With a large skillet on the stove, I give the almonds a brief head start.

Then I add the spices and olive oil followed by the broccolini.
I always err on the side of less sautéing to make sure that the broccolini turns out crisp and bright green.
Print
Sautéed Broccolini With Spiced Almonds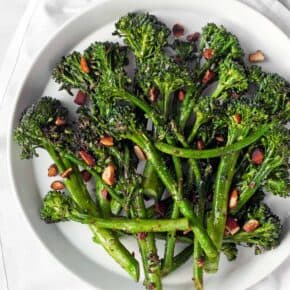 Author:
Prep Time:

5 minutes

Cook Time:

6 minutes

Total Time:

11 minutes

Yield: Serves

4

1

x
Scale
Ingredients
1/2 teaspoon cumin
1/4 teaspoon paprika
Pinch of cayenne pepper
Pinch of garlic powder
1/2 teaspoon kosher salt
1/4 teaspoon black pepper
1/4 cup roughly chopped almonds
1 tablespoon olive oil
2 bunches broccolini (about 1 pound), ends trimmed
Flaky sea salt for serving
Instructions
In a small bowl, combine the cumin, paprika, cayenne pepper, garlic powder, salt and pepper.
In a large skillet over medium high heat, toast the almonds for 1 minute. Add the olive oil and spice mix.
Sauté the broccolini until bright green and tender but still crisp—about 5 minutes.
Sprinkle with flaky sea salt before serving.
SHARE THIS