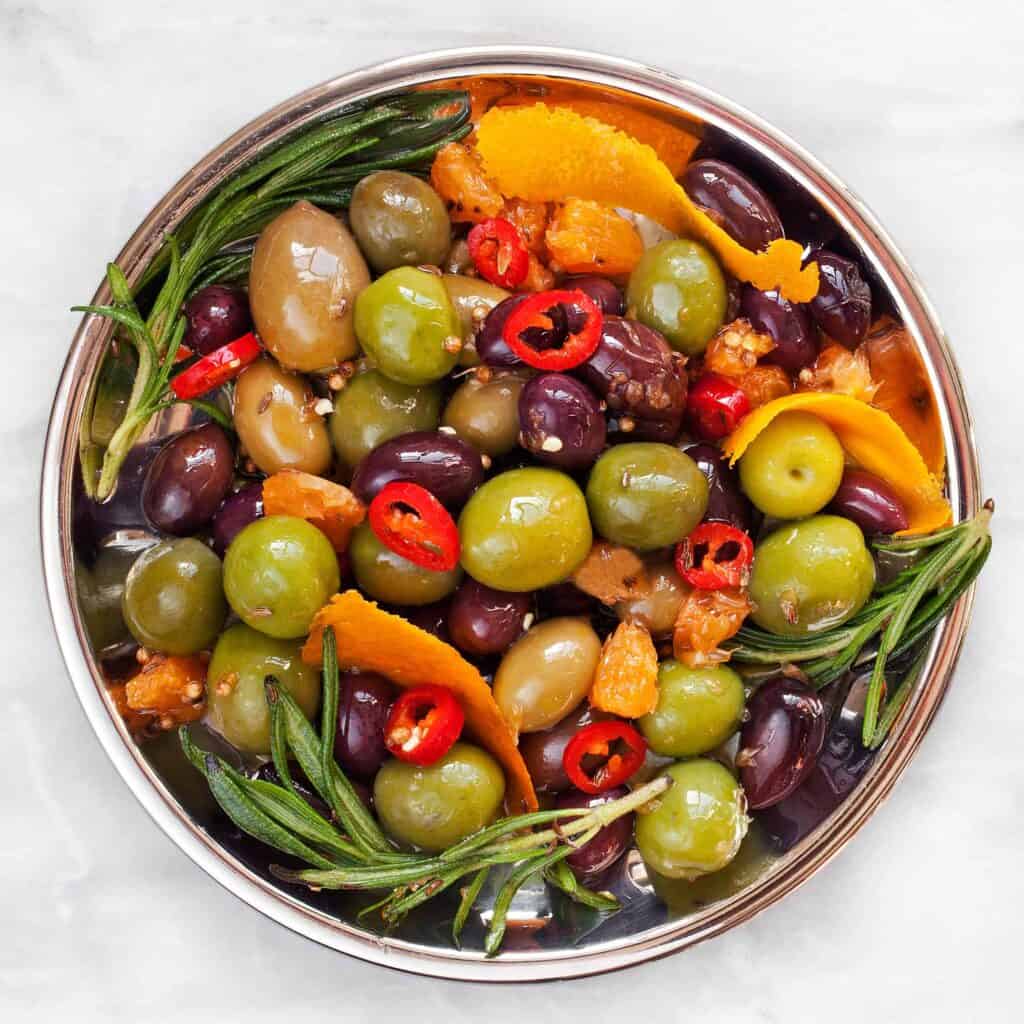 I default to making things from scratch, but every now and then I love fancying up store-bought food.

Not sure if fancying-up is an official term, but I think of it as putting a little effort into a purchased item to make it a bit more special even though it isn't necessary.
No, I'm not trying to trick my guests into believing that something was handcrafted in my kitchen when it wasn't.

I just want to put my spin on it. It's really as simple as that.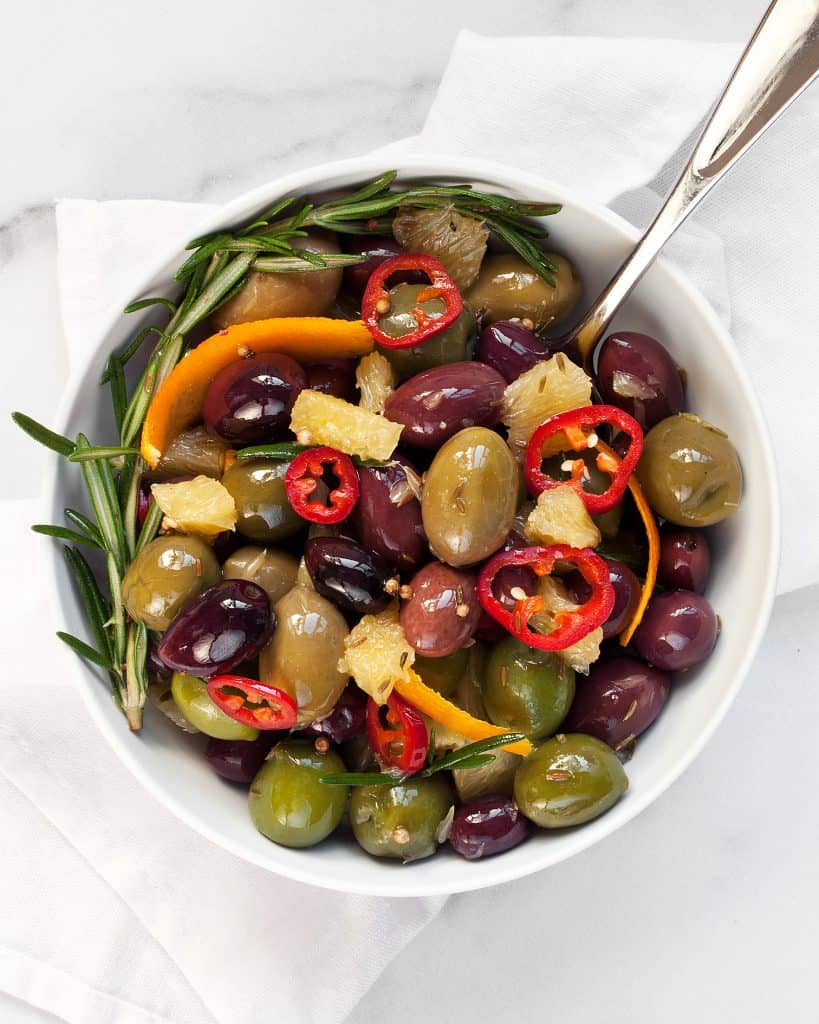 The holidays and New Years parties are the perfect time to play dress-up.

While you're shopping the cheese department to make the ultimate spread complete with charcuterie and all the accessories, put a little more thought into your selections at the olive bar.
If you've been following along Last Ingredient for a while, then you know I am obsessed with the olive bar and all its flavorful antipasti nibbles.

They're amazing on pastas, pizzas and even a slice of toast or a basic bagel.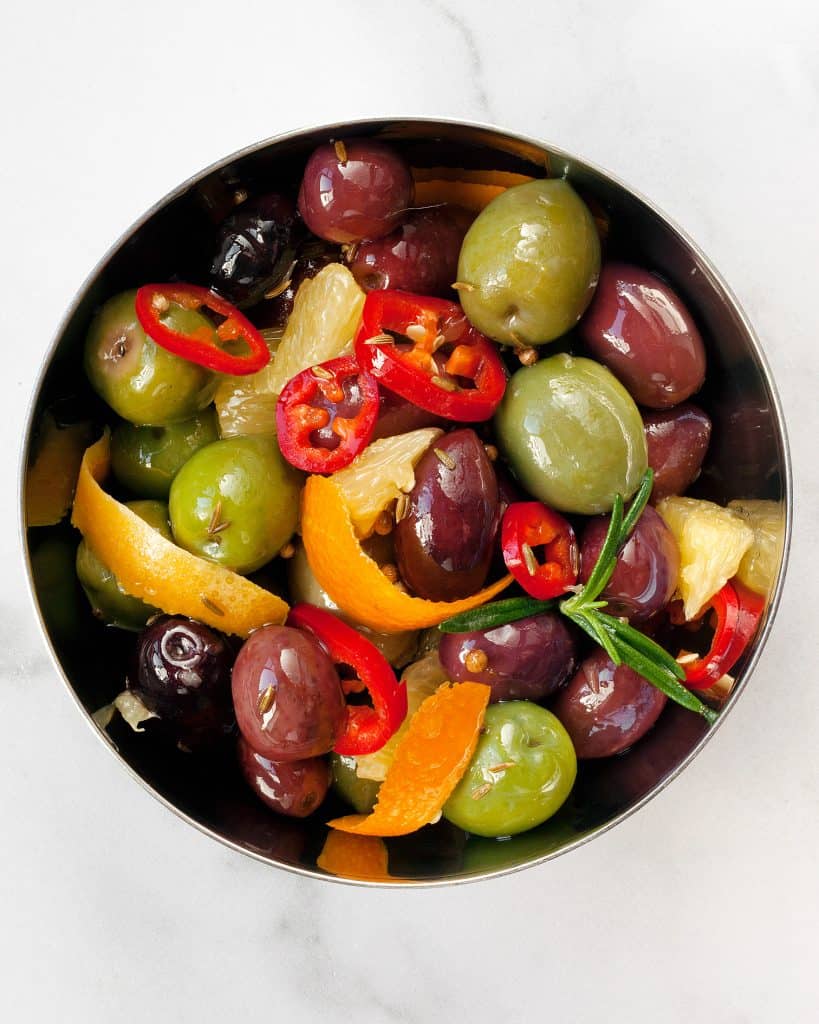 How To Make Citrus-Marinated Olives
For these citrus-marinated olives, I scooped up a mix including Kalamata, Picholine, Castelvetrano, Nicoise and Cerignola olives.

I absolutely love olives, but I don't consider myself an expert.
Aesthetics motivate my choices with shades of green, brown and black olives.

Serious Eats has a fantastic guide to different types of olives if you want to make a more thoughtful choice than one just based on looks.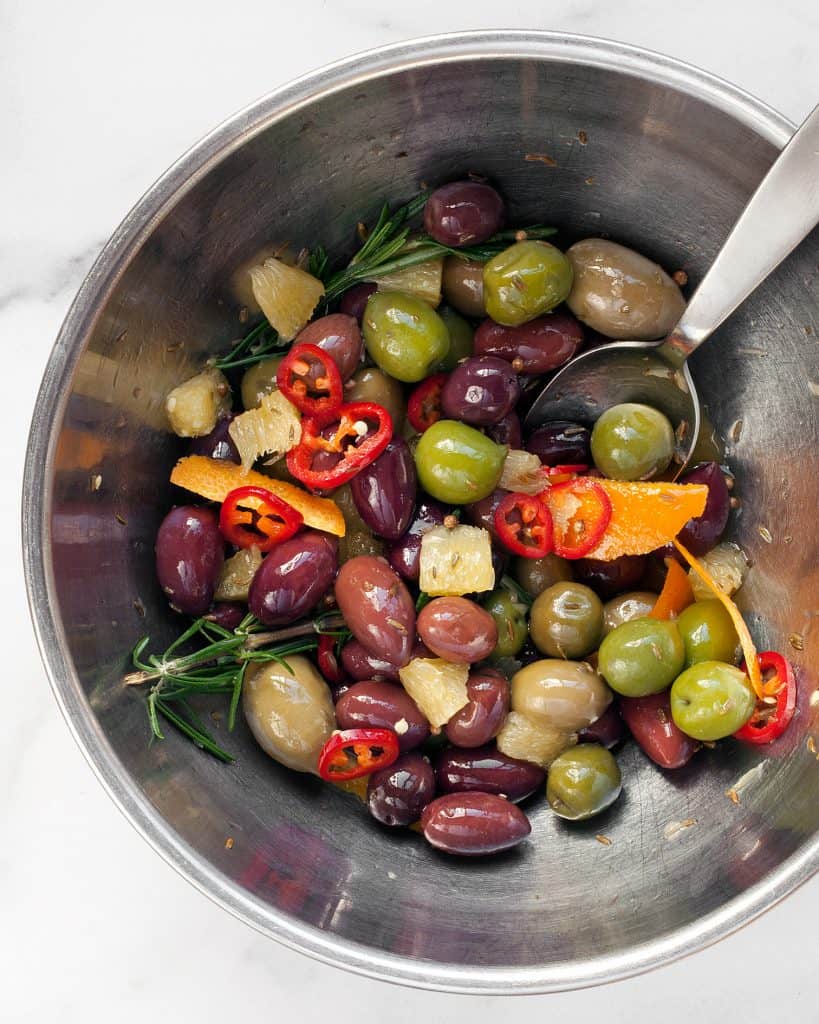 I put all the olives in a big bowl and pour in extra virgin olive oil.
Adding citrus gives the olives bright zippy flavor.
Any orange from Navel to Cara Cara will work. Just fold in the peeled zest and chopped segments into the olive mix.
Not to leave it to just citrus, I add sliced red chilies for heat and whole coriander seeds and cumin seeds for spice.

To finish, I love including a few sprigs of fresh rosemary.
Print
Citrus-Marinated Olives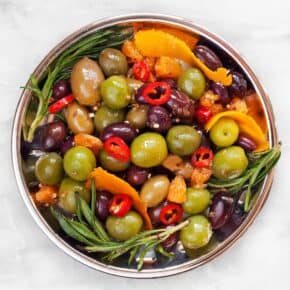 Prep Time:

5 minutes

Cook Time:

1 hour to marinate

Total Time:

1 hour 5 minutes

Yield:

2 cup

s

1

x
Scale
Ingredients
1–1/2 cups mixed olives with pits
1/4 cup olive oil
1 orange, zest peeled, pith removed, sliced into segments & roughly chopped
1 red chili, thinly sliced
1/2 teaspoon coriander seeds
1/2 teaspoon cumin seeds
2 sprigs fresh rosemary
Instructions
In a large bowl, combine the olives, olive oil, oranges zest and chopped segments, red chilies, coriander seeds, cumin seeds and rosemary. Gently stir the mixture to combine.
Let the mixture marinate 1 hour before serving.
Store in an airtight container in the refrigerator.
Notes
The olives can be made up to 1-2 days in advance.
SHARE THIS