Try including something homemade on your next cheese and charcuterie plate like these everything crackers. Or bake them for snack to dip in hummus.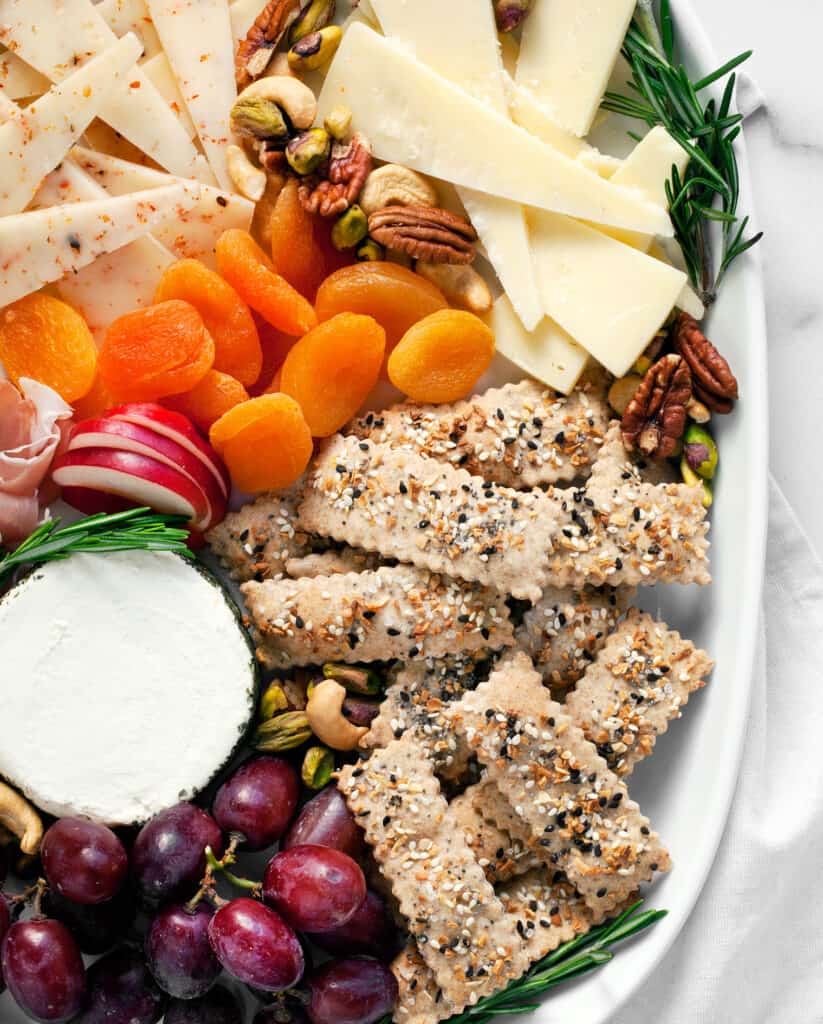 Sometimes people can be self-conscious talking about food around me.
They make the mistake of assuming I am judging them for their style of cooking at home, especially when it involves anything premade or not fully made from scratch.
This could not be further from the truth.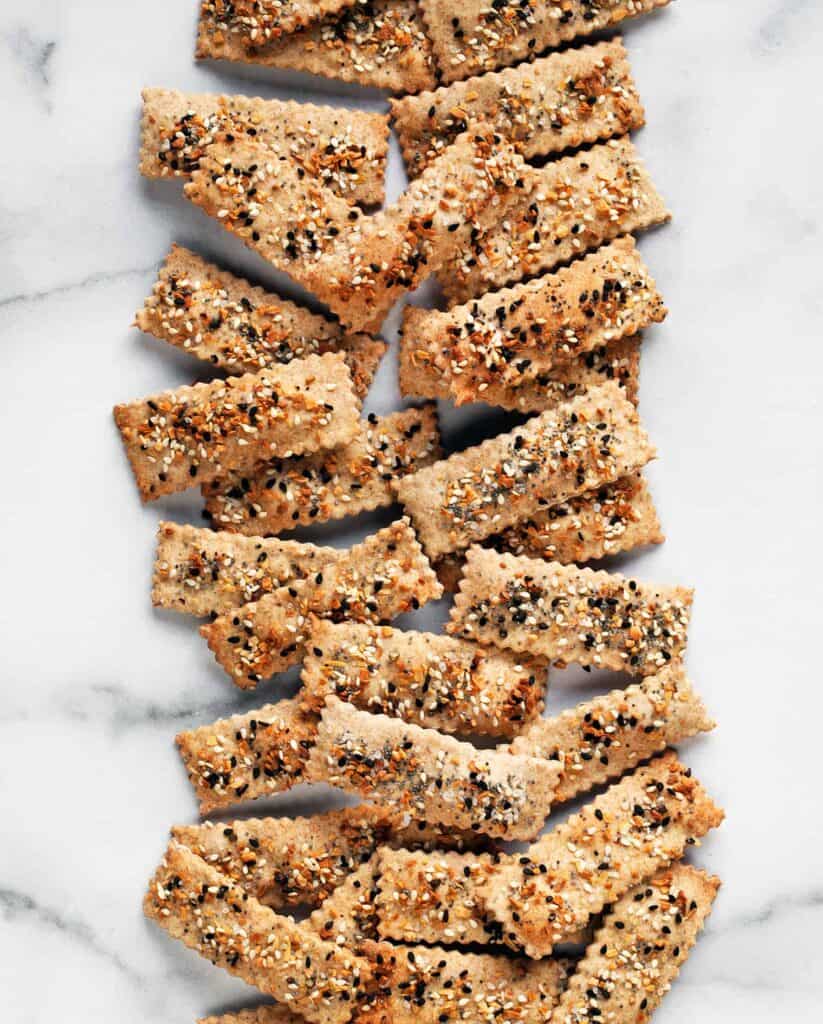 We all have different interests and skills, it would be unfair, and frankly, ridiculous of me to silently, or worse verbally, voice my disapproval for someone's culinary choices.
And actually, I love a store-bought shortcut.
There is a time and a place for every last dish on your dinner table to be cranked out from your kitchen, but only tackle that when you're in the mood with the right hours and minutes in the day to do it.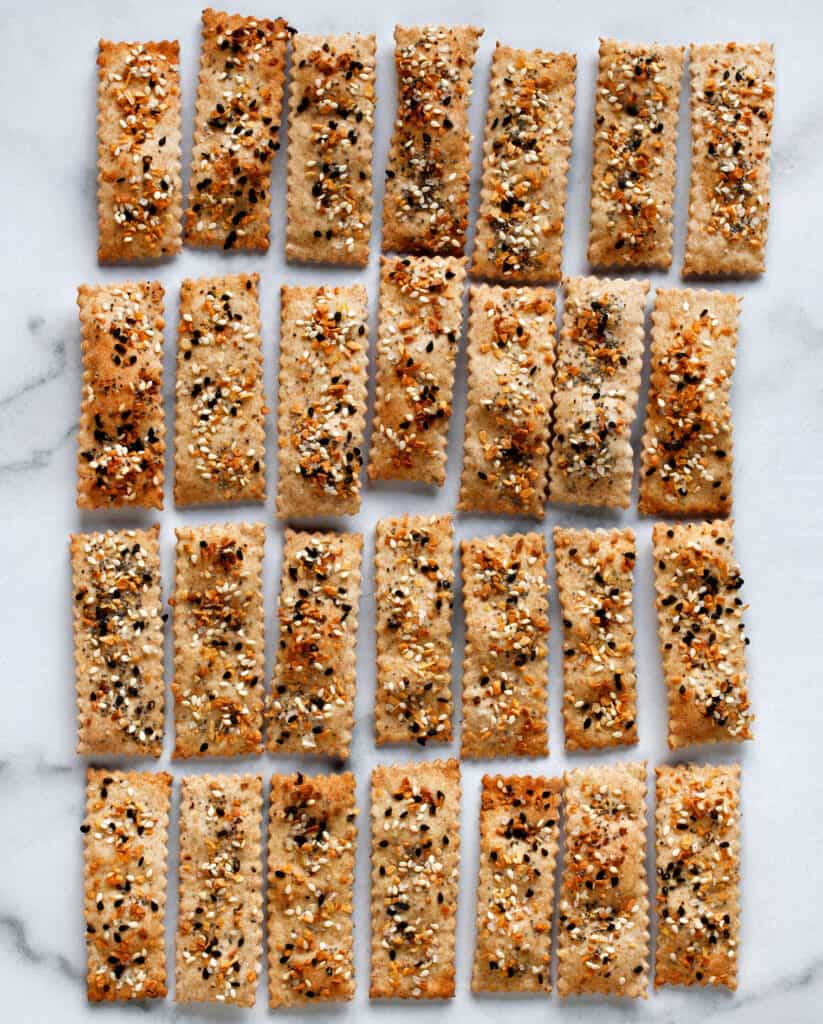 What I will encourage you to attempt is selective from scratch cooking or baking, which is how I think of these everything crackers.
Of course, you could buy a package of crackers or a freshly baked baguette for a charcuterie plate, but when everything from the cheese to the fruit to the olives to the cured meats are ready-to-go when you buy them, why not make your own crackers?
The dough doesn't take long to make, and it's kind of fun to cut out your own crackers.
At least I think so!
How To Make Everything Crackers
First, I combine the dry ingredients, a mix of all-purpose flour, whole wheat flour, a touch of granulated sugar, salt and pepper.

Then I stir in a half cup water and a couple tablespoons of olive oil.
The dough will be shaggy when it first comes together. After that I just go in with my hands and lightly knead the dough into a smooth ball.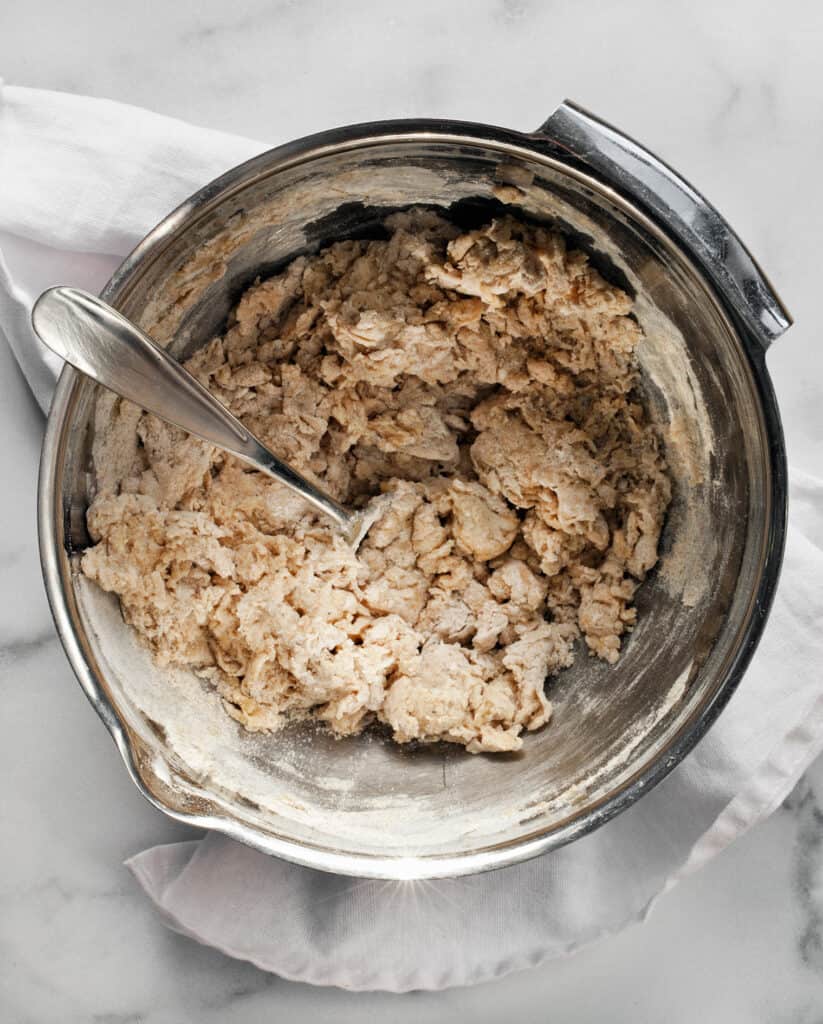 Before I roll it out, I let the dough sit for 10 minutes. This helps the gluten relax.
Still, I find it can take a little muscle to start the dough when you are rolling it out.
Not that I count baking as a workout, but I think using a rolling pin is more about core strength than arms.
If you press too hard with your upper body, you are more likely to end up with dough that is thinner in some spots than others.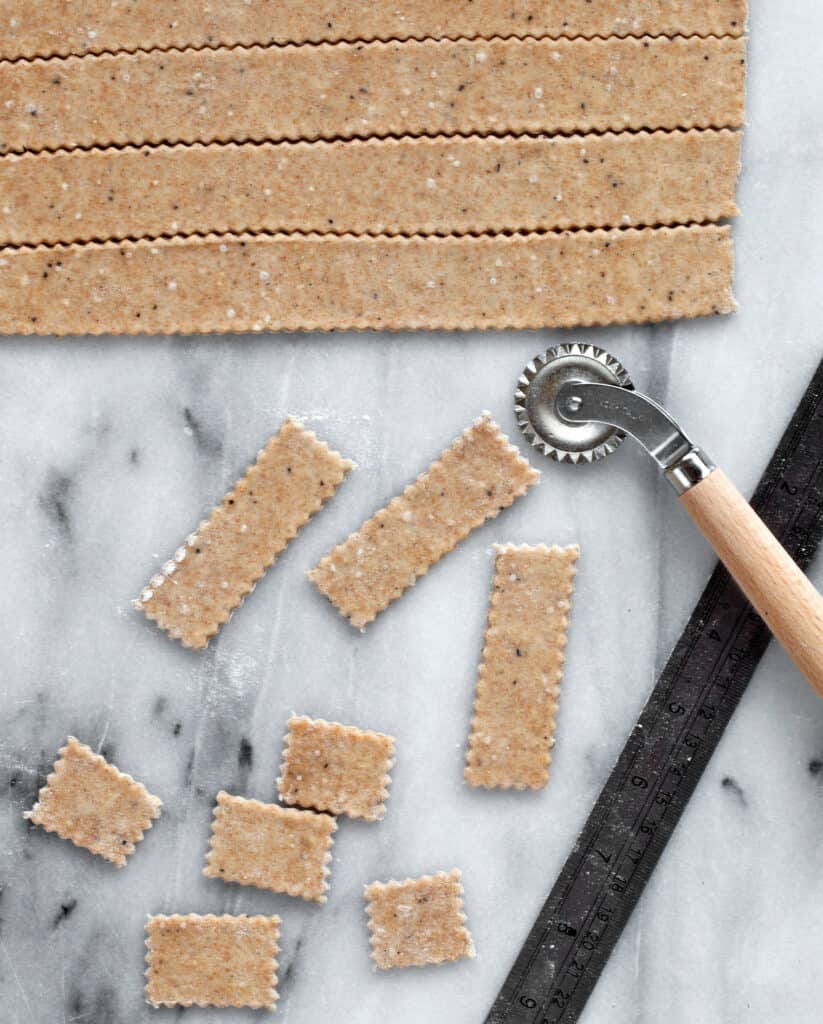 Once the dough is rolled out between an 1/16-inch – 1/8-inch thick, I use a pizza roller to cut it into rectangles that are 1-inch wide by 3-inches long.
It's even better to use a fluted cutter to get those lovely zigzag edges. My other favorite tool for this task is a metal ruler for a straight edge and measurements.
Then I arrange the unbaked crackers on parchment paper-lined sheet pans, brush them with water and sprinkle them with everything seasoning.

They bake to a crisp light golden brown in 12-14 minutes.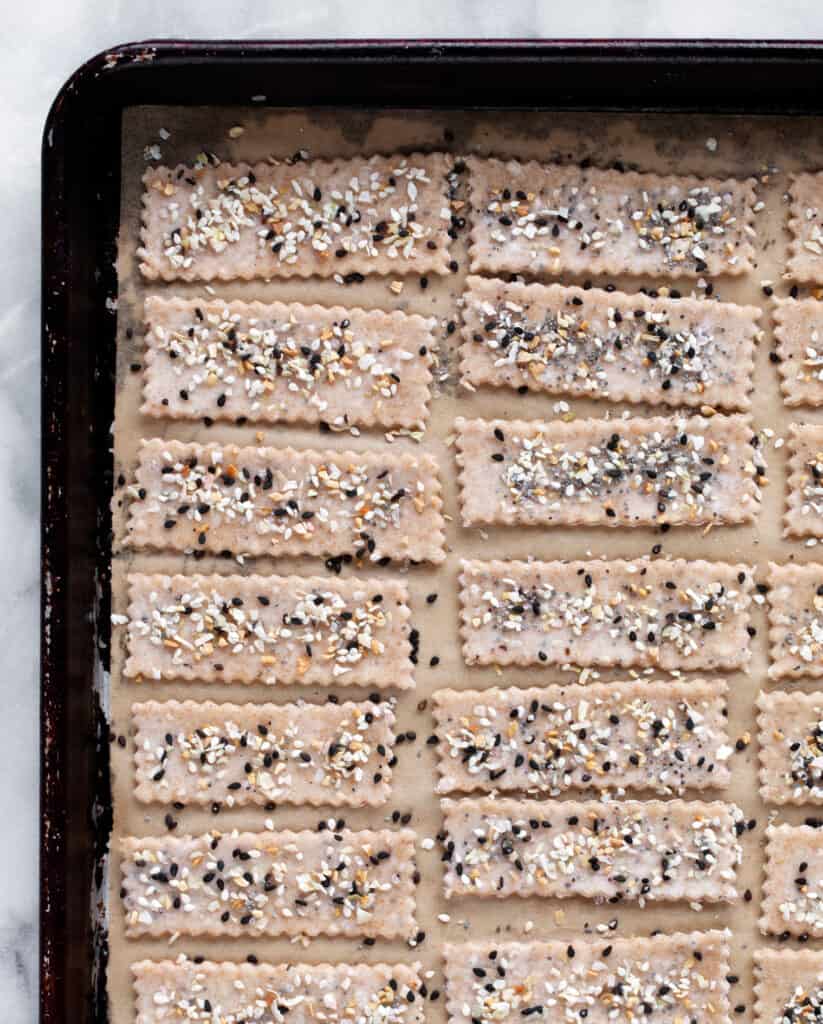 With some cracker recipes, you prick the cut-out dough before baking, but I like the more rustic look with bubbles.
When the crackers don't look perfectly uniform, they are practically screaming that they are homemade.
And you should get credit for your hard work!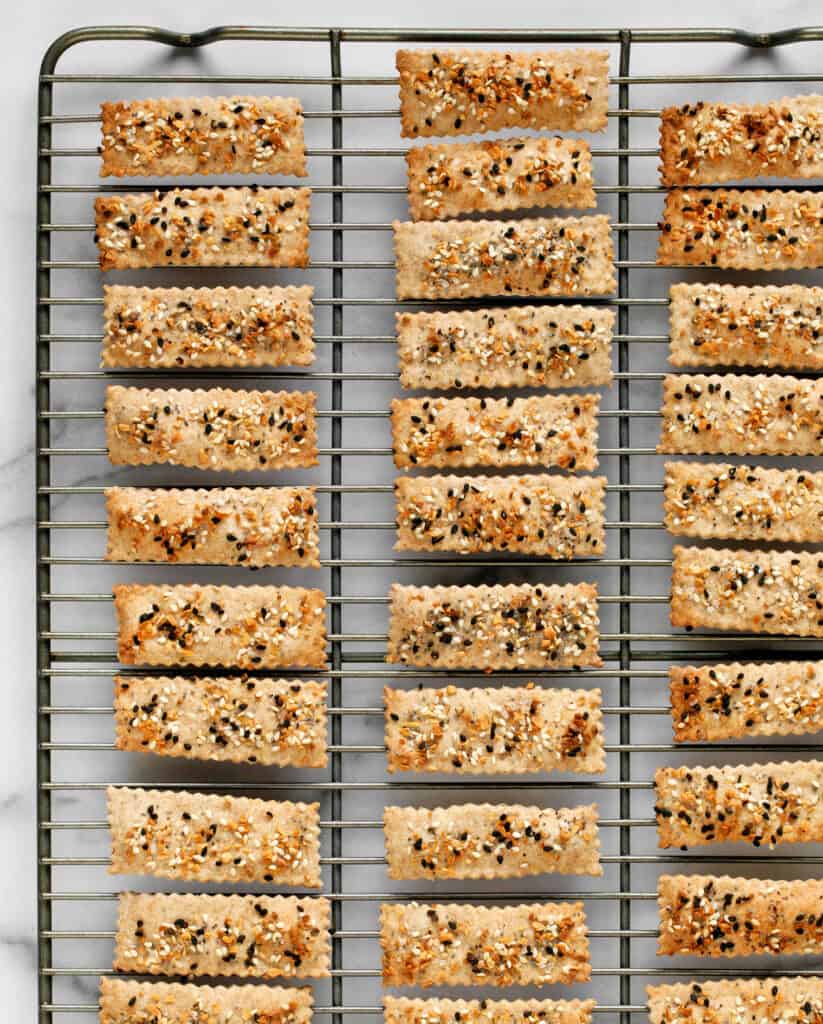 Serving Your Crackers
I love using these on a cheese and charcuterie plate along with dried fruit, fresh fruit and olives. My goal is to have a mix of salty and sweet elements.
Sometimes I will bake a batch of crackers without a plan other than snacking.
They are really good with just hummus.
Print
Everything Crackers
Author:
Prep Time:

25 minutes

Cook Time:

12-14 minutes

Total Time:

37-39 minutes

Yield: Makes

40

–

50

crackers

1

x
Scale
Ingredients
1 cup all-purpose flour plus more for work surface
1/2 cup whole wheat flour
1 teaspoon granulated sugar
1 teaspoon kosher salt
1/4 teaspoon black pepper
2 tablespoons olive oil
1/2 cup water plus more for brushing
2 tablespoons everything seasoning
Instructions
Preheat the oven to 450 degrees F. Line 2 sheet pans with parchment.
In a large bowl, combine both flours, sugar, salt, and pepper. Add the olive oil and water, stirring until a shaggy dough forms. Use your hands to lightly knead and gather it into a smooth ball.
Let the dough rest for 10 minutes before rolling out on a lightly floured work surface very thinly to about 1/16-inch – 1/8-inch thick. Use a cookie cutter or pizza roller to cut the crackers into 1-inch by 3-inch rectangles.
Place the crackers on the prepared sheet pans. Brush with water and sprinkle with everything seasoning. Bake for 12-14 minutes until golden brown. Cool on a wire rack.
Store in an airtight container.
SHARE THIS