Homemade Everything Crackers
on Dec 21, 2020, Updated Nov 19, 2023
With only 8 ingredients, you can make these easy homemade crackers. They turn out crisp with the all-important snap when you break one in half. Before they make it into the oven to bake, I sprinkle them with everything bagel seasoning. These are a wonderful addition to cheese board, and they are perfect for snacking with hummus.
Why You'll Love This Recipe
This is an easy homemade cracker recipe. Crackers might not be something that you've thought about making yourself, but it is a very approachable recipe for savory baking.
You don't need a food processor or a mixer. It only takes 5 minutes to combine the dry ingredients, stir in the liquid ingredients and knead it into a smooth dough.
Everything seasoning is a simple way to flavor the crackers. If I could I would put everything on everything. This classic bagel mix is a magical combination of poppy seeds, sesame seeds, coarse salt, garlic flakes and dried onions. It does all the heavy-lifting when it comes to flavor.
Homemade crackers instantly upgrade a charcuterie and cheese plate. With all store-bought ingredients, you can put together a fantastic spread. It makes it more special to add at least one element that you make from-scratch.
The Ingredients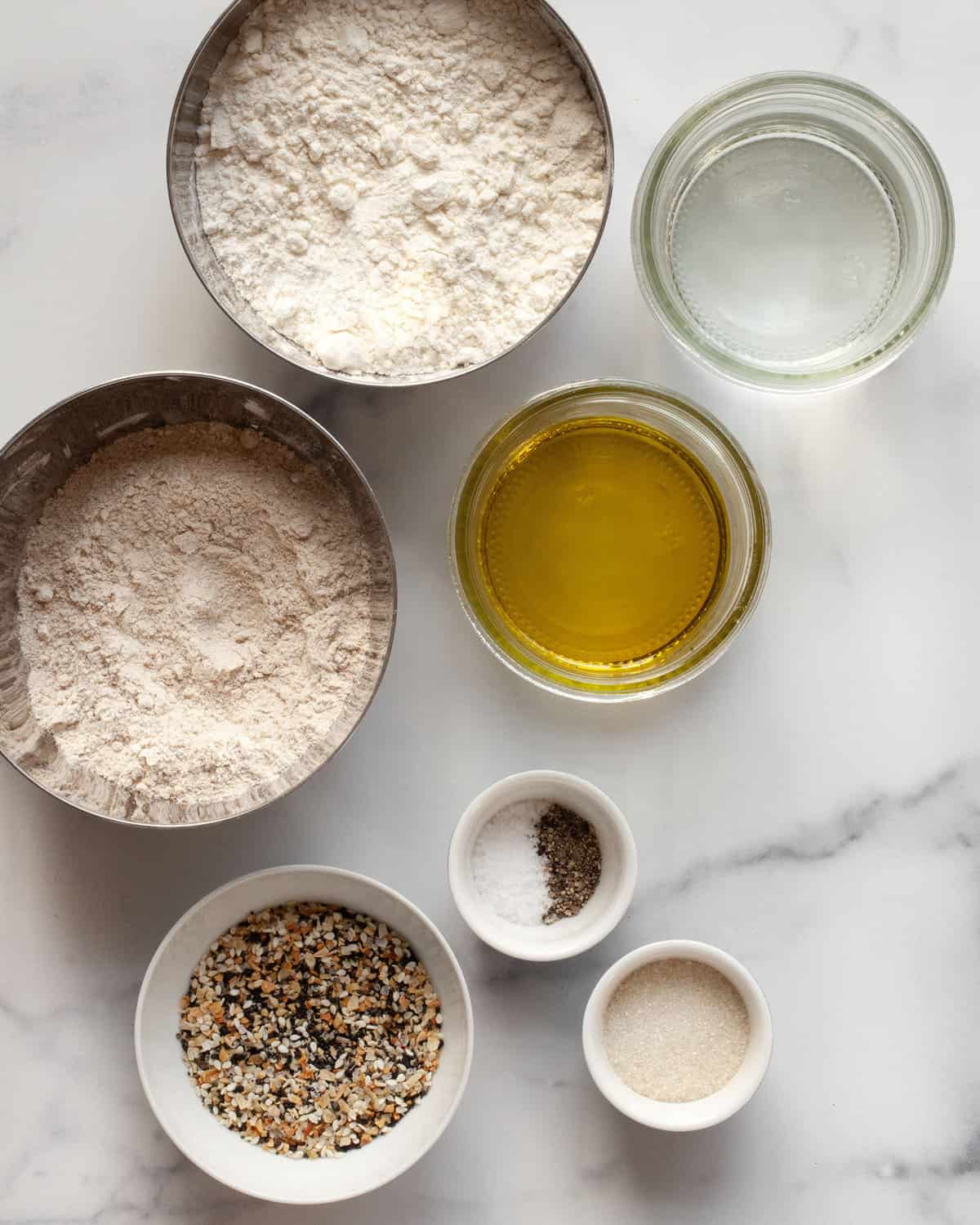 This is what you need:
Flour: The crackers require both all-purpose flour and whole wheat flour. This gives them texture as well as flavor, especially from the wheat flour.
Sugar doesn't make the crackers sweet. What granulated sugar does do is create balance with the savory ingredients.
Salt & pepper season the dough and act like an on-switch for the flavor of the crackers. Don't worry, it's not too much with the everything seasoning on top.
Olive oil: For the best taste, use extra virgin olive oil.
Water: You will need water for mixing the dough and for brushing the shaped, unbaked crackers to get the seasoning to stick to them.
Everything bagel seasoning is so popular that it's pretty easy to find at the grocery or online. Besides crackers, I love sprinkling it onto pasta, eggs and avocado toast. That garlicky, salty and oniony mix is an instant flavor boost to so many things.
Seasoning Variations
Besides everything seasoning, you can top the crackers with one of these other options:
Flaky sea salt is the most simple option. Make sure to use Maldon or another salt that is in actual flakes and not granules. Also, because salt on its own can be pretty strong, use no more than 1-1/2 to 2 teaspoons.
Sesame seeds: If you're planning to eat the crackers with hummus or another Middle Eastern dip/spread, then it makes sense to turn them into sesame crackers.
Fennel seeds, sesame seeds, poppy seeds and flaky sea salt: You can think of this like a cousin to everything seasoning without the dried garlic and onions. Use 2 teaspoons fennel seeds, 2 teaspoons sesame seeds, 1 teaspoon poppy seeds and 1 teaspoon flaky sea salt.
How To Make Everything Crackers
Preheat the oven to 450 degrees F. Line 2 sheet pans with parchment paper.
1. Combine the dry ingredients. That includes the all-purpose flour, whole wheat flour, sugar, salt and pepper.
2. Pour the oil and water into the dry ingredients. Then stir it into a shaggy dough.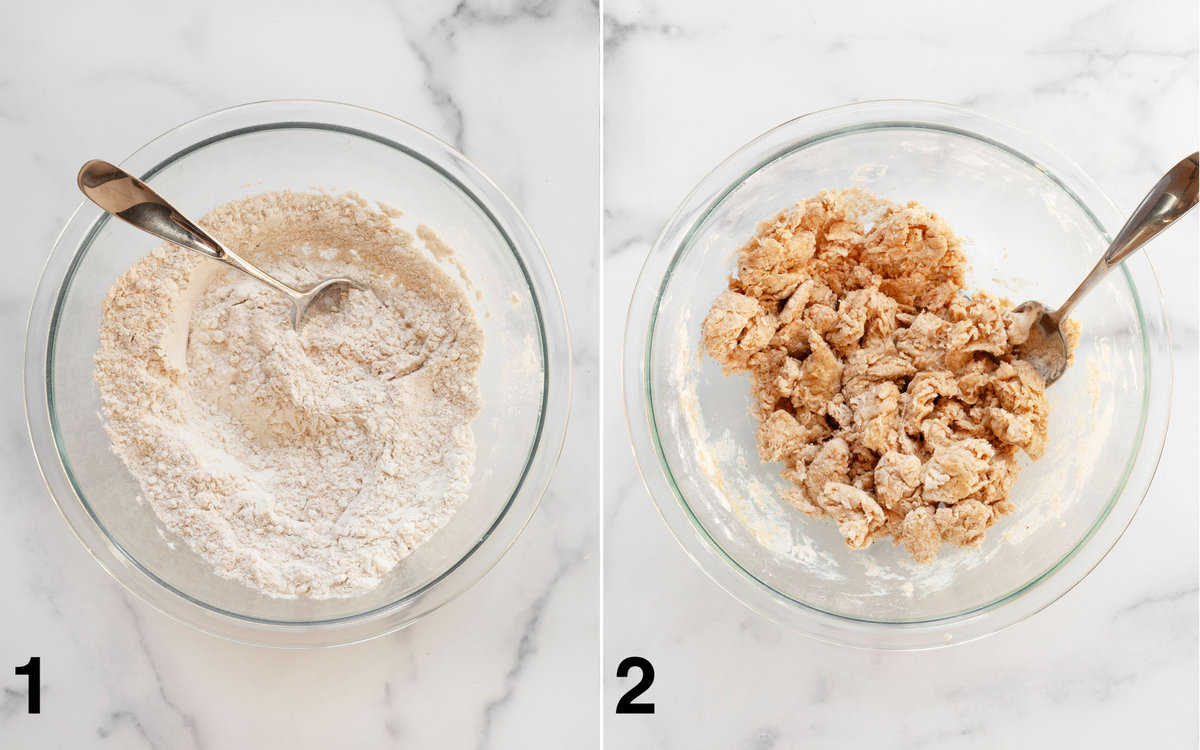 3. Pat the dough and knead it lightly for a few minutes to form it into a ball. Loosely drape a towel or a piece of plastic wrap over it. Let the dough rest for 10 minutes. The dough should have the consistency of smooth play-dough.
4. Roll out the dough on a lightly floured work surface. Do your best to roll it into a rough rectangle that's about 1/16-inch thick. Cut it into smaller rectangles that are 1-inch by 3-inches. Use a pizza cutter or a fluted pastry cutter and a metal ruler for the most equal sized crackers. You can also use a sharp knife. Arrange the crackers on the prepared baking sheet.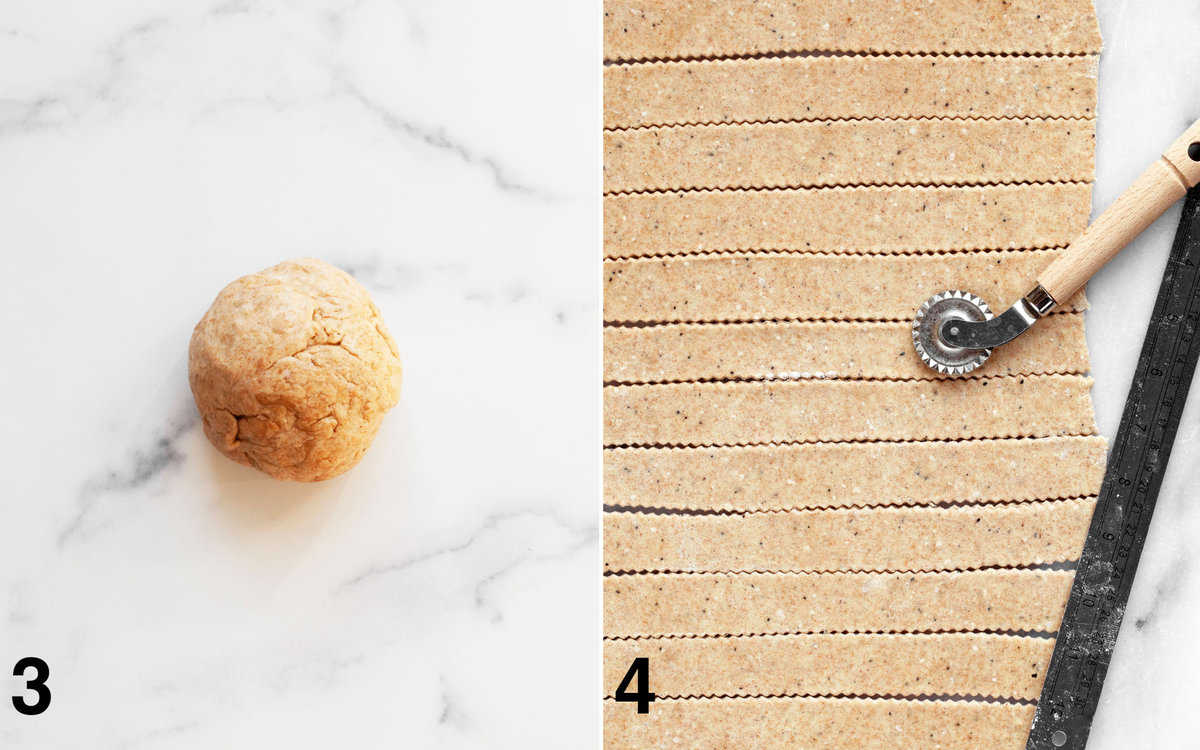 5. Brush the crackers with water and sprinkle them with everything seasoning. You can think of the water like the glue that holds the seasonings onto the crackers.
6. Bake the crackers until they are golden brown and crisp. This will take 12-14 minutes. Rotate the pans halfway through baking. Then transfer them to a wire rack to cool completely. This will allow them to really crisp up.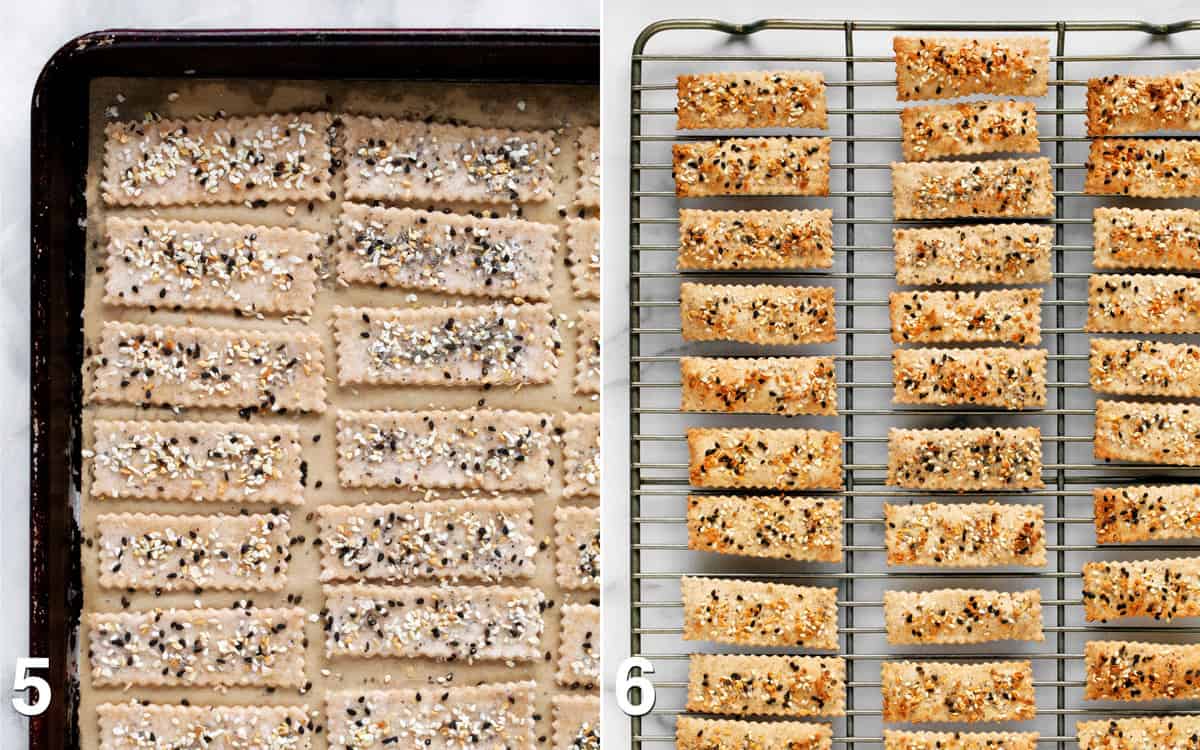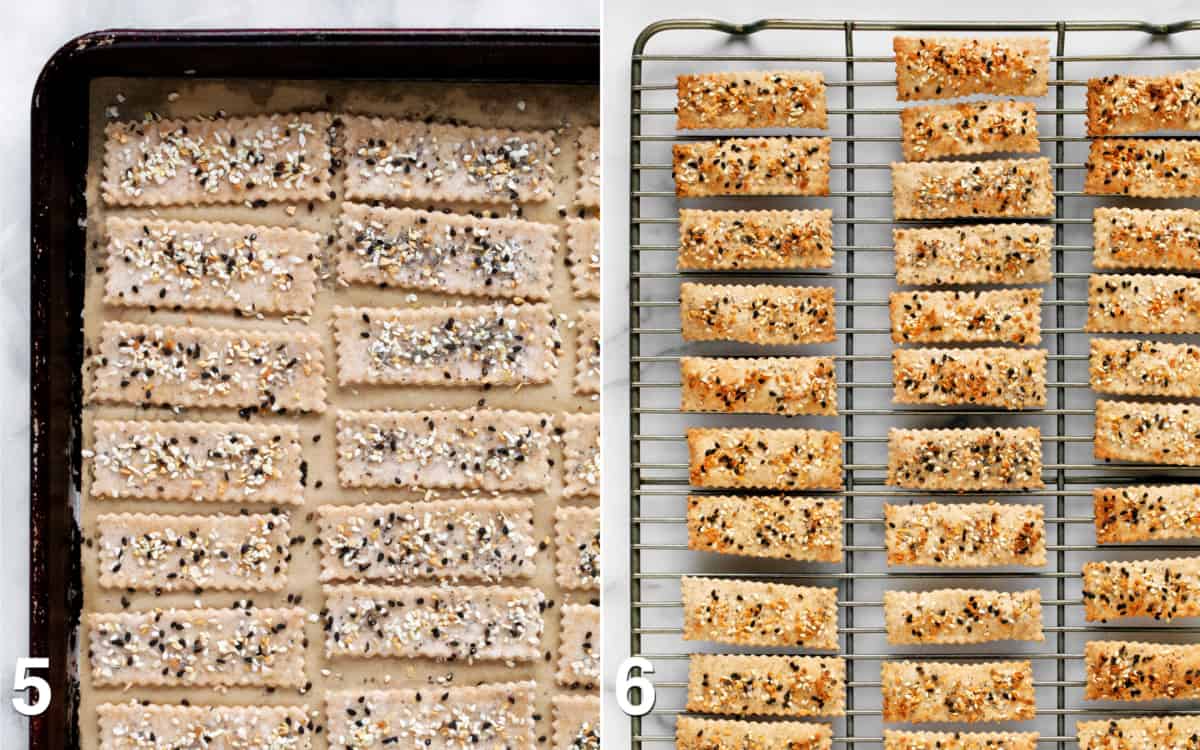 Recipe Tips
If the dough doesn't roll out easily, give it another 5 monies or so to rest. I find that this isn't usually an issue with cracker dough like it can be for pizza and other types of dough.
It helps to cut the dough with a pizza roller or pastry cutter and a ruler. I have a metal ruler in my kitchen that doesn't have a cork back. This makes it easy to clean. It is an inexpensive, handy tool. I also use it to cut chocolate chip bar cookies and fudge brownies evenly.
Only lightly flour your work surface. You don't need to go overboard when you roll out the dough. I find that cracker dough sticks less than other types of dough like sugar cookie dough that has a lot of butter.
Keep picking up the dough as you roll it out to also prevent it from sticking. Don't press down too hard on your rolling pin or you will end up with portions that are thinner than others.
You can put the cut-out crackers close together on the pan. They will not spread as they bake.
These crackers have air bubbles. Because I don't prick them with a fork, they do turn out more rustic with bubbles. I love the airiness that they give the crackers, and each one is a little different, which I think is how it should be for crackers made by hand.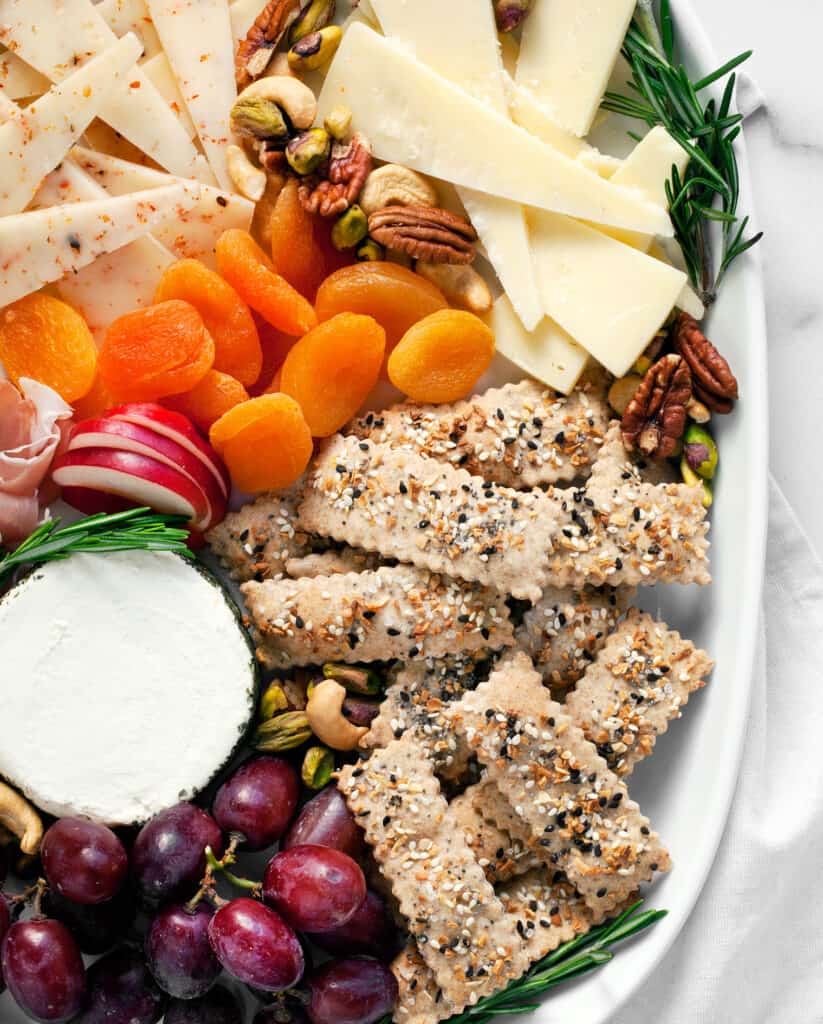 Serving
I love using these on cheese boards and charcuterie plates along with dried fruit, fresh fruit, marinated olives and homemade onion jam. My goal is to have a mix of salty and sweet elements to nibble on.
They are really good with dips or spreads like red pepper hummus or even cream cream cheese, like a bagel. Or try serving them with soups or salads instead of a hunk of crusty bread.
Storing
Keep the crackers in an airtight container at room temperature, so they stay crisp and fresh. You can store them for 3 days. I do not recommend freezing them because they will lose their crunch.
Recipe FAQs
Do you have to cut the crackers into 1-inch by 3-inch rectangles?
No you can cut them into other shapes. You could use a round cookie cutter too. Keep in mind the larger they are, the more air bubbles that will appear.
Can you re-roll the dough scraps?
Yes. Gather them in a ball as you are working on cutting the dough. When you roll these smaller pieces, the dough will be a little tougher to roll out, but that won't compromise the texture of the crackers.
Are these crackers vegan?
Yes, they are made with all plant-based ingredients, so they are vegan.
Homemade Everything Crackers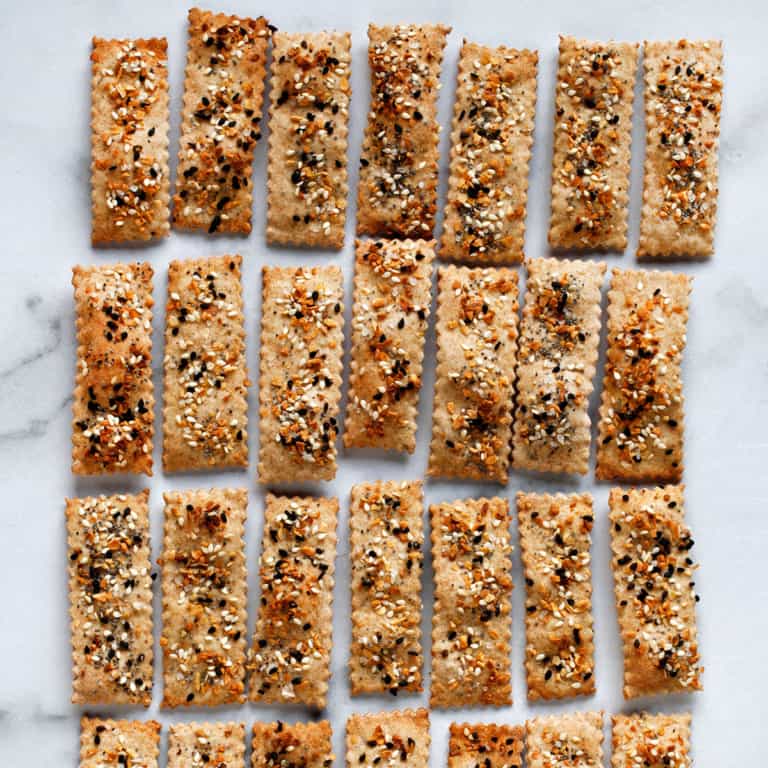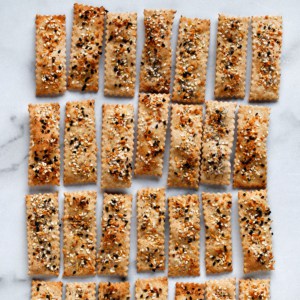 Try including something homemade on a cheese and charcuterie plate like these everything crackers. Or just bake them for a snack with hummus.
Ingredients
1

cup

all-purpose flour

plus more for work surface

1/2

cup

whole wheat flour

1

teaspoon

granulated sugar

1

teaspoon

kosher salt

1/4

teaspoon

black pepper

2

tablespoons

olive oil

1/2

cup

water

plus more for brushing

2

tablespoons

everything seasoning
Instructions
Preheat the oven to 450 degrees F. Line 2 baking sheets with parchment paper

In a large bowl, combine both flours, sugar, salt, and pepper.

Add the olive oil and water, stirring until a shaggy dough forms.

Turn the dough onto your work surface. Use your hands to lightly knead it for a few minutes and gather it into a smooth ball.

Loosely drape the dough with a towel or plastic wrap. Let it rest for 10 minutes.

On a lightly floured work surface, roll out the dough into a rectangle that is about 1/16-inch thick. Use a pizza roller or fluted pastry cutter to cut the dough into 1-inch by 3-inch rectangles. (You can also use a sharp knife or a cookie cutter.) Gather the scraps, re-roll them and continue cutting the crackers.

Place the unbaked crackers on the prepared sheet pans. Brush with water and sprinkle with everything seasoning.

Bake for 12-14 minutes until golden brown. Cool on a wire rack.
Notes
Recipe makes 40-50 crackers.
Store the crackers in an airtight container at room temperature up to 3 days. Do not freeze them.
Seasoning Variations:
Flaky sea salt: Use no more than 1-1/2 to 2 teaspoons.
Sesame seeds: Use 2 tablespoons of white or black sesame seeds or both.
Fennel seeds, sesame seeds, poppy seeds and flaky sea salt: Use 2 teaspoons fennel seeds, 2 teaspoons sesame seeds, 1 teaspoon poppy seeds and 1 teaspoon flaky sea salt.
Nutrition
Calories:
18
kcal
|
Carbohydrates:
3
g
|
Protein:
0.4
g
|
Fat:
1
g
|
Saturated Fat:
0.1
g
|
Polyunsaturated Fat:
0.1
g
|
Monounsaturated Fat:
0.4
g
|
Sodium:
78
mg
|
Potassium:
7
mg
|
Fiber:
0.2
g
|
Sugar:
0.1
g
|
Vitamin A:
0.2
IU
|
Calcium:
1
mg
|
Iron:
0.2
mg
Nutrition information is automatically calculated, so should only be used as an approximation.