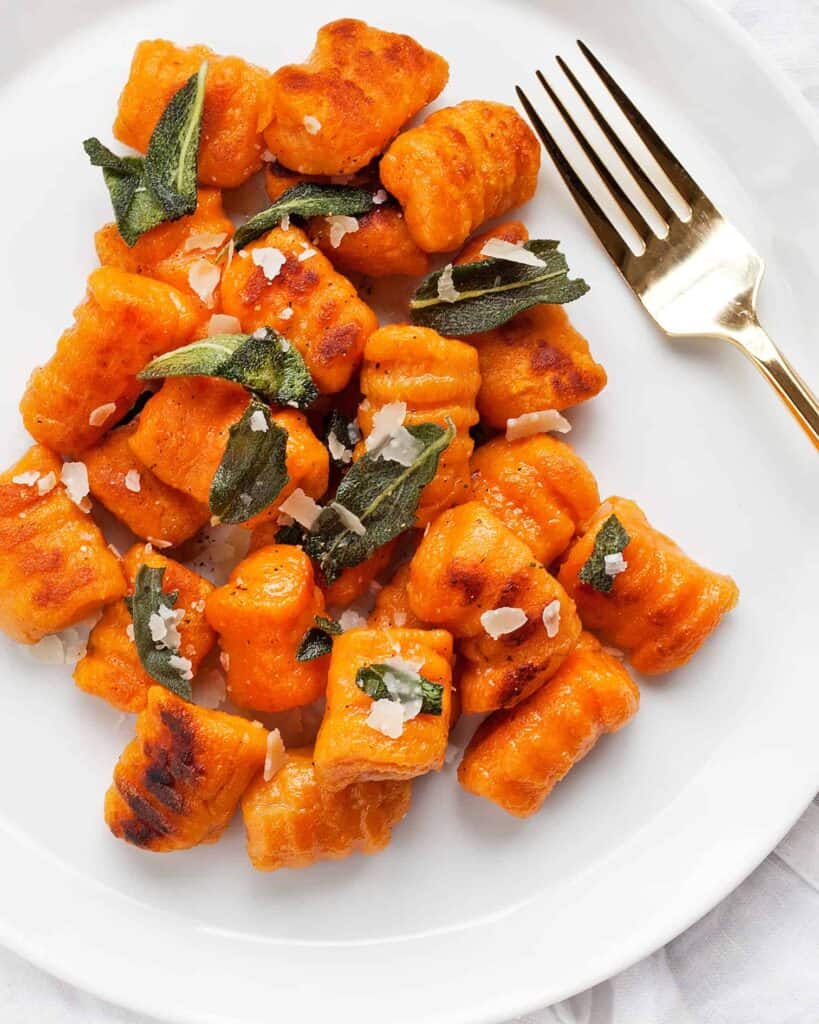 Gnocchi is one of my husband's favorite things to eat. It brings back fond memories of a college semester spent studying in Rome.

A classmate brought a gnocchi recipe with him, and home-cooked meals during that adventure abroad involved perfecting those potato dumplings.
Gnocchi is deceptively simple with its uncomplicated ingredients, but the technique requires practice.

You can't just whip up a batch of restaurant-worthy gnocchi the first time. It takes a lot of practice and patience.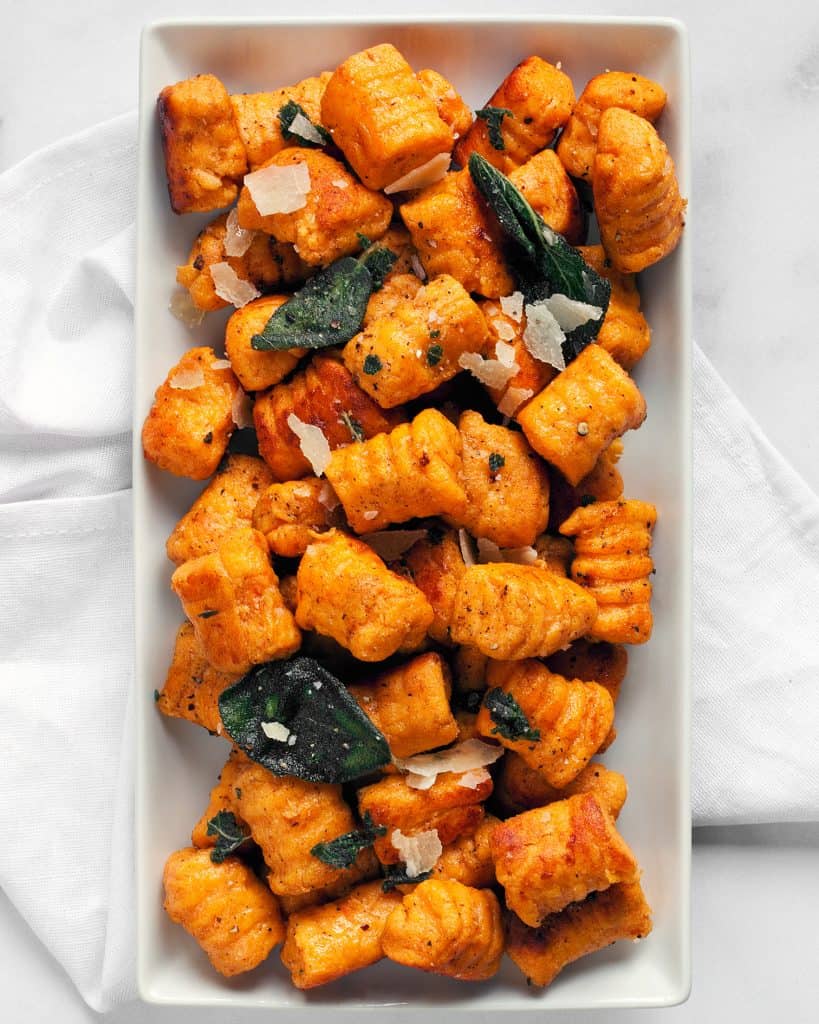 My attempts at gnocchi have ranged from dense failure to pillowy success.

It can be frustrating to spend so much time on dinner for it not to turn out in the end.
With my many missteps along the way I have figured out a few musts for light, mouthwatering dumplings.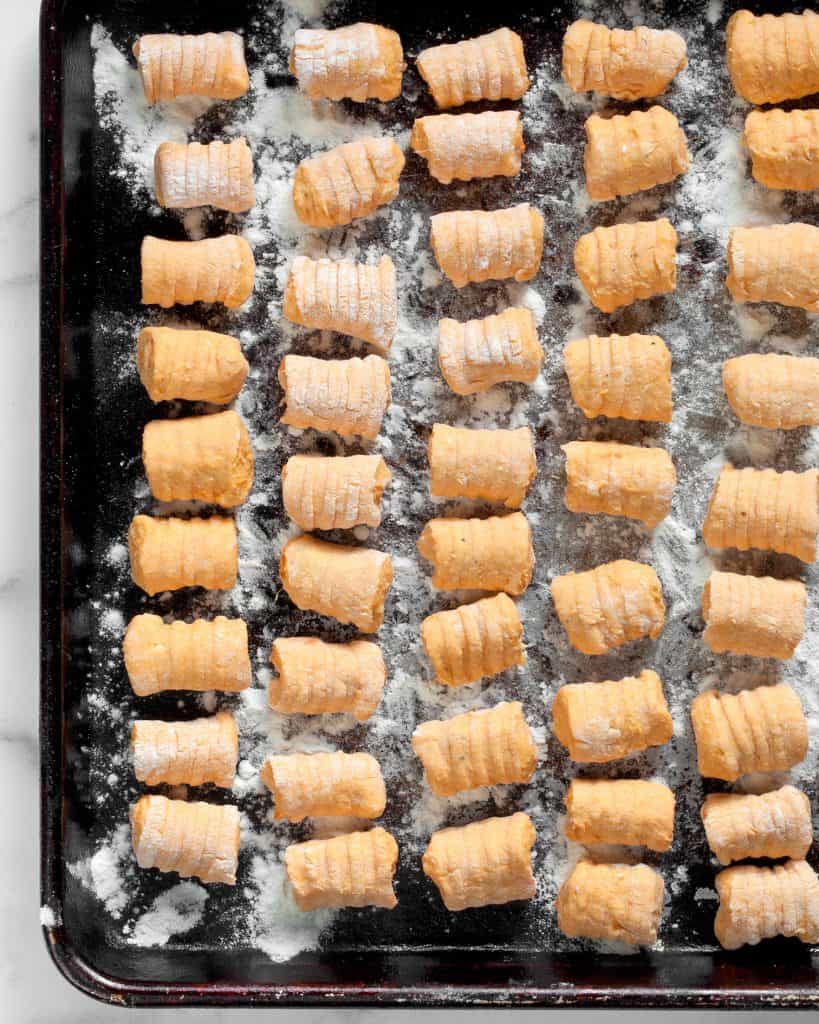 Tips for Making Sweet Potato Gnocchi
First, make sure to roast the potatoes. Some recipes call for boiling them until tender, but you don't want to add any unnecessary water or moisture that will result in dense dumplings.
Second, use a ricer or food mill instead of a fork to mash them. Again this keeps the potatoes light and fluffy.
Third, work with warm potatoes to ensure a delicate consistency. Your fingertips may not like those hot potatoes, but it will be worth it later. Trust me.
Finally, go easy on the flour to avoid an unpleasant gluey bite. The dough may seem a little sloppy, but resist the urge to dump in lots of flour at once.

Before you know it, you might realize you've added way too much, and there's no going back.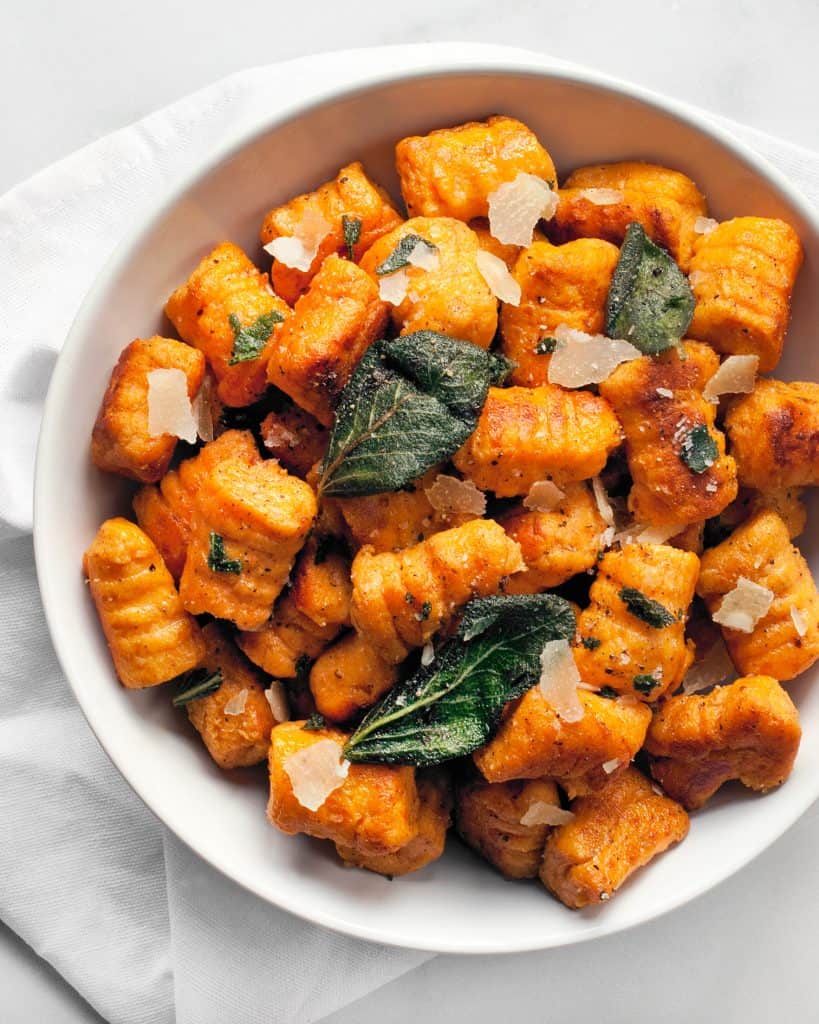 While not the traditional Italian version, I made sweet potato gnocchi.

I love the color and flavor of sweet potatoes, and they are more wholesome than plain Russet potatoes.
I sautéed the sweet potato gnocchi in brown butter until they were slightly browned on their ridges.

The sage crisped up in a matter of seconds in the pan. I finished off each plate with grated Parmesan.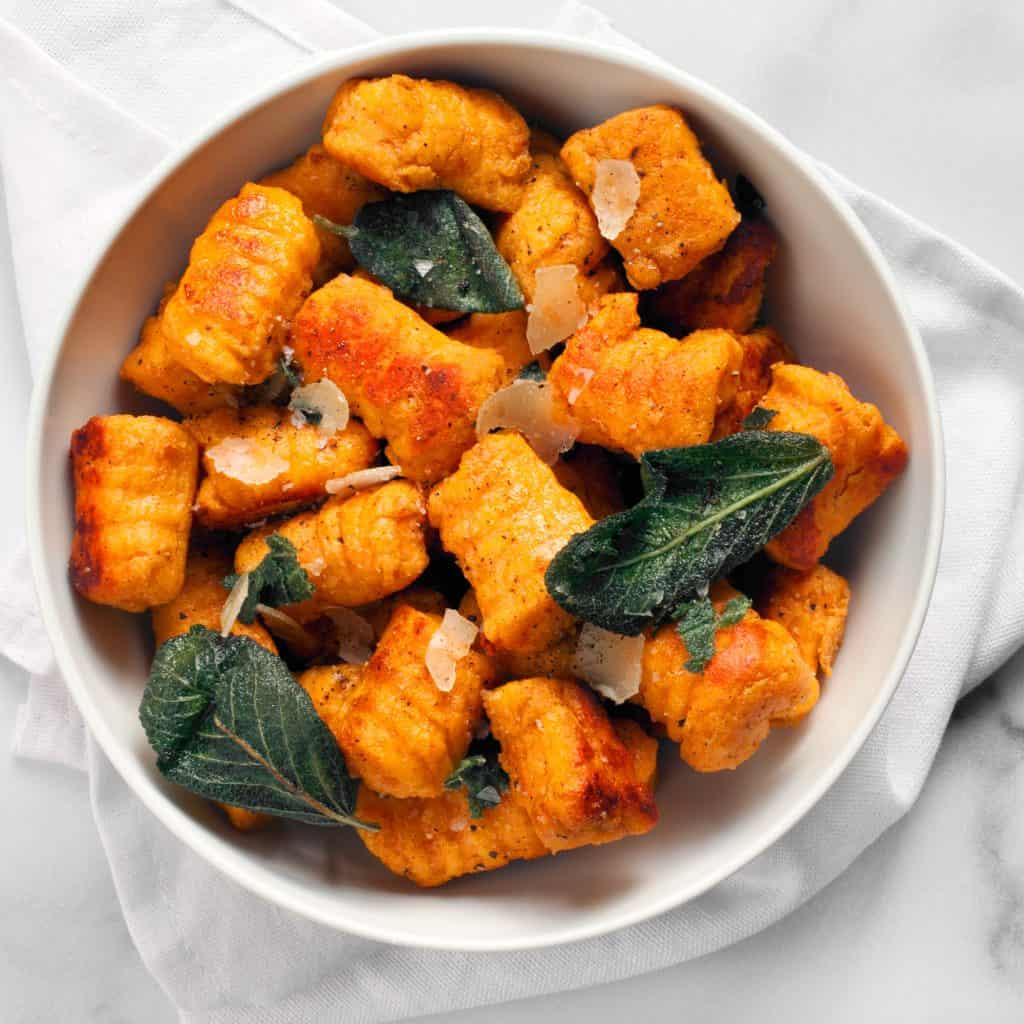 Print
Sweet Potato Gnocchi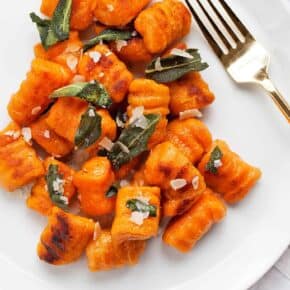 Prep Time:

1 hour 15 minutes

Cook Time:

10 minutes

Total Time:

1 hour 25 minutes

Yield: Serves

4

–

6

1

x
Scale
Ingredients
2 medium sweet potatoes (about 2 pounds)
2/3 cup ricotta cheese, drained
1 egg yolk
1/3 cup Parmesan, grated, plus more for serving
1 teaspoon kosher salt plus more for serving
1/2 teaspoon black pepper plus more for serving
1–1/4 to 1–1/2 cups all-purpose flour plus more for dusting
1/2 cup (1 stick) unsalted butter
1/2 cup fresh sage leaves
Instructions
Preheat the oven to 375 degrees F.
Pierce the sweet potatoes with a fork and roast on a sheet pan until tender, about 1 hour. When the potatoes are cool enough to handle, halve them, scoop out the flesh and feed through a potato ricer or food mill into a large bowl.
Stir in the ricotta, egg yolk, Parmesan, salt and pepper. Fold in 1 cup flour, and add the rest of the flour in small amounts until you have a workable dough that is barely sticky. You may not need all the flour.
On a lightly floured worksurface take a handful of dough and roll it into a 1/2-inch thick rope. Cut the rope into 1-inch pieces and roll down the tines of the back of a fork. Transfer the gnocchi to a flour-dusted sheet pan.
In a large skillet, melt the butter over medium high heat. When the butter starts to turn brown and smells nutty, fry the sage leaves until crisp, about 20 seconds. Remove the sage from the butter and take the skillet off the heat when the butter is golden brown.
Bring a large pot of salted water to a boil. Cook a quarter of the gnocchi for about 3 minutes until they float to the top. Use a slotted spoon transfer to a bowl and cook the remaining gnocchi.
Return the brown butter to medium heat and gently toss the gnocchi in the butter until they are browned at the edges. Serve topped with sage and Parmesan.
SHARE THIS