Tomato Olive Kale Sausage Penne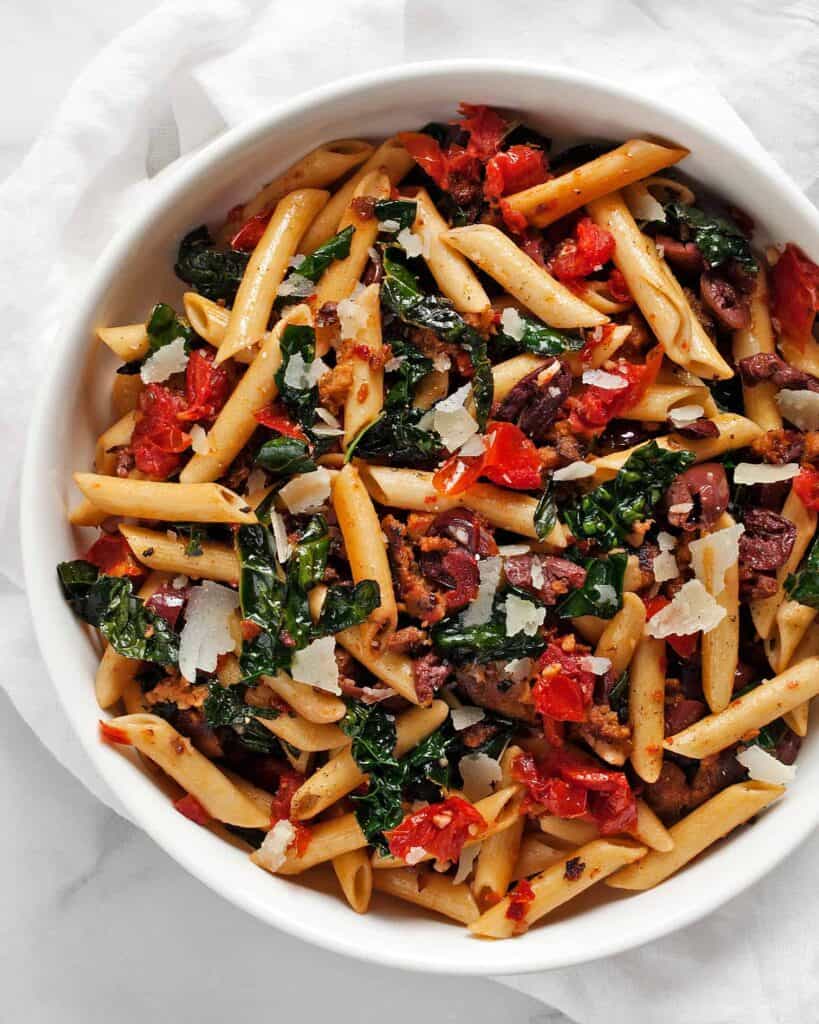 Most people assume that I'm a vegetarian.

While I love veggies and they are what I think of first when I'm trying to come up with something to cook, I still have non-vegetarian meals here and there.

Usually it's when I am at a restaurant and the lone non-meat option isn't that healthy and appealing compared to what else is on the menu.

Or if I'm near a coast, I order fish like I did last summer when we went to Seattle and Vancouver.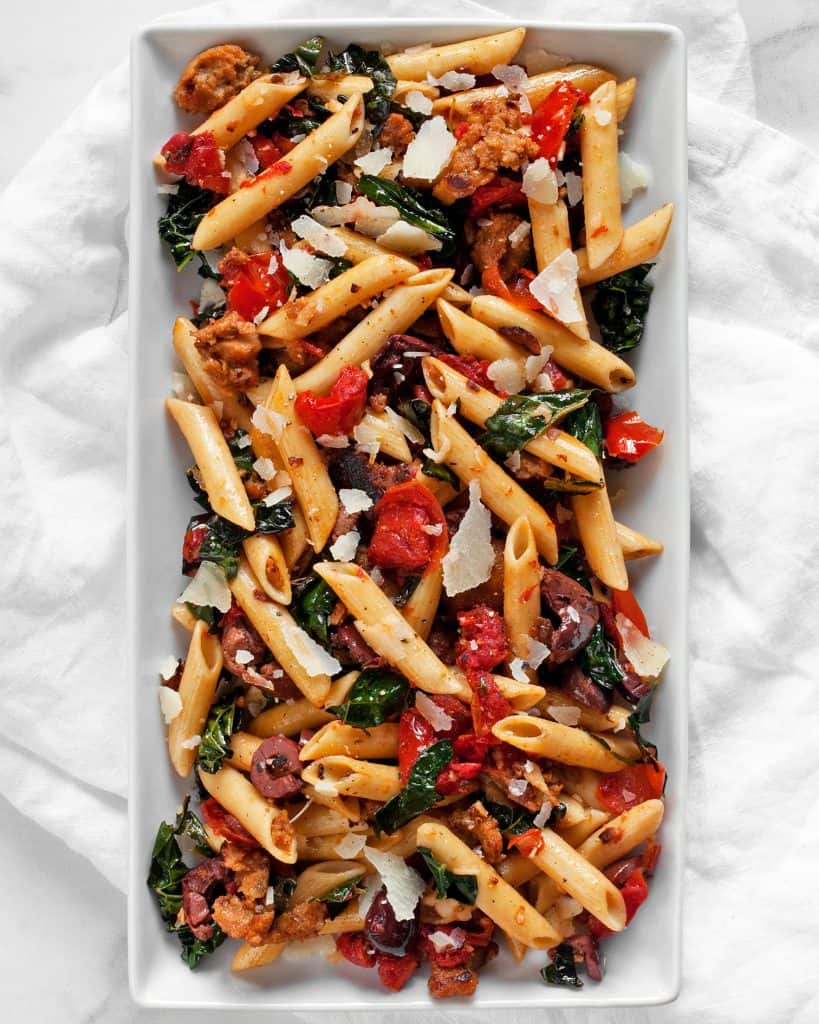 Working on my own recipes, I love using tofu in stir-fries and sheet pan dinners instead of reaching for chicken or another non-vegetarian protein.

I always end up spending lots of time at the grocery scanning the vegan options from seitan to non-dairy cheese.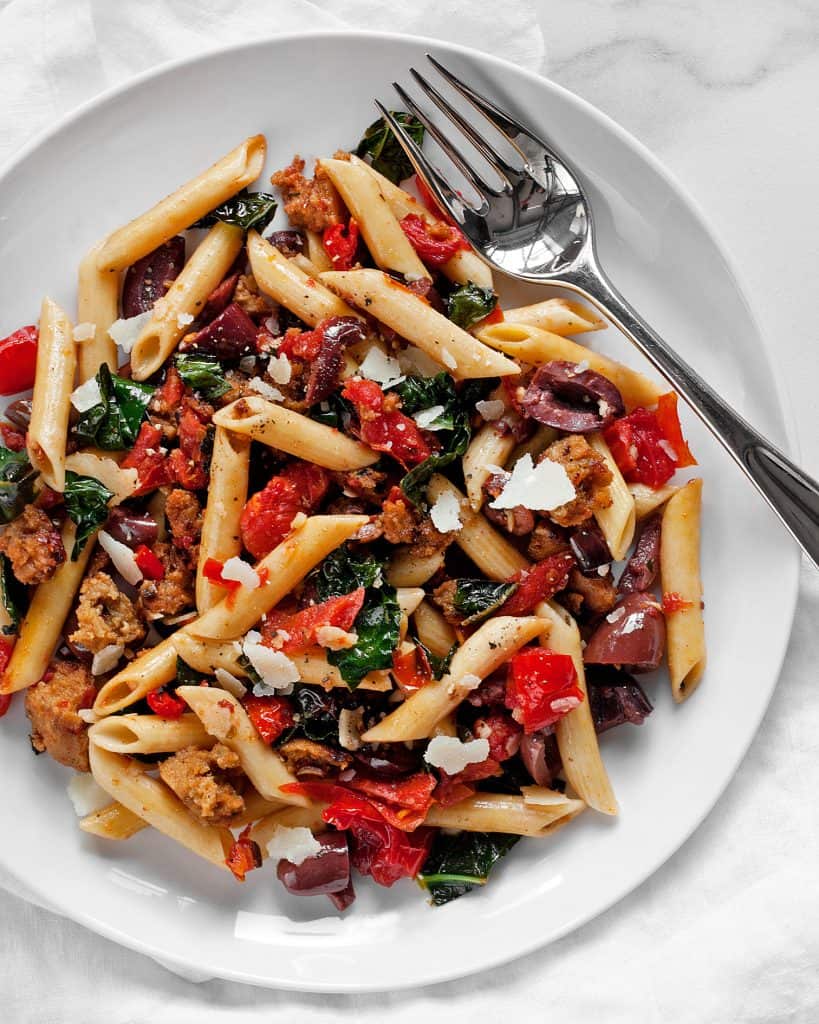 This tomato olive kale sausage penne is a recipe that I've made for years, but lately I've done some tweaking.

Needless to say, it was time to revisit it and update it for the blog.

In the original version, I used chicken sausage, which is perfectly fine depending on your dietary preferences.
Sweet Italian pork sausage would work, too, but I've been very into plant-based sausage. To me the final result is just as good.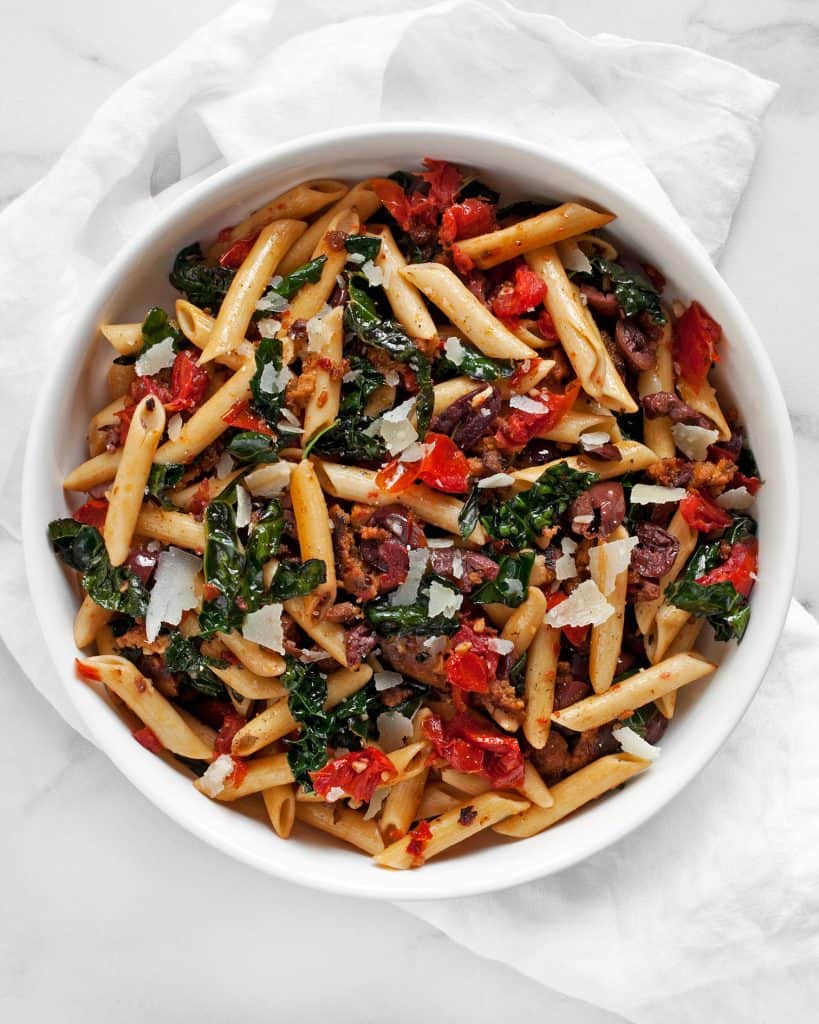 The other change that I've made is the pasta. The first time I posted this recipe it was with whole wheat penne.

Now there are endless kinds of noodles like lentil, corn and quinoa to choose from. My favorite alternate pasta is chickpea.

One of the reasons I like this tomato olive kale sausage penne so much is because you can customize it with the sausage and pasta.

Then you can satisfy everyone's tastes.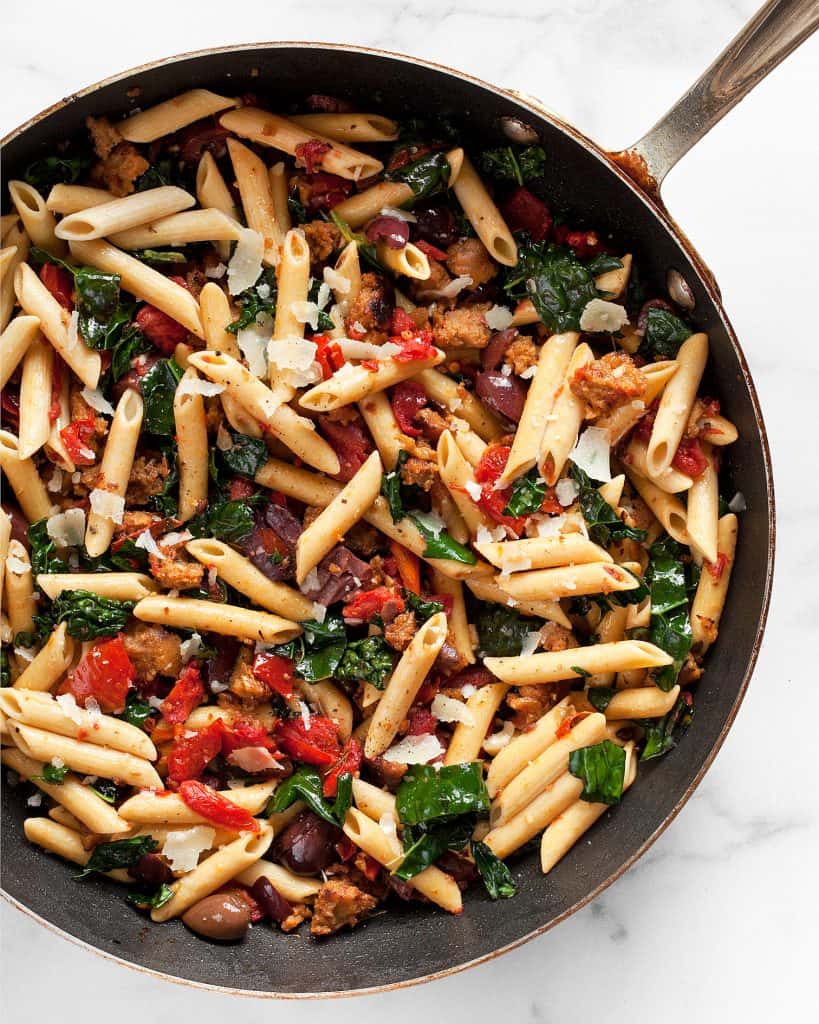 How To Make Tomato Olive Kale Sausage Penne
To start, I put a pot of water on the stove and simmer the pasta until al dente.

On a separate burner, I cook the sausage breaking it up with a wooden spoon until it is browned and cooked through.

Then I clear out the skillet to sauté garlic before adding chopped kale, along with Kalamata olives and roasted tomatoes, both from the olive bar at the grocery.

To finish, I stir the penne and sausage into the kale, tomatoes and olives.

I season everything with salt and pepper and add shaved Parmesan.

Of course, you can leave out the cheese if you want to keep it vegan. Or use a vegan Parmesan.
Print
Tomato Olive Kale Sausage Penne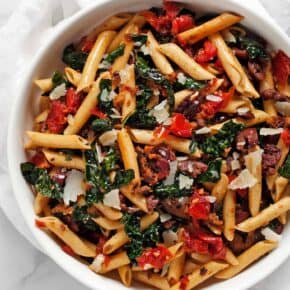 Prep Time:

5 minutes

Cook Time:

15 minutes

Total Time:

20 minutes

Yield: Serves

4

1

x
Scale
Ingredients
8 ounces penne pasta
2 tablespoons olive oil
4 3-ounce sweet Italian sausages, casings removed (vegetarian/vegan, chicken or pork sausage)
2 garlic cloves, minced
1 cup chopped Lacinato Kale, ribs removed
1 cup roughly chopped pitted Kalamata olives
1 cup marinated roughly chopped roasted tomatoes
1/2 teaspoon kosher salt
1/2 teaspoon black pepper
Shaved Parmesan for serving
Instructions
In a large saucepan of salted boiling water, cook the penne until al dente according to package instructions.
In a large skillet over medium high heat, add 1 tablespoon olive oil. Cook the sausage, breaking it up with a wooden spoon, until it is browned and cooked through, according to package instructions. Remove the sausage from the skillet and set aside.
Add the remaining oil to the skillet. Sauté the garlic until fragrant, about 1 minute. Add the kale and cook for 2-3 minutes until it just starts to wilt. Stir in the olives and tomatoes and sauté for an additional 2-3 minutes until the kale is completely wilted. Fold in the sausage and pasta. Season with salt and pepper.
Top with grated Parmesan before serving.
SHARE THIS