Frozen Vegetable Stir-Fry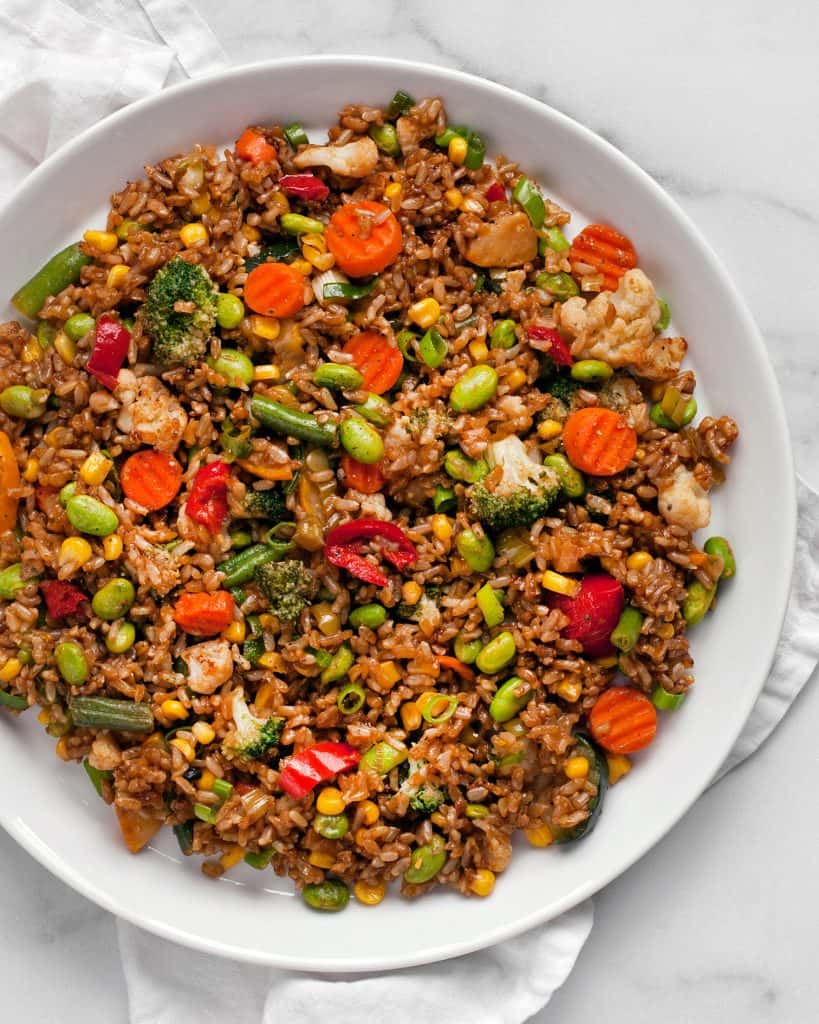 Produce is where I spend the most time at the grocery. Fresh fruit and veggies always make up at least half of my list.

But as of a week ago or so, things are different.

Like most of us right now, I am doing my best to stay home.

That means I can't just pop in and buy ingredients whenever.

I am actually trying to go at least 10 days without venturing out to the grocery. That's tough for me.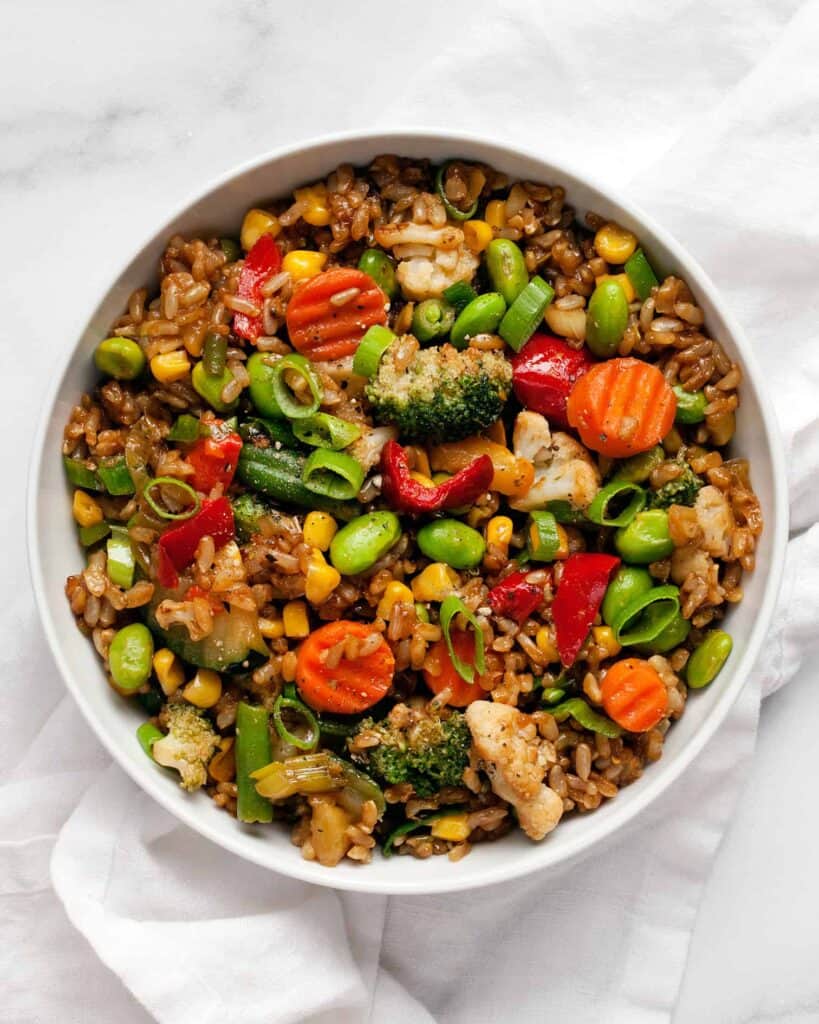 My leafy greens are starting to dwindle. Soon I'm going to have to resort to my precious stash of frozen vegetables.

In my initial panic shopping trip, the frozen fruits and veggies were very picked over with bare shelves and not a lot of choices.

I grabbed a couple bags of whatever I could, figuring I would throw them in with a vegetable soup made from canned tomatoes.

The problem with frozen vegetables is that they tend to turn out soggy, so they are better included in soups and sauces.
Staying at home puts more pressure on mealtime. I know I can't be the only one who's craving variety using a limited amount of the same ingredients.
Another way to use frozen vegetables is in rice or noodle stir-fries.

To tackle frozen vegetable stir-fry, I switch up the usual order that I would do for fresh veggies.

My goal is to limit the time that the frozen vegetables simmer in sauce because I don't want them to fall apart.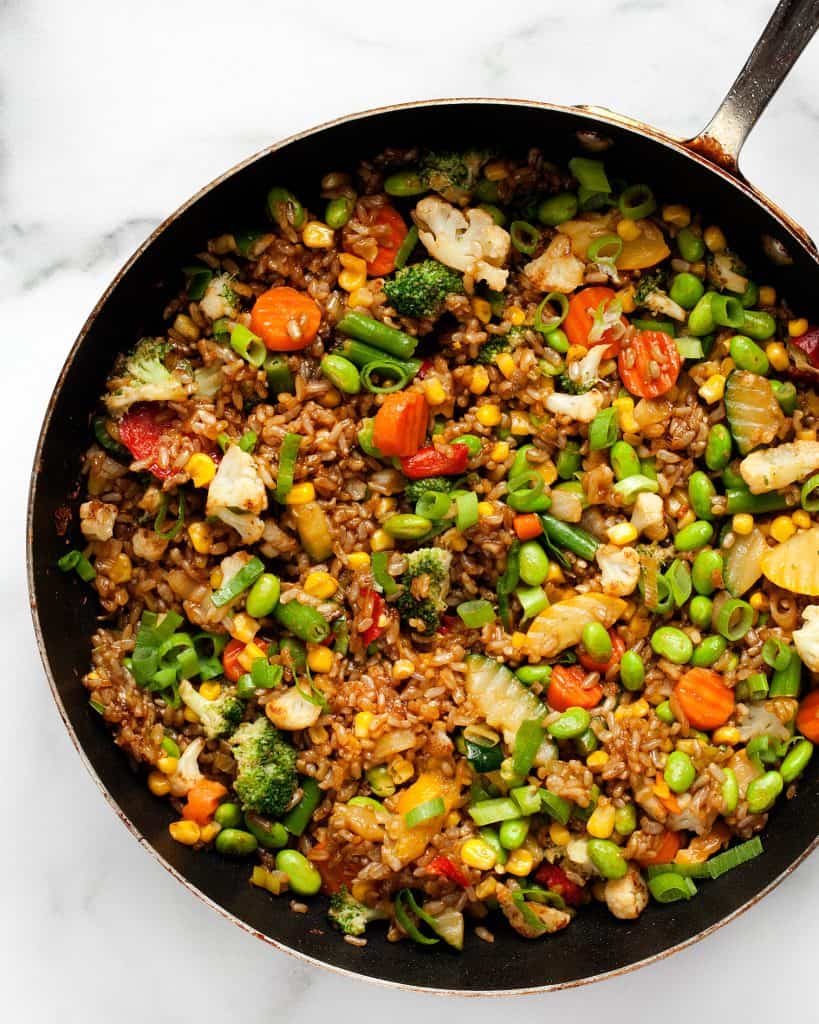 Rules for Stir-Fry
With stir-fries, there are a few rules that I always follow no matter what:
Make sure all your ingredients are ready before your start. Stir-fry doesn't take long to cook, so you won't have time to prep as you go.
Stir-fry in a very hot skillet or wok. This is true with all stir-fries, but it's even more important when you are using frozen vegetables.
Cook your rice the day before and store it in the fridge. This allows the rice time to dry out a bit. Freshly cooked rice will be mushy.
When using frozen vegetables, do not let them thaw before your cook them. They should go into your skillet or wok straight from the freezer.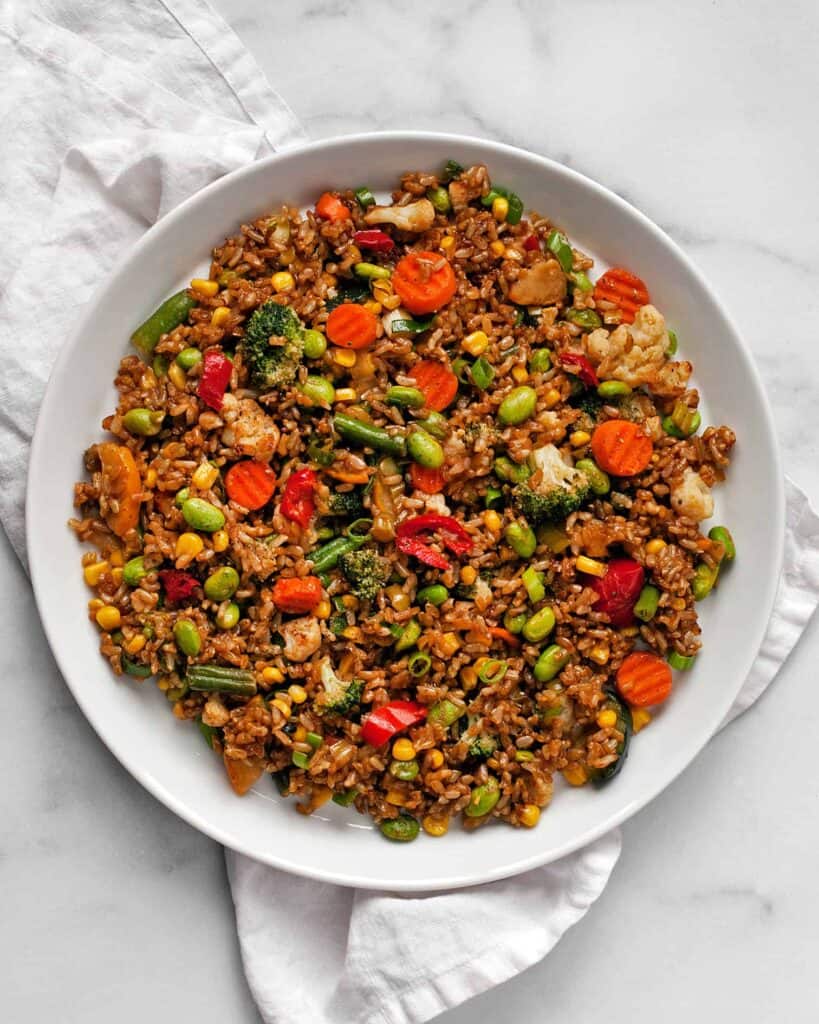 How To Make Frozen Vegetable Stir-Fry
If I were using fresh vegetables, I would start by heating the oil, adding the aromatics, then the vegetables, sauce and rice.

Instead I begin by stir-frying the frozen veggies.

Frozen vegetables come in a countless varieties and medleys. If you can, it is best to start with cauliflower and broccoli, which take a little longer to cook than peppers, peas, corn or shelled edamame.

I don't expect you to sort through a bag of mixed vegetables, but if you buy them individually bagged, that's another way to ensure you don't overcook smaller vegetables.

Once the veggies are sautéed, I transfer them to a paper towel lined plate.

Next minced ginger, garlic and scallions go into the pan. In less than a minute, everything is fragrant.

I stir in cold brown rice straight from the fridge.

After that, it's time for the sauce, which is a mix of soy sauce, sesame oil and rice wine vinegar.

Once the sauce bubbles away and has been absorbed by the rice, I fold in the vegetables.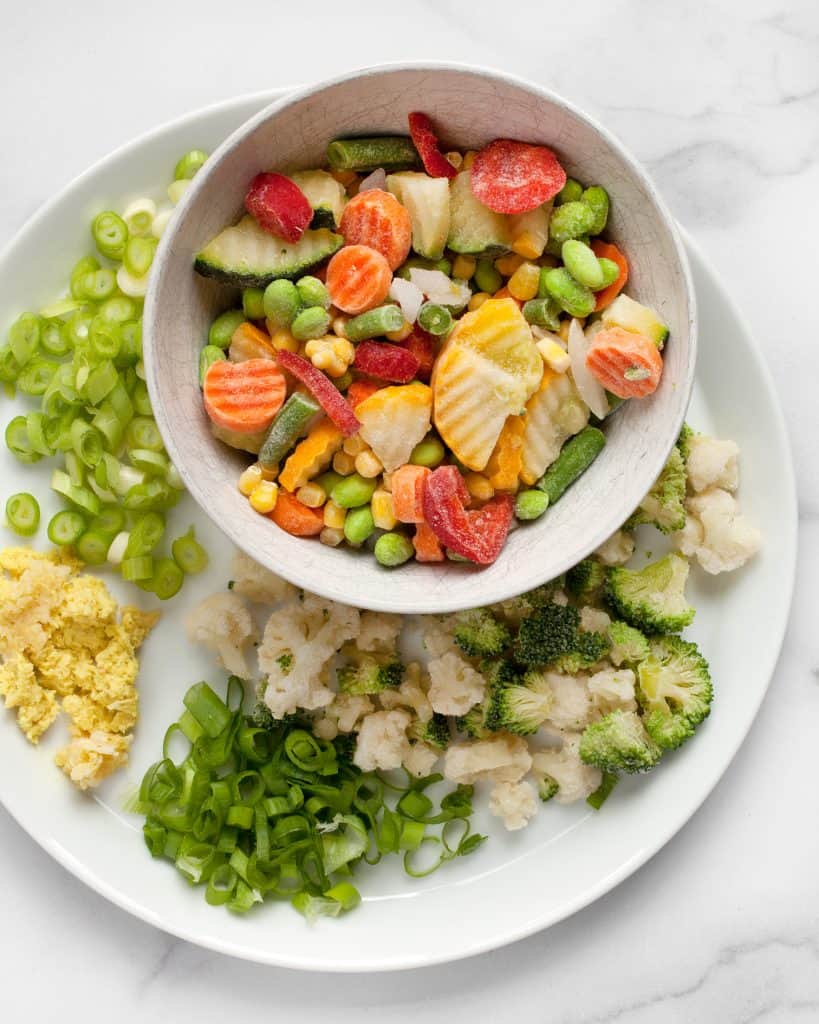 The Best Vegetables for Frozen Vegetable Stir-Fry
Not all frozen vegetables are created equal.

By nature of their thickness or general water content, especially after being frozen, I find that shelled edamame, corn and sliced carrots, keep most of their bite.

After that, come cauliflower and broccoli.
Bell peppers, zucchini and yellow squash tend to turn out softer.

If possible, consider your balance of veggies for the best results.
Print
Frozen Vegetable Stir-Fry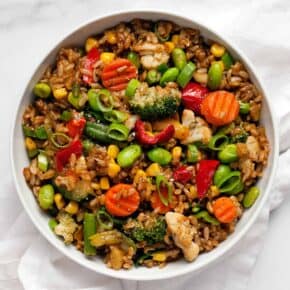 Prep Time:

5 minutes

Cook Time:

10 minutes

Total Time:

15 minutes

Yield: Serves

4

1

x
Scale
Ingredients
1/4 cup low-sodium soy sauce
1 tablespoon sesame oil
2 tablespoons rice wine vinegar
1/4 teaspoon red pepper flakes
2 tablespoons vegetable oil
3 cups assorted frozen vegetables
2 scallions, thinly sliced, white and green parts separated
2 garlic cloves, minced
1 tablespoon minced ginger
2 cups cooked brown rice
Instructions
In a small bowl, whisk together the soy sauce, sesame oil, rice wine vinegar and red pepper flakes.
Heat 1 tablespoon vegetable oil in a large skillet or wok over high heat. Once the oil is very hot and shimmering, sauté the vegetables. If you can, start with cauliflower and broccoli florets first. After 2 minutes, add the rest of the vegetables and continue cooking until they are just tender, about 3-4 minutes. Transfer the vegetables to paper towel lined plate.
Add the remaining vegetable oil to the skillet. Sauté the white parts of the scallions, garlic and ginger until fragrant, about 30 seconds. Stir in the rice. Pour in the soy sauce mixture letting it bubble and simmer. Continue stirring the rice for 3 minutes until the liquid has been absorbed.
Fold in the vegetables and the green parts of the scallions.
Notes
Make sure to use shelled edamame, corn and sliced carrots if you can because they are less likely to get soggy. Other frozen vegetables to include are cauliflower, broccoli, peppers, peas, zucchini and squash.
SHARE THIS