Lemon Kale Orzo
on May 20, 2021, Updated May 28, 2023
Ready in 20 minutes, this lemon kale orzo with garlic, breadcrumbs and pecorino cheese is a simple pasta that's great to eat anytime of year.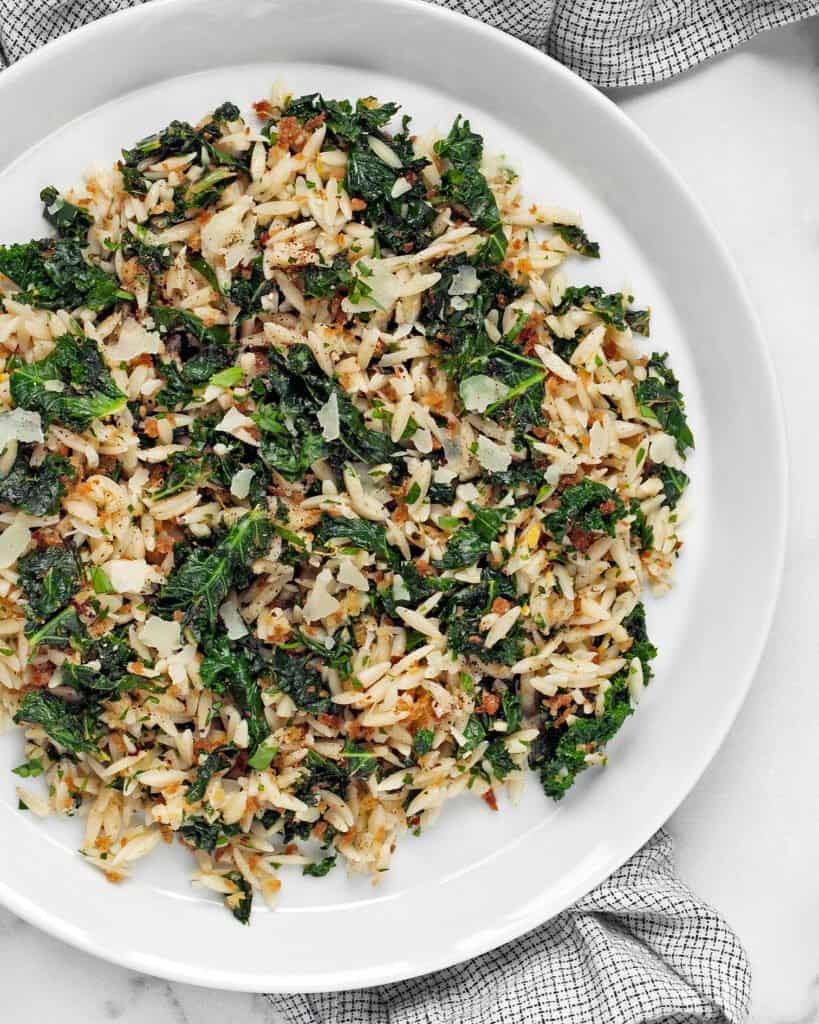 Every week before I go to the grocery, I make sure that my kitchen is stocked with a few lemons and at least half a bunch of kale.
Even though technically they are fresh produce, I consider this fruit and vegetable combo pantry ingredients.
Unlike things that are more delicate, lemons and kale are hearty with a shelf life just long enough to give you time to use them before they go bad. And even if my kale is a touch wilted, I will still cook it in a recipe
I never know how my week will turn out despite my carefully planned shopping list, so having kale and lemons on-hand gives me options.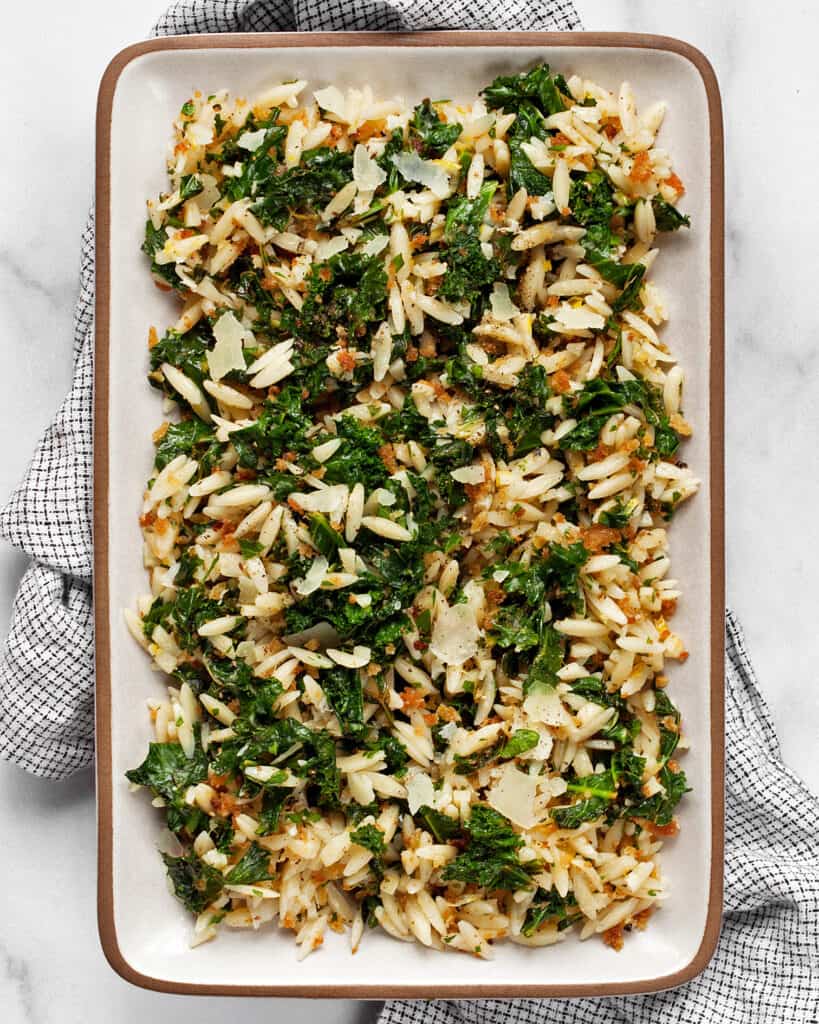 Lemon and Kale: The Perfect Pair
Lemon and kale are incredibly versatile. Both do not require cooking. Kale can be the base of a filling dinner salad tossed in bright, zippy lemon vinaigrette.
Pasta is another sure thing with these two. My version of lemon pepper spaghetti involves kale because I never can resist the urge to add greens wherever I can.
This spaghetti inspired me to make a pasta recipe that I think of as its cousin, lemon kale orzo, which is garlicky and fresh using the juice and zest of a lemon.
The best part is that you can eat it warm, at room temperature or as leftovers from the fridge. It tastes great each way.
When you serve it cold, you can think of it like an orzo salad.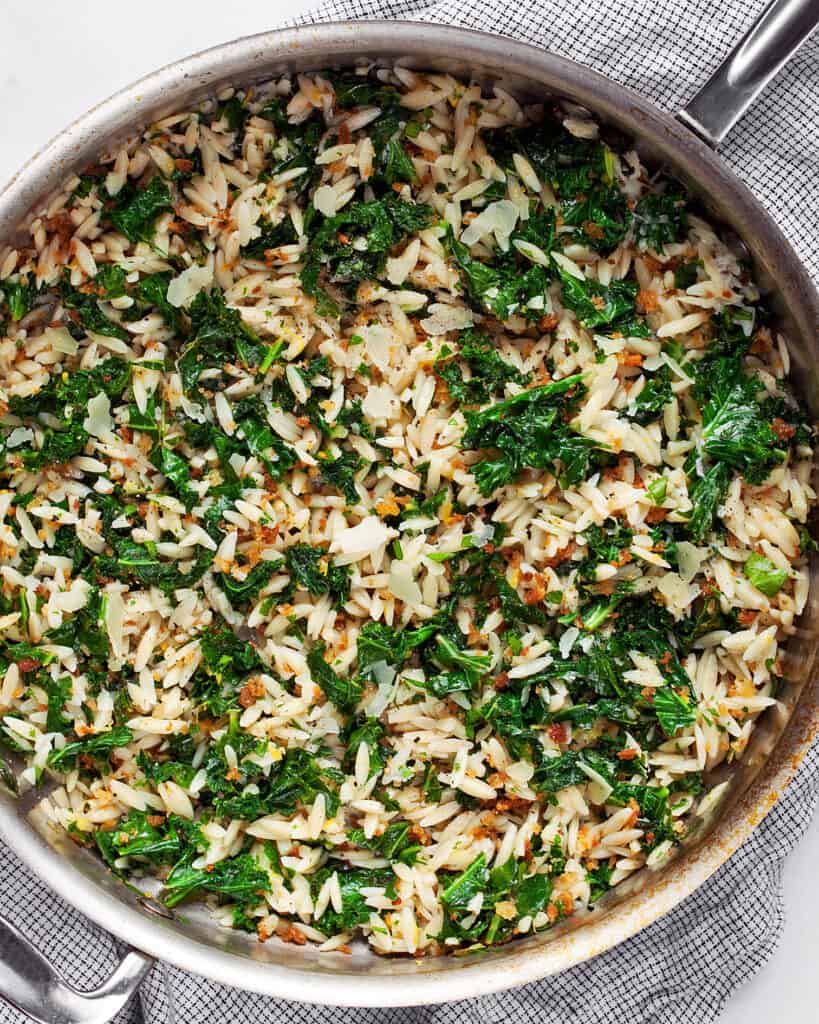 The Ingredients
For this recipe, you will need the following ingredients:
Lemon: Including the lemon zest and juice means nothing goes to waste, and the orzo turns out very lemony.
Curly Kale: Just tear the leaves off a bunch of kale, discarding the stems and chop the greens. If you don't have curly kale, you can swap it out for lacinato kale.
Orzo: This rice shaped pasta can be prepared a few different ways. For this recipe, I cook it in salted boiling water.
Olive Oil: For salads and pastas that are dressed in oil, I always reach for extra virgin olive oil.
Garlic: No, that isn't a typo, I mince 4 garlic cloves for this orzo to infuse the olive oil. With so few ingredients, I like really amping up the garlic.
Breadcrumbs: Panko breadcrumbs are something I always have in my pantry. They add a reliable crunch to so many dishes.
Pecorino Cheese: This hard Italian cheese is saltier and more pungent than Parmesan. If you do happen to only have Parmesan cheese at home, then you can make the substitution.
Red Pepper Flakes: Sprinkling in red pepper flakes is such a simple way to add a touch of heat to pasta.
Salt & Pepper: Taste the orzo when you are finished cooking it because you may need to adjust the seasonings.
Parsley: Chopped fresh parsley gives the orzo an herby finish.
What Is Orzo?
Orzo is small pasta that's shaped like rice.
You can cook it the same way you do pasta in salted boiling water, which is what I do in this recipe.
Keep in mind that you can also approach it like a quicker version of risotto. This involves simmering it in broth and stirring, except it takes a fraction of the time as arborio rice, which often used for risotto. Cooking it this way makes it more creamy.
You can find whole-wheat and gluten-free orzo at the grocery, which are fantastic substitutes.
I also love using orzo in soup instead of rice.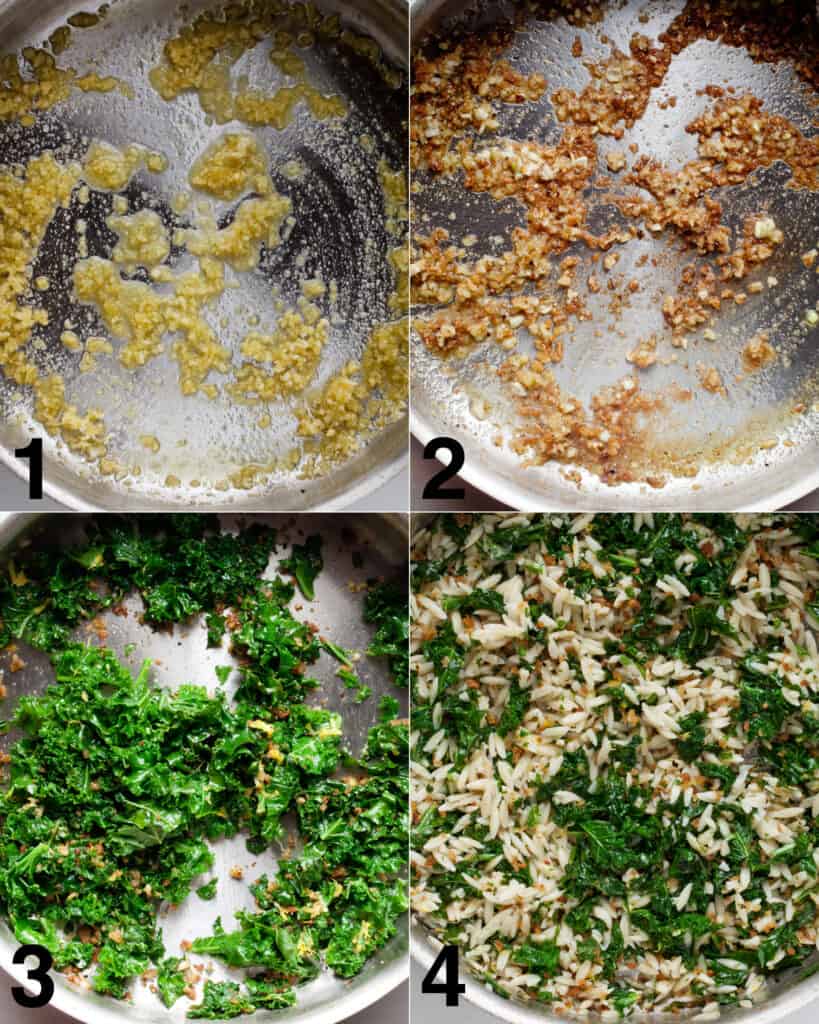 How To Make Lemon Kale Orzo
First, I get the orzo out of the way and cook it in a pot of salted boiling water. Instead of multi-tasking and starting to sauté the garlic in the oil, I wait till the orzo is al dente and rinse it in cold water.
Like most small pasta shapes, it is very easy to overcook orzo. Also, it has a tendency to stick together. I find it's better to transfer the pasta to a strainer and wash it off with cold water. Then it is ready when I need it.
Another reason to do it this way is because the sautéing part does not take that long. If you try to do the pasta and the kale & breadcrumbs at the same time, you might not have the pasta ready when you need it.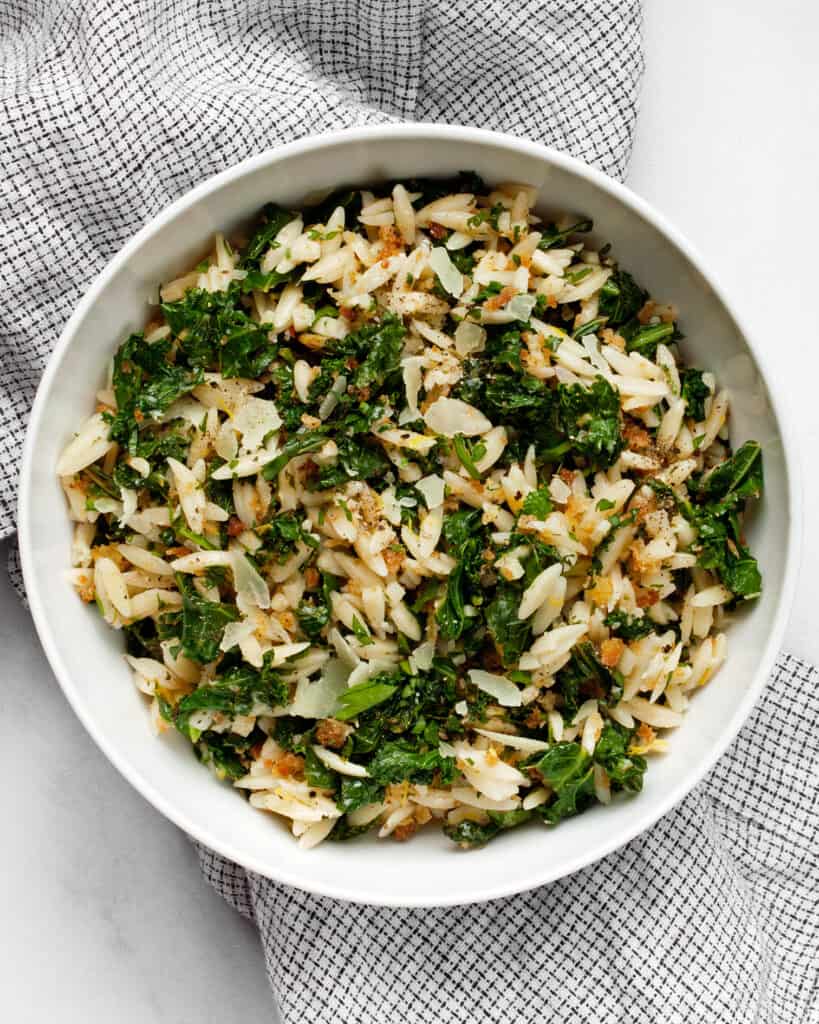 Next, I warm olive oil in a sauté pan over medium heat and add the breadcrumbs. With a wooden spoon, I keep moving around the breadcrumbs in the oil. In a few minutes they become golden brown.
Then I add the minced garlic, salt, pepper and red pepper flakes and give it a half-minute to sizzle and become fragrant before stirring in the kale, lemon juice and zest.
Initially, it will look like a lot of kale, but it wilts pretty quickly. That's the sign to stir in the orzo, pecorino cheese and parsley.
Finally, I give it a minute or so in the pan for the orzo to warm.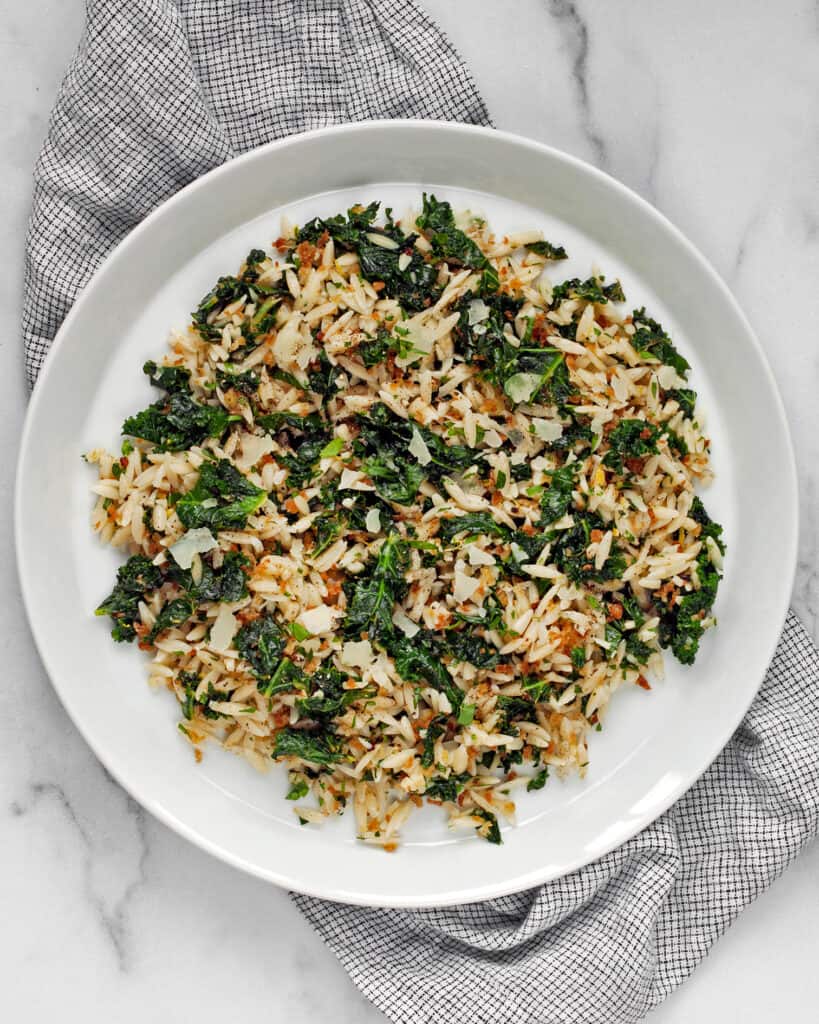 How To Serve Orzo
You can treat orzo pasta like a main dish or a side dish. It really depends on the amount you spoon onto each plate.
Serve more if you are planning it as a main and pair it with a salad.
It's also a great side with roasted chicken or turkey.
Try These Other Orzo Recipes
30-Minute Tomato Zucchini Orzo
Roasted Butternut Squash Broccoli Orzo
Lemon Kale Orzo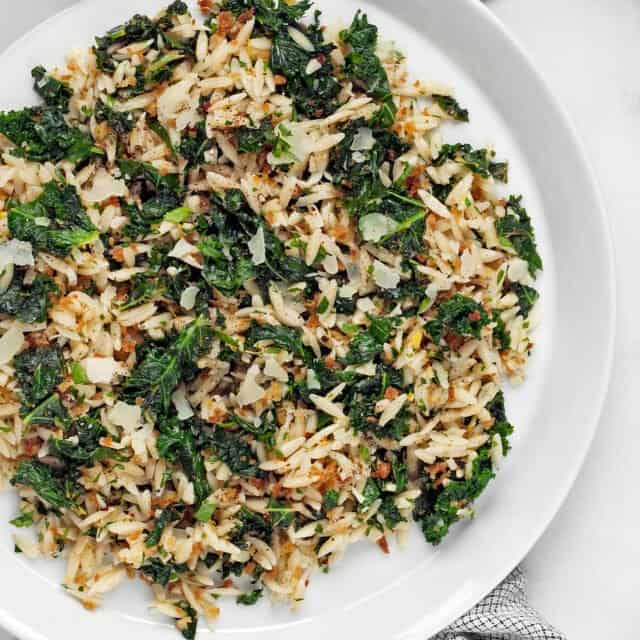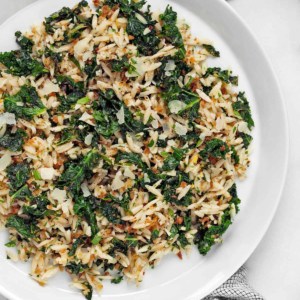 Ready in 20 minutes, this lemon kale orzo with garlic, breadcrumbs and pecorino cheese is a simple pasta that's great to eat anytime of year.
Ingredients
1

cup

orzo

3

tablespoons

olive oil

1/4

cup

panko breadcrumbs

4

garlic cloves,

minced

1

teaspoon

kosher salt

1/2

teaspoon

black pepper

Pinch

red pepper flakes

3

cups

chopped curly kale

Juice and zest of 1 lemon

1/4

cup

grated pecorino cheese

2

tablespoons

chopped parsley
Instructions
Cook the orzo in salted boiling water until al dente according to package instructions. Drain and rinse with cold water in a colander or strainer.

Heat the olive oil in a large skillet or sauté pan over medium heat. Toast the breadcrumbs, stirring frequently, until they turn golden brown, about 2-3 minutes. Add the garlic, salt, pepper and red pepper flakes. Continue cooking for 30 seconds until fragrant. Add the kale, lemon juice and zest and sauté until the kale has wilted, about 2-3 minutes.

Stir the orzo, pecorino cheese and parsley into the kale and give it a minute for everything to warm.
Nutrition
Calories:
298
kcal
|
Carbohydrates:
35
g
|
Protein:
9
g
|
Fat:
14
g
|
Saturated Fat:
3
g
|
Polyunsaturated Fat:
2
g
|
Monounsaturated Fat:
8
g
|
Cholesterol:
7
mg
|
Sodium:
715
mg
|
Potassium:
314
mg
|
Fiber:
4
g
|
Sugar:
2
g
|
Vitamin A:
5217
IU
|
Vitamin C:
56
mg
|
Calcium:
220
mg
|
Iron:
2
mg
Nutrition information is automatically calculated, so should only be used as an approximation.